Updated on September 23, 2020
A cold face is almost as bad as a cold butt, and a cold butt is almost as bad as cold toes. But nothing, not face, butt, or toes, is as bad as cold fingers. Most skiers and riders often get a nice pair of gloves to combat the issue, but when the temperatures really start kicking up, or rather down, they find their fingers getting cold, too cold, and with no real way to warm them apart from a small handwarmer. So the smartest of all get mittens. And not just any mittens. Real boarders invest in the best snowboard mittens money can buy that are warm and cuddly and keep their fingers together for maximum warmth.
Mittens have been around for what seems like forever, so when it comes to buying your next pair, it may seem like a daunting task considering how many options there are to choose from. Fortunately, we've picked out a perfect selection of mittens designed specifically for snowboarding, so you can get back on the slopes and stop worrying about frigid fingers forevermore!
For more of our top snowboarding gear recommendations, check out the Best Snowboard Gloves.
Quick Answer

-

The Best Snowboard Mittens
Seirus Heat Touch Hellfire

Dakine Team Fillmore Trigger
Comparison Table

-

Best Snowboard Mittens

For the best experience turn your device horizontally
Reviews

-

The Best Mittens for Snowboarding
DAKINE Titan
Specs
Gender

:

Men's

Palm Fabric

:

Synthetic

Removable Liner

:

Yes
Features
Synthetic Insulation For Warmth
Washable Fleece Liner
Nose-Wipe Thumb Panels To Wipe Away Snow-Boogers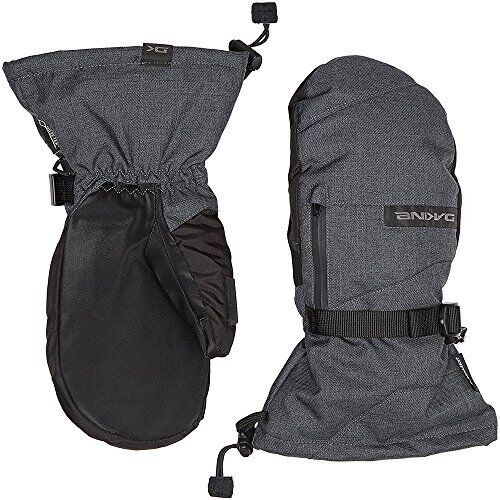 BEST FOR: WARM WEATHER RIDERS
The Dakine Titan Insulated Mittens are a durable, warm, grippy mitten that should be more than enough for any warm-weather boarder. The synthetic, breathable fabric prevents snow and ice from melting in your hand while the small, waterproof pockets on the back of the palm perfectly fit a hand warmer.
These gloves even come complete with a nose-wipe thumb panel, a soft, padded piece on the edge of your thumb, to wipe away those cold sniffles. All warm weather and casual riders would love these gloves.
Burton GORE-TEX
Specs
Gender

:

Women's

Palm Fabric

:

Polyurethane

Removable Liner

:

Yes
Features
Venting Pockets Either Store Handwarmer Or Aerate Hand
Liner Gloves Are Touch-Screen Compatible
Removable Wrist Leash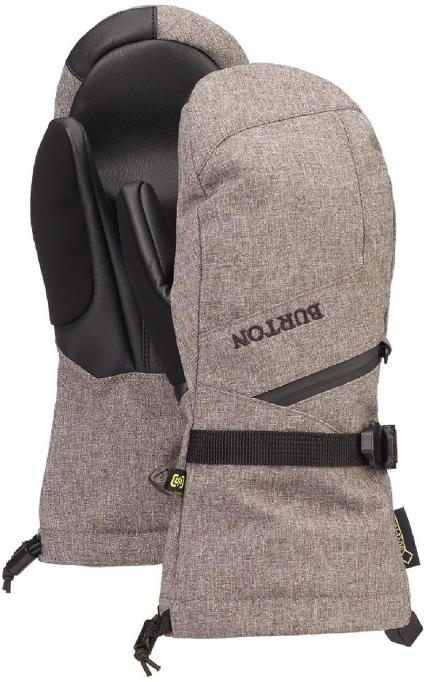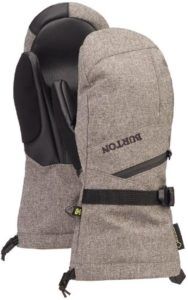 BEST FOR: CONTACT WITH THE OUTSIDE WORLD
"Best for contact with the outside world" may sound like a funny "best for" title, but the Burton GORE-Tex mittens were made with just that in mind: easy, seamless contact with all things on the mountain and in your pocket. Unlike other gloves, the inner liner of these Gore-Tex mittens are not only removable but also function with a touch screen so that you can keep your hands warm and busy during lunch on the mountain.
The Gore-Tex mittens by Burton include a host of other features including a removable wrist leash so you won't lose them on the mountain and thick insulation for superior warmth on the slopes. We recommend these to all riders that spend a good chunk of their time on their phone.
Outdoor Research Alti
Specs
Gender

:

Women's

Palm Fabric

:

Leather

Removable Liner

:

No
Features
Liners Have Pockets For Hand Warmers
Gauntlet Closure Keeps Cold And Snow Out
Water Resistant Material Keeps Your Hands Dry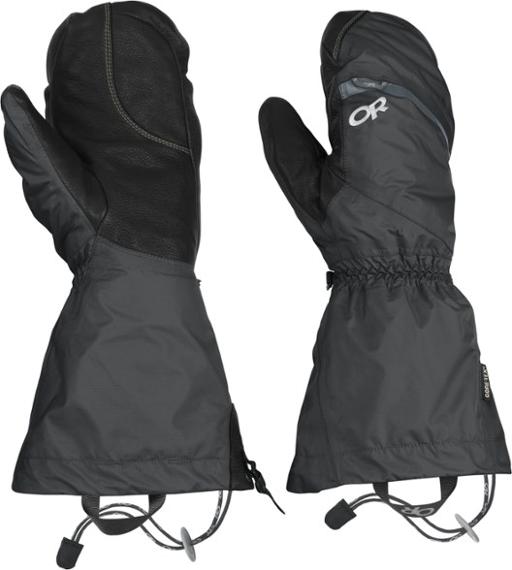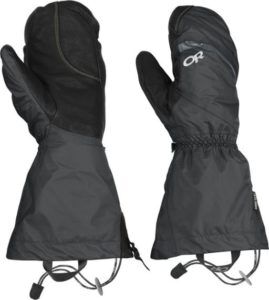 BEST FOR: COLD WEATHER
The Outdoor Research Alti Mittens work best between -40 and -20 degrees Fahrenheit, making them a warm and reliable glove for cold environments. Their tightening gauntlet closes around the wrist to keep out cold air and snow while the inner liner, unlike the glove itself, bears a hand warmer pocket that brings the warmth of it closer to your hand.
The glove itself is precurved to the shape of your hand so mobility shouldn't be an issue. If you do choose to take them off, the wrist cord will keep you from accidentally dropping them onto the trail below. We highly recommend these to any rider looking for a particularly warm glove.
Seirus Heat Touch Hellfire
Specs
Gender

:

Men's

Palm Fabric

:

Leather

Removable Liner

:

No
Features
Heated Mitten
Locking Insulation Traps Heat
Indicator Light Displays Battery Level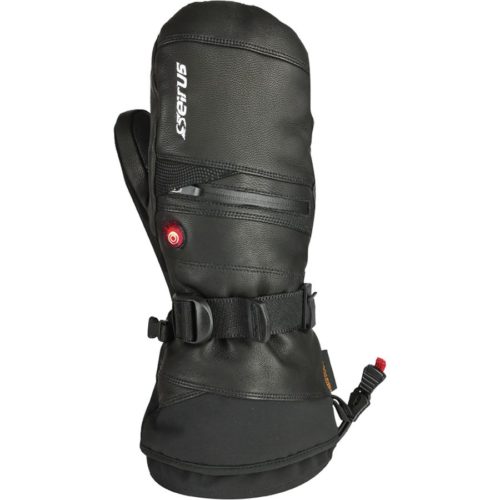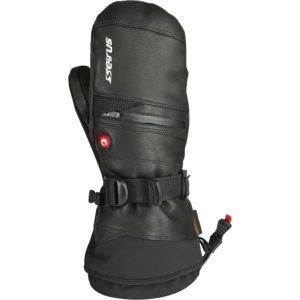 BEST FOR: COLD HANDS
If cold hands, fingers, or palms are your kryptonite and you'd do anything for a hot hand, then look no further because the Seirus Hellfire Mittens are built especially for you. These mittens are only one of a few pairs on the market that come complete with a self-heating system. The New 3000 Ultra Battery uses the simple touch of a button to heat your hand and its energy is always displayed by a changing light color that's easy to recognize. Pitfalls of a heated mitten like this include the charging of its battery and the extra weight and girthiness, but if you can get past that, then this may be the perfect mitten for you.
REI Co-op Minimalist GTX
Specs
Gender

:

Unisex

Palm Fabric

:

Polyester

Removable Liner

:

No
Features
Elastic Cuff For Easy On And Off
Adjustable Fit
Inner Liner Sold Separately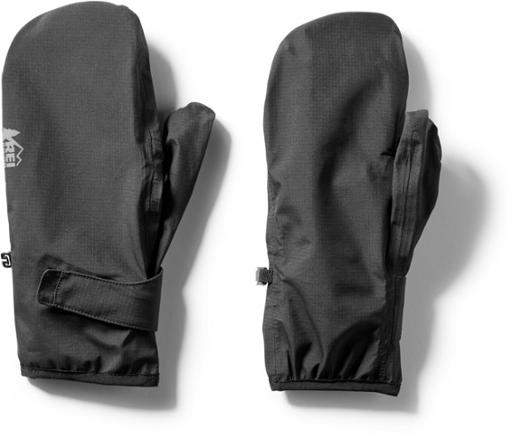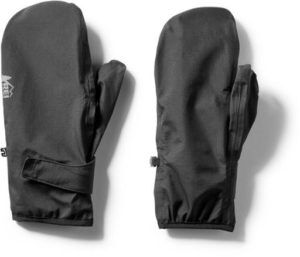 BEST FOR: HOT WEATHER
Whether you'd like to customize your mitten's individual parts or wear just the shell of a mitten for shoveling or casual snowboarding in warm weather, the REI Co-op Minimalist GTX Mittens will satisfy all your needs. This shell of a mitten can be paired off with the Polartec gloves, a liner sold separately, or worn alone for light, minimal protection from the elements. Other features include an angled hook-and-loop structure that adjusts the mitten tightly to your hand and an elastic cuff for easier wear. Overall, we recommend these to those seeking a shell for their hands to wear on warmer days.
Arc'teryx Fission SV
Specs
Gender

:

Unisex

Palm Fabric

:

Goat Leather

Removable Liner

:

Yes
Features
Thick Insulation On Back Of Hand For Added Protection
Extended Gauntlet Covers More Of Wrists
Reinforced Leather Palms And Fingers For Grip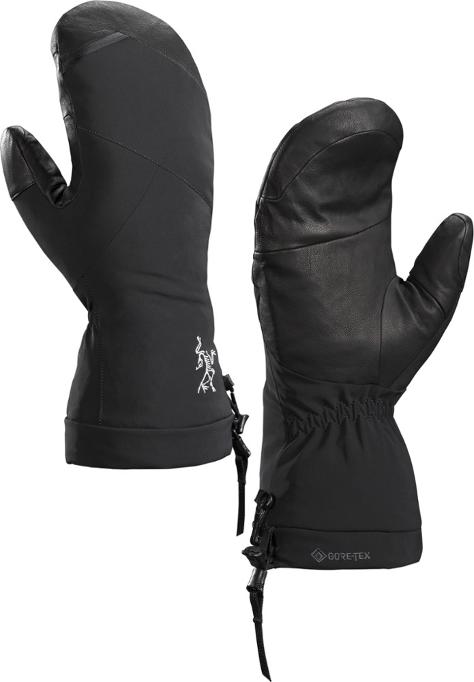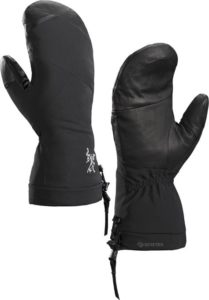 BEST FOR: SEVERE WEATHER
Just as the name says, "SV" stands for severe weather and these mittens are well up to the challenge. With extra insulation doubled onto the back of your hand and added insulation placed strategically around the fingers and palm, your hand should stay warm and well-ventilated even in the thickest of snow storms. The outer shell also stretches out if needed so that you don't need to take off your gloves when grabbing a snack or lacing up your boots.
There are, of course, more protective gloves out there, but for its price point, the Arc'teryx Fission gloves will keep your hands and wrists protected in any conditions you encounter.
Dakine Team Fillmore Trigger
Specs
Gender

:

Men's

Palm Fabric

:

Leather

Removable Liner

:

No
Features
Durable Water Repellent Palm Keeps Your Hands Warm And Dry All Day Long
Duraflex Material Maintains Flexibility In All Temperatures
Removable Wrist Leash Prevents You From Dropping And Losing These Mittens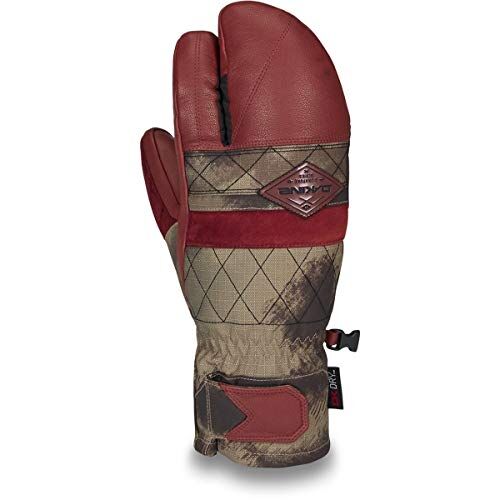 BEST FOR: MOBILITY
For what their worth, the Dakine Trigger Mittens are not only one of the most affordable mittens out there but the most flexible as well. Unlike other two-part mittens, these mittens have three distinct slots for your hands: one slot for your thumb, one for your pointer finger, and a large slot for the rest of your hand. So if you're particularly looking for a greater degree of mobility, this is your mitten.
A thick fleece, a removable wrist leash, and a durable water repellent leather palm check all the boxes of a good pair of mittens, and yet these only cost a quarter of the price. We highly recommend these Burton Gore-Tex Mittens to warm weather boarders and occasional riders as these mittens won't last as long as a more expensive pair of mittens.
DAKINE Leather Camino
Specs
Gender

:

Women's

Palm Fabric

:

Leather

Removable Liner

:

Yes
Features
Nose Wipe Thumb Panels
Two-Year Limited Warranty
Internal Heat Pack Pockets For Hand Warmers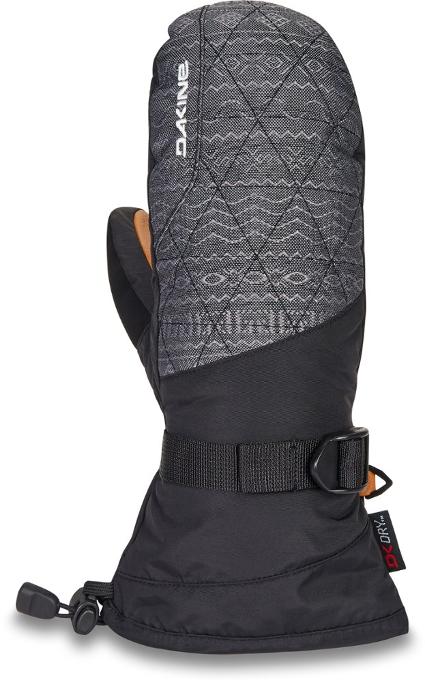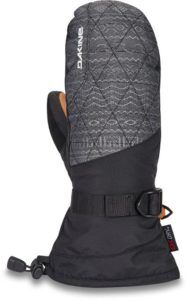 BEST FOR: WET WEATHER
The Dakine Camino Mittens are built to repel cold, wet weather anywhere. Heavily coated with a durable water repellent treatment, these mittens also feature waterproof liners to protect your hands from rain and snow. If you do choose to take off your mittens, these liners are touch-screen compatible, so you can keep your hands warm even as you surf the web.
With a cinch-closed gauntlet and nose wipe thumb panels to wipe away any snow-boogers that form, these gloves are soft, warm and well protected from the elements. We highly recommend them for wet weather environments.
KINCO 901T-M
Specs
Gender

:

Unisex

Palm Fabric

:

Pigskin

Removable Liner

:

No
Features
Pigskin Patch On Palms And Fingertips Withstand Heavy Impact
Cuff Can Be Worn Both Outside And Inside The Cuff
Angled Thumbs For More Flexibility
BEST FOR: MINIMALIST RIDERS
Stylish, grippy, and lightweight, these Kinco Pigskin Mittens will offer you more than enough flexibility for any maneuver. Worn often by park riders and other minimalists, these mittens come with suede pigskin patches on their palms and fingertips for added grip and protection when grabbing your board or skis. Furthermore, the thermal insulation within and laminated liner retains heat and expels the cold all while maintaining that breathable, lightweight feel.
Overall, we recommend these to stylish, minimalist riders looking for a warm, durable glove that will withstand adventures through the park.
THINGS TO CONSIDER WHEN BUYING SNOWBOARD MITTENS
The most useful of all your snowboard gear is your mittens. Unlike your snowboard, you'll find yourself wearing them around town or when shoveling out the driveway as well as on the slopes. So, when buying yours, research some specifics on how to choose the best mittens and how to buy the right ones for you. Below, we've listed out a few of the main considerations.
GLOVES OR MITTENS
Do you want mittens or gloves? Hopefully you've already determined which is best for you, but if you haven't yet, make sure you check out how both feel on your hands. Gloves offer riders a better grip on their surroundings and mittens offer more warmth.
STYLE
Most mittens come with two distinct areas, one for your thumb and the other for your four fingers, but others utilize a "trigger" style. This style comes with three sections adding in one slot for your pointer finger. This design gives riders more mobility but cuts down a bit on warmth. If you anticipate using your hands a lot or you need to interact with clients, you'll probably want a "trigger" style mitten for that added mobility.
WARMTH
Some mittens are just shells, others just liners, and a few even heat themselves. Whatever the case, decide how warm of a mitten you want and buy one that fits your preference. A thick liner and added protection usually means a warmer glove. Often, price correlates to warmth as well.
GRIP
Pigskin, leather, polyester: different mittens use different fabric for their design. Polyester is often the cheapest and tends to be quite slippery so you might be prone to dropping things with polyester mittens. Pigskin is rather cheap as well, but offers more grip; though it is susceptible to weather. Leather is the most grippy surface and often comes with a water repellent coating as well, making it a rather expensive option.
PRICE
Mittens will vary dramatically in price, and often, that's for good reason. The more expensive the mitten, often the better it keeps your hand warm. Sometimes, you'll see self-heating mittens which will cost the most because of the technology, but we only recommend these to casual riders as a self-heating mitten may not be able to withstand more severe terrain and weather.
FEATURES EXPLAINED
TRIGGER STYLE MITTEN
A mitten designed with three parts: one for the thumb, one for the pointer finger, and one section for the remaining three fingers.
GAUNTLET
The part of the mitten that extends back up the wrist for warmth and protection.
WRIST STRAP
A thin strap that hangs from your mitten and wraps around your wrist so you don't drop and lose your mittens when you take them off between rides.
THUMB PANEL
A padded area of the thumb meant to more comfortably wipe your nose.
READ MORE
For more of our top snowboarding gear recommendations, check out these popular buyer's guides: