Updated on September 22, 2020
You don't have to leave your style behind when you hit the slopes. On the contrary, a good snowboard jacket will keep you warm, dry, and looking like a million bucks as you explore the resort. From technical shells that are made for those who enjoy exploring the peaks of the backcountry to more streamlined designs that are best for those who spend most of their time on the resort, there's a jacket out there for everyone.
When you start looking for your snowboard jacket this season, consider where you most often snowboard (East Coast or Pacific Northwest, for example) and the type of terrain that you most enjoy. Above all, these two factors can help guide your decision-making when it comes to more of the features of the jacket. We've put together a guide to the best women's snowboard jackets to help you through the process. Check it out, and see you out on the slopes this winter!
For more of our top snowboarding gear recommendations, check out the Best Snowboard Jackets.
Quick Answer

-

The Best Women's Snowboard Jackets
Columbia Whirlibird IV Interchange

Patagonia Insulated Snowbelle
Comparison Table

-

Best Women's Snowboard Jackets

For the best experience turn your device horizontally
Reviews

-

The Best Snowboard Jackets for Women
Burton Jet Set
Specs
Insulation

:

Yes

Weight

:

2 lbs., 1.9 oz.

Style

:

Full Zip-Up Insulated Jacket

Ventilation

:

Pit Zips

Insulation Type

:

Synthetic

Hood

:

Yes

Powder Skirt

:

Yes
Features
Slim Fit Design Hugs Closer Into The Body For A Sleeker Fit
Hood Is Helmet Compatible And Adjustable In The Front
Jacket Features Zippered Micro-Fleece Hand Warmer Pockets, Easy Access Media/Goggles Pocket, Mesh Pocket On Interior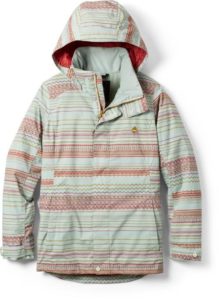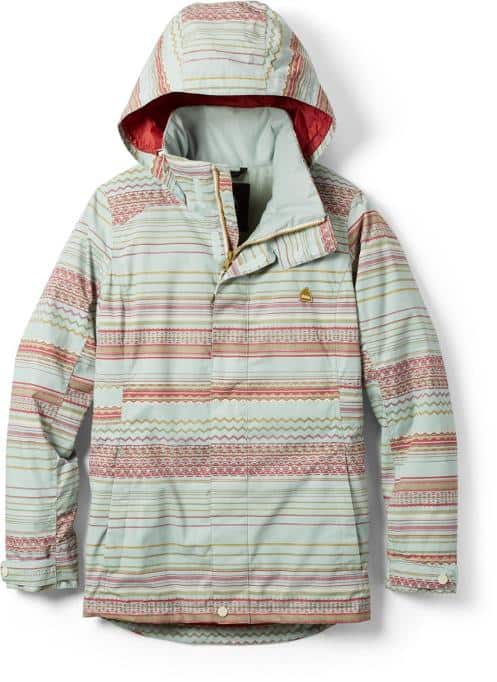 BEST FOR: ON-AND-OFF THE MOUNTAIN PERFORMANCE 
The Burton Jet Set Insulated jacket has enough style to take you from the city to the slopes and enough performance features to keep you warm and dry all day while you're out snowboarding. The exterior of the jacket is made of a breathable waterproof membrane with critically taped seams to keep foul weather out, while the  pores of the lining will help you stay cool on the warmer, spring snowboard days. 
There are also mesh-lined sleeve vents to help you release heat from the interior of your jacket. Finally, for those days with heavy snow and lots of fresh powder, the jacket includes a hidden hem cinching mechanism and a powder skirt that can attach to compatible snow pants to ensure that the snow doesn't get into your jacket or your pants.
Arc'teryx Sentinel LT
Specs
Insulation

:

No

Weight

:

1 lb., 3.7 oz.

Style

:

Full Zip-Up Shell

Ventilation

:

Pit Zips

Insulation Type

:

N/A

Hood

:

Yes

Powder Skirt

:

Yes
Features
Integrated Powder Skirt With Gripping Elastic Keep Out Snow And Wind
Hood Is Helmet Compatible For Use During Stormy Days
Interior Pockets Provide Protection For Media And Other Valuables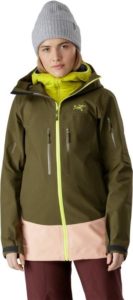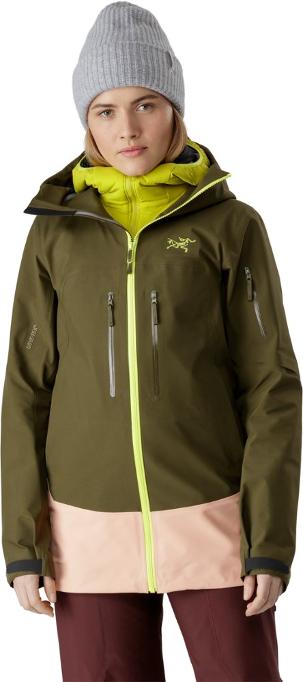 BEST FOR: POWDER DAYS
This Arc'teryx Sentinel LT snowboard jacket is made for powder days. Its longer cut is designed for more coverage on both the back and front sides and the integrated powder skirt with the extra gripping elastic provides even more assurance that you won't get snow in your gear when the conditions are deep or you take a fall. 
The jacket is also compatible with Arc'teryx snow pants; the sliding mechanism on the powder skirt easily attaches to the corresponding pants for even more coverage. This jacket is a shell, meaning it doesn't have any insulation integrated into its design, so on warm spring days, you can open the vents and strip away some layers for added comfort and heat release. This jacket loves powder days as much as you do!
686 Athena
Specs
Insulation

:

Yes

Weight

:

1 lbs., 14 oz.

Style

:

Full Zip-Up Insulated Jacket

Ventilation

:

Pit Zips

Insulation Type

:

Synthetic

Hood

:

Yes

Powder Skirt

:

Yes
Features
Specially Placed Insulation Offers Unparalleled Warmth In Cold Weather
Pocket On The Sleeve With A Hook-And-Loop Closure Holds Your Resort Pass Safely And Keeps It Accessible
Hood Is Helmet Compatible With Adjustable Hem In The Front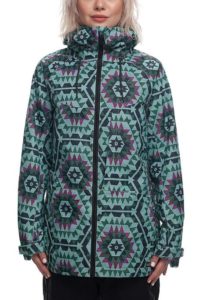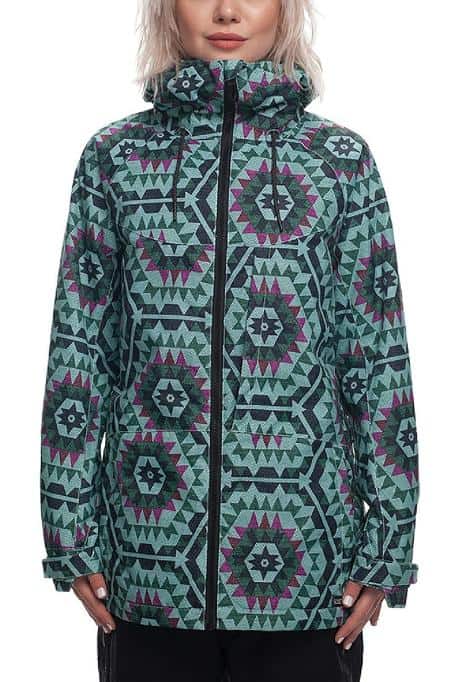 BEST FOR: NO FUSS PERFORMANCE
The 686 Athena Insulated snowboard jacket packs all the performance you need on the mountain into an easy-to-use stylish jacket. The hem of the jacket sits at about thigh height, a fashion consistent with snowboard style trends and useful for those powder days that require more coverage. The jacket is also compatible with 686's corresponding snow pants, meaning they can clip onto the pants for even more coverage. 
When spring arrives and the temperatures heat back up, you can always unzip the pit zips to release extra heat and cool off as you charge down the hill or ride up on the lift. Finally, the kaleidoscope design on the exterior of the jacket ensures that your friends will be able to spot you on the hill and that you'll feel hip and on-trend as you enjoy your turns.
Arc'teryx Ravenna
Specs
Insulation

:

No

Weight

:

1 lbs., 9.6 oz.

Style

:

Full Zip-Up Shell

Ventilation

:

Core Vents

Insulation Type

:

N/A

Hood

:

Yes

Powder Skirt

:

Yes
Features
Specialized Water Repellant On Exterior Of The Jacket Causes Moisture To Bead Up And Roll Off Without Soaking In
Added Side Zippers For Easy Venting On Warm Spring Days
Brushed Flannel Panel On Back Interior Of The Jacket Provides Added Warmth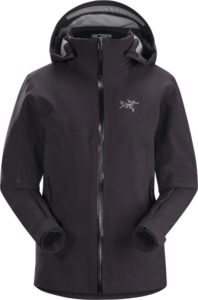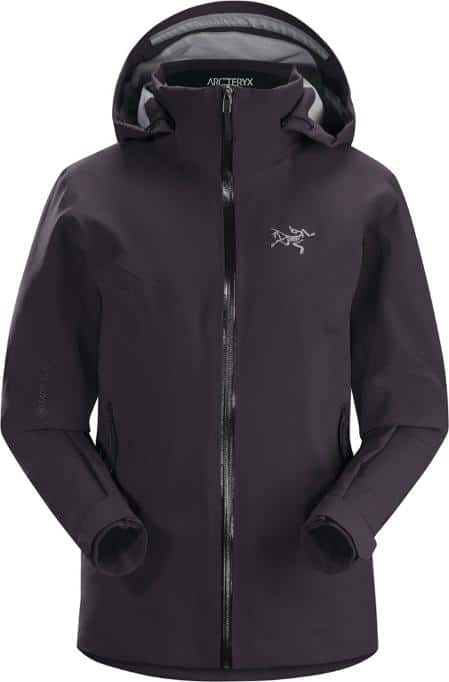 BEST FOR: ALL-DAY COMFORT
The Arc'teryx Ravenna Shell snowboard jacket was designed with the resort snowboarder in mind. Its Gore-Tex outer layer repels water and watertight zippers ensure that no wind or precipitation seep into your jacket. But for those warmer spring days, the jacket also features side core zippers that help you to cool off and dump extra heat as those trails heat up under the sun. 
If you're looking for a slim-fitting, refined look in your snowboarding jacket, this might be the one for you. It's designed to sit at hip height and hug the body closely for a refined and streamlined look. And the best part is, the fabric doesn't restrict your movement; in the spirit of a softshell jacket, four-way stretch promotes movement while also retaining its shape.
Columbia Whirlibird IV Interchange
Specs
Insulation

:

Yes

Weight

:

N/A

Style

:

Full Zip-Up 3-In-1 Jacket

Ventilation

:

Pit Zips

Insulation Type

:

Synthetic

Hood

:

Yes

Powder Skirt

:

No
Features
3-In-1 System Allows You To Wear The Shell By Itself, The Liner Alone, Or Both Together
Insulation In The Liner Jacket Provides Added Warmth
Underarm Venting Helps You To Regulate Temperature And Not Overheat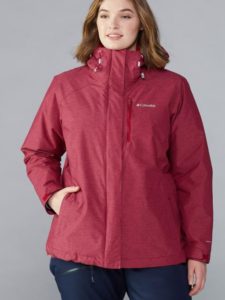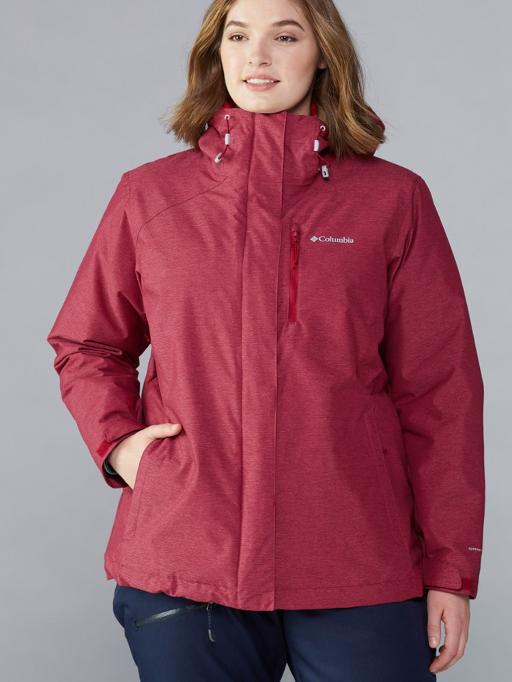 BEST FOR: VALUE MEETS PERFORMANCE
You can't find much better value than with this 3-in-1 design. In one jacket, you get a shell (an uninsulated jacket), a liner that can be worn alone (a mid-layer, insulated jacket), and a fully insulated winter jacket (shell and liner worn together) perfect for a day snowboarding on the mountain. The shell features taped seams to ensure that inclement weather doesn't get in, and the liner jacket has full synthetic insulation to keep you warm on the slopes and while walking around town after snowboarding. The shell of the jacket also has a hood that can be worn over a helmet on those particularly cold or snowy days. And at this reasonable price point, this jacket is the true definition of value meets performance.
Patagonia Insulated Snowbelle
Specs
Insulation

:

Yes

Weight

:

31.1 oz.

Style

:

Full Zip-Up Insulated Jacket

Ventilation

:

Pit Zips

Insulation Type

:

Synthetic

Hood

:

Yes

Powder Skirt

:

Yes
Features
Powder Skirt Keeps Snow Out Of Your Jacket And Pants, And It's Compatible With Any Patagonia Snow Pants
Insulation Compresses Easily For Packing And Insulates Even When It's Wet
Polyester Lining Wicks Away Moisture From Your Body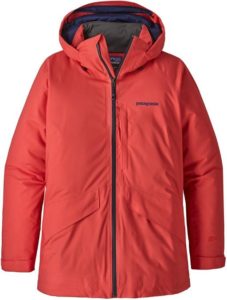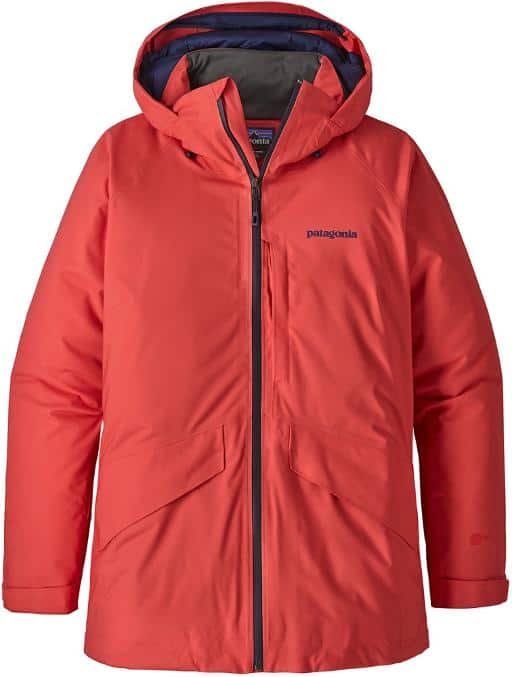 BEST FOR: TAKING IT TO THE NEXT LEVEL
This Patagonia Insulated Snowbelle snowboard jacket has everything you'd want in a snowboard jacket and more. Embedded in the jacket is a RECCO reflector, a piece of equipment that enhances radio signals from search-and-rescue radios to aid a rescue in the event of an avalanche. So, if you're thinking of taking your skills from the slopes of the resort to the backcountry this season or next, this might just be the jacket to invest in. 
The jacket also features a helmet-compatible hood with a laminated visor that repels precipitation for added visibility in snow conditions and microfleece lining around the chin and neck for added comfort. If you love snowboarding and are looking forward to years and years of exploring the slopes, then this jacket might be the right one for you.
Roxy Jetty
Specs
Insulation

:

Yes

Weight

:

N/A

Style

:

Full Zip-Up Insulated Jacket

Ventilation

:

Pit Zips

Insulation Type

:

Synthetic

Hood

:

Yes

Powder Skirt

:

Yes
Features
Jacket Features Extra Insulation Around The Core To Keep It Warm In Even The Coldest Temperatures
Jacket Is Compatible With Roxy Snowboard Pants; They Snap Together For Added Snow Protection
Lining Of The Jacket Cinches At The Wrists On The Interior Of The Jacket For Protection Against Snow And Cold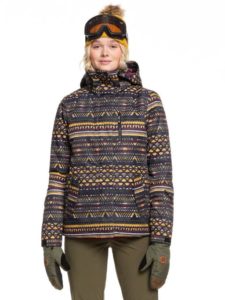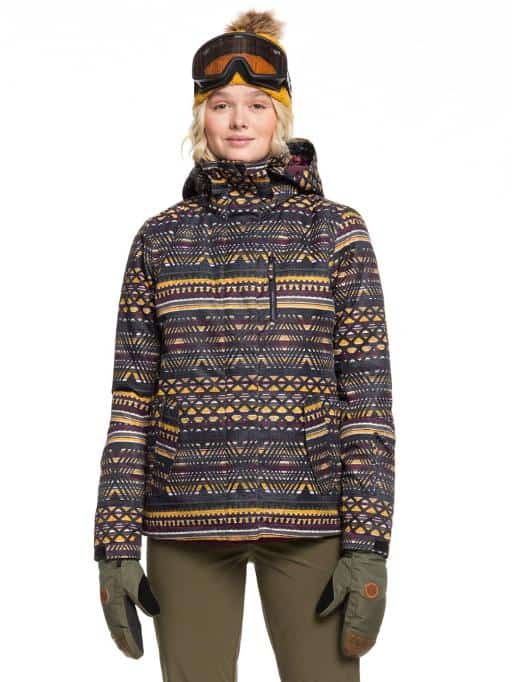 BEST FOR: ULTIMATE COMFORT
For this Roxy snowboard jacket, ultimate comfort means proper insulation in the body of the jacket and the hood and sleeves for those super chilly days on the mountain. It means including specialized pockets for your goggles, your media, your ski pass, and a clip to hold your keys. It means that the powder skirt can snap off when you don't need it to reduce the bulk in your jacket. It means having a chin guard that protects against pinching your skin in the zipper and a jacket-to-pants attachment system to keep snow out of your jacket and your pants on powder days. This Roxy Jetty Snow Insulated snowboard jacket will keep you warm, comfortable, and stylish on the hill throughout this season and the next.
THINGS TO CONSIDER WHEN BUYING WOMEN'S SNOWBOARD JACKETS
COST
As with all outdoor gear, you have to find the best balance for you between performance and economy. It is important, however, to think of a snowboard jacket as an investment in your winter season. A jacket that will keep you warm all day, that will prevent you from getting soaked, that will breathe on those warm and sunny spring days, and that will make you feel good and stylish out on the hill can make the difference between an awesome day and a passable or miserable day. If you love snowboarding and are eager to continue to ride season after season, then a quality women's snowboard jacket will allow you to enjoy the slopes winter after winter.
TYPE OF SNOWBOARDING & SNOWBOARD GEOGRAPHY
The type of snowboarding that you do and the geography in which you typically snowboard may have an impact on your choice of snowboard jacket. For example, if you typically snowboard at Northeast ski resorts (Vermont, New Hampshire, Maine), you're going to want an insulated jacket that'll keep you warm all day.
If you spend most of your time at Colorado or Utah Rocky Mountain resorts, you may opt for a shell rather than a fully insulated jacket because temperatures out west are typically more mild with more sunshine. If you're into riding the terrain park, jacket styles tend to lean toward baggier or more roomy, whereas if you're looking to head into the backcountry, you may want to invest in a more technical shell. Check out Evo's informative article for information about how to choose your snowboard jacket based on region of the United States.
FIT
There are three main types of fit in women's snowboard jackets: slim, regular, and loose fitting. With a slim fit (sometimes known as "alpinist"), your jacket will fit much closer to your body with less room for under layers. A regular fit is that happy medium between slim and loose. There's plenty of room to fit more layers underneath without feeling like you're swimming in your jacket. A looser jacket has traditionally been preferred among snowboarders as a style statement and is worn today by riders that prefer more coverage overall and more room for mid- and under layers. Fit is a matter of preference for each individual snowboarder.
TYPE OF WOMEN'S SNOWBOARD JACKETS
There are five main types of women's snowboard jackets: shells, insulated jacket, technical shells, soft shells, and 3-in-1 jackets. When choosing a jacket type, it's important to consider your comfort, the places that you like to snowboard, and the type of snowboarding that you'll be doing most often. If you run colder or typically snowboard at resorts located in colder climates, consider an insulated jacket to give you that extra warmth. 3-in-1 jackets can be economical as well as practical. For more information, check out REI's Advice Column on choosing what to wear for snowboarding.
FEATURES EXPLAINED
SHELL
A shell is a non-insulated snowboard jacket under which warm layers can be worn. Shells are versatile in all weather because more layers can be added underneath for colder temperatures while venting and less insulation provides comfort in warmer, spring temperatures.
INSULATED JACKET
Insulated jackets have a layer of synthetic or down insulation that keep you warmer than just a shell alone. These jackets are most popular in colder climes like Vermont, New Hampshire, and Maine and for those that tend to run colder.
TECHNICAL SHELLS
These jackets are preferred by boarders who spend time in the backcountry. They are made to breathe while providing best-in-class waterproofing. They feature high-end fabrics and technical bells and whistles.
SOFTSHELLS
Softshell jackets are made of soft, stretchy fabrics that move with you. They tend to be water resistant, rather than waterproof and aren't as warm as insulated jackets. These are great for spring snowboarding days.
3-IN-1 JACKETS
These jackets feature an outer shell with a fleece or mid-layer jacket that zips into and out of the lining. Those who know that they'll be riding in a variety of conditions in all sorts of climates might opt for this type of jacket as a practical, economical option.
POWDER SKIRT
Powder skirts are a stretchy, waterproof piece of the jacket that can often snap or zip onto snow pants as well as cinch around the waist. The goal of this piece of waterproof fabric is to keep snow out of your snowboard pants and off of your back.
INSULATION TYPE
Snowboard jackets tend to use synthetic or down insulation for added warmth. Synthetic insulation is often less bulky and has quick-drying and anti-bacterial characteristics. Down is very lightweight and very warm.
WATERPROOFING
Technology that keeps the water out of the inside of the jacket with the goal of keeping you warm and dry all day on the slopes. Jackets range from entirely waterproof to water resistant.
READ MORE
For more of our top snowboarding gear recommendations, check out these popular buyer's guides: