Updated on January 26, 2022
You have officially entered the world of climbing. A brush no longer means something you use to brush your teeth or comb your hair. A brush to you is something that cleans those hand and footholds clean of chalk from previous climbers, giving you the best chance to stick that hard move! But it's because you know that a brush for your hair and teeth is not so simple that you also know that a climbing brush is not that simple either. No one brush is the best for all the jobs.
Some brushes are better suited for outdoors than indoors. Some brushes are smaller, fitting in your pocket better for anytime use. Some brushes just work better on certain types of rock than others. Overwhelmed yet? Well don't be. Because we've got you covered here at The Adventure Junkies. We have constructed a list of the ten best climbing brushes to cover you for whatever your needs are. Big or small, rock or plastic, this list has you covered to uncover those holds and grips that will get you to the top!
For more of our top climbing gear recommendations, check out the Best Climbing Helmets.
Quick Answer

-

The Best Climbing Brushes
Escape Climbing Combo Pack

Crush Climbing Crush Brush
Comparison Table

-

Best Climbing Brushes

For the best experience turn your device horizontally
Reviews

-

The Best Brushes for Climbing
So iLL Sloper Brush
Specs
Type

:

Boar's Hair

Material

:

Plastic

Dimensions

:

11.5 x 1.5 in

Handle

:

Plastic

Weight

:

4 oz
Features
Sandpaper Backing for Callous Maintenance
Slanted Design for Equal Distribution on Bristles to Prevent Tip Wearing Down First
Fits on Chalk Bag

BEST FOR: SLOPERS, SLOPERS, SLOPERS
A bigger brother to the original version of this climbing brush, the So iLL Sloper Brush 2.0 is a larger design that is meant to work on, well, slopers. The slanted design of the handle allows for equal distribution amongst all the bristles to help prevent premature wear on the tip of the brush.
The seafoam color of the brush will also make you stand out wherever you are and let everyone know what tool you come equipped with. And because So iLL cares about you, the backing is made with sandpaper so you can make sure that you are tending to the callouses that you have worked so hard to gain! It also will help remove any rough edges that are the enemy in bouldering, leading to the dreaded flappers.
Mammut Boulder
Specs
Type

:

Natural Hair Bristles

Material

:

Wood Handle

Dimensions

:

1.6 x 3.9 x 1.6 in

Handle

:

Wood

Weight

:

1.12 oz
Features
Wide Base to Fit Flat in Hand for Easier Brushing
String-sized Hole to Allow a Point For Attachment to Chalk Bag
Lifetime Warranty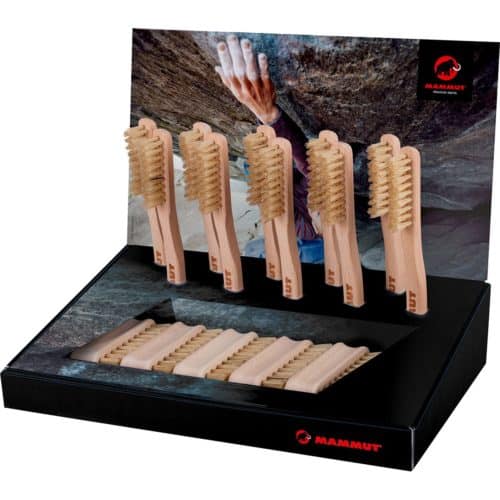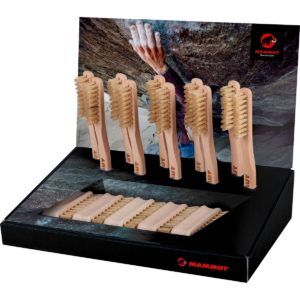 BEST FOR: LARGE HOLDS
While Mammut does not mention exactly what the bristles on their boulder brush are made from, they do say "natural hair", and this brush holds its own outside as well as inside. Designed like a basic floor scrub brush, this brush will not hang on your chalk bag, but takes prize where width is key, such as on those slopers where cleaning a lot of surface area is required. This gives you extra time to work on your project rather than tediously scrubbing away with a smaller brush.
And with a flat design, this brush fits easily in the palm of your hands, so you can really bear down on it when cleaning those holds. The brush, while it doesn't come with any point to attach to your chalk bag, does have a tiny hole in the wood base where you can attach a small string to tether it to you.
Metolius Boar
Specs
Type

:

Boar's Hair

Material

:

Bamboo

Dimensions

:

7.5 x 0.75 x 0.5 in

Handle

:

Bamboo

Weight

:

0.48 oz
Features
Bamboo Handle for Lighter Weight
Hole at End of Handle to Thread String for Chalk Bag Attachment
Durable for Indoor or Outdoor Use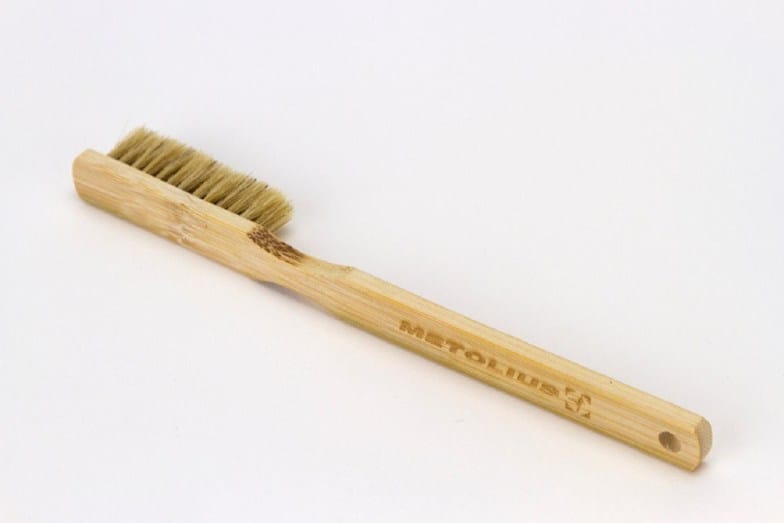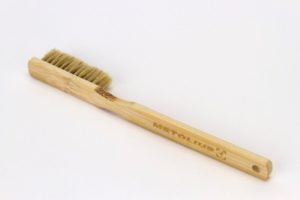 BEST FOR: SIMPLICITY
Metolius makes another great climbing brush that is small enough to go with you anywhere. The boar's hair bristles can withstand even the dirtiest holds you come across. And with the all natural bamboo handle, there are no harsh plastics in this design, so Mother Nature will thank you. The end of the bamboo handle has a small hole in it as well, where you can easily thread a string through, allowing you then to attach this brush to your harness or chalk bag.
This brush is large enough that you can hold it easily, but small enough that you can take it with you anwyere. You may want to go ahead and buy a few of these to replace all those old toothbrushes you have, because at just around $5, why would you buy just one?
Metolius M-16
Specs
Type

:

Nylon

Material

:

Plastic

Dimensions

:

5.5 x 0.98 in

Handle

:

Plastic

Weight

:

0.49 oz
Features
Double Ended with Two Brushes
Contoured Bristles on the Larger Brush to Fit the Shape of the Hold
Stiffer Bristles Will Last Longer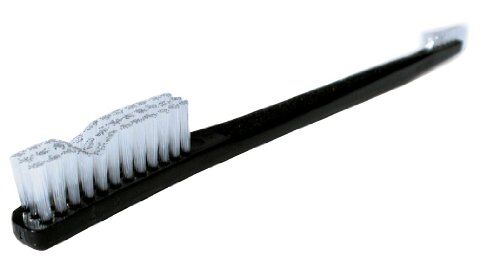 BEST FOR: DURABILITY
Metolius has taken a design that has served the military for years in aiding to clean the inside of rifles to bring you the more peaceful M-16 climbing brush. Made with super stiff nylon bristles, this brush performs as would be expected in the military and can get even the chalkiest holds clean for you to send your route. The bristles on the larger brush are contoured and shaped to curve around the holds you are trying to clean, to ensure maximum surface area is covered. And the smaller brush is also perfect for cleaning those hard to reach crevices as well as the hard to reach areas of your cams!
Lapis Wood Boar's Hair
Specs
Type

:

Boar's Hair

Dimensions

:

9 x 4 x4 in

Handle

:

Plastic

Weight

:

0.3 oz
Features
Curved Bristle Design to Contour to Holds
Curved Handle for More Efficient Brushing
Narrow Head Can Fit in Smaller Crevices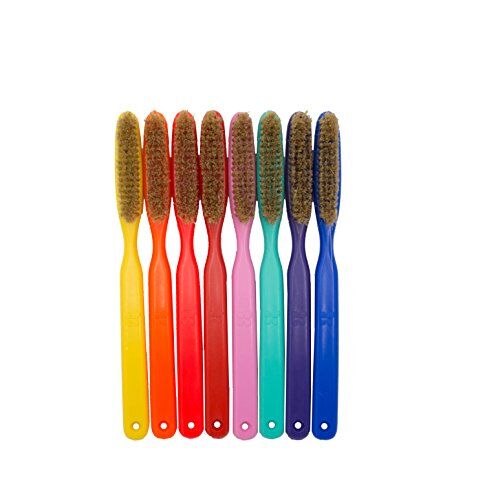 BEST FOR: SIMPLE AND AFFORDABLE
A simple design at a reasonable price point has made this little brush very popular among gym climbers. Small enough to fit on your chalk bag, this plastic handle brush can still bear the force of a good scrub on those messy holds. While made with a softer bristle than some other brushes, the boar's hair bristles are still plenty durable enough and can even fit in all those nooks and crannies that have been chalked up by the countless numbers of climbers.
The curved designed of the bristles also ensures that when this brush is used on larger holds, it contours to the features, maximizing contact and yielding the closest scrub possible. The plastic handle even has a curved design that can be advantageous on certain holds. While the plastic may not be as durable as wood handle brushes, at the price, you really cannot go wrong.
Liberty X-Brush
Specs
Type

:

Nylon

Material

:

0.32 oz

Dimensions

:

6.2 x 1 x 0.3 in

Handle

:

Plastic

Weight

:

0.32 oz
Features
Brushes on Both Ends for Small and Large Holds
Narrow Handle for Small Spaces and Lighter Brush
Fits on Chalk Bag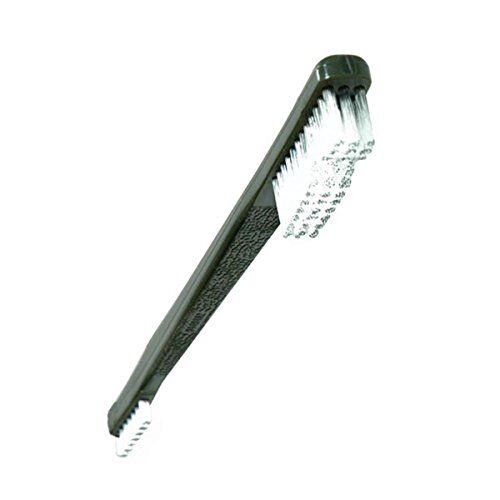 BEST FOR: SMALL CRIMPS
Similar to the Metolius M-16 model, the Liberty X-brush offers you two choices in one brush. The larger end can be advantageous on those bigger holds that have seen a lot of chalked up hand traffic, while the smaller end can be super useful on those already hard to grip smaller crimps. Weighing just 0.32 oz, having two brushes in one is no extra weight for you to carry this guy on your chalk bag. While a bit on the thin side, as long as you are not scrubbing too hard on any given hold, this brush will hold up to most climbs you come across. And at just under $3, you can easily afford to replace this brush if necessary.
Escape Climbing Combo Pack
Specs
Type

:

Boar's Hair

Material

:

Wood Handle

Dimensions

:

13.5 x 6 x 0.75 in

Handle

:

Wood

Weight

:

4 oz (Large)
Features
One Large Brush
Three Smaller Brushes
Slanted Design for Equal Distribution on Bristles to Prevent Tip Wearing Down First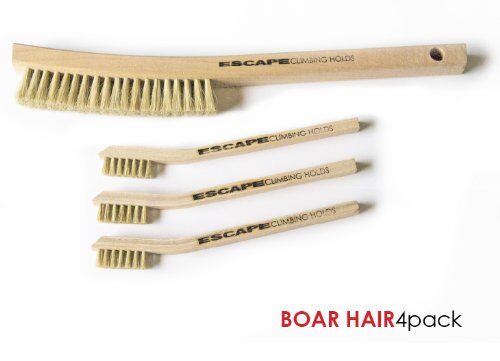 BEST FOR: BUDGET CONSCIOUS CLIMBERS
What's better than one brush? How about four? For the budget conscious person in you, Escape brings you a 4-pack of their boar's hair climbing brush. The three smaller brushes probably aren't going to be your go-to brushes, but they will help with the smaller crevices that need to be cleaned up.
The larger brush is better suited for more of you needs, and will get those larger holds clean in half the time. The bent shape of the handle allows for an equal distribution of surface area on the bristles to prevent uneven wear, so this brush will last longer. A tiny hole in the end of the brush is also a nice feature that allows you to thread a string for attachment to things other than your chalk bag, so you can even carry this brush on your harness during other types of climbing.
Crush Climbing Crush Brush
Specs
Type

:

Boar's Hair

Material

:

Wood

Dimensions

:

8 x 1 x 1 in

Handle

:

Wood

Weight

:

2.5 oz
Features
Glass Reinforced Polymer Handle for Indestructibility
Eco Friendly Design
Fits on Chalk Bag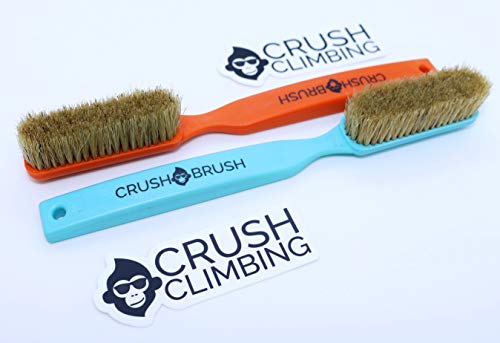 BEST FOR: INDESTRUCTIBILITY
All natural here with the Crush Brush Boar's Hair climbing brush. The all natural boar's hair bristles will not scratch the rock when using this brush outside, and with no nylon or plastic, there will be no plastic residue left behind. Since the Crush Brush is on the larger side of climbing brushes, it will cover a lot of surface area when cleaning. Designed with a glass reinforced polymer handle, you won't have to worry about this bad boy breaking while scrubbing. And this brush is even good in the gym and cleaning out all the grime left behind from kids. While it may look like a toothbrush, it is so far from that. Get ready to Crush!
Evolv Bouldering Brush
Specs
Type

:

Boar's Hair

Material

:

Bamboo

Dimensions

:

11 x 1 x 1 in

Handle

:

Bamboo

Weight

:

0.8 oz
Features
All Natural Features
Fits on Chalk Bag
Lightweight Bamboo Handle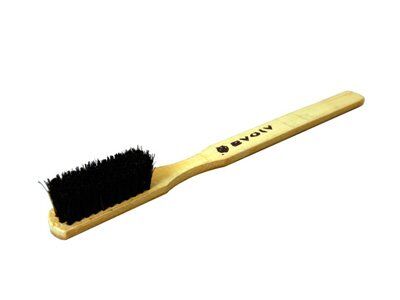 BEST FOR: SMALL CRACKS
If friction is what you are seeking, friction is what you will get when you use the Evolv bouldering brush. The all natural boar's hair bristles are stiff enough to clean all the chalk away with no additional residues and the bamboo handle is a great use of materials and is certainly sturdy. Also, the hollow nature of bamboo makes this brush super light, making it no burden to attach to your chalk bag. While maybe not quite as durable as some brushes, the even and thick distribution of the bristles will help make this brush last longer through all the scrubs than just a plain old toothbrush. And the wider bristle base will also help cover more ground on those grimy holds.
THINGS TO CONSIDER WHEN BUYING A CLIMBING BRUSH
USE
When you are considering a climbing brush, you need to consider what you are planning on using the brush for, other than just cleaning holds. Are you going to need to get into small cracks and crevices or are you going to need to clean off larger holds? This will determine the durability and size of a brush as well. And don't forget, using a brush to clean off holds between climbs will not only improve your skills on the rock, but is also just good etiquette in the climbing world.
SIZE AND DIMENSIONS
If you need to clean small spaces, you will want to look for a small brush. However, if you are needing to clean larger holds, a small brush will take too much time, so you want something that is larger. However, remember that the larger the brush, the more weight you will have to carry, if you can even attach the brush to your chalk bag at all.
BRISTLE AND HANDLE MATERIAL
Bristles can either be made of nylon or boar's hair. There is a lot of evidence that shows that boar's hair is more durable, making your brush last longer. Brush handles are commonly made of plastic or wood. Plastic brushes may have a tendency to break more easily, but it all depends on how much use they get, what type of holds you are using it on, and how hard you are scrubbing. Many plastic handles are made from recycled material, so that at least makes them eco-friendly.
FEATURES EXPLAINED
SLOPERS
A larger climbing hold, that is often smooth and round, making it hard to grip. A common type of hold in the bouldering world. This is just one of many types of holds in the bouldering world!
READ MORE
For more of our top climbing gear recommendations, check out these popular buyer's guides: