Updated on October 1, 2020
If you're starting to open up your climbing horizons and climb trad (traditional style), you definitely have different needs in climbing shoes than gym climbers or sport climbers. You really don't need a super aggressive shoe, but you do want a shoe that can fit in cracks. Often, trad is multi-pitch so you'll also want something that will be comfortable to wear all day long. Here at the Adventure Junkies, we'll help you choose the best trad climbing shoes.
For more of our top climbing footwear recommendations, check out the Best Climbing Shoes.
Quick Answer

-

The Best Trad Climbing Shoes
Five Ten Anasazi MoccAsym
Comparison Table

-

Best Trad Climbing Shoes

For the best experience turn your device horizontally
Reviews

-

The Best Shoes for Trad Climbing
La Sportiva TC Pros
Specs
Closure

:

Lace-up

Upper

:

Leather

Downturn

:

Neutral
Features
High-Tops (for ankle protection)
Padded Toes (for protection when jamming in cracks)
Ventilated Tongue (for airflow)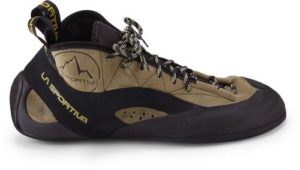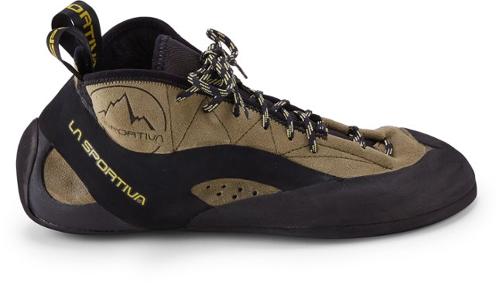 BEST FOR: ALL-AROUND TRAD PERFORMANCE
Designed by and named after pro climber Tommy Caldwell (of "The Dawn Wall" fame), the La Sportiva TC Pros are perhaps the most classic and well-known trad climbing shoe, and for good reason. With padded high tops to protect your ankles and padded toes to keep your feet comfortable while jamming them in cracks, the TC Pros are made for withstanding long multi-pitch trad routes.
But you don't have to be climbing in Yosemite to appreciate the performance of the TC Pros. La Sportiva's P3 platform, which distributes power through the sole of the shoe, makes these excel at technical edging, and the Vibram XS Edge rubber will stick to just about anything.
La Sportiva Mythos
View Women's Version
Specs
Closure

:

Lace-up

Upper

:

Suede Leather

Downturn

:

Neutral
Features
Low Toe Profile (for crack climbing)
Special Lacing System (for custom fit)
Perforated Rubber (for stretch)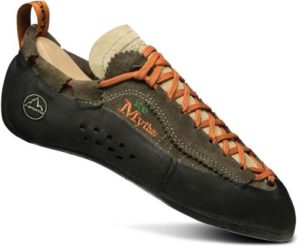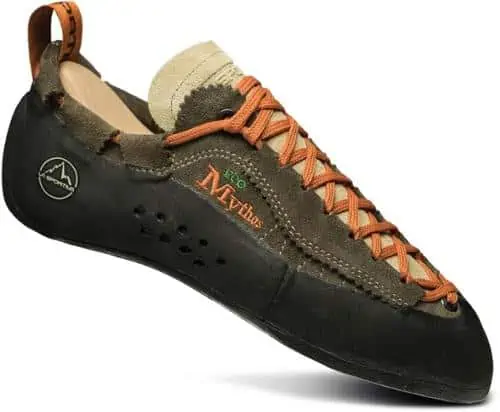 BEST FOR: VERSATILITY
If you're looking for a great introductory trad climbing shoe, the La Sportiva Mythos fit the bill – and they are versatile enough to use for a variety of other climbing styles too, making them an excellent all-around beginner shoe. The low toe profile fits perfectly in the cracks that you'll encounter on trad climbs, and the Vibram XS Grip rubber is good for smearing when you're face climbing.
The unlined leather uppers break in well and mold to your feet, and the patented Mythos lacing system extends all the way around the heel, keeping your feet super snug without forcing you to size down uncomfortably small.
Five Ten Anasazi Lace
Specs
Closure

:

Lace-up

Upper

:

Polyester

Downturn

:

Moderate
Features
Cowdura Leather Upper (for stretch to fit)
Stiff Midsole (for support)
Hard Rubber (for durability)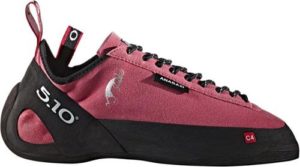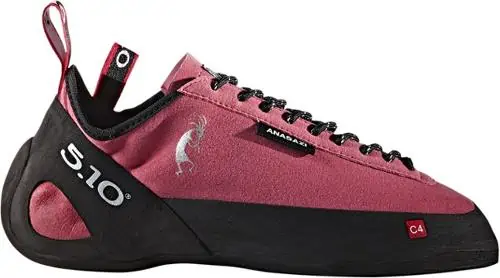 BEST FOR: ALL-DAY COMFORT
The Five Ten Anasazi Lace is often referred to by its signature pink color, but it is an excellent trad climbing shoe for more reasons than that. The Cowdura upper molds to your feet when you break them in, and the Stealth C4 rubber is hard enough to hold onto the smallest of edges and smear to your heart's content.
The Anasazi Lace has a fairly narrow fit, which means it might fit the low-volume feet of women better than some other trad climbing shoe options. La Sportiva has updated the heel of these shoes for a much better fit without slippage.
Scarpa Helix
View Women's Version
Specs
Closure

:

Lace-up

Upper

:

Suede Leather

Downturn

:

Neutral
Features
Durable Rubber
Extremely Adjustable Laces (for fit)
Cushioned Heel Cup (for comfort)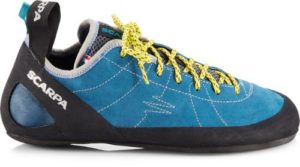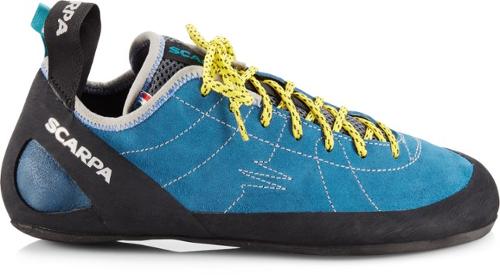 BEST FOR: BEGINNERS
The Scarpa Helix is a comfortable-fitting classic that performs well on trad climbs and is great for an all-around beginner shoe. The Helix is not aggressive, which works well as a trad climbing shoe. It features a sole made of Vibram XS Edge rubber which is both sticky and durable, something you want when you're climbing trad.
The Helix is a very comfortable trad climbing shoe, thanks to a padded tongue and cushioned heel cup. The suede uppers will stretch when you get the shoes new, and the laces go all the way down to the toe so you can easily adjust to your desired fit.
Boreal Ballet Gold
Specs
Closure

:

Lace-up

Upper

:

Leather

Downturn

:

Neutral
Features
High-Tops (for ankle protection)
Canvas Lining (for breathability)
Anti-Stretch Stitching
BEST FOR: TRAD MULTI-PITCH
Made for dancing your way up the wall, the Boreal Ballet Gold are a good choice for a trad climbing shoe, but not really a shoe that will transition to other types of climbing. The high-top profile is a sign that it will keep your ankles comfy in cracks. With a canvas lining and stitching on the upper to prevent stretch, the Ballet Gold should fit fairly true to size out of the box. They also feature a full length insole, so you shouldn't size down much from your street shoe.
Rigid FS-Quattro rubber rings the shoe, providing stiffness and support for all your technical trad climbs.
Five Ten Anasazi MoccAsym
Specs
Closure

:

Slip-on

Upper

:

Leather

Downturn

:

Moderate
Features
Elastic Band (for ease of on/off)
Soft Midsole (for sensitivity)
Flat Toe Profile (for crack climbing)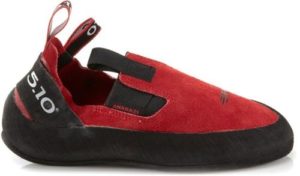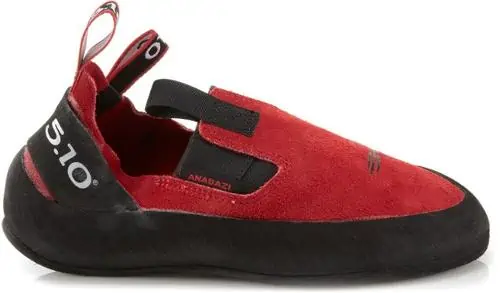 BEST FOR: SLIP-ON STYLE
The Five Ten MoccAsym has been a favorite of climbers for over 30 years. One of the few shoes that comes with an elastic closure for easily slipping on and off, the MoccAsyms conform to your feet thanks to a natural leather upper that stretches out of the box. They are also extremely breathable, which is what you want on a long trad climb.
The slipper style is low profile for easily jamming in cracks, making it an excellent choice for a trad climbing shoe. The Stealth C4 rubber sticks to just about every surface while providing plenty of sensitivity throughout the sole of the shoe.
Evolv The General
Specs
Closure

:

Lace-up

Upper

:

Leather

Downturn

:

Moderate
Features
High-Tops (for ankle protection)
Slightly Asymmetrical Toe (for performance)
Stiff Midsole (for support)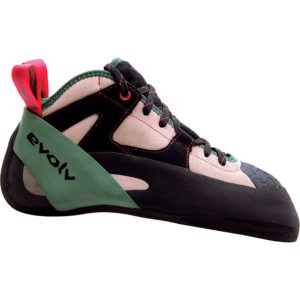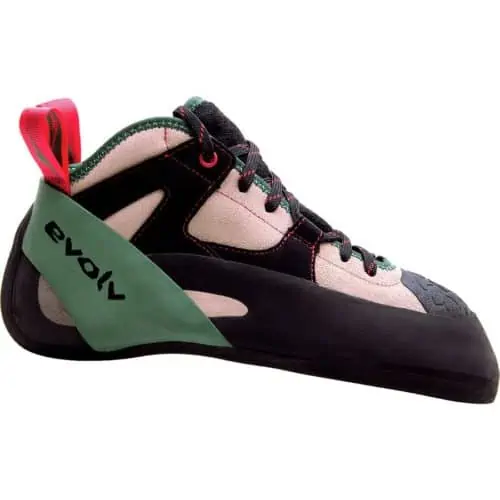 BEST FOR: TECHNICAL CLIMBING
The General from Evolv is unique as a trad climbing shoe because it is more aggressive than the rest of the flat, neutral trad-specific shoes. The moderate downturn gives you much more precision on small edges, and the stiff sole, asymmetrical shape, and tensioned rand provide extra power to your toes. The Trax rubber sole features toe rubber of variable thickness to provide extra durability to high wear areas.
The high top uppers give great ankle support and protection when you're crack climbing, and the cotton liner prevents stretching while the padded insole keeps your feet comfortable on those long multipitch climbs.
Butora Mantra
Specs
Closure

:

Lace-up

Upper

:

Leather

Downturn

:

Moderate
Features
Stiff Midsole (for support)
Memory Foam Padding (for comfort in cracks)
Hemp Lining (for moisture-wicking)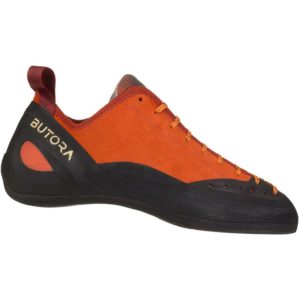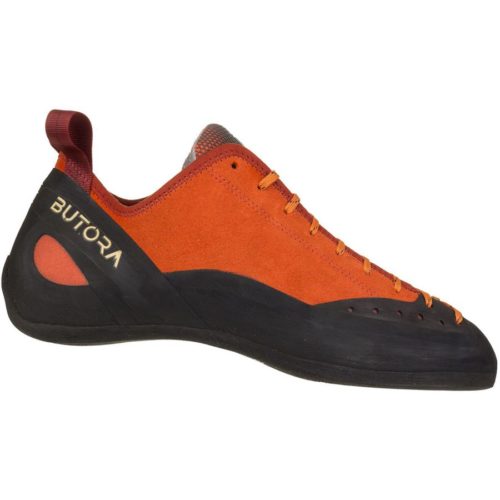 BEST FOR: CRACK CLIMBING
The Butrora Mantra is the perfect trad climbing shoe for those who can't get enough of stuffing their feet in cracks. The mid-height upper provides enough protection to your ankles, and the memory foam padding cushions your toes in whatever jam you find yourself in. The stiff midsole gives your feet plenty of support, and the rubber toe patch provides extra durability.
If you're wearing the Mantras on an all-day climb, you'll definitely appreciate the hemp lining, which is moisture-wicking to keep your feet dry even if you're sweating on a try hard route. The laces also make it easy to tighten the shoe to the precise fit for your foot.
La Sportiva Katana Lace
Specs
Closure

:

Lace-up

Upper

:

Leather/Synthetic Leather

Downturn

:

Moderate
Features
Synthetic Leather Toe Box (for edging)
Specialized Lacing (for no-stretch fit)
Breathable Tongue & Lining (for moisture control)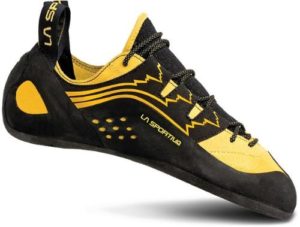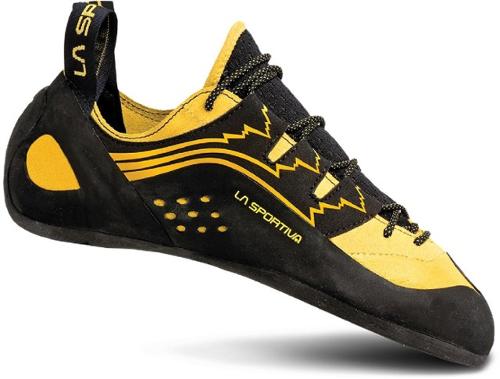 BEST FOR: MULTIPURPOSE
It might not be a dedicated trad climbing shoe, but the La Sportiva Katana is at home on crack climbs, and also is a high-performance technical shoe for sport climbing or bouldering. If you like a variety of climbing, but just want one shoe, the Katana is ideal for you.
Slightly downturned, with a rubber rand that extends from the sole to the toe designed to direct power to the toes, the Katana shines on technical climbs and is low profile enough to fit in the cracks you'll be tackling on trad. The Vibram XS Edge rubber is also excellent for smearing, and the proprietary Lorica lacing system makes it simple to get a secure fit.
La Sportiva Miura
View Women's Version
Specs
Closure

:

Lace-up

Upper

:

Leather

Downturn

:

Aggressive
Features
Tensioned Rand (for power and precision in the toes)
Multi-paneled Lining (for fit)
Speed-lacing System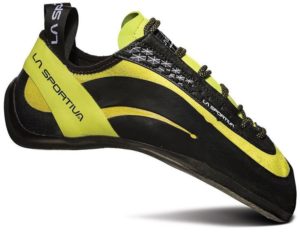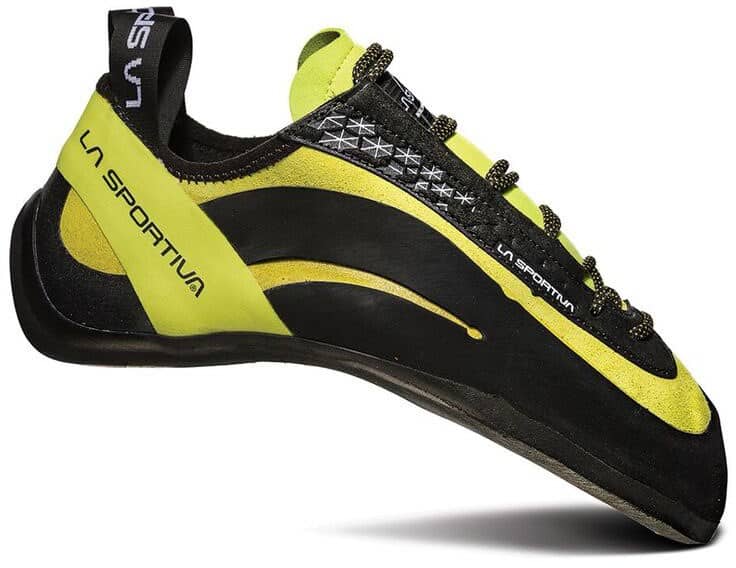 BEST FOR: HARDER CLIMBING
If you're looking for a trad climbing shoe that also performs well when you're projecting harder climbs, the La Sportiva Miura should be your go-to shoe. The Miuras are extremely aggressive to give you control on tiny footholds, and the flexible midsole provides the sensitivity you need for smearing and technical footwork. The Vibram XS Edge rubber is super sticky to keep your feet from slipping off the smallest holds.
With a multi-paneled lining and a speed-lacing system, the Miuras are easy to adjust to your particular feet. They also feature a moisture-wicking lining to control your sweat when you're working on hard climbs.
THINGS TO CONSIDER WHEN BUYING TRAD CLIMBING SHOES
Do you want a dedicated trad climbing shoe or something that will still work if you're sport climbing or bouldering, too? The very best trad climbing shoes are fantastic for trad, but really not so great for other kinds of climbing, especially steeper sport or boulders. But some shoes are versatile enough to let you climb a variety of terrain, though they won't have the features of a dedicated trad shoe, like high tops or toe padding. Climbing Magazine has some great tips for finding the right shoe for you and taking care of them.
Also, for trad climbing you probably don't want a velcro closure shoe, because those can be hard to fit in cracks and can easily get destroyed. Lace-up is the signature closure for trad shoes, although a few might be slip-on. Evening Sends offers pointers on what to look for in the fit of a trad shoe versus a sport or bouldering shoe, and how to find the proper (not too tight) fit in a climbing shoe.
FIT
A good fit is extremely important in a climbing shoe, and trad climbing shoes should still fit fairly snugly, but not as tight as other climbing shoes. Trad shoes tend to be less aggressively downturned, so your toes should have a little more room. If you pick a trad climbing shoe with a high top, make sure it's not going to dig into your ankle uncomfortably.
COMFORT
The most comfortable trad shoes have padding for when you are jamming your feet in cracks. There are plenty of good trad shoes that don't have this, but if you're planning for lots of crack climbing, your feet will be much happier with this cushioning.
You're also often wearing trad climbing shoes for longer multi-pitch climbs or all-day adventures, so you want them to be able to breathe and keep your feet from getting too sweaty.
DURABILITY
If you're sticking your feet in cracks, your shoes are going to get scuffed up. Trad shoes with rubber all around the rand can hold up to this abuse. Also, laces are much better than velcro, but some laces are too long or not as abrasion resistant and may need to be replaced.
FEATURES EXPLAINED
CLOSURE
How you take the shoe on and off, as well as tighten it to fit. This can be lace-up, velcro straps, or slip-on elastic.
UPPER
The material that makes up the upper portion of the shoe. This is generally either leather or synthetic, and sometimes it has lining or padding.
OUTSOLE
The bottom part of the shoe, which, in climbing shoes, is always made of rubber. Different brands have their own type of rubber with different properties.
LAST
This is the model that the shoe is built around. Shoes made on a slip-last are softer for greater sensitivity, while board-lasted shoes are stiffer for more support and comfort.
RAND
The rubber that wraps around the toe of a climbing shoe and extends down over the sole.
DOWNTURN
The aggressiveness of how the shoe curves down in the toes. Flatter shoes tend to be more comfortable, but more downturned shoes give you better performance on steep terrain. Beginner and trad climbers generally will want to start with a neutral to moderate downturn.
READ MORE
For more of our top climbing gear recommendations, check out these popular buyer's guides: