Updated on November 4, 2020
There's nothing quite like camping outside after a good day's hike and sitting around the fire at night while staring up at the stars overhead, sharing stories with friends and family. But to make that moment perfect, you need a good meal. And for a good meal, you need a great stove. Luckily, we here at The Adventure Junkies have picked out the best ultralight backpacking stoves for you.
Whenever you set out for a backpacking trip, whether it be around the block or along parts of the Pacific Crest Trail, you need to pack along a durable, efficient, lightweight backpacking stove. Too heavy and it will slow you down. Too big and you won't have any room leftover in your pack for other essentials. Below, we've picked out five of the best ultralight backpacking stoves on the market. Read through each to figure out which one best suits your needs.
For more of our top backpacking gear recommendations, check out the Best Backpacking Stoves. 
Quick Answer

-

The Best Ultralight Backpacking Stove
MSR WhisperLite Universal
Comparison Table

-

Best Ultralight Backpacking Stoves
Reviews

-

The Best Ultralight Stoves for Backpacking
MSR PocketRocket 2
Specs
Weight

:

2.6 oz

Fuel Type

:

Canister

Boil Time

:

3m 30s
Features
No Priming Required
Ultralight Hardshell Carry Case
Adjustable Flame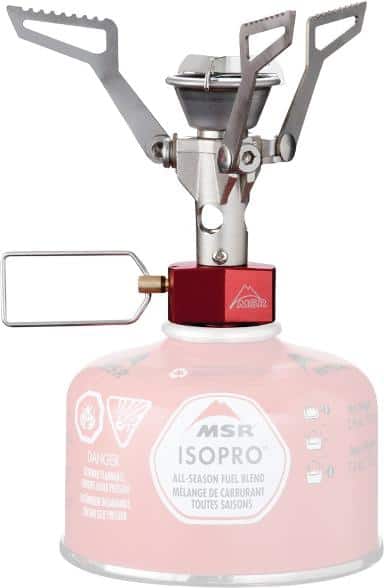 BEST FOR: ALL BACKPACKERS
Universally considered a top model on the market, the MSR PocketRocket 2 is a great fit for backpackers of all backgrounds. Perfect for a first timer or a veteran trailblazer looking to cut down on their load, the MSR Pocket Rocket 2 is easy to use and fast to boil. With large simmer control knobs, hikers can easily adjust their flame even with heavy gloves on. Furthermore, without the need for ignition priming, simply set it up, turn it on, and enjoy.
The PocketRocket 2 is a canister stove, which means you'll have to purchase an external fuel canister beforehand. But even with the added equipment, this stove stores easily into any bag, making it the perfect companion for any backpacker.
Jetboil MiniMo
Specs
Weight

:

14 oz

Fuel Type

:

Canister

Boil Time

:

4m 30s
Features
Fuel Canister Stabilizer (to prevent the stove from tipping over while cooking)
Push-Button Igniter (for quick and easy start-up)
Drink Through Lid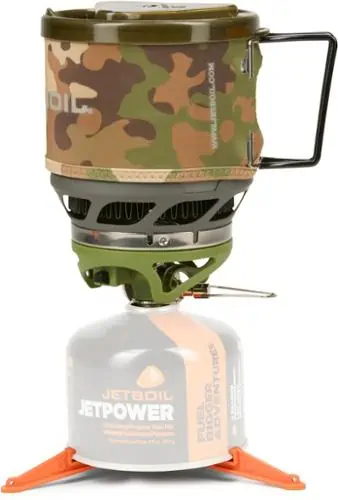 BEST FOR: SMALL MEALS
Expertly designed, the Jetboil MiniMo comes equipped with everything you need for the perfect cooking experience. Its flagship integrated design includes a durable cooking cup with a drinkable lid, which means you can easily eat (and drink) out of the same container you cook in. Rubber coated metal handles make eating as comfortable as possible too, and the convenient push-to-start ignition quickens the cooking process. Once you're done eating, you can even store the burner inside of the cooking cup to save space inside your bag.
Unlike other stoves, the MiniMo's storage capacity is only .5 Liters. This makes it best for on-the-go hot drinks and soups.
Soto WindMaster
Specs
Weight

:

2.3 oz

Fuel Type

:

Canister

Boil Time

:

4m
Features
Concave Burner Head (to prevent the flame from being extinguished by the wind)
Three-prong Pot Support (to keep your pot stable and secure no matter the conditions)
Impact-protected Igniter (so the stove will still light even if it's been dropped or dinged)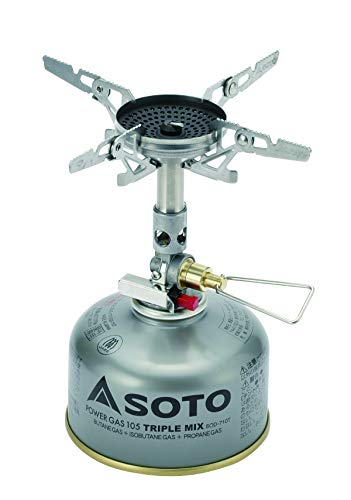 BEST FOR: MOUNTAINEERING
The Soto WindMaster is not only one of the lightest stoves out there, but also one of the most efficient. Built with a concave burner head, the WindMaster's special design acts as a shield from the elements, so you can cook practically anywhere. Plus, its impact-protected Piezo igniter runs through the stove's center, granting it protection from any unwanted damage while hiking.
Light, efficient, and built for all weather, the Soto WindMaster is a great ultralight backpacking stove for the patient and experienced backpacker. If you're planning on hiking for years to come, this is a great stove to have in your arsenal.
Snow Peak GigaPower 2.0
Specs
Weight

:

3.2 oz

Fuel Type

:

Canister

Boil Time

:

4m 48s
Features
Fold-Out Pot Supports
Aluminum Base
Push-To-Start Ignition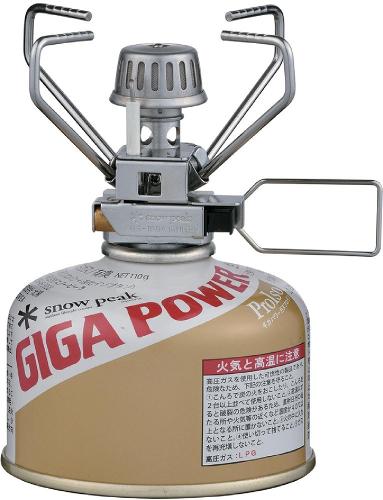 BEST FOR: SIMMERING
A big stove made little, the Snow Peak GigaPower 2.0 works great in all conditions. With a built-in Piezo igniter, simply assemble the stove and push to start. The aluminum base is strong and durable, yet lightweight so you won't feel its weight on your back while hiking. As a benefit, the fold-out pot supporters will hold up most any cooking pot you decide to bring.
This stove is extremely sturdy and reliable. It works in cold weather and can simmer for meals as well. The GigaPower is best for backpackers seeking a sturdier, more stable stove at the end of the day.
MSR WhisperLite Universal
Specs
Weight

:

13.7 oz

Fuel Type

:

Liquid, Canister

Boil Time

:

3m 30s
Features
Stainless Steel Legs
Included Fuel Pump
Liquid and Canister Compatible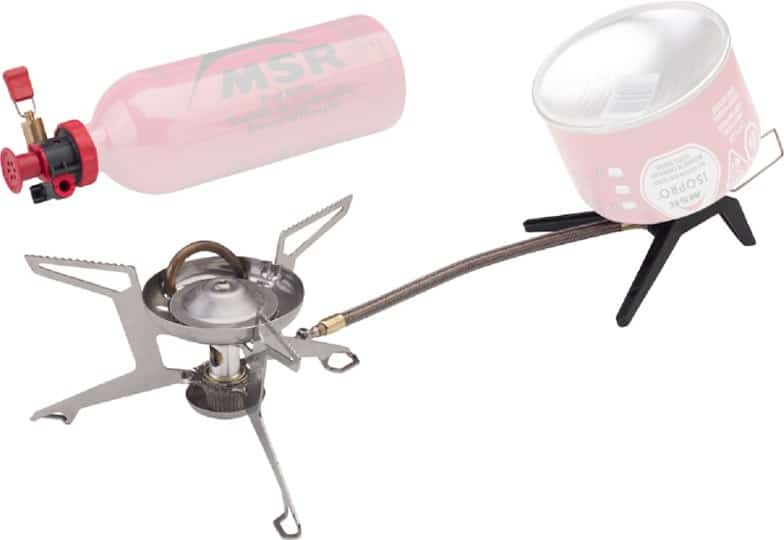 BEST FOR: LIFETIME HIKERS
While it may be a bit pricier, the MSR WhisperLite Universal is well worth the cost. With the capability to mount both liquid and canister fuel, you can take this stove just about anywhere. Most notably, The WhisperLite's iconic self-cleaning Shaker Jet technology means that after you eat, you can close it up and shake it clean. The WhisperLite is well worth the investment, and if you're careful and take good care of your cooking equipment, it could just be the last stove you ever buy.  
THINGS TO CONSIDER WHEN BUYING A BACKPACKING STOVE
Backpacking stoves may share many of the same features, but designs vary greatly. When you're looking to buy your next stove, learn more about how to choose a backpacking stove and consider these important characteristics.
FUEL TYPE
There are two main fuel types for backpacking stoves: canister fuel and liquid fuel, as described below in the Features Explained section. Both are readily purchased, but used in different situations. Canister fuel is often better for solo backpackers, whereas liquid fuel stoves are best for groups – they last longer, but require more preparation.
INTEGRATION
Some backpacking stoves function solely as cooking apparatuses whereas others, such as most Jetboil products, have the ability to double as eating containers. Before you purchase your stove, consider your needs. Do you have enough space to pack along extra cookware or do you want an all-in-one device? If you seek the latter, make sure to read reviews about how easy it is to eat or drink out of the stove's cooking cup. Some may be harder than others.
FEATURES EXPLAINED
CANISTER FUEL
Canister fuel refers to an external gas canister attached to your stove. It does not come with the stove when purchased. Canister stoves require you to purchase a gas canister before trekking, but afterwards, you can return it for a new one.
LIQUID FUEL
Liquid fuel refers to either gasoline or liquid alcohol. Some stoves can only burn one of the two, so make sure to research which fuel your stove is supposed to burn before investing. Liquid is more difficult to carry while hiking as it tends to slosh around in your backpack, but it does have a higher efficiency rate and is therefore better for longer adventures.
PIEZO IGNITER
A Piezo igniter is a typical ignition device found in camping stoves, gas grills and lighters. It gets its name from the type of electricity it harnesses. Stoves that come with a Piezo igniter are able to be instantly lit with the click of a button, making them great for thru-hikers who want a quick and easy hot meal at the end of a long day of hiking.
READ MORE
For more of our top hiking & backpacking gear recommendations, check out these popular articles: