Updated on August 28, 2020
A VHF radio is one of the most important pieces of safety equipment you can have on a boat. VHF radios are the most popular form of boat-to-boat and boat-to-shore communication over short to medium distances (5 to 30 miles) and are usually monitored by the Coast Guard, harbormasters, towing services, and other boats. If you need to send a distress signal, you'll want one of the best VHF marine radios to do the sending.
For more of our top sailing gear recommendations, check out the Best Handheld Marine GPS.
Quick Answer

-

The Best VHF Marine Radios
Comparison Table

-

Best VHF Marine Radios

For the best experience turn your device horizontally
Reviews

-

Best VHF Marine Radios for Sailing
Standard Horizon HX210
Specs
Type

:

Handheld

Transmit Power

:

1 / 2.5 / 6 Watt

Dimensions

:

2 ¼" x 5" x 1"

Digital Selective Calling

:

No
Features
Water Activated Emergency Strobe Light
Oversized Full Dot Matrix Display For Clear Viewing
Built-In FM Receiver
Compact Waterproof Case Floats Face Up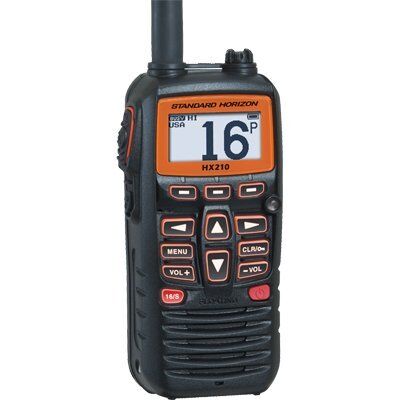 BEST BUDGET HANDHELD
Don't let the accessible price point on this radio fool you: it's a very capable unit with an impressive set of features. The HX210 is built around a compact high capacity lithium-ion battery, which keeps the unit small and allows for a comfortable ergonomic design.
The dot matrix display is clear, bright, and versatile and the radio offers three power output settings and the full range of VHF channels. If you drop it in water it will float face up, activate, and automatically turn on an emergency strobe light.
The HX210 comes with a rapid-charge cradle charger that can be used with either 120 volts AC or 12 volts DC power, so if you're using it as a backup radio you can keep it charged on your boat's battery. There's no digital selective calling feature, which may put off some potential users, but it's still a lot of radio for the price. If you're looking for an affordable but full-featured VHF marine radio, this one will tick most of your boxes.
ICOM M93D
Specs
Type

:

Handheld

Transmit Power

:

1 / 5 Watt

Dimensions

:

2 ⅜" x 5 ⅝" x 1 ¾"

Digital Selective Calling

:

Yes
Features
Floats And Flashes In Water With Automatic "Man Overboard" Distress Call
Weather Channel Receiver With Alerts
Active Noise Cancelling Removes Background Noise
Stores 50 Waypoints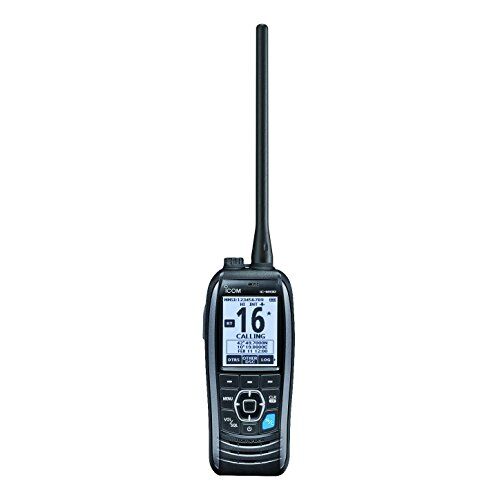 BEST HANDHELD
If you need a handheld radio for your primary or backup communication device and you want the best available, the ICOM M93D is there for you. It's not a cheap radio, but it carries a feature set that rivals many fixed-mount units.
If it goes in the water, with or without its operator, it will float, activate a strobe light, and send an automatic "man overboard" distress signal. The digital selective calling feature delivers a distress call at the touch of a button, and the AquaQuake system vibrates the unit to shed water that could interfere with audibility. Reviewers found the noise-canceling feature extremely effective at removing even high levels of background noise.
The M93 offers exceptional battery life, giving up to 9 hours service on a single charge with normal use, and a bright screen that's readable in any light. If you're looking for a handheld unit, or to use as a backup and for boat/dinghy communication on a larger vessel, you won't find a better handheld VHF marine radio.
ICOM M330G
Specs
Type

:

Fixed Mount

Transmit Power

:

1 / 25 Watt

Dimensions

:

6.2" x 2.6" x 4.3"

Digital Selective Calling

:

Yes
Features
8 Channel Scanning Modes For Maximum Versatility
Easy-To-Install GPS Puck Antenna Provides Location, Bearing, And Speed
Compact Unit Designed For Small Spaces
Full Dot Matrix Display For Clear Viewing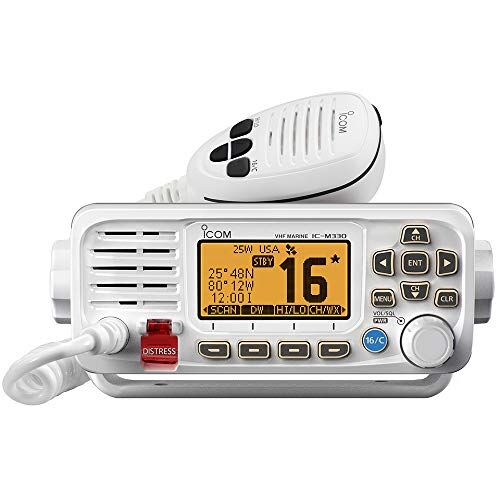 BEST BUDGET FIXED MOUNT
Fixed-mount VHF marine radios are standard equipment on medium-sized or larger vessels. You don't have to pay a fortune to get an effective unit, either. The ICOM M330G delivers a premium feature set at a highly affordable price, and reviewers praise it as one of the best devices in its price class.
The M330G offers built-in digital selective calling with a dedicated receiver for reliable distress signal delivery, a key feature that every user will want, even if they hope never to use it. You can monitor several channels simultaneously for easy contact with nearby vessels.
You can connect the radio to any external GPS or Navigation system equipped with the widely-used NMEA 2000 marine connectivity standard. The external puck-shaped GPS receiver is easy to mount and assures accurate signal delivery.
The microphone will even vibrate to shake off excess water that might interfere with your signal. This radio offers a very impressive collection of features at a price point that caters to budget-minded sailors!
Standard Horizon GX2200
Specs
Type

:

Fixed Mount

Transmit Power

:

1 / 25 Watt

Dimensions

:

7 ⅛" x 3 1/16" x 6 5/16"

Digital Selective Calling

:

Yes
Features
30 Watt PA/Loud Hailer With Preprogrammed Fog Signals
Programmable Collision Avoidance Alarms
Integrated GPS Receiver: No GPS Antenna To Mount
Remote Second Station Allows Control From Multiple Locations Onboard
BEST VALUE FIXED MOUNT
The Standard Horizon GX2200 is one of the most widely used VHF marine radios on the market, for good reasons. Installation is easy: the GPS receiver is built-in so there's no external antenna to mount.
Along with all the standard VHF radio features, the GX2200 integrates sophisticated Automatic Identification System (AIS) and collision avoidance systems that keep you posted on the location and bearing of all AIS-equipped vessels in your area and alerts you to hazards. If you need to remind someone of your presence, there's an integrated 30-watt loud hailer/PA/foghorn system.
You can store up to 100 waypoints to supplement your navigation system's capabilities. There's even a remote second station capability if you like to communicate from more than one point on your vessel!
The GX2200 carries a 3-year repair or replace warranty, and Standard Horizon carries a reputation for top notch customer service. The manual is clear and easy to understand and this is one of the most user-friendly VHF marine radios on the market.
If you want a highly capable communication system and you're not devoted to the study of marine electronics, this radio will be among your first choices!
ICOM M506
Specs
Type

:

Fixed Mount

Transmit Power

:

1 / 25 Watt

Dimensions

:

7 ⅛" x 3 1/16" x 6 5/16"

Digital Selective Calling

:

Yes
Features
Integrated Automatic Identification System Identifies Nearby Vessels, Gives Collision Risk Alerts
Active Noise Canceling Removes Background Noise
Intuitive User Interface And Bright Display For Easy Use
Last Call Voice Recording Keeps A Record Of The Last Incoming Call
BEST FIXED MOUNT
If you like devices that offer lavish feature sets and you aren't too worried about the price tag, this premium model from ICOM will get your attention. Just about every feature you can imagine on a VHF marine radio is in this package.
You get full SAIS capability to monitor traffic and warn of collision risks, loud hailing and PA capabilities for communication at distance, a built-in foghorn, GPS capabilities, full connectivity, and automatic recording of the last two minutes of your last incoming call.
The optional Command Microphone lets you operate the radio from any point up to 60 feet away from the main station. Active noise canceling eliminates up to 90% of background noise in the incoming signal and 30% in the outgoing signal. If there's a feature that exists on any VHF marine radio, it's probably here.
The only real downside to the M506 is the price, but if you want the best on the market it may well be worth the cost. Communication is a critical function on any vessel, and if you want the reassurance of having the best, here it is!
THINGS TO CONSIDER WHEN BUYING A VHF MARINE RADIO
There are two basic types of VHF marine radios: handheld and fixed mount. Handheld radios are more mobile, can be used anywhere on your boat, and can be used even if the electrical systems on your boat are out. Fixed-mount radios have greater transmit power, connect to your boat's batteries for longer battery life, and can be attached to a higher antenna for longer range. Your selection will depend on your boat and your needs. Handheld radios are standard on smaller boats; larger boats will often have a fixed-mount unit and one or more handhelds for backup.
CAN'T I JUST USE MY CELLPHONE?
Mobile phones are a great way to communicate, as long as you're receiving. You can place a distress call, call someone onshore or communicate with friends on other boats, and your conversations will be private, unlike VHF radio conversations.
Phones have serious limitations, though. You won't always have access to a mobile signal. In an emergency, the closest source of aid is often a nearby vessel, and you can't reach one by phone unless you have the phone number of someone on board. Almost all vessels have VHF radios, so you'll be able to communicate with them even if you don't have their numbers.
HANDHELD OR FIXED-MOUNT?
Handheld and fixed-mount VHF marine radios both have advantages and disadvantages, and you'll have to consider which will meet your needs best.
Handheld VHF marine radios are compact and easily transportable. Many units float if dropped in water and many will trigger an automatic strobe signal or even a man-overboard alert if immersed.
They have less transmit power than fixed-mount radios and typically have a shorter broadcast range. They may have limited battery life, especially if you frequently transmit at high power settings, but they will continue to work even if your boat's electrical system goes out.
Fixed-mount VHF marine radios are usually mounted on your main control console. Some units allow a second-station capability with a remote mic that can be operated from a flybridge, cabin, or other location.
They draw their power from your boat's batteries and can usually broadcast at up to 25 Watts, with handheld units usually limited to 6 watts. They can also connect to an elevated antenna, which gives a considerably enhanced range.
Many smaller boats that operate primarily in inshore or inland waterways will not need more than a handheld unit. Many larger vessels carry a fixed-mount unit for regular use and one or more handheld units as backups or to allow communication between the boat and a group in a dinghy.
REMEMBER YOUR ANTENNA
Fixed-mount VHF marine radios are usually connected to an external antenna. The position of the antenna has a huge impact on the radio's range. The higher the antenna, the longer the range.
DIGITAL SELECTIVE CALLING (DSC)
Digital Selective Calling or DSC is a key feature on VHS Marine Radios. You will have to set up your DSC system with information specific to your boat.
Once DSC is set up and activated you will be able to send a one-touch distress call that will identify your vessel and provide its location to emergency responders and other nearby vessels. This feature can be a lifesaver in an emergency.
Digital Selective Calling may require your unit to be set up with your boat's identifying information before it is usable. Many dealers will help you with this. Your DSC system will need to be connected to your vessel's GPS, though most modern VHS marine radios have their own GPS. You will also need a Marine Mobile Service Identity (MMSI) number to activate DSC.
AUTOMATIC IDENTIFICATION SYSTEMS (AIS)
Many higher-end VHF marine radios are equipped with Automatic identification systems or AIS. An AIS-equipped unit will give you a continuous readout of the identity, location, and course of AIS-equipped vessels in your vicinity. Some will provide automatic collision alarms if courses present a collision hazard.
KNOW THE RULES
VHF radio conversations are public, and anyone within range and listening on the channel you're using can hear them. There are laws and regulations governing the capacity and use of VHF radios, and there's also an informal radio etiquette that has emerged to make communication efficient and avoid interfering with the needs of others.
VHF marine radios will hear only the strongest signal being broadcast on a given channel. Commercial VHF marine radios are limited to 25 watts of broadcast signal, and most have a 1-watt setting that you can use while communicating with a nearby vessel, which avoids a strong signal that may interfere with the conversations of other boaters.
It is illegal to use profanity in a VHF radio conversation. VHF conversations are supposed to be for "operational purposes". A reasonable amount of social chatter is permitted, but you will want to keep it brief and to the point.
Some radio channels are reserved for specific purposes.
Channel 16 is reserved for emergencies and making contact with other vessels. Most operators keep their radios on this channel. Once contact with another vessel is established you will move to another channel to clear channel 16 for potential emergency use. If you are conversing with a nearby vessel you will both reduce your broadcast power to 1 watt.
Five channels are available for non-emergency ship-to-ship communication: 68, 69, 71, 72, and 78A.
If both vessels have MMSI numbers you can bypass the hailing channel and make a call directly to their radio using their MMSI number.
Channel 13 is reserved for navigational use between vessels or between a vessel and a bridge or lock operator. Channel 13 transmissions are limited to 1 watt.
Channel 6 is reserved for safety-related ship-to-ship communication, usually during search and rescue operations.
Channel 22A is reserved for communications with the Coast Guard.
Don't use your VHF radio to communicate unless you are at sea; shore stations need a special permit.
If you are buying a radio you will need to be familiar with these and other rules governing its use.
LEARN MORE
BoatUS has an informative article on VHF basics, while West Marine offers advice on selecting a handheld VHF marine radio and selecting a fixed mount VHF marine radio.
SPECS AND FEATURES EXPLAINED
TRANSMIT POWER
A radio's transmit power, along with antenna height, controls broadcast range. Handheld VHF marine radios are limited to six watts of transmit power, fixed-mount units are limited to 25 watts. Most radios also have lower settings designed for short-range conversations.
DIGITAL SELECTIVE CALLING (DSC)
Digital Selective Calling (DSC) allows you to send a distress signal that identifies your vessel and its location with a single push of a button. To use DSC your unit must have an integral GPS or be connected to your vessel's GPS, and you must enter your vessel's Marine Mobile Service Identity (MMSI) number.
AUTOMATIC IDENTIFICATION SYSTEMS (AIS)
AIS systems broadcast an identifying signal to nearby vessels and provide a readout of the identity, location, and course of nearby vessels that are equipped with AIS. Many also have collision alarms that alert you to potential hazards.
WEATHER ALERT RECEPTION
The NOAA regularly broadcasts weather alerts for everything from local thunderstorms to incoming hurricanes. VHF marine radios with weather alert capability will automatically receive these alerts.
DOT MATRIX DISPLAY
Older or cheaper marine VHF radios may have a seven-segment LCD display. A dot-matrix display is brighter, clearer, and offers more information-display options.
LOUD HAILER/FOGHORN CAPABILITY
Many fixed-mount VHF marine radios offer a loud hailer capability, using an amplifier to boost your voice if you need to communicate with another vessel that does not have a radio. Many of these systems can also act as a foghorn to alert vessels to your presence in limited visibility conditions.
REMOTE SECOND STATION
A remote second station capability allows you to operate your fixed-mount radio from other locations on your boat. It usually uses a mobile control microphone that links to your radio with a short-range signal.
READ MORE
For more of our top sailing gear recommendations, check out these popular buyer's guides: