Updated on August 28, 2020
Whether you're planning on cruising for days at a time or if you're just headed out to explore for the day, you'll need a GPS. In the place of nautical charts in the age of satellites and WiFi networks, you can navigate more accurately and precisely than ever before. Even more convenient are the handheld devices that you can hold while you're at the helm and while you're adjusting sails or lines in the bow of your sailboat. Feel more confident and safer than ever with these user-friendly handheld GPS devices made specifically for marine use. We've put together a guide to help you choose the best handheld marine GPS for you, your sailboat, and the type of excursions that you and your family enjoy taking. Take a look, and get to navigating the open sea in no time!
For more of our top sailing gear recommendations, check out the Best Fishfinder/GPS Combos.
Quick Answer

-

The Best Handheld Marine GPS
Garmin Quatix 5 Sapphire Smartwatch
Comparison Table

-

Best Handheld Marine GPS

For the best experience turn your device horizontally
Reviews

-

Best Marine Handheld GPS
Garmin GPSMAP 78sc
Specs
Battery Type

:

Sold separately

Dimensions

:

2 ½" x 6" x 1 ¼"

Screen Resolution

:

160 x 240

Waterproof

:

Floats; waterproof

Display Type

:

Transflective 65K Color TFT

Display

:

Color, dialog (buttons)

Cartography

:

US Coastal

Connection Interface

:

USB
Features
Comes With Built-In BlueChart G2 Coastal Charts And A Worldwide Basemap With Imagery
Has A Built-In Three-Axis Tilt-Compensated Electronic Compass, Which Shows Your Heading Even When You're Standing Still And Not Holding It Level
Capable Of Sharing Waypoints, Tracks, And Routes With Other Compatible Device Users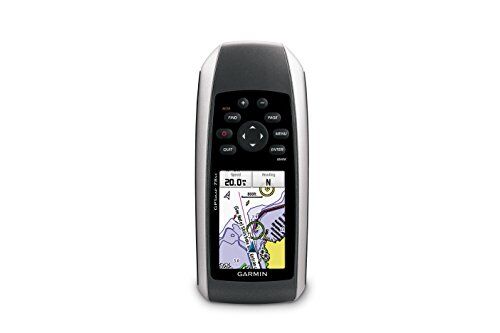 BEST FOR: GLOBAL CONNECTIVITY
Garmin's GPSMAP 78sc marine handheld GPS device is perfect for all of your on- and off-water adventures. The device comes with BlueChart coastal charts and worldwide basemap imagery so that you can see shorelines, depth contours, harbors, marinas, and more for the US and Bahamas. Additional maps can be added via pre-loaded micro SD cards.
For continued use on the water, this device floats in case you drop it overboard accidentally or in the event of inclement weather. Finally, you and your friends located around the world can share your favorite spots and data wirelessly. Simply press "send" to transfer your routes and points of interest to similar GPS devices.
Garmin Etrex Touch 35
Specs
Battery Type

:

Nickel Metal Hydride Lithium Batteries

Dimensions

:

2.3" x 4" x 1.3"

Screen Resolution

:

160 x 240

Waterproof

:

N/A

Display Type

:

65K Color TFT

Display

:

Color, touchscreen

Cartography

:

World Basemap

Connection Interface

:

USB, Micro SD
Features
Features Sunlight-Readable Color Touch Screen Display
Includes A Barometric Altimeter, Which Tracks Changes In Pressure To Pinpoint Your Precise Altitude And Track Weather Conditions
Compatible With A Variety Of Mounts For ATVs, Bicycles, Boats, And As A Handheld Device
BEST FOR: TOUCHSCREEN CONVENIENCE
The Garmin eTrex Touch 35 handheld marine GPS comes built-in with the convenience of a color touch screen that's even sunlight-readable for those perfect days spent out on the water. The touch screen offers intuitive access to a worldwide basemap with shaded relief so that you can see and read the maps easily.
Additionally, the newest model comes with a barometric altimeter, which tracks changes in pressure to pinpoint your altitude as well as aids in tracking weather patterns. The different mounts that it comes with – compatible with ATVs, bicycles, boats, or cars – will make it easy for you to use this GPS on all of your excursions, both on land and on the sea. Finally, its durability and water resistance make this handheld GPS an easy choice for your marine adventures.
Garmin inReach Explorer+
Specs
Battery Type

:

Rechargeable internal lithium ion

Dimensions

:

2 11/16" x 6 ½" x 1 ½"

Screen Resolution

:

200 x 265

Waterproof

:

Yes (Rated at IPX7)

Display Type

:

Transflective Color TFT

Display

:

Color, analog (buttons)

Cartography

:

Preloaded DeLorme TOPO maps

Connection Interface

:

USB
Features
With A Subscription, This Handheld GPS Offers 2-Way Text Messaging From Anywhere Via Satellite
Can Track And Share Your Location With Family And Friends
Can Be Paired With Mobile Devices For Access To Downloadable Maps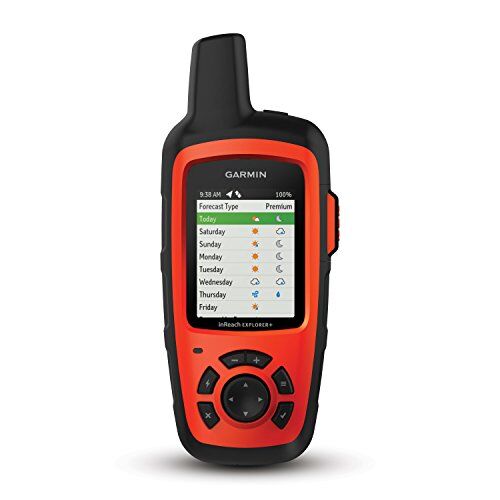 BEST FOR: ULTIMATE CONNECTIVITY
If you're headed out on a multi-day, or even multi-week, cruise on your sailing vessel, you'll want to bring the added comfort and safety of the ultimate connectivity with you. The Garmin inReach Explorer+ is so much more than just a GPS device.
With an annual subscription, you can enable 2-way text messaging from anywhere in the world, allowing you to connect with friends and family at home as well as search and rescue personnel in the event of an emergency.
There's also an interactive SOS function that connects you directly to the search and rescue monitoring center so that you can be in close contact with them during a storm or a medical emergency aboard your boat. Finally, this device can even connect and pair with mobile devices so that you can download maps, U.S. NOAA charts, color aerial imagery, and more with ease.
Garmin Quatix 5 Sapphire Smartwatch
Specs
Battery Type

:

Lithium-Ion

Dimensions

:

2 11/16" x 6 ½" x 1 ½"

Screen Resolution

:

240 x 240

Waterproof

:

Water resistant up to 100 meters

Display

:

Analog Watch

Cartography

:

Streams NMEA 2000 data

Connection Interface

:

WiFi connectivity
Features
Compatible With And Connected To WiFi Networks
Scratch-Resistant Sapphire Lens For Longevity And Protects Against Wear And Tear
Water Resistant Up To 100 Meters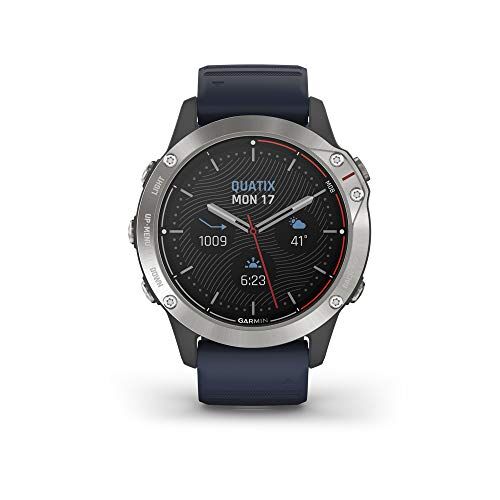 BEST FOR: CONVENIENCE MEETS STYLE
It's hard to beat the convenience of a smart watch, and with all the power that the Garmin quatix 5 comes with, you won't want any other watch, even on land. The sleek design of this GPS smart watch is only the exterior appeal; inside, you'll find a built-in, high sensitivity GPS and GLONASS antenna and pre-loaded marine features, including streaming NMEA 2000 data, a barometer and tide tables, and the ability to connect to a GHC 20 autopilot system.
You can preload routes and waypoints into your watch's system so that you can navigate easily back to that perfect fishing spot or that beautiful, secluded beach. If you're looking for powerful connectivity right from your wrist, there's really no better option out on the market.
Garmin GPS 73
Specs
Battery Type

:

AA (sold separately)

Dimensions

:

2 ⅝" x 6" x 1 3/16"

Screen Resolution

:

128 x 160

Waterproof

:

Waterproof

Display Type

:

LCD

Display

:

Black & white, analog (buttons)

Cartography

:

NMEA 0183 compatible

Connection Interface

:

USB
Features
Includes A High Sensitivity GPS Receiver To Lock Onto GPS Signals
The Device Floats So That You Won't Lose It, Even If It Gets Knocked Overboard
High Contrast Display Makes It Easy To Read In All Lighting Conditions
BEST FOR: SIMPLICITY MEETS PERFORMANCE
If you're looking for a simple device to help you navigate from A to B without the complexity of a more expensive system, the Garmin GPS 73 handheld marine GPS device might be the right one for you. Its intuitive user interface with dedicated backlit buttons make it simple to adjust and get to know the system without too much onboarding.
The device also includes SailAssist technology, which helps you sail more effectively with a heading line and tack assist. Tack Assist will let you know when to tack based on whether your boat is getting headed or lifted compared to the boat's optimal tacking angle.
Finally, this device is powered by Double A batteries. Though it may seem analog, when you're out on the water and the batteries fade away or if you have a boat without power, all you have to do is replace the batteries to use the device instead of waiting for it to charge.
THINGS TO CONSIDER WHEN BUYING AN HANDHELD MARINE GPS
ARE NAUTICAL CHARTS INCLUDED?
Most GPS units are pre-loaded with a "basemap" with varying levels of detail. Basemaps show crude or blocky representations of geography. Many of the newer devices allow for the use of micro SD cards that come pre-loaded with more detailed maps. When you're traveling to new locations, you can purchase new micro SD cards that correspond with your destination and region. You'll want to make sure that you've pre-purchased your maps before heading out on your expedition.
ROAD AND TRAIL MAPS
If you enjoy other activities that require road, trail, or fishing trips, then you might want a GPS unit that is also compatible for these types of adventures. When you're deciding on your purchase, you'll want to make sure that your GPS can come with you on all of your adventures. For more information about how to choose the best GPS for you, check out this article about choosing the right GPS device for you.
WIFI INTERFACE
A marine handheld GPS device with WiFi interface capability will allow you to download maps directly from the Internet without having to connect the device with a cord and USB. It's also a handy way to share your waypoints back and forth with another device. For more information about GPS device features, check out this article on choosing the right GPS receiver for you from West Marine.
TOUCH SCREEN OR SONAR CAPABILITY?
The value of a marine handheld GPS is that it's safer and more durable than your smartphone. And with the added value of a touch screen or sonar capability, you'll be traveling with an incredibly powerful location device. Sonar uses sound to understand the geography of what's going on under the water. Ultimately, you'll have to decide what type of device will work best for you and your adventures.
FEATURES EXPLAINED
GPS
This acronym means "global positioning system" and refers to how the device receives its location data (via satellite).
WAAS
This term means, "Wide Area Augmentation System", which helps a device correct for GPS signal errors caused by ionospheric disturbances, timing, and satellite orbit errors.
CHART
Nautical charts are the equivalent of topographic maps for mountains. They show the coastline as well as depths and any obstacles that may exist in the water.
SONAR
A system for the detection of objects under water and for measuring the water's depth by emitting sound pulses and detecting or measuring their return after being reflected.
TACKING
Tacking is a maneuver performed by a sailboat in which the boat turns its bow toward the wind so that the direction from which the wind blows changes from one side to the other, allowing progress in the desired direction.
LCD DISPLAY
Liquid-crystal display (LCD) is a flat-panel display or other electronically modulated optical device that uses light-modulating properties of liquid crystals combined with polarizers. This display uses a backlight or reflector to produce images in color or monochrome.
SCREEN RESOLUTION
This term refers to the clarity of the text and images displayed on your screen. At higher resolution, items appear sharper.
READ MORE
For more of our top sailing gear recommendations, check out these popular buyer's guides: