Updated on January 9, 2022
The trails stay open in the winter, and so do your passions for hiking in the remote reaches of the planet. Whether you're staying overnight on the Appalachian Trail or sleeping under the stars in the wintry Canada wilderness, you need one of the best winter sleeping bags to survive.
A winter sleeping bag allows you to endure sub-freezing temps overnight so you can continue your journey in the morning. The proper equipment is vital to your sleep, your comfort, and your survival, so we want to make sure you get it right. Read on to get all the info you need to decide which winter sleeping bag is right for you!
For a complete analysis of all backpacking sleeping bags, check out the buyer's guide Best Backpacking Sleeping Bags.
QUICK RECOMMENDATIONS
Best Winter Sleeping Bag Overall >> Western Mountaineering Kodiak MF
Best Winter Sleeping Bag For Women >> Feathered Friends Egret UL 20
Most Comfortable Winter Sleeping Bag For Side Sleepers >> Big Agnes Sidewinder SL20
Most Affordable Winter Sleeping Bag >> Marmot Trestles 0
Best Double Sleeping Bag For Winter >> Feathered Friends Spoonbill UL
Comparison Table

-

Best Winter Sleeping Bags

For the best experience turn your device horizontally
Temp ratings refer to the EN or ISO Comfort rating.
Volume refers to the compressed volume of the sleeping bag.
Weight, fill weight, volume and price are shown for the regular size.
Reviews

-

The Best Sleeping Bags for Winter
Western Mountaineering Kodiak MF
Specs
Fill Weight

:

30.0 oz

Insulation

:

Down

Weight

:

2.7 lbs

Shape

:

Mummy

Volume

:

14.4 L

Temp Rating

:

0 F

Fill Power

:

850
Features
Very comfortable
Full Down Collar
Spacing/Continuous Baffles


BEST WINTER BACKPACKING SLEEPING BAG
The Western Mountaineering Kodiak MF is a four season sleeping bag that was designed for backpackers who want to brave extreme conditions in comfort.
While there are plenty of excellent winter sleeping bags out there, the Kodiak MF is our top choice because it is seriously warm and comfortable. While other bags are equally as toasty, they have a narrower fit that makes them constricting. When it is cold out, we tend to spend more time inside our bags and appreciate the extra room. The Kodiak MF adds a few inches in the shoulders and is generously packed with down making it super lofty. The spaciousness also gives you the option to stuff in an extra quilt if you need to add some warmth. Considering how warm this bag is, it packs down incredibly well.
If you're just getting into backpacking the price tag might seem ridiculous but for serious backpackers who value high end gear, it's a worthy investment. Also, like with all proper winter sleeping bags, the versatility of the Kodiak is limited. It would be way too warm for summer backpacking trips and overkill in mild Spring weather.
The Kodiak MF is also available in a 6 foot and 7 foot version.
Feathered Friends Egret UL 20
Specs
Fill Weight

:

17.3 oz

Insulation

:

Down

Weight

:

1.4 lbs

Shape

:

Mummy

Volume

:

09.0 L

Temp Rating

:

20 F

Shell

:

Pertex Endurance UL

Fill Power

:

950
Features
Passive collar
Trapezoidal footbox
Generous draft tube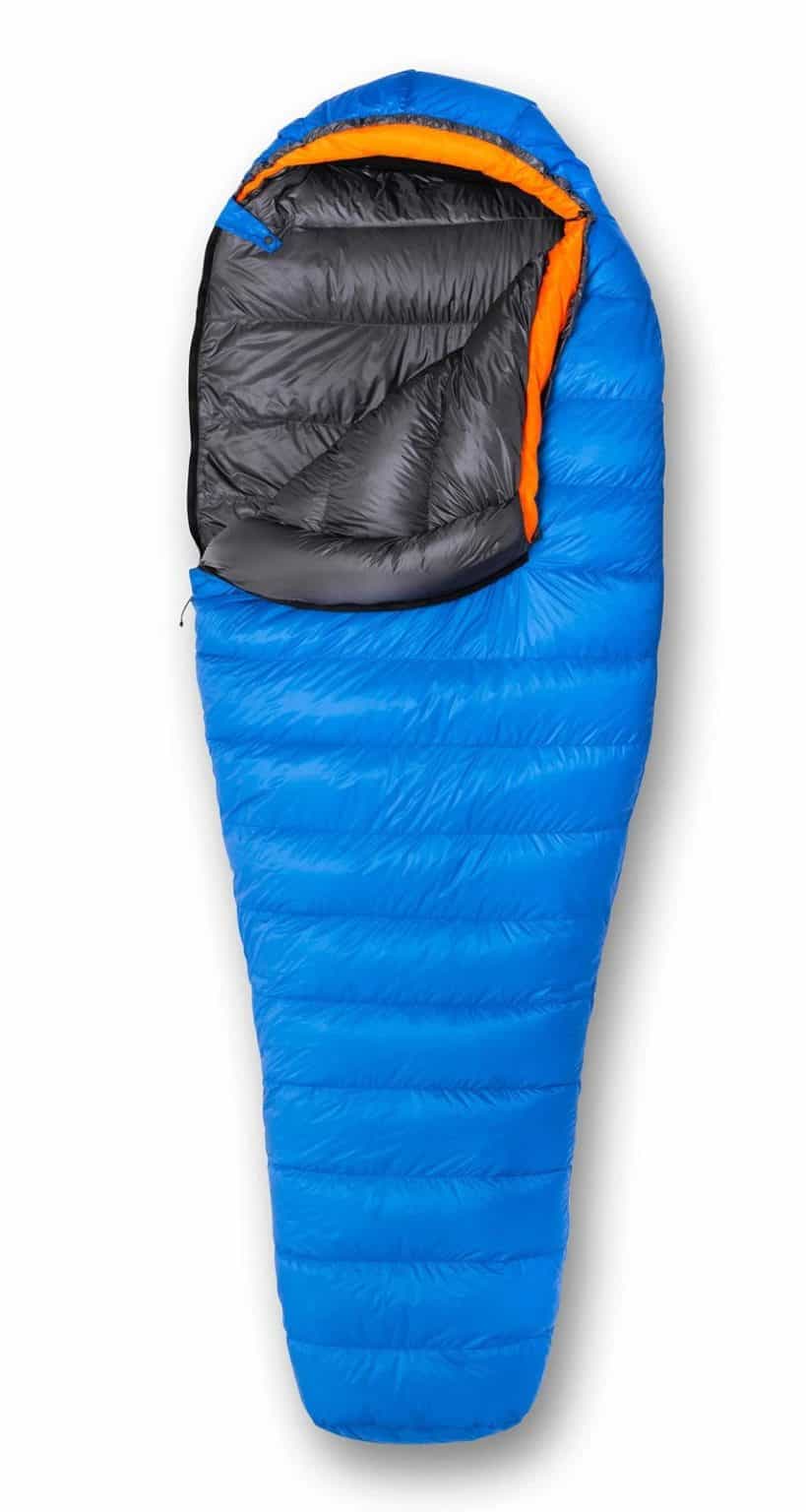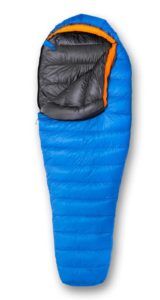 BEST SLEEPING BAG FOR WOMEN
The Feathered Friends Egret UL 20 is a high quality three season sleeping bag that is specifically designed for female backpackers.
What we love the most about this sleeping bag is its attention to detail and female tailored fit. There is extra fill around the chest and in the foot box, two areas where women lose more heat than men. Its 950+ fill is super fluffy and toasty, making it a great option for spring to fall camping. When it comes to quality, weight, packability and warmth, the Egret beats all the other female specific bags, which is why it's our pick for the best women's backpacking sleeping bag.
The biggest drawback is the price, but for this level of comfort and quality, we believe it is worth it considering it has an excellent warmth to weight ratio. Another complaint is the sizing isn't right for everyone. The Egret comes in two sizes: 5'3" and 5'9", if you're somewhere right in between, say 5'6", you might find the 5'9" option too long. This extra space traps cold air, making the bag feel colder overall. And, the 5'3" option would be too tight to have the hood fit over your head comfortably. If this might be an issue for you, you can check out the unisex version of this bag, called the Swallow which has a 20-degree and 30-degree option.
The Egret UL is also available in a 30-degree version.
Big Agnes Sidewinder SL 20
View Women's Version
Specs
Fill Weight

:

19.0 oz

Insulation

:

D-S Blend

Weight

:

2.2 lbs

Volume

:

04.3 L

Temp Rating

:

20 F

Fill Power

:

650
Features
Body-mapped FireLine™ ECO synthetic insulation
Made from post-consumer recycled polyester
Includes storage sack and stuff sack


BEST SLEEPING BAG FOR SIDE SLEEPERS
The Big Agnes Sidewinder SL20 is spacious enough to be a game changer for side sleepers but it doesn't trap cold air as much as other wide options.

What we love the most about the Sidewinder SL20 is that it's one of the only bags on this list that is truly built for side sleepers. The zipper and the hood face the side. The insulation and shape are all geared toward those who roll over. There is a mesh pocket for your pillow that keeps it in place. There is extra padding at the hip and feet, which are two pressure points for those who tend to flip from side-to-side several times throughout the night. There is plenty of room to curl your knees up without feeling constricted as you might in a mummy bag.
One complaint we have with this bag is the zipper catches if you aren't careful despite having an "anti snag zipper". Maybe we were too rough with it but this could be annoying if you have to get up in the middle of the night. Also, people with wide feet might find the toe box a bit tight.
The Nemo Disco 15, which is also featured on this list is a close competitor to the Big Agnes Sidewinder SL 20. The Sidewinder gains points on weight (it's 7 ounces lighter), but it is not as roomy as the Disco. The extra inches on the shoulders and hips are nice but you also have to consider that it's not the best design for retaining warmth.

The Big Agnes Sidewinder SL 20 also comes in a women's version.
Marmot Trestles 0
Specs
Fill Weight

:

41.2 oz

Insulation

:

Synthetic

Weight

:

4.6 lbs

Shape

:

Mummy

Volume

:

30.9 L

Temp Rating

:

15 F

Fill Power

:

HL-ElixR
Features
Low Weight And Small Packed Size
Extra Warm
Full Length Two-Way Zipper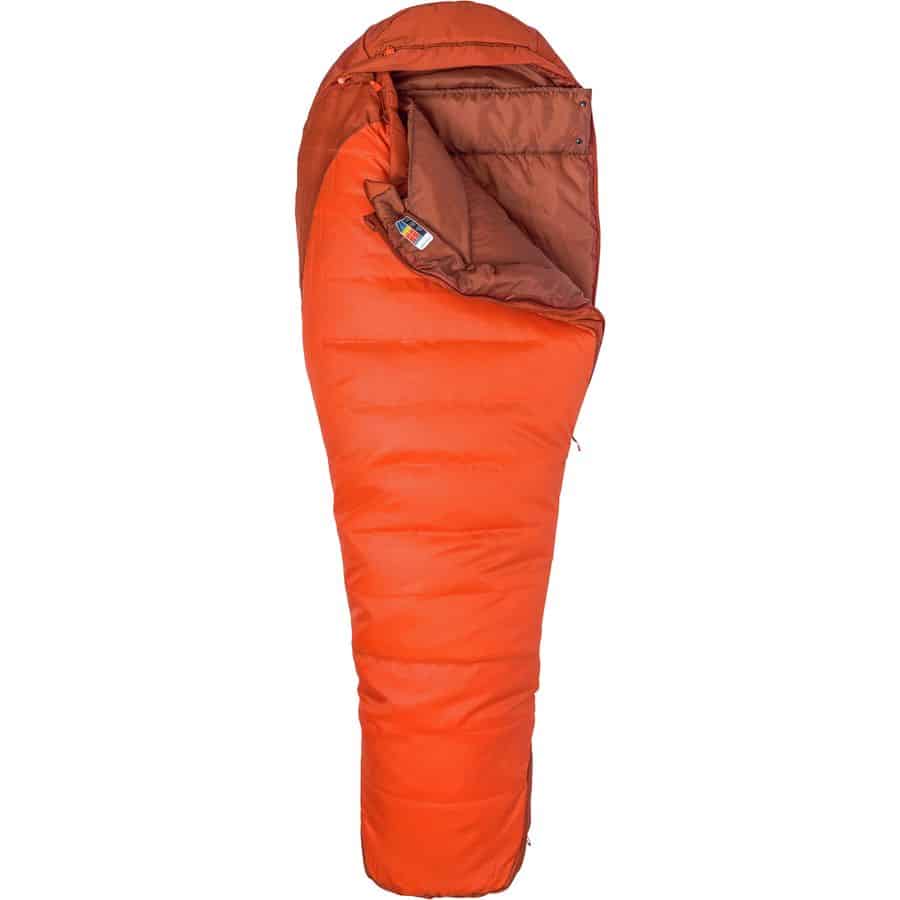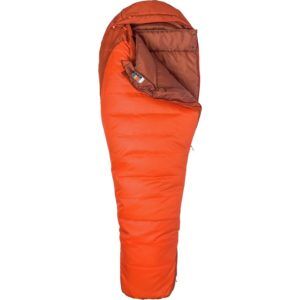 BEST BUDGET WINTER SLEEPING BAG
The Marmot Trestles 0 is a real find for hikers wishing to explore cold environments. With a durable SpiraFil synthetic insulation, the sleeping bag will keep you warm at temperatures as low as 1.9°F. A 3D hood will provide warmth and comfort for your head; you can also cinch it tightly around your face during freezing nights. Another great feature of the Marmot Trestles is the foot box, which ensures extra comfort and warmth where it's most needed.
The Trestles 0 has a full-length, two-way zipper built to prevent snagging. There is also a fold-down second zipper that provides fresh ventilation. In case you need anything during the night, there is an external stash pocket for your essentials. Additionally, the bag has two hang loops for storing or drying out the bag.
Feathered Friends Spoonbill UL
Specs
Fill Weight

:

23.0 oz

Insulation

:

Down

Weight

:

2.3 lbs

Shape

:

Semi-rectangular

Volume

:

17.0 L

Temp Rating

:

20 F

Fill Power

:

950
Features
Ergonomically designed hoods with separate draw cords
Integrated collar and hood for each user
Dual draft tubes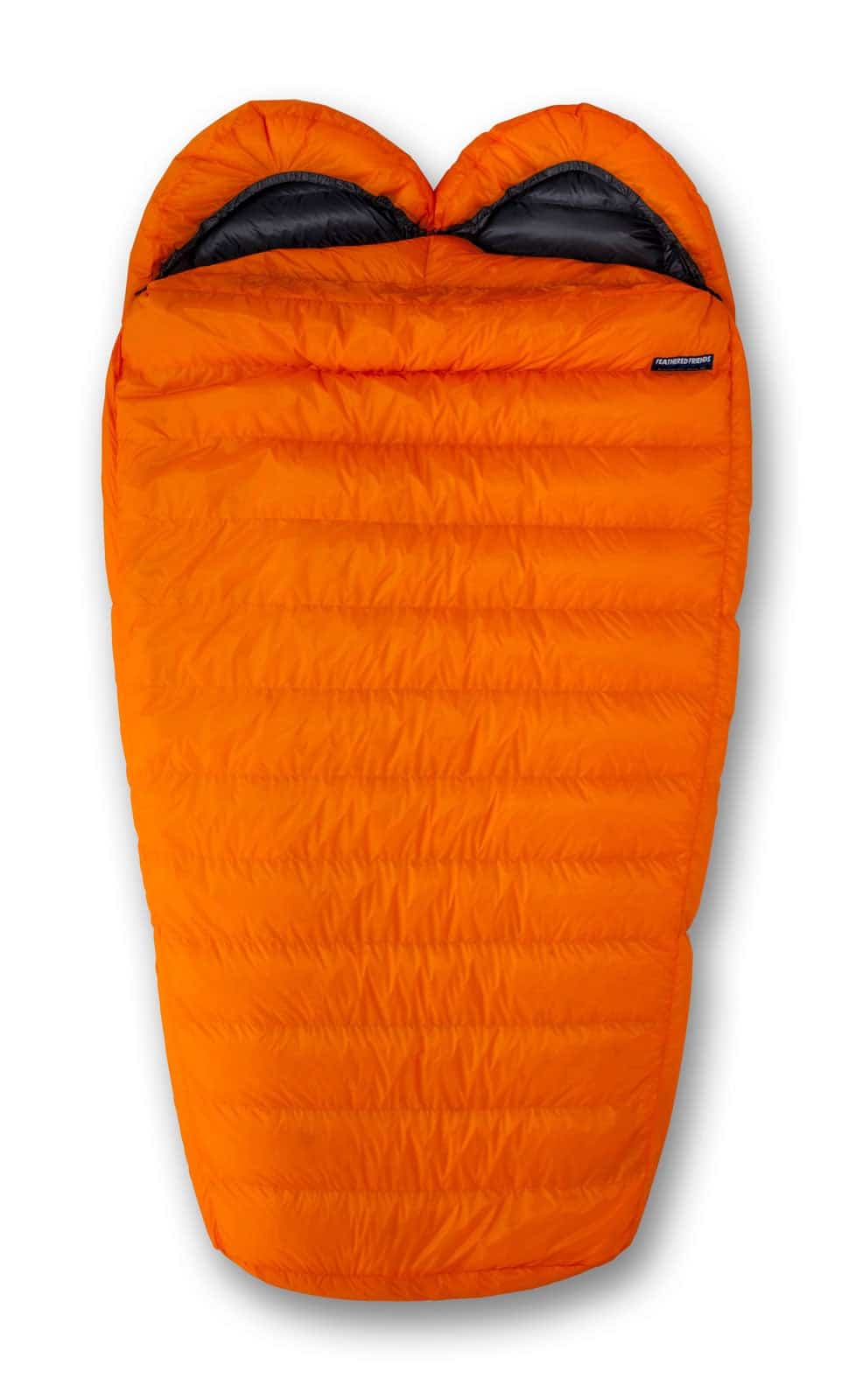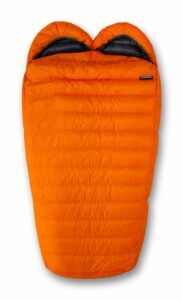 BEST DOUBLE SLEEPING BAG
The Feathered Friends Spoonbill UL is a two-person sleeping bag for couples who want to lighten their load.
What we love the most about the Spoonbill UL is it gives couples the warmth and intimacy of being in the same bag without having to give up comfort. There are two hoods and two collars that can be adjusted and a zip on each side so you don't have to worry about bothering your partner when you get in and out. Feathered Friends trimmed unnecessary insulation from the bottom part of the bag and the floor is made of a super lightweight Dyneema fabric. All of this results in a warm, lightweight and comfortable sleeping bag.
One of the downsides of the Spoonbill is it's not great for couples who want to cuddle because of its two separate hoods. Another consideration is its price tag is pretty crazy, however if you consider the price of two premium sleeping bags, it might be worthwhile. It also loses major points when it comes to versatility. If one of you decides to go on a solo trip, you'll need a different bag.
If the price tag puts you off, check out the Big Agnes Sentinel 30. It is a much more affordable double bag option.

The North Face Inferno
Specs
Type

:

Mummy

Material

:

Synthetic Fabric

Fill Weight

:

36.2 oz

Insulation

:

Down

Weight

:

3.0 lbs

Volume

:

39.8 L

Water Resistant

:

Yes

Temp Rating

:

-20 F

Fill Power

:

800
Features
Water-resistant Finish Protects The Down Insulation And Keeps You Dry
Generous Cut Leaves Room To Change Positions
Draft Collar With Overlap Allows You To Breathe Without Losing Heat
Drawcord Hood Gets You All Bundled Up And Protects Your Face From The Cold
Internal Pocket Makes Your Phone And Flashlight Easy To Store And Find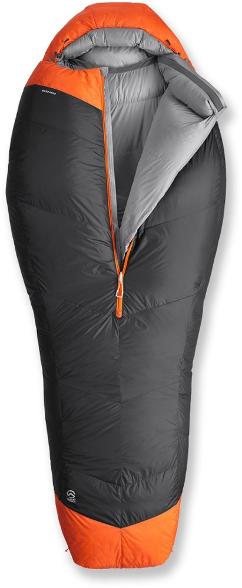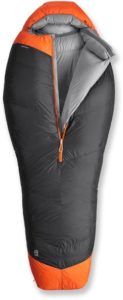 With The North Face Inferno, you never have to sacrifice a good night's sleep to cold, uneven ground. If you don't have a mattress with you, no worries – this sleeping bag includes extra water-resistant padding between you and the ground. Since the bag compresses to about the size of a basketball, you may have to leave the sleeping pad behind anyhow.
If there's any chance of cold or snow on your trek, the Inferno ensures you're prepared with the appropriate sleeping arrangements. You're sure going to appreciate a good night's sleep out in the wilderness more when you wake up warm and well-rested.
Marmot Never Summer
Specs
Type

:

Mummy

Material

:

Nylon

Fill Weight

:

31.7 oz

Insulation

:

Down

Weight

:

3.1 lbs

Shape

:

Mummy

Volume

:

16.8 L

Water Resistant

:

Yes

Temp Rating

:

12 F

Fill Power

:

650
Features
Water-resistant Finish Protects The Down And Shell
Insulated Collar, Hood, And Draft Tube Allow You To Breathe Without Losing Heat
Internal Pocket Keeps Your Phone And Flashlight Within Reach
Generous Foot Room With Foot Warmer Pockets Keep Your Toes Toasty
Comes With A Stuff Sack And Storage Bag For Packing


If hiking is in your bones, your love of the sport doesn't magically end in the winter. Well, thankfully sporting goods manufacturers see your obsession and raise you the gear to match it. The Marmot Never Summer, for example, voids the idea of "stepping out of your comfort zone" with your very own comfort zone.
The sleeping bag makes you feel more like you're sitting on a rug in front of the fireplace than resting in sub-freezing temperatures. Your entire head will be covered by the hood of this bag and you can even put heating packs in the foot pockets, because it's impossible to fall asleep with cold feet. Plus, it's a lot easier to face tomorrow's summit after getting a good night's rest tonight.
Enlightened Equipment Enigma 20
Specs
Fill Weight

:

15.4 oz

Insulation

:

Down

Weight

:

1.3 lbs

Volume

:

07.0 L

Temp Rating

:

20 F

Fill Power

:

850
Features
Ethically sourced down from an RDS certified supplier
Sewn-closed foot box
Stuff sack included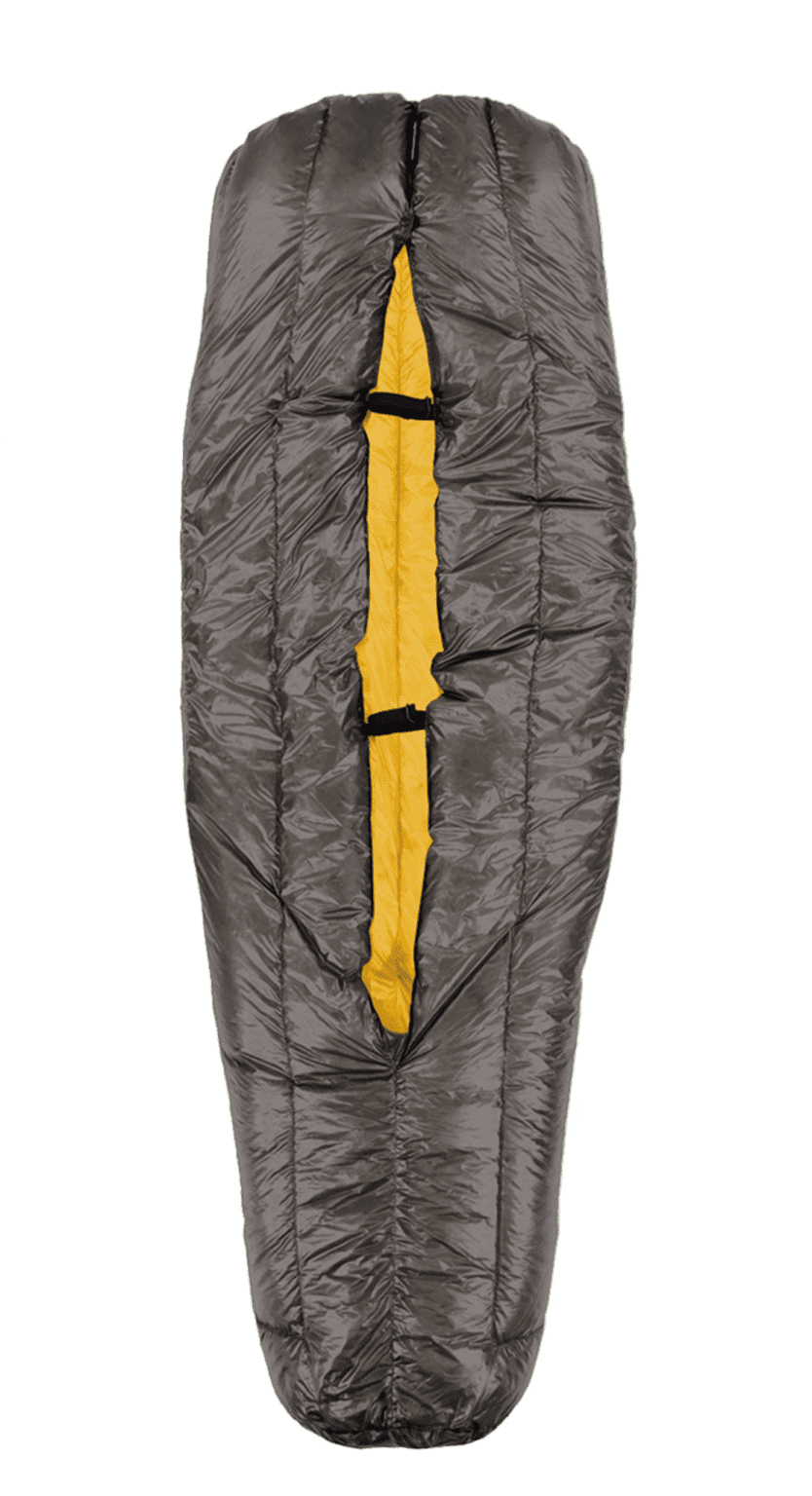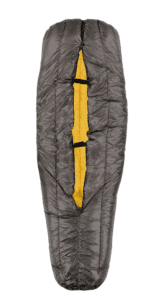 The Enlightened Equipment Enigma 20 is a minimalist ultralight quilt that is quickly becoming a favorite of long distance hikers.
What we love the most about the Enigma is its round foot box that is sewn shut. This design gives you more foot room while trapping in heat. This makes it a good option for backpackers who are transitioning from using a traditional sleeping bag to using a quilt. All of Enlightened Equipment's quilts are hand sewn and the quality is top notch. They overfill their quilts by 30% so instead of stuffing them to the minimum amount needed to fill the bag, they pack in extra down to help with any loss in loft due to moisture or dirt. Thru hikers who plan to use this thing for weeks on end without washing it will appreciate this consideration.
Quilts do come with some drawbacks and the Enigma is no exception. Since it is just like a big blanket, it doesn't have a hood so you'll want to wear a beanie or down jacket on chilly nights. It also doesn't have a back so it can be tricky to fully seal up the quilt in cold conditions.
Enlightened Equipment is a cottage manufacturer based in Minnesota. All of their quilts are highly customizable, which is a great option for thru hikers who really want to have their gear dialed in. It can take over a month for a custom quilt to arrive but luckily, EE does have stock options for those who just want a standard option and don't have time to wait for a custom quilt to arrive.
The Enigma is available in 0, 10, 20, 30, 40, and 50 degree versions.
Nemo Sonic
Specs
Type

:

Mummy

Material

:

Nylon

Fill Weight

:

40.0 oz

Insulation

:

Down

Weight

:

3.5 lbs

Volume

:

13.4 L

Water Resistant

:

Yes

Temp Rating

:

-20 F

Fill Power

:

800
Features
Overstuffed With Down To Give You A Cushy Night's Sleep
Water-resistant Down And Water-repellent Shell Keep Condensation Out
Draft Tube And Collar Allow You To Breathe Without Losing Heat
Stretchy Knees And Extra Foot Room Allow You To Sleep On Your Side
Contoured, Drawcord Hood Keeps Head Heat From Escaping


Most mummy sleeping bags are designed primarily for back sleeping, but not everyone can sleep on their backs. Side sleepers unite with this plush sleeping bag! Extra stretch across the knees and generous foot room accommodate restless legs.
With the Nemo Sonic you can get good sleep at normally-uncomfortable temperatures too. The overstuffed down feels like a giant pillow and warms like a toaster. If you start to feel a little too toasty, you can open up the breathable "gills" to let excess heat escape without letting chilly drafts in. This sleeping bag gets all technical, which you can take comfort in as a beginner.
Mountain Equipment Iceline
Specs
Type

:

Mummy

Material

:

Nylon

Fill Weight

:

35.0 oz

Insulation

:

Down

Weight

:

3.6 lbs

Volume

:

20.1 L

Water Resistant

:

Yes

Temp Rating

:

-22 F

Fill Power

:

800
Features
Generous Length And Width Accommodate Extra Layers And Violent Sleepers
Superior Thermal Efficiency For Sub-zero Temperatures
Anatomical, Adjustable Drawcord Hood Keeps Head Heat From Escaping
Magnetic Locking Collar Won't Open Up While You Sleep
Interior Pocket Keeps Your Phone And Flashlight Within Reach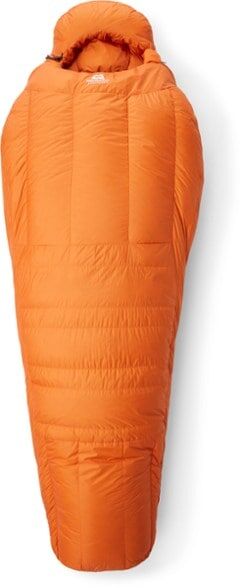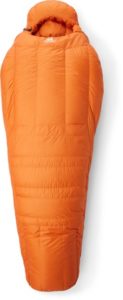 If it's good enough for technical mountaineering, the Mountain Equipment Iceline will get you through a thru-hike in extreme conditions too. All the details about the features, specialty shell fabric, and lab-tested warmth get a little technical, but all you need to know is you're getting the best of the best as far as winter sleeping bags go. The company also has programs in place to ensure animal welfare and humane workplace conditions. A lot of heart accompanies their brainpower.
If you appreciate the finer things in life, this quality, well-constructed mummy suit definitely meets your criteria. Never again will you be able to experience raw nature in its most extreme form in total comfort without this beast of a winter sleeping bag.
THINGS TO CONSIDER WHEN BUYING THE BEST WINTER SLEEPING BAGS
TEMPERATURE RATING
The temperature rating of your sleeping bag could be a matter of life or death. If your sleeping bag is rated for 0 F and you experience a -35 F night, your life could be in danger. Make sure your sleeping bag is rated for the coldest possible temperatures where you're hiking so you're covered. If you plan to hike in warmer winter climates or return to a heated camp, you may not need quite as extreme temperature ratings.
LENGTH
It's important to pay attention to the length of your sleeping bag to determine if it will accommodate your body height. You won't fit in a sleeping bag that's too short and if you go too big, you leave too much space open to heat with your body. Check the manufacturer's height recommendations before choosing a sleeping bag size.
WEIGHT
If you need to carry the sleeping bag on your back for multiple days, then you know minimizing the weight of your pack is vital. However, you have to expect extra weight for a decent sub-zero sleeping bag. Most of the bags on this list are in the 3+ lb range, which may require some gear adjustments.
WATER RESISTANCE
Most of the best winter sleeping bags on this list are either water resistant or waterproof. You'll most likely sleep inside a tent on a sleeping pad, so you won't have direct contact with snow. However, your body heat can create considerable condensation, so it's imperative that your sleeping bag doesn't soak up the condensation. If you're sleeping in a climate-controlled environment, then water resistance may not matter as much.
HEAD COVERAGE
If it's -35 F outside, not even a little bit of your skin can be exposed to the air. However, you still need to be able to breathe. Most sub-zero sleeping bags have mummy-style hoods with some type of vented tunnel to allow you to breathe without letting heat escape. Drawcord hoods let you pull the bag even closer to shut out drafts. Make sure your sleeping bag provides adequate coverage to prevent frostbite, or worse.
PRICE
The differences between a $150 and a $900 sleeping bag are vast. The quality is evident in the feel and the features provided. Depending on what you need, you may be able to get away with a less expensive model or require every technical feature of the higher end models. Maybe you land somewhere in between. The colder, more technical the hike you plan on attempting, the higher the price you should expect to pay.
SLEEP STYLE
Are you a stomach, back, or side sleeper? Do you tend to move around a lot in your sleep? Do you get claustrophobic in confined spaces? All of these factors are important when choosing a winter sleeping bag. Mummy style bags work best for back sleeping but can oftentimes be used on your side. Mummy bags also tend to fit closely in order to keep you warm. Your sleep might be affected if you're a stomach sleeper, you feel claustrophobic, or you have restless legs.
For even more insight, read How to Choose a Sleeping Bag for Backpacking.
FEATURES EXPLAINED
Ripstop nylon
Ripstop nylon is a form of nylon with a heavy-duty, reinforced weave in a crosshatch pattern. This weaving style makes the nylon extra durable and resistant to tears.
Mummy style
Like you might guess, a mummy style sleeping bag wraps closely around the body, including the head. Mummy style bags hold body heat in better and tend to take up less surface area, so they're lighter.
Tunnel/draft tube
A tunnel or draft tube refers to the hole inside the hood of the sleeping bag that you breathe out of. Tunnels tend to have a flap or vented screen over the top to keep cold air from getting inside.
Footbox
The area of the sleeping bag dedicated to your feet is the footbox. If you have large feet or plan to wear boots to bed, the size of the footbox is an important feature to consider. Check out this visual showing the anatomy of a sleeping bag.
Shell
The exterior layer of fabric on a sleeping bag is called the shell. The shell is in direct contact with the world around you, so it's important that it keeps out what you don't want (wind and water) and keeps in what you do (body heat).