Updated on October 12, 2021
Crack climbing is quite a different discipline than face climbing, and that means you need different shoes. Shoes for climbing crack should be able to stand up to jamming your toes in between rock over and over again, which is about as comfortable as it sounds. However, durable shoes with padding can lessen the pain of climbing cracks and let you move smoothly up the wall. Here at the Adventure Junkies we can help you choose the best crack climbing shoes so you can scale every killer line in sight on your next climbing adventure.
For more of our top climbing footwear recommendations, check out the Best Climbing Shoes.
Quick Answer

-

The Best Crack Climbing Shoes
Five Ten Anasazi MoccAsym
Comparison Table

-

Best Crack Climbing Shoes

For the best experience turn your device horizontally
Reviews

-

The Best Shoes for Crack Climbing
Black Diamond Aspect
Specs
Closure

:

Lace-up

Upper

:

Leather

Downturn

:

Neutral
Features
Soft Leather Upper (for comfort)
Stiff Sole (for support)
Lateral Stabilization (for performance)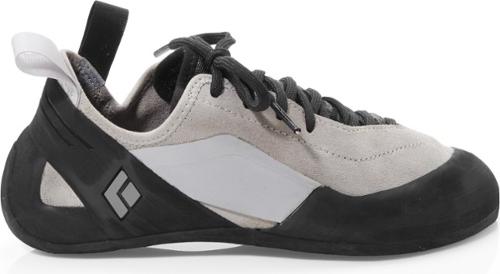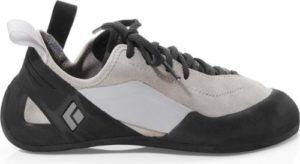 BEST FOR: BEGINNER CRACK CLIMBERS
The Black Diamond Aspect are an ideal shoe for beginners who have just been bitten by the crack climbing bug. They are designed specifically for crack climbing, so they won't fulfill all your climbing shoe needs, but they will keep your feet happy in any crack.
The leather upper partially covers the laces to prevent the constant abrasion caused by crack climbing. The rubber rand on the side of the shoe is specifically made to stabilize the foot and prevent your feet from rolling to the side. The medium stiffness of the midsole makes a great compromise between comfort and support.
La Sportiva TC Pro
Specs
Closure

:

Lace-up

Upper

:

Leather

Downturn

:

Neutral
Features
High-Top (for ankle protection)
Padded Toes (for comfort)
Ventilated Tongue (for breathability)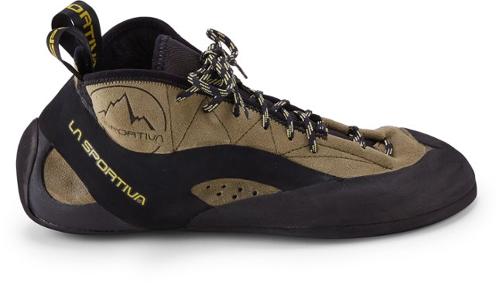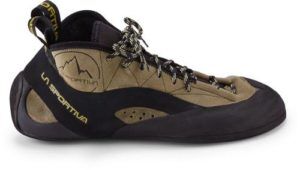 BEST FOR: ALL-AROUND CRACK PERFORMANCE
Pro climber Tommy Caldwell (of "The Dawn Wall" fame) designed these namesake shoes, and the La Sportiva TC Pros definitely perform at the pro level in cracks. The TC Pros have high tops to provide ankle protection, as well as padding in the toes to make jamming in cracks less painful.
As you would expect from a shoe made for an exceptional climber, these shoes are also excellent at edging on small footholds, thanks to La Sportiva's P3 platform which distributes power to the sole of the shoe. The Vibram XS Edge rubber is also super sticky so your feet will feel extra solid when you're trying hard.
Five Ten Anasazi MoccAsym
Specs
Closure

:

Slip-on

Upper

:

Leather

Downturn

:

Moderate
Features
Flat Toe Profile (for fitting in cracks)
Soft Midsole (for increased sensitivity)
Elastic Band Closure (for easy on/off)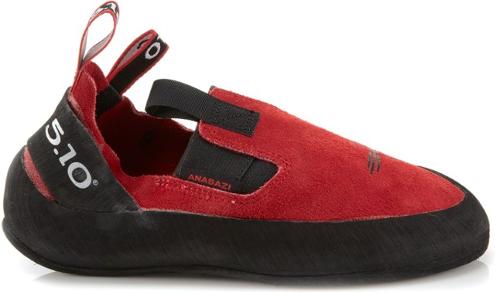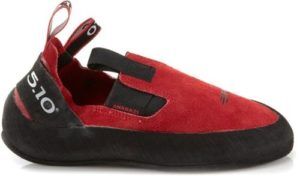 BEST FOR: SLIP-ON STYLE
The Five Ten Moccasym is a classic slipper that has been a climber favorite for decades. The Moccasym is a slip-on with an upper made of natural leather, which breaks in well to perfectly fit your foot. The lack of velcro or laces makes the Moccasym durable to stand up to sticking in cracks. The shoe is also extremely breathable, to keep you comfortable on long climbs.
Made with Stealth C4 rubber, the Moccasym sticks to the tiniest footholds, and the soft midsole is sensitive so you can place your feet with precision. The toe box is very low profile, which makes it easy to jam into cracks.
La Sportiva Mythos
View Women's Version
Specs
Closure

:

Lace-up

Upper

:

Suede Leather

Downturn

:

Neutral
Features
Low Toe Profile (for jamming in cracks)
Special Lacing System (for adjustability)
Perforated Rubber (for stretch during long days)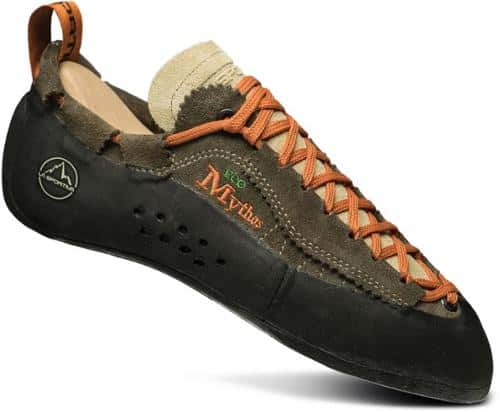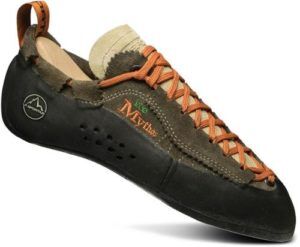 BEST FOR: VERSATILITY
With a low toe profile for jamming, the La Sportiva Mythos perform well in cracks, and they are also a great all-around shoe for beginners. They are not aggressively downturned and the leather uppers are unlined to conform to your foot, making the Mythos extra comfortable for new climbers. The special lacing system wraps around the heel, which keeps your foot snugly in place.
The Vibram XS rubber that surrounds the sole will stick in cracks and also smears well on slab and other types of rock faces, so the Moccasyms are versatile on a variety of climbs, except the steepest overhangs.
Five Ten Anasazi Lace
Specs
Closure

:

Lace-up

Upper

:

Polyester

Downturn

:

Moderate
Features
Cowdura Leather Upper (for breaking in to foot)
Stiff Midsole (for support)
Hard Rubber (for durability)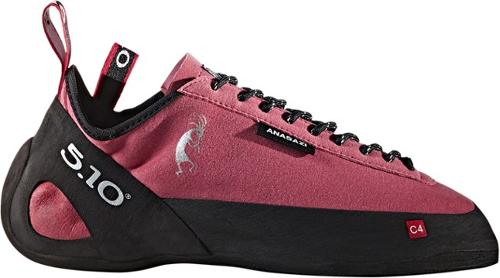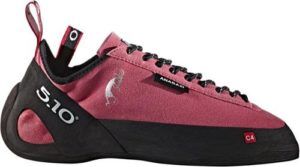 BEST FOR: ALL-DAY PERFORMANCE
You'll notice the Five Ten Anasazi Lace because of the distinctive pink color, but it stands out as an awesome crack climbing shoe, too. The Stealth C4 rubber holds up to cracks, and it also provides good edging on technical face climbs. The heel has an updated design to keep your foot in place inside the shoe and prevent slipping.
The upper is made of Cowdura leather which molds to your feet, making the Anasazis exceedingly comfortable once you break them in. The shoes have a narrow fit, so they are a good choice for women with lower volume feet.
Scarpa Maestro Mid Eco
View Women's Version
Specs
Closure

:

Lace-up

Upper

:

Leather

Downturn

:

Moderate
Features
Mid-Top (for ankle protection)
Lace Protection (for durability)
Tensioned Downturn (for performance)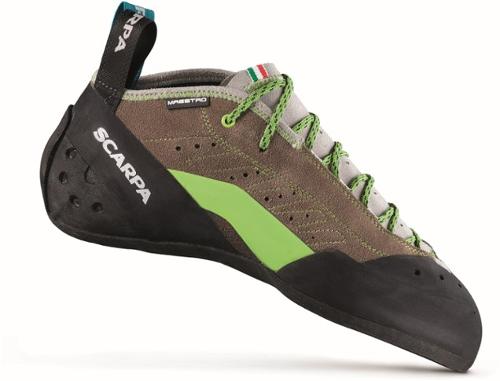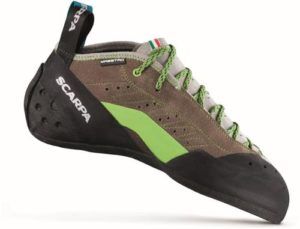 BEST FOR: MULTI-PITCH CLIMBING
The Scarpa Maestro Mid Eco are designed to provide technical performance without sacrificing comfort, so they are a top choice for long, multipitch crack climbs. The leather uppers partially cover the laces to prevent abrasion, and the stitching on the upper is strategically placed to avoid pressure points when jamming in cracks, while the mid-top height keeps your ankle protected.
The Maestro Eco is moderately downturned, for enhanced performance on small footholds, and it has a stiff sole to provide support throughout your climb. The Vibram XS Edge rubber covers the toe in a way that fits securely in cracks, and also provides great edging power.
Evolv Addict
Specs
Closure

:

Slip-on Elastic

Upper

:

Leather

Downturn

:

Neutral
Features
Elastic Closure (for easy on/off)
Soft Midsole (for comfort)
Unlined Upper (for breathability)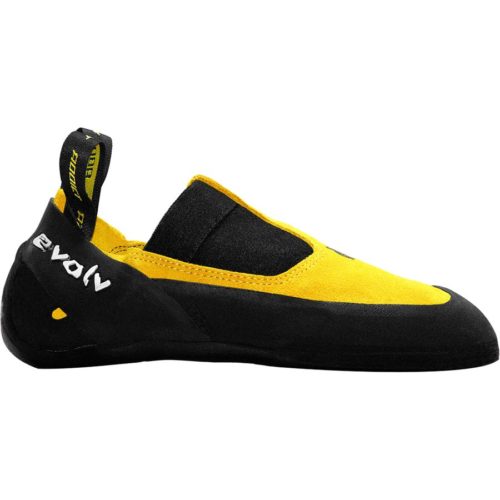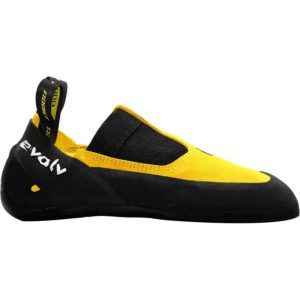 BEST FOR: COMFORT
The Evolv Addict is a slipper style shoe that prioritizes comfort. With a symmetrical shape and a neutral profile, your feet won't get crammed into these shoes, and they are simple to slip on and off thanks to the elastic band closure. The low toe profile slides into cracks, and the variable thickness rubber stands up to abrasion thanks to thicker rubber in high wear areas.
The Addict tends to fit low volume feet well since they are narrow, so they could be a good choice for women or other people who find that wider shoes don't fit quite right.
Evolv The General
Specs
Closure

:

Lace-up

Upper

:

Leather

Downturn

:

Moderate
Features
High-Top (for ankle protection)
Slightly Asymmetrical Toe (for performance)
Stiff Midsole (for support)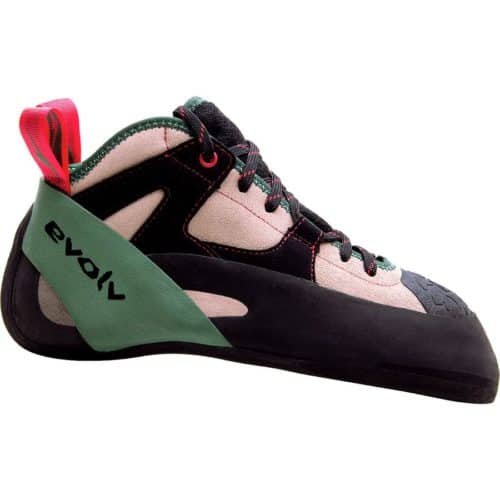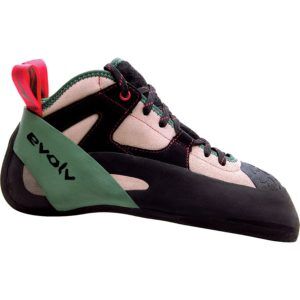 BEST FOR: TECHNICAL CLIMBING
The Evolv General has lots of key features for crack performance, including high tops for ankle support and protection and a padded insole to keep your feet comfortable while jamming. With a moderate downturn, the Evolv General is slightly more aggressive than many crack climbing shoes, so it can also handle footwork on small edges, and when combined with a slightly asymmetrical shape and a stiff sole, the shoe provides lots of power to your toes.
To maintain extra durability, the Trax rubber sole has a variable thickness rand (the part of the rubber that connects the sole to the toe), which means more rubber is placed in high wear areas.
La Sportiva Katana Lace
Specs
Closure

:

Lace-up

Upper

:

Leather/Synthetic Leather

Downturn

:

Moderate
Features
Specialized Lacing (for custom fit)
Breathable Tongue & Lining (for moisture wicking)
Synthetic Leather Toe Box (for edging)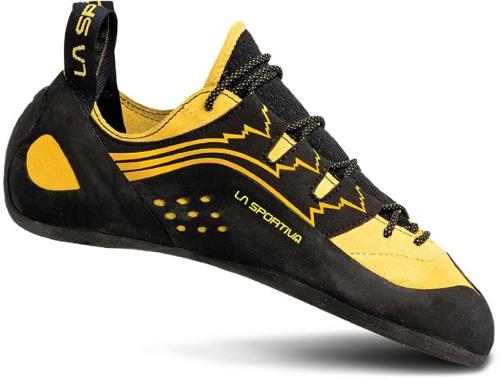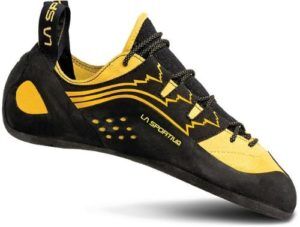 BEST FOR: MULTIPURPOSE
The La Sportiva Katana is a multipurpose shoe that fits great in cracks, as well as excels at technical sport climbing or bouldering. The Katana is slightly downturned to provide power through the toes on small footholds while face climbing, and the toe box is low profile to excel at jamming in cracks. The Vibram XS Edge rubber smears well on slab, too.
The Katana has a breathable tongue and a lined upper to keep your feet dry, even while they're sweating in a foot jam. The specially designed Lorica lacing system allows you to dial in a super precise fit so your feet always feel snug and secure.
La Sportiva Kataki
View Women's Version
Specs
Closure

:

Lace-up

Upper

:

Suede Leather/Microfiber

Downturn

:

Aggressive
Features
Stiff Rubber (for durability & support)
Tight Heel Cup (for power in heel hooks)
Separated Front & Rear Lacing (for precise fit)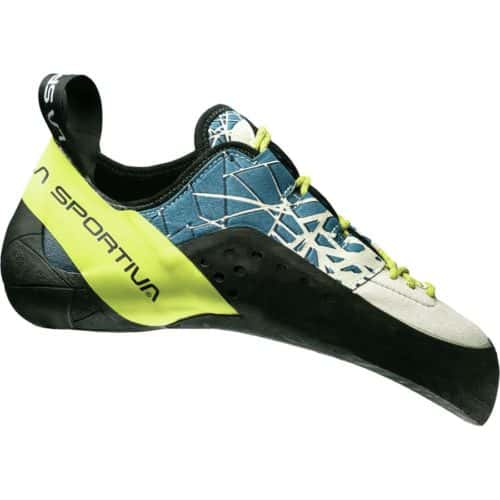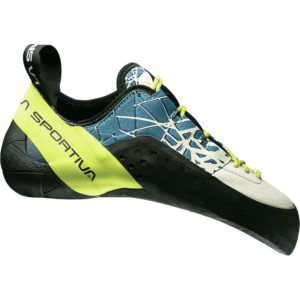 BEST FOR: ALL-AROUND PERFORMANCE
The La Sportiva Katakis are built for performance on a variety of terrain, so if you want one shoe for all your climbing needs, the Katakis are an excellent option. The low profile toe box jams well in cracks, the stiff rubber edges on small holds, and the aggressive downturn gives you power on steep, overhanging climbs as well. The special S-Heel design secures your heel in place without slipping and is great for heel hooks.
The Katakis should fit quite tightly out of the box, as the leather uppers will stretch over time as you break them in. The lacing system gives good control over a precise fit, thanks to differentiated front and rear laces.
THINGS TO CONSIDER WHEN BUYING CRACK CLIMBING SHOES
The biggest consideration when choosing a shoe for crack climbing is whether you want a pair just for crack climbing or for other climbing styles, too. Dedicated crack climbing shoes are usually not the best for steep sport climbs or overhanging boulders. You can find some all-around shoes, but they will lack some special features for crack climbing, such as padded toes or high-top ankle protection. Also, lace-up or slip-on shoes tend to be better than velcro closures at fitting into tight cracks and not getting destroyed.
Ideally, your crack climbing shoes will fit a little looser than shoes for technical face climbing. Evening Sends gives some tips on what to look for in the fit of different kinds of shoes, and Climbing Magazine has some advice for taking care of your shoes.
FIT
Good fit is crucial in any type of climbing shoe. While you don't want crack climbing shoes to be too snug, you still don't want much dead space in the shoe, so it's important to find a shoe that fits your specific feet well. Generally, you'll have a little more room in the toe box in crack climbing shoes, since they are more symmetrical and less aggressive.
If you choose a crack climbing shoe that has a high top, be sure that it will be comfortable around your ankle and not dig in and cause pain.
COMFORT
Crack climbing is known for being uncomfortable, so you want shoes that do the most they can to minimize the pain of jamming your feet tightly in cracks. Some shoes have extra padding to protect your toes, and that can really help your comfort level in cracks.
If you're crack climbing, that often means you're doing multi-pitch trad routes, so you want shoes that will stay comfortable all day. Look for shoes that are breathable to keep your feet dry. Some shoes are also designed to stretch slightly as your feet swell for extra comfort.
DURABILITY
Crack climbing shoes need to be able to withstand abuse, since constantly sticking your shoes in cracks will definitely scuff them up. Shoes with rubber all the way around are helpful. Lace-up shoes also generally hold up better than velcro straps, which can get destroyed pretty easily and aren't replaceable like laces.
FEATURES EXPLAINED
CLOSURE
The method for taking the shoe on and off, and adjusting it to fit properly. The main types of closure are lace-up, velcro straps, or slip-on elastic.
UPPER
What the upper part of the shoe is constructed from, usually either leather or synthetic. The upper can be unlined, lined, or padded.
OUTSOLE
The bottom of the shoe, which is always rubber in climbing shoes. The type of rubber differs by brand and has different properties.
LAST
The shoe is built around a model called a last. Slip-lasted shoes offer greater sensitivity since they are softer, while shoes that are board-lasted are stiffer, which is more supportive and comfortable.
DOWNTURN
How much the shoe curves down in the toes, which can range from neutral to aggressive. Shoes with less of a downturn are usually more comfortable, but a greater downturn provides better performance, especially on steep climbs. Crack climbers generally prefer a neutral to moderate downturn to fit easily in the cracks.
READ MORE
For more of our top climbing gear recommendations, check out these popular buyer's guides: