Updated on July 6, 2022
You have your extra layers, you made lunch and whipped up a few trail snacks, and the rest of the ten essentials are lying in a pile on the floor. The trail awaits; now you just need to find the best women's daypack for hiking to load it all into and you'll be on your way!
Countless options exist when it comes to hiking daypacks. In recent years, brands have also started putting out backpacks specifically geared towards women, with women-specific features like contoured shoulder straps that make hikes much more comfortable for us ladies. With so many choices out there, we took the liberty of narrowing them down to the best of the bunch so that you can determine the best women's day hiking backpack for you.
For more of our top hiking gear recommendations, check out the Best Hiking Backpacks.
[thrive_leads id='68005′]
Quick Answer

-

The Best Women's Daypacks for Hiking
\
Comparison Table

-

Best Women's Day Hiking Backpacks

For the best experience turn your device horizontally
[thrive_leads id='56126′]
Reviews

-

The Best Women's Day Hiking Backpacks
Deuter Speed Lite 22 SL
Specs
Weight

:

1 lb 9 oz

Pockets

:

4

Volume

:

22 L

Hip Belt

:

Yes

Raincover

:

No

Trekking Pole Attachment

:

Yes
Features
Ventilated Back Panel
Side Compression Straps (to compress the pack load for better balance)
Lightweight and Tear-Resistant Outer Material
BEST FOR: HEAVY LOADS
With great support and ventilated mesh, the Deuter Speed Lite 22 SL offers a breezy and comfortable trail experience. The design is narrower and has a shorter back length than most men's packs for a fit more closely tailored to the average woman, with an adjustable sternum strap to further customize it to your own size. An internal, tensioned frame and wide hip belt ensure comfortable load distribution on the trail.
If you often find your back drenched in sweat by the end of a day hike, fear not – from the back to the shoulder straps, air-mesh lining offers ventilation to keep you cool. Add in stretchy side water bottle pockets, zippered mesh pockets on the hip belt, a top zippered pocket, and a large stretch stuff pocket on the front, and this pack provides plenty of space to stuff your rain jacket and any other items you want to keep handy. Spring for this extremely lightweight pack to give your shoulders and hips a break when you're out for a long day of hiking.
Osprey Tempest 20
Specs
Weight

:

1 lb 10.2 oz S/M

Pockets

:

7

Volume

:

18-20 L

Hip Belt

:

Yes

Raincover

:

No

Trekking Pole Attachment

:

Yes
Features
External Hydration Sleeve
Trekking Pole Carry System
Side Compression Straps (to compress the pack load for better balance)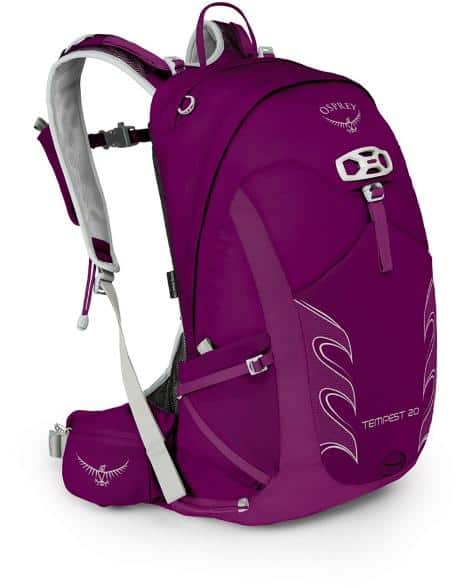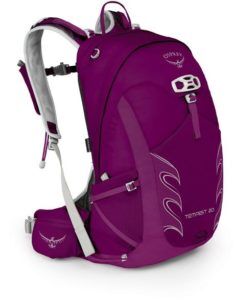 BEST FOR: TOWN TO TRAIL VERSATILITY
If you're looking for a versatile day pack that has it all, the Osprey Tempest 20 is a no-brainer. The adjustable women-specific harness and seamless lumbar-to-hip belt wrap optimize your hiking comfort, and a helmet attachment feature means you can bike safely from your town to the trailhead. For those sweltering hot days, you'll be grateful for the dedicated external hydration sleeve and breathable back panel.
This daypack also features plenty of external pockets to stash your stuff, from throwing your sweatshirt in the front mesh pocket before going through airport security to storing your phone and keys up top before setting out on the trail. Perfect for travel, commute, and long hiking days, the Osprey Tempest 20 can adapt to wherever life takes you.
Patagonia Refugio 26L
Specs
Weight

:

1 lb 5.2 oz

Pockets

:

3

Volume

:

26 L

Hip Belt

:

No

Raincover

:

No

Trekking Pole Attachment

:

No
Features
Durable Water Repellent (DWR) Outer Material (for protection from rain)
Adjustable and Removable Sternum Strap
Main Compartment Hydration Sleeve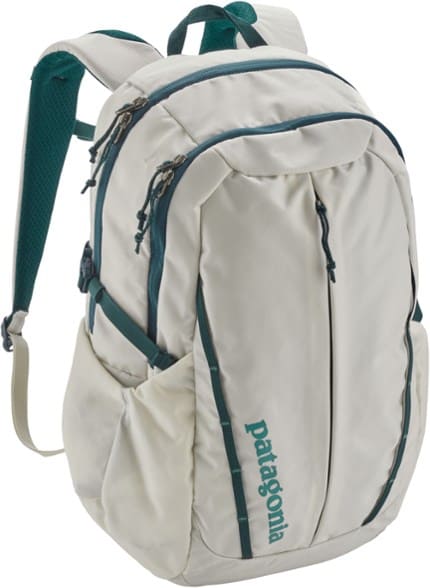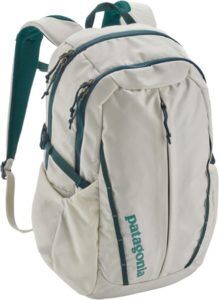 BEST FOR: SHORT DAY HIKES
Need a pack that will perform on your commute and on a day hike? The Patagonia Refugio 26L daypack does both. Stretchy side pockets can hold your water bottles, while the front stash pocket is perfect for keeping small items like sunglasses handy. In terms of comfort, the shoulder straps have a straight, tapered cut designed to fit a female torso, and the mesh from the back panel to the shoulder straps is super soft and breathable.
Stay organized with a variety of internal pockets, great for stuffing everything from a portable charger to a guide book to your car keys. Spend the morning on the trail, and the padded sleeve in the main compartment stores a hydration bladder for you; head to a coffee shop afterward, and you can trade out the bladder for your laptop. For short jaunts outside and travels around town, the Refugio 26L is a great fit.
Deuter Trail 28 SL
Specs
Weight

:

2 lbs

Pockets

:

4

Volume

:

28 L

Hip Belt

:

Yes

Raincover

:

Yes

Trekking Pole Attachment

:

Yes
Features
Removable Rain Cover With Dedicated Storage Pocket
Automatically-Adjusting Shoulder Harness
Internal Valuables Pocket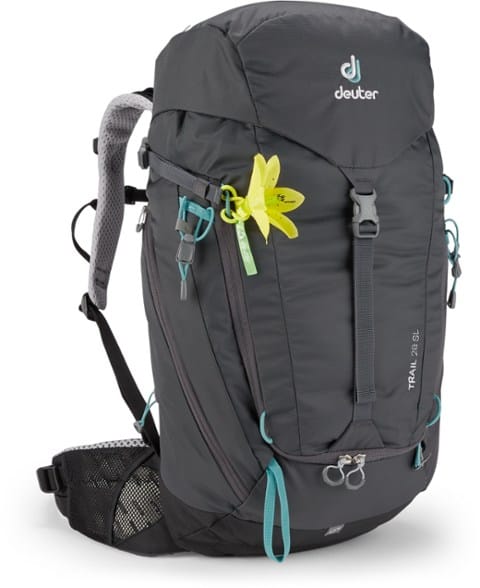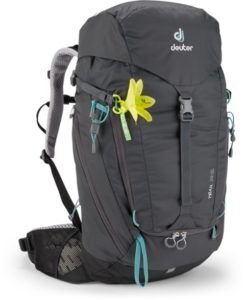 BEST FOR: CHALLENGING TERRAIN
If your outdoor plans often include a longer day hike, this may be the day pack for you. The Deuter Trail 28 SL features plenty of adjustable straps to ensure a comfortable, load-distributing fit, from load adjustment shoulder straps to a sternum strap that adjusts height- and width-wise. With a flexible internal frame that's slightly shorter to fit a female torso, this pack keeps the load you're carrying close to your back for optimal stability as you cross streams and navigate switchbacks.
Every detail of this pack was designed with long trail days in mind, including the front zipper access to gear kept at the bottom of the backpack – no more digging through the rest of your stuff to find the items you packed first. The open cell foam of the back panel circulates air through its cushioned system with each movement, allowing you to maintain your cool throughout a long day of hiking.
REI Co-op Ruckpack 40
Specs
Weight

:

4 lbs 3 oz

Pockets

:

2

Volume

:

40 L

Hip Belt

:

Yes

Raincover

:

Yes

Trekking Pole Attachment

:

Yes
Features
Removable Rain Cover
Lockable Zippers
Sternum Strap With Whistle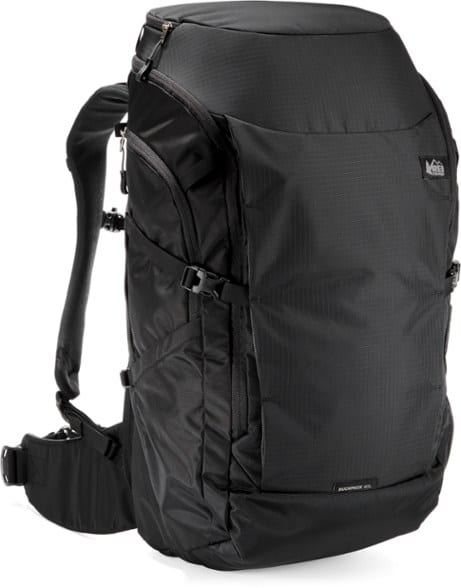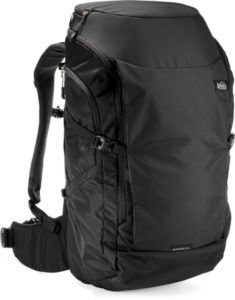 BEST FOR: FAR-AWAY HIKING TRIPS
Maybe you're hoping to bring camera equipment on your day hike, or the forecast is all over the place and you need lots of layers. No matter what you're bringing, the REI Ruckpack 40 can handle it. Stuff everything you need for a hiking trip into this day pack, which is small enough to serve as a carry-on but large enough for all your hiking needs once you reach your destination.
The mesh back panel ventilates while you're hiking, then offers a zippered cover to protect the pack's straps in transport. The hydration sleeve can accommodate up to a 3L hydration reservoir, and the port on the left side provides easy access for the reservoir tube. Wherever your day hike takes place, the Ruckpack 40's full-zip design offers accessibility when you need your gear and easy storage when you don't.
Gregory Maya 16
Specs
Weight

:

1 lb 10. oz

Pockets

:

6

Volume

:

16 L

Hip Belt

:

Yes

Raincover

:

No

Trekking Pole Attachment

:

Yes
Features
Sternum Strap With Whistle
Side Compression Straps (to compress the pack load for better balance)
Adjustable Torso Length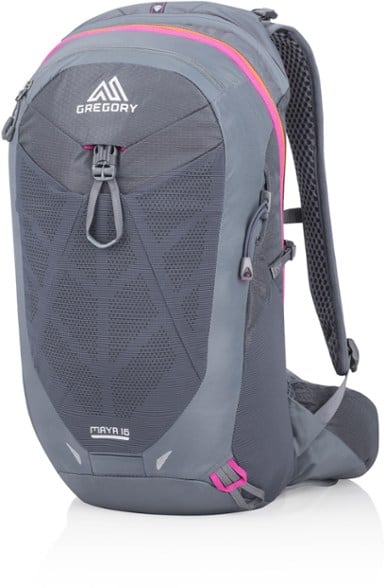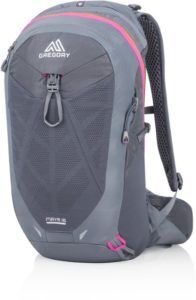 BEST FOR: SHORT AND FAST DAY HIKES
When you have an hour and there's a beautiful sunset in the forecast, grab the Gregory Maya 16, easily stow your trekking poles with the quick-hook clip attachment system, and head out the door. This pack's suspended foam back panel conforms to your body while staying breathable, and you can rely on the durability of the bottom panel material thanks to its two layers.
Got pockets? A zippered hydration pocket offers easy access to a reservoir, while the zippered pocket on the front is soft and padded to protect your sunglasses and phone. Another dedicated system on the shoulder harness gives you access to your sunglasses without taking your pack off, and the interior mesh pocket comes with a key clip to easily keep track of your ticket home. The padded women-specific hip belt also hugs your body, offering two more zippered pockets to stash snacks.
Mystery Ranch Scree 32
Specs
Weight

:

3 lbs 1.6 oz

Pockets

:

2

Volume

:

32 L

Hip Belt

:

Yes

Raincover

:

No

Trekking Pole Attachment

:

Yes
Features
Side Compression Straps (to compress the pack load for better balance)
2 Rows of Daisy Chains (loops to hang small items off of the pack)
Removable Hip Belt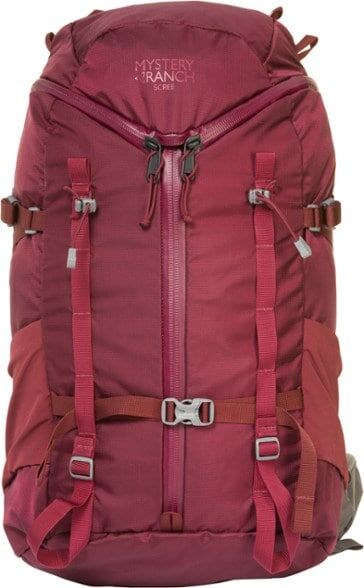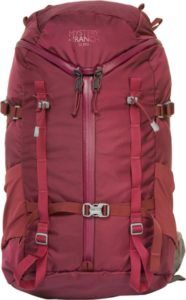 BEST FOR: ORGANIZING GEAR
A dedicated hydration sleeve and easy-access water bottle pockets mean you'll quickly quench your thirst when using the SCREE on a day hike. A zippered pocket in the lid of the pack is perfect for organizing smaller essentials, while the 3-zipper design offers quick and easy access to the main compartment.
This pack's harness is women-specific and automatically makes micro adjustments as you move to fit your torso length. Zippered pockets on the hip belt are there when you need them, plus the waist system requires less effort to tighten due to its forward-pull design. A dual-layered bottom means the SCREE will last you for the long haul.
Osprey Sirrus 24
Specs
Weight

:

2 lbs 9 oz

Pockets

:

5

Volume

:

24 L

Hip Belt

:

Yes

Raincover

:

Yes

Trekking Pole Attachment

:

Yes
Features
Integrated Removable Rain Cover
Side Compression Straps (to compress the pack load for better balance)
Adjustable Torso Length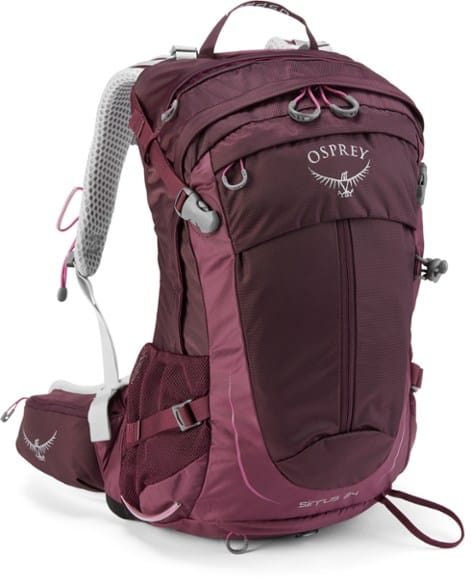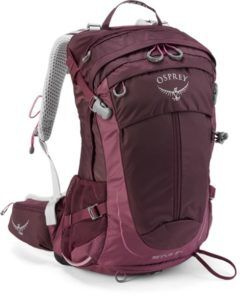 BEST FOR: WHEN THE WEATHER SHIFTS
One of this pack's most exciting features is the integrated rain cover, which is one less piece of gear you have to think about – just deploy it as soon as you see storm clouds roll in. When you're ready to do some scrambling, stow your trekking poles in the left-side attachment system.
Pockets ideally sized for anything you might need showcase the efficiency of this pack, from the large top panel where you can stash your sunglasses to the vertical zippered pocket on the front panel that stores a trail map or your phone.
Pack up your gear, then easily distribute the load with the tensioned mesh back panel that's both breathable and conforms to your body. The women-specific seamless hip belt and padded shoulder straps maximize comfort, and you can pull the compression straps to cinch the pack volume for further stabilization. Throw a reservoir in the hydration sleeve, and you'll be prepared for your day hike come rain or shine.
[thrive_leads id='59716′]
THINGS TO CONSIDER WHEN BUYING A DAYPACK FOR HIKING
GEAR CAPACITY
How much volume your pack should have depends on how much gear and food you typically bring on a day hike. Bringing at least the ten essentials is never a bad idea, especially on longer day hikes in wilderness areas. If you add in camera gear, a guide book, and anything else you want to have with you, your capacity needs can rise quickly. On the other hand, if you plan on sticking to shorter day hikes, a smaller pack will do the trick.
VERSATILITY
Hopping on a plane to get to your hiking destination? You'll want a pack that can double as a travel bag. Some hiking packs come with laptop sleeves in case you plan on bringing work along on your trip, and you'll want to check with your airline to make sure your day pack fits their carry-on requirements. If you don't anticipate traveling far to go hiking, such features may not factor in as much to your decision.
TORSO SIZE
Some women's day packs come in different sizes; the Osprey Tempest 20, for example, offers an XS/S or S/M option. Others have an adjustable torso. It's important that your backpack rests on your hips in the right spot and doesn't ride up your shoulders to be comfortable and avoid injury while hiking, so check with the brand's size specifications to see which one will fit your torso best.
HYDRATION COMPATIBILITY
All of the packs on this list are compatible with a hydration reservoir in some shape or form, though some have a dedicated pocket and an easy-access port for the tube, while others simply offer an internal laptop sleeve that can also fit a hydration bladder. If you prefer to just stick to water bottles, look for durable and deep external side pockets that will make them easy to access on a hike.
VENTILATION
If you've ever suffered from a sweaty back during a hike, you know how important a pack's ventilation capabilities are for optimal comfort. Look for materials like mesh paneling in the back panel, along with a suspended frame to keep the pack from smothering your back.
FEATURES EXPLAINED
DURABLE WATER REPELLENT (DWR)
Durable water repellent fabric repels water (though is not completely waterproof) and dries quickly.
HIP BELT
Padded wings at the bottom of your pack designed to help the pack rest on your hips to optimize load carrying. Look for an adjustable hip belt so you can fit the pack to your waist.
STERNUM STRAP
This strap connects the two shoulder straps across the top of your chest. Look for a day pack with an adjustable sternum strap, as it helps ease the pressure of the pack's load on your shoulders.
COMPRESSION STRAPS
These straps are typically found on the sides and sometimes the front of the pack. They're used to tighten down your backpack's volume, streamlining the load to keep it secure and balanced as you hike.
DAISY CHAINS
While it's ideal to carry everything inside your pack or in a dedicated external pocket, sometimes it's easier to attach gear to the outside of your pack. Daisy chains are a series of loops sewn in a row on a pack used to attach small items to the outside.