Updated on October 7, 2020
So you wanna be a shredder, huh? Well if that's the case, then you'd better get a helmet! As with anything you do, there's nothing more important than protecting that big beautiful brain of yours. And when it comes to helmets, not all are created equally. There is a superwide range of quality, prices, features, and safety components out there, so it is important to educate yourself before making this choice – which is why we at The Adventure Junkies have compiled a list of the very best snowboard helmets for women.
With just a little time spent reviewing the information on this list, you'll have a great knowledge base to decide on the women's snowboard helmet that is perfect for you. We'll cover safety, warmth, ventilation, cost, weight, adjustment features, and so much more. So here we go…the sooner you get reading, the sooner you can get out there and shred the gnar.
For more of our top snowboarding gear recommendations, check out the Best Snowboarding Helmets Overall.
Quick Answer

-

The Best Women's Snowboard Helmets
Sweet Protection Switcher
Comparison Table

-

Best Women's Snowboard Helmet

For the best experience turn your device horizontally
Reviews

-

The Best Snowboarding Helmet for Women
Smith Vantage MIPS
Specs
Construction

:

Hybrid

Weight

:

1 lb. 2 oz.

Vents

:

21

Shell Material

:

Koroyd

Brim

:

No

Protection Technology

:

MIPS
Features
Helmet is Lightweight In Comparison To Its Full Coverage
Vents Are Completely Adjustable So You Can Get The Perfect Amount Of Airflow In Any Weather
High-Performance Lining And Ear Pads Are Extra Warm And Comfortable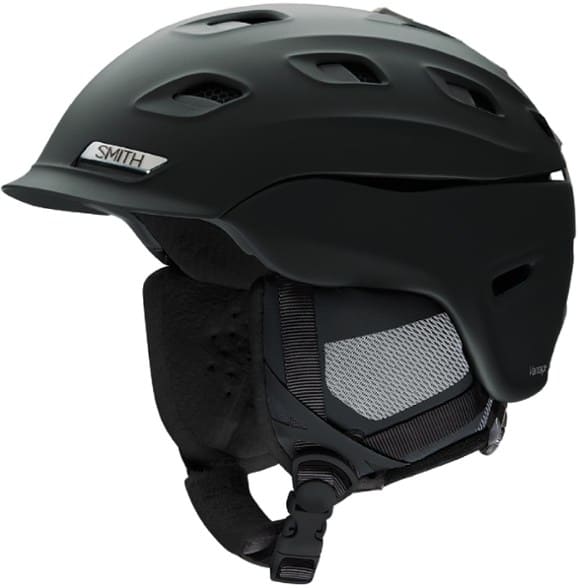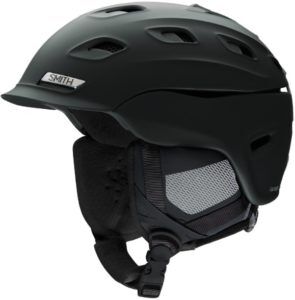 BEST FOR NON-HELMET WEARERS
The reviews are in: female snowboarders are raving that this helmet is so lightweight and comfortable, you'll forget you're even wearing it. If you're traditionally a hat-wearer on the slopes, or you've never worn a helmet before and are worried you'll find it heavy and uncomfortable, stop right there 'cuz you've met your match! The Smith Vantage weighs just over a pound, yet it sports complete coverage to keep you warm and safe. The Vantage features MIPS, one of the newest and safest helmet technologies out there. Plus, it has removable ear pads so you can choose to make use of your own ear coverage instead, and its 21 vents are completely adjustable so that you can set the airflow to be juuuuust right.
Giro Era MIPS
Specs
Construction

:

In-Mold

Weight

:

Unavailable

Vents

:

Adjustable

Shell Material

:

Polycarbonate

Brim

:

No

Protection Technology

:

MIPS
Features
Adjustable Components Provide Maximum Comfort For All Head Shapes And Goggle Sizes
Adjustable Ventilation System Allows You To Fine-Tune Airflow
Compatible With Giro Audio Products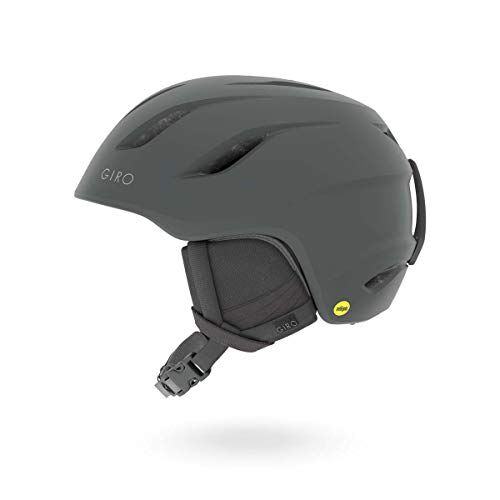 BEST FOR ABNORMAL HEADS
Do you consider yourself to have a larger than average or smaller than average head size? Or, does your head have a slightly different shape than the norm? Well that's no problem with the Era helmet from Giro! The Era has internal size and shape adjustment mechanisms that allow you to form the helmet to your perfect fit, no matter your head shape and size. This feature is also great for perfecting your helmet's fit against large and small goggles and for making room to add a hat or headband underneath, abnormal head size or not! Another thing you can fine-tune on the Giro Era helmet is the ventilation system. Open and close any number of vents to let in a comfortable amount of air. As a bonus, you can integrate any Giro audio product with this skull-saver.
Anon Griffon
Specs
Construction

:

In-Mold

Weight

:

14 oz.

Vents

:

12

Shell Material

:

EPS and Polycarbonate

Brim

:

Yes

Protection Technology

:

Not Specified
Features
Long-Hair Fleece Lined Helmet And Ear Pads Provide Ultimate Coziness
Specialized Fit System Allows For Easy On-The-Go Size Adjustments
Magnetic Snap Buckle Is Easy To Open And Close With Gloves On
BEST FOR ON-THE-GO ADJUSTMENTS
If you're one to make frequent wardrobe adjustments (especially when you're wearing something as involved as a snowboard outfit), then surely you'll want a dome accessory that is easily adjustable. We have just the one for you. The Anon Griffon features helmet adjustment technology that allows for precision adjustments at the turn of an external dial, which means you can make size adjustments without even having to take the helmet off.
The Griffon also has a magnetic snap buckle that is easy to open and close with gloves on, so if you do need to take your helmet off in the middle of the action to adjust something underneath, you won't need to take your gloves off too. Beware of one non-adjustable component of this helmet: unlike some other helmets on the list, this one doesn't have the ability to open and close vents.
POC Obex SPIN
Specs
Construction

:

In-Mold

Weight

:

16 oz.

Vents

:

16

Shell Material

:

ABS Plastic

Brim

:

No

Protection Technology

:

SPIN
Features
Integrates Up And Coming SPIN Technology-The Latest Safety Trend On The Market
Special Three-Layer Construction Means You Can Feel Confident In This Helmet's Ability To Perform When You Need It
Sneakily Placed Front Vents Prevent Goggles From Fogging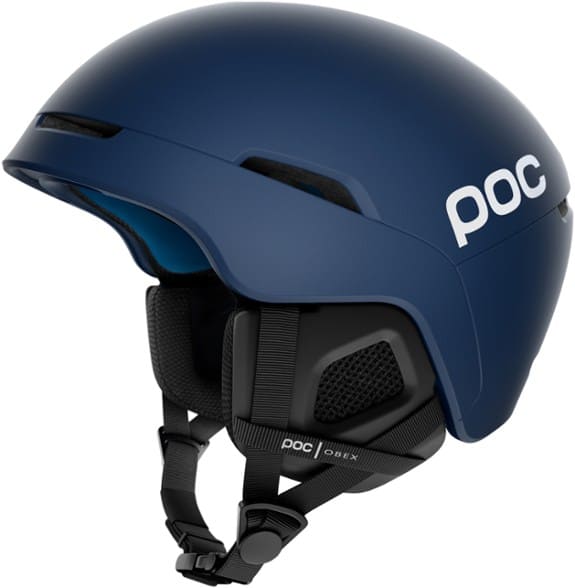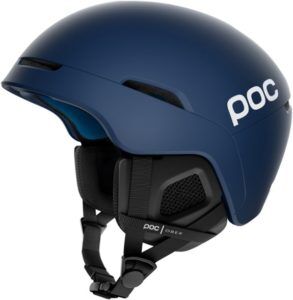 BEST FOR EXTREME SAFETY
Whether you're an extreme boarder making risky moves or you're just a Nervous Nelly out on the slopes, if you want to know that you're getting the very best head protection out there, the POC Obex is a great choice. This helmet features SPIN technology (Similar to MIPS technology, see Specs and Features Explained) to protect your head in the event of an indirect hit, whereas some other helmets only protect in the event of a direct strike.
This helmet also has three layers in its main body construction, each designed with a different safety purpose in mind, from outer-layer smash protection to inner-layer impact absorption. It also contains gel-like padding that shifts upon impact in order to better reduce trauma. If we haven't sold you on the safety features of this helmet, then you should know that it also has a goggle clip, anti-goggle-fog technology, and a fully adjustable ventilation system.
Bern Team Macon
Specs
Construction

:

Injection Molded

Weight

:

1 lb.

Vents

:

13

Shell Material

:

ABS Plastic

Brim

:

No

Protection Technology

:

Not Specified
Features
Bike And Snow Safety Certifications Mean You Can Take This Helmet Further Than Just The Slopes
Skate-Inspired Design Is Lightweight And Minimalist
A Steal Of A Deal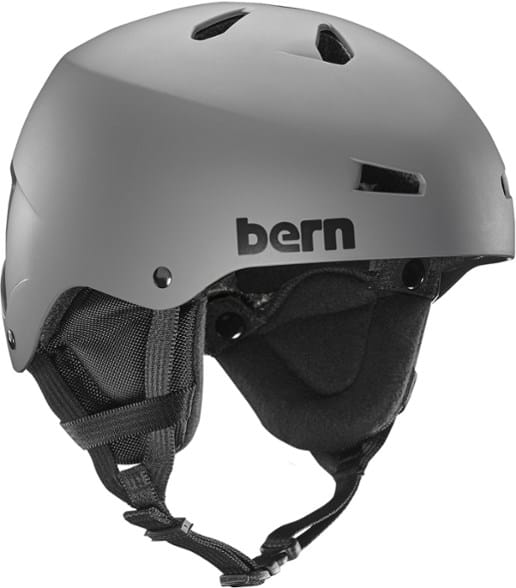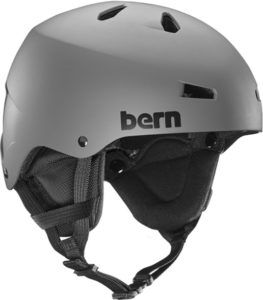 BEST FOR THE ALL-SEASON SHREDDER
Don't want to retire your helmet when the warm weather hits? No problem. You can keep on going right through spring and into summer with the Team Macon helmet from Bern. Inspired by a Bern skate and bike helmet, this snowboard-ready head protection is lightweight and minimalist. You wouldn't want to rely on this helmet for warmth, but it's perfect for someone who prefers to wear a beanie or thicker gator underneath. Its earpads are easily removable so you'll have no trouble getting off your board, on your bike, and then back on your board again season after season. Plus, the price tag on this helmet is way easy on the wallet.
Pret Haven X MIPS
Specs
Construction

:

In-Mold

Weight

:

14 oz.

Vents

:

13

Shell Material

:

Polycarbonate

Brim

:

No

Protection Technology

:

MIPS
Features
Ear Pads Contain Pockets To Integrate Most Modern Headphone Systems
Superior Safety Design Without Sacrificing Comfort
Wool Blend Fabric Liner Keeps Your Head Super Warm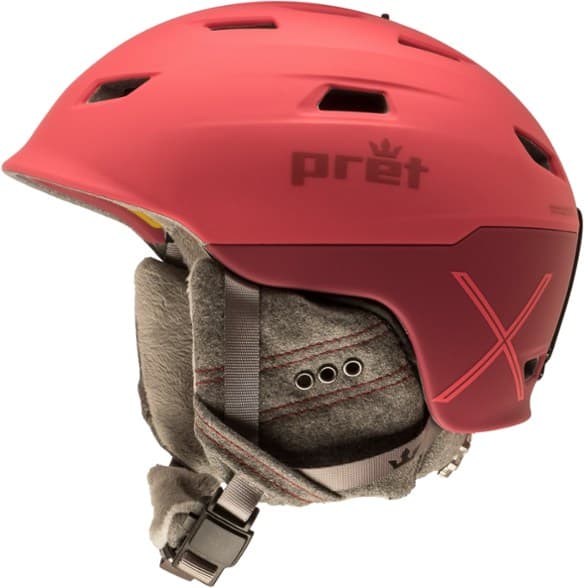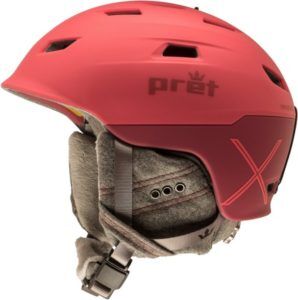 BEST FOR SUPERIOR WARMTH
You can tell just by looking at it that the Pret Haven X helmet is built for superior warmth and comfort. Its liner is made of wool and it has thick ear pads that are super soft and cozy. This helmet locks in heat with unbeatable efficiency, and it does have adjustable vents in case you ever find yourself getting too hot. Not only is the Haven X super warm, it also has some other awesome features like an adjustable fit system and a glove-friendly strap closure. Since much of your body heat escapes through your head, if you get cold easily you'll definitely want to check this one out.
Anon Auburn
Specs
Construction

:

In-Mold

Weight

:

15 oz.

Vents

:

6

Shell Material

:

Polycarbonate

Brim

:

No

Protection Technology

:

MIPS
Features
Automatically-Adjusting Fit System Expands And Contracts To Fit Comfortably To Your Head Every Time
Specialized Ventilation System Brings In Clean Air At The Front Of The Helmet And Lets Wet Air Escape Out The Back To Keep You Fresh And Dry
Custom Air Channel Prevents Goggles From Fogging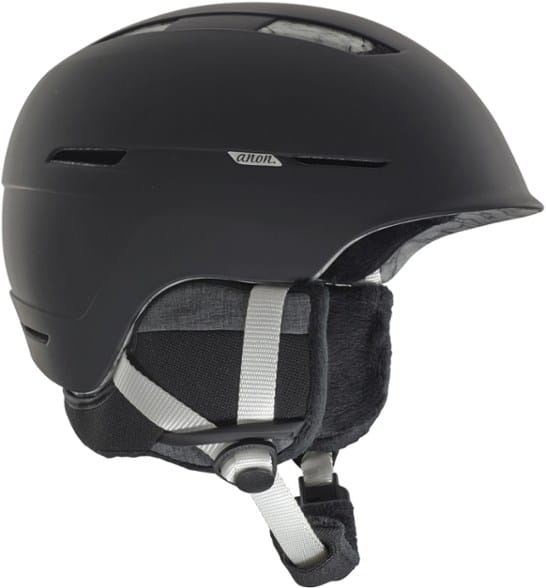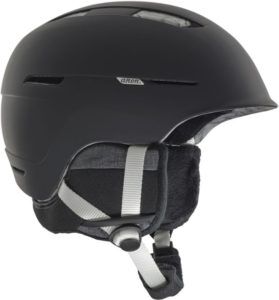 BEST FOR: EASE OF USE
Let's face it: there are some aspects of snowsports that are a bit inconvenient, and dressing is one of them. Bulky clothes, many layers, various accessories, and you've gotta keep track of it all. That's why we picked out The Auburn helmet from Anon for our Best No-Fuss Helmet. If you're looking for convenience, we've got it right here. For starters, the Anon Auburn features a sleek profile and lightweight shell. Its magnetic snap closure is easy to do and undo with gloves on.
Its integrated ventilation system keeps fog out of your goggles while it wicks moisture from your head and ears so you don't have to fuss with blurry vision or noggin wetness on the slopes. Perhaps the most convenient (and most impressive) feature this helmet offers is its auto-adjust fit system that automatically expands and contracts to fit your head each time you put it on. Extra cold day? No problem, throw on that extra head layer and the Anon Auburn will do the sizing for you.
Smith Allure MIPS
Specs
Construction

:

In-Mold

Weight

:

12 oz.

Vents

:

9

Shell Material

:

ABS Plastic

Brim

:

No

Protection Technology

:

MIPS
Features
Super Lightweight Design
AirEvac Technology Keeps Air Moving Through Your Helmet Constantly To Prevent Goggle Fogging And Keep You Fresh To Death
Precise Fit System Keeps You Comfortable With Or Without Added Head Layers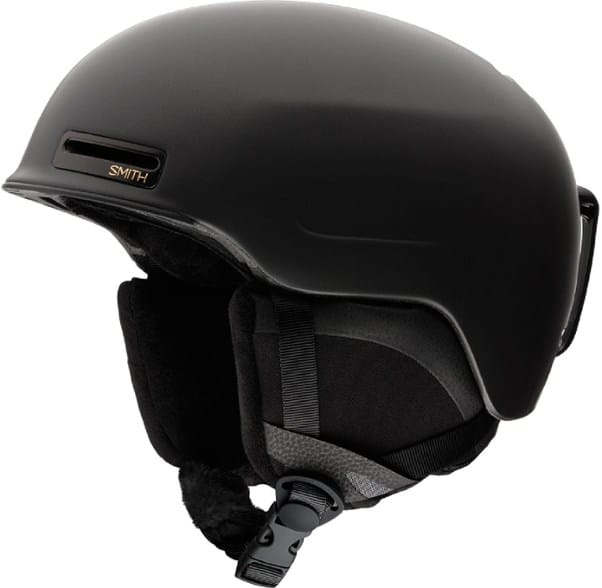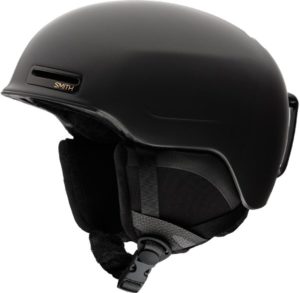 BEST FOR THE HAT/HELMET COMBO
Each snowboarder develops her own wintry style on the slopes. For some, that means wearing a hat or thicker head accessory under the helmet, and when it comes to this fashionable (and practical!) trend, not all helmets do the job, In fact, it can be difficult to find a winter-weather helmet that allows for a hat to fit underneath, but this one does!
Advertised as beanie-compatible, you'll have no trouble fitting your favorite cold-weather topper under the Smith Allure. This helmet also features AirEvac Technology to keep air moving through the helmet and wick away moisture. To top it all off, the inside of this helmet is uniquely flexible for a secure and comfortable fit every time.
Sweet Protection Switcher
Specs
Construction

:

Hybrid

Weight

:

1 lb. 4 oz.

Vents

:

24

Shell Material

:

Hybrid Material

Brim

:

No

Protection Technology

:

MIPS
Features
Helmet Is Strategically Reinforced In Areas Likely To See High Impact
Ventilation System Is Easily Adjustable With One Hand
Dialed Fit Allows You To Customize Size Easily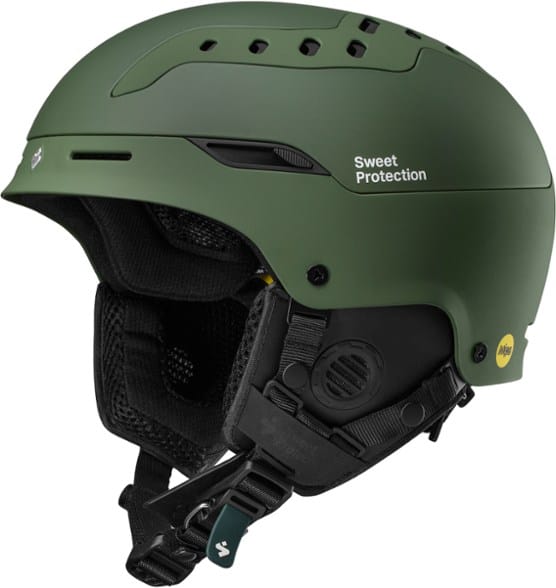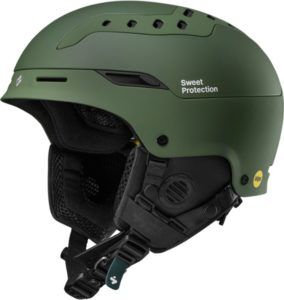 BEST FOR LONG-TERM INVESTMENT
If you're new to snowsports, it won't take you long to find out that the costs of playing on the slopes add up fast. From equipment to clothing to lift tickets and lodging, it's not hard to spend a small fortune just to get going. And this helmet is no different. It's the highest priced helmet on this list. However, if you're committed to the sport, this is a well worth it buy.
It features the latest safety technology and construction, 22 vents (that you can open and close easily with one hand), a removable and washable comfort liner, and a super easy size adjustment system. This isn't a cheap helmet, and it admittedly doesn't have a ton of bells and whistles either, but when you buy it, you pay for a high-quality product that is built to last for many seasons to come.
Smith Valence MIPS
Specs
Construction

:

In-Mold

Weight

:

1 lb. 3 oz.

Vents

:

18

Shell Material

:

ABS Plastic

Brim

:

Yes

Protection Technology

:

MIPS
Features
Easily Make Fit Adjustments Without Taking The Helmet Off
Eighteen Vents Provide The Ultimate Ventilation Experience
Odor-Fighting Liner Means You Won't Stink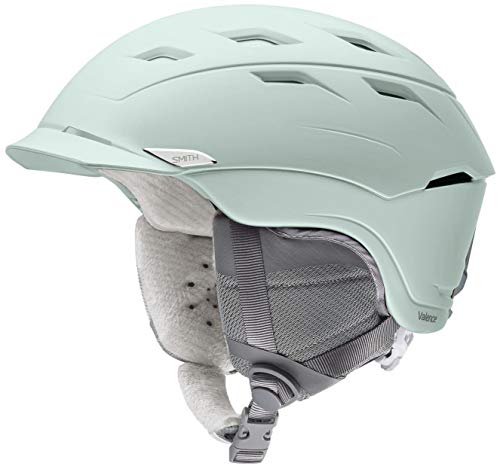 BEST FOR: VALUE
If you're looking to get the most bang for your buck, check out the Valence helmet from Smith. A leader in the world of outdoor accessories, Smith is known for high-quality, functionable products that last, which is why we put three of their helmets on this list. The Smith Valence is in the midrange price category.
This helmet doesn't come with a ton of fancy features, but it will get the job done should you need it to, and it will keep you comfortable and warm, too. It even has an odor-fighting liner so you don't stink up the gondola after you've broken a gnarly sweat zigging and zagging down the hill. Premium safety technology, check. Super soft liner and ear pads, check. Premium ventilation, check. What else do you really need?
THINGS TO CONSIDER WHEN BUYING SNOWBOARD HELMETS FOR WOMEN
COST
The price of snowboard equipment adds up quickly! Snowboard helmets for women come with a great range of price tags. While there are some cheaper helmets out there that are still high quality, this is your safety and your warmth we're talking about. When it comes to snowboard helmets, a high-quality, slightly higher priced product is usually well worth the cost.
SAFETY CERTIFICATIONS
All snowboard helmets for women (and anyone for that matter), are required to pass certain safety tests and quality standards. And some are safer than others! The highest quality helmets on the modern market usually incorporate MIPS technology, which helps protect your head in the event of a non-direct hit. Most product pages will clearly state if their helmet utilizes MIPS technology. Check out this article for more on MIPS and what it means for your safety.
WARMTH AND VENTILATION
You need to be warm when you're doing any winter activity, or it just won't be any fun! Your head is a place that loses heat quickly when it's not covered up with the proper accessory, so it's really important that you find a helmet that keeps you warm. That being said, some snowboarders prefer a helmet that brings a little less heat but leaves room for a hat or headband to fit underneath. It is possible to get a little too warm out there, too. If you're someone who runs hot, prioritize a good ventilation system.
SIZE
Each snowboard helmet typically comes in a variety of sizes. If you're buying online and won't be trying on the helmet before you buy it, be sure to know how to measure yourself. Scroll to the "Sizing and Fit" portion of this article for advice on getting an accurate measurement.
FEATURES EXPLAINED
CONSTRUCTION TYPE
Each helmet goes through a different process during construction which affects the fit and safety of the final product. In-mold construction and injection mold construction are solid choices for construction type because by nature of their processes, the outer shell and inner layers get fused together. Hybrid construction is a combination of the two processes.
SHELL MATERIAL
The outer shell of the helmet is important for safety and durability. The most common shell materials are polycarbonate, EPS, and ABS plastic. These three materials are strong and sturdy choices for shell material.
GOGGLES CLIP
A small, sometimes removable clip located at the back of the helmet made to hold the strap of your goggles in place.
PROTECTION TECHNOLOGY
Helmets on this list utilize MIPS and SPIN technology. See "SAFETY CERTIFICATIONS" above for more information and a detailed guide to MIPS.
VENTS
Openings on the helmet made to allow airflow and prevent goggle fogging.
BRIM
A small, visor-like structure on the top front of the helmet.
READ MORE
For more of our top snowboarding gear recommendations, check out these popular buyer's guides: