Updated on February 9, 2020
When packing for our bicycle tour around the world, I knew that having my guitar with me would be great to meet new people, animate some nights and have some time on my own. But how to carry it?
I searched the web looking for ideas from other travellers to carry a guitar while bicycle touring. I saw some of them using a trolley, others carried it on top of the back panniers and a few even had it in one of the front panniers in a vertical position.
Honestly, none of these options convinced me at all.
I wanted to protect it from the jarring of the road and at the same time to carry it in a way that didn't interfere with cycling. In short: if it was going to be a pain, I was probably going to end up ditching it.
IT'S NOT HEAVY BUT BULKY
You might think the main problem is the weight. But I'm carrying many other things on my bike that are heavier than the guitar. The real problem is the size. To carry such a bulky and delicate instrument, I needed to find a good way to transport it where I could cycle in a comfortable position and not damage the guitar.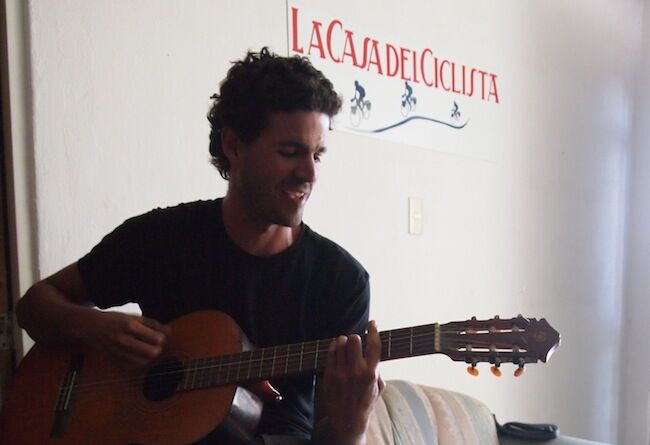 IT CAN PRODUCE A LOT OF RESISTANCE
Some of the systems I found on the internet seemed to affect the aerodynamics. Once, I even met a cyclist who carried his guitar on his back and he dreaded every downhill because of the added resistance of the guitar. I'm one of those fellows who thinks that downhills are there to be enjoyed!
So the pieces of the puzzle started to fit in. In order to reduce the resistance, the guitar should go on the back of the bicycle. If placed on a vertical position, my body could protect it from the wind. The other option would be to have it horizontal, but it would stick too far on the back.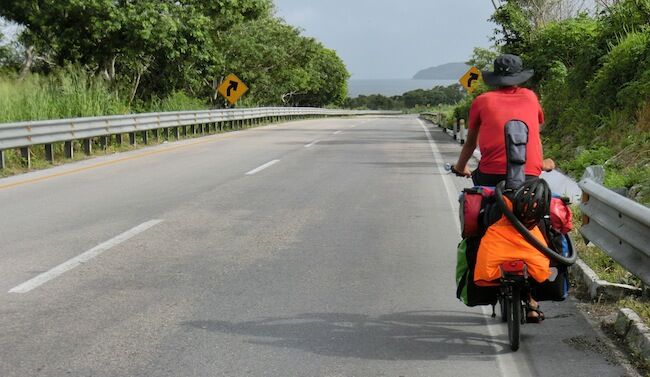 WHAT SIZE SHOULD I CARRY?
Another option I had was to carry a travel-size guitar. It would be smaller and easier to fit on the bike but it changes the way you play. I personally hate travel guitars. I find them very annoying to play. I decided that if I was going to make the effort of carrying an instrument, it should be one I was happy to play. In my case, a full-size classical guitar.
MY WAY: BUILDING A RACK FOR IT
With the help of my good friend John, we started to design the rack. We wanted it to be light, resistant and durable. We decided to use steel. It would be heavier than aluminium but it would be easier to find someone on the road who could weld steel in case it needs a repair.
For the design, we opted to use the existing rear rack and built an extension for it. A simple triangle model would do the job. It was a very low-cost project at the end. The materials cost around 20 dollars (steel bars and some clamps) plus a few beers for my friend for helping me out with the welding part.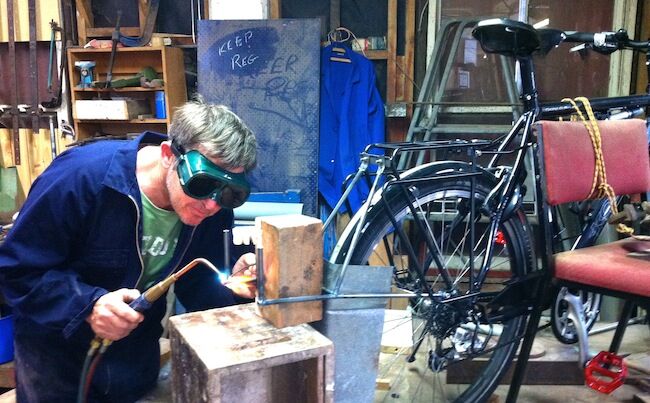 SO, AM I HAPPY WITH IT?
The rack has been working great so far. I don't even notice I am carrying a guitar while I cycle. Also, because of its vertical position, it's perfect to stick things into it like a spare tire, a helmet or even laundry!
The only downside is the weight. Steel is heavy so the rack alone weights around 2 kgs. But the fact that I can get it fixed pretty much anywhere if it gets broken is assuring.