Updated on April 6, 2018
Peru's Cordillera Blanca is famous for being home to world class hiking and mountain climbing. It's also a great place learn how to ice climb. Amanda and I had recently gone rock climbing in Ecuador and always wanted to try the ice version of the sport but we had imagined it would take long hours of training and technical know-how. It turns out, that's not the case at all. You just need the equipment, a guide and determination.
After finishing the Santa Cruz trek we were ready for another mountain adventure. From the town of Huaraz, we hopped in a van with four other ice climbing newbies and headed to Llaca Glacier, our classroom for the day.
[thrive_leads id='51967′]
ICE CLIMBING AT THE LLACA GLACIER, HUARAZ
After a two hour bumpy dirt road drive we reached the refuge and the National Park Huarascan checkpoint. We packed our bags and headed to the glacier. The trail took us passed lagoons and mountain peaks of Ranralpalca.
The glacier is 30 meters (100ft) of solid ice that has a semi frozen pond below. It's an impressive yet intimidating sight.
The guides ran up the slopes to set the lines while we put on our boots, helmet, and harnesses.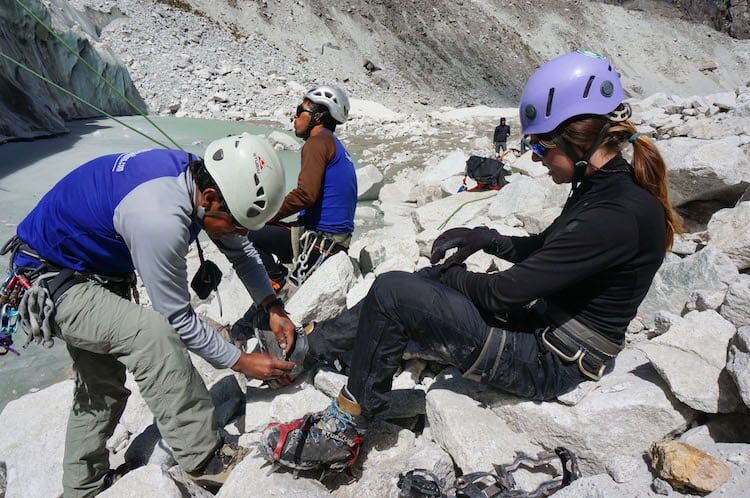 Amanda decided to go first. It was a very high wall, very imposing to be honest and it looked almost impossible to climb. With ice axes in hand and crampons attached, she approached the wall. After a couple of trials she got the hang of it and started to ascent.
But she hadn't been 100% the last days and, together with the high altitude, she didn't feel good. So she decided to call it quits.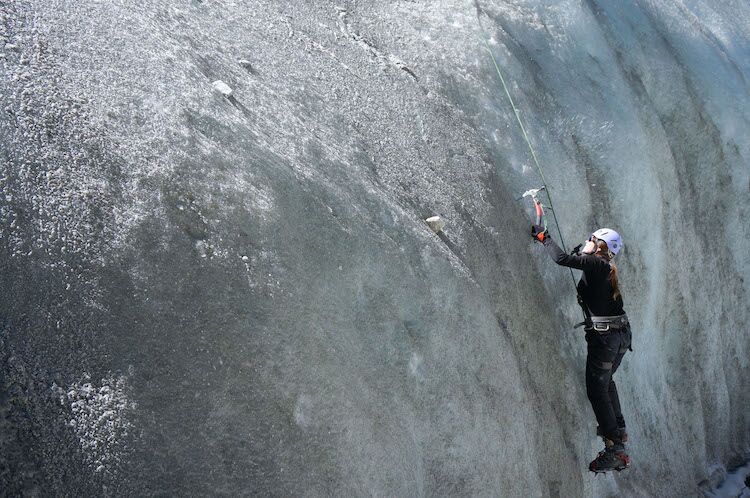 Then it was my turn. I put my the gear on. It felt awkward and unsteady. I consider myself the worst rock climber ever. So I didn't have high hopes on my performance today.
I struck the ice with one axe, then another. How much would the axe need to be in the ice? When would I know it is secure? I had no clue. The axes felt it would hold me so I struck the tip of my crampon into the ice. Once I had both feet secure on the ice, I swung one axe a bit higher, then the other. Wow, I was going up!
It turned out to be much easier than climbing on rock walls. I managed to scale over 20 meters. I was euphoric. But soon the altitude took its toll and I was exhausted. We were climbing at well over 4.500 meters (14,500ft) and any exercise was hard work.
Once I was satisfied with my climb, I decided to go down. I was tired but happy. I had finally experienced what ice climbing is about. It was fun to try something new and spend the day in the outdoors.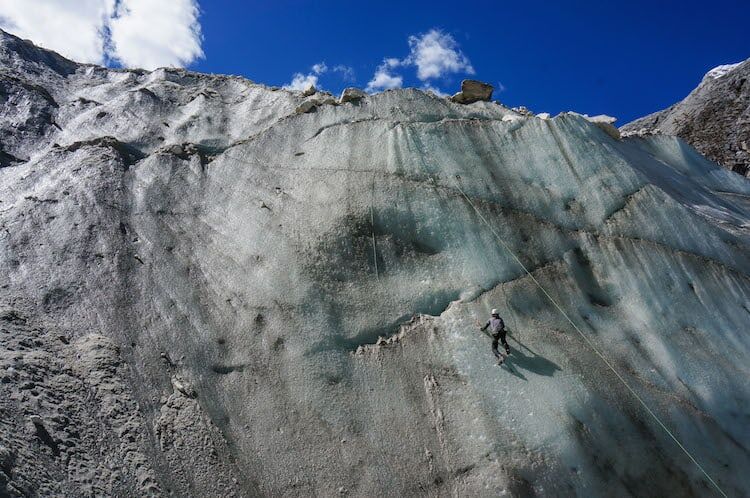 WHERE TO STAY IN HUARAZ
Alojamiento Soledad – Budget
Clean, cheap and centrally located. The budget-friendly Alojamiento Soledad is probably one of the best values in Huaraz. The staff is super friendly and you feel like at home. Wi-fi connection is included. A great place to stay if you are traveling on a budget.
Guesthouse La Aurora – Mid range
Comfy beds, great views, professional service and excellent breakfast make the Guesthouse La Aurora one of the reader's favorites in Huaraz. A perk is there are free hot beverages and a restaurant on site.
Andino Club Hotel – High End
The Andino Club Hotel boasts a lovely atmosphere, caring staff and large beautiful impeccable rooms. Located at a 10 minutes walking distance from town, it has some of the best views in Huaraz. A big breakfast with eggs made to order is served.
Bring a waterproof jacket and pants if you have them. If not talk to the tour operator, they may have some you can rent. Also wear sunglasses while climbing, to prevent ice from getting in your eyes.
It's a full day (7 AM – 5 PM).
Climbing is best during the dry season, from May to September. April can also be a good choice.
Tour companies arrange transportation to the glacier. It's about 2 hours by minivan.
WHAT WE LIKED THE MOST
+ Trying something new
+ Spending the day in nature.
+ The learning curve is easier than rockclimbing.
WHAT WE DIDN'T LIKE THAT MUCH
– We were climbing very high (over 4,000 meters) which made it more difficult.
– There was only one top rope was set at 30 meters (100 ft) so you had to wait a long for the climber to finish before you got a turn.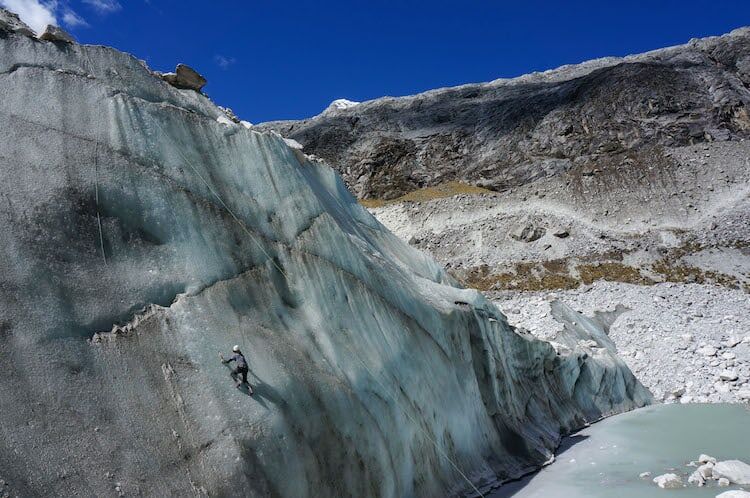 FINAL THOUGHTS
Ice climbing is a fun and challenging sport. If you want to give it a go, this region of Peru is a great place to try because the sites are easily accessible and it is inexpensive (relative to other places in the world).
It's also not too difficult to learn. We found it to be easier than rock climbing and the fact that you are in a glacier makes the experience quite memorable.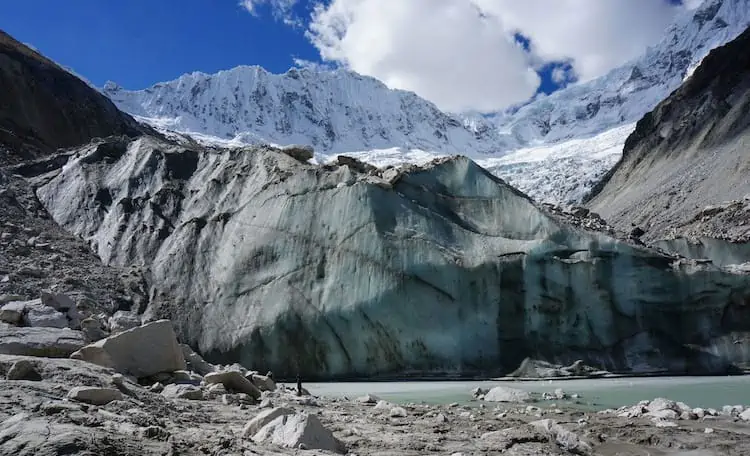 Location: Llaca Glacier, Huascarán National Park, Peru.
Price: National Park Ticket (Valid for 21 days): 65 Nuevo Soles or 1 day ticket for 10 Nuevo Soles. Guided Tour: 50 USD including transportation, bilingual guide, boots, crampons, harness, helmet, and lunch.
Useful Notes: While you won't be walking long (only 45 minutes to reach the glacier), you are still at over 4,000 meters so be aware of the altitude. Be prepared for heat, sun, rain and cold. Bring plenty of water and sunscreen.
READ MORE
For more, check out these popular buyer's guides: