Updated on August 28, 2020
Your outboard motor is a significant investment, and you need to protect it with the best 2-stroke outboard oil you can buy. Marine motors face unique stresses, from sitting idle for extended periods in wet, salty conditions to extended runs at maximum revolutions. There are times when it makes sense to economize on consumables, but this isn't one of them. If your oil isn't up to the job you could quickly find yourself facing large costs for repair or replacement of an expensive motor.
Not all oils are ideal for all engines. Older carbureted and electronic injection motors used standards that differ from those demanded by modern Direct Fuel Injection (DFI) outboards. Some oils can be used by more than one engine type and others are specific to a single type of engine. You'll need to choose an oil that meets your engine requirements, working conditions, and budget. This list of the best 2-stroke outboard oils should get you started!
For more of our top sailing gear recommendations, check out the Best Bilge Pumps.
Quick Answer

-

The Best 2 Stroke Outboard Oil
Sierra Blue Premium TC-W3 2-Cycle

Sierra 2-Stroke Marine Premium

Yamaha Yamalube 2M Outboard 2-Cycle

Johnson Evinrude/OMC XPS Marine XD100
Comparison Table

-

Best 2 Stroke Outboard Oil

For the best experience turn your device horizontally
Reviews

-

The Best 2 Stroke Outboard Oil
Specs
Compatibility

:

Outboards, Personal Watercraft

Base Type

:

Conventional

Quantity

:

55 Gallons

Oil Rating

:

TC-W3
Features
Good For Oil Injection Systems Or Premix Applications
Also Good For Personal Watercraft Or Marine Applications
Less Toxic To Fish Than Other Oils
Maximum Lubrication And Detergency For Smooth, Efficient Operation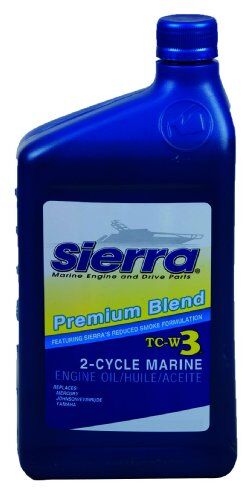 BEST FOR BULK BUYING
Like many commodities, engine oil is cheapest when bought in bulk quantities. If you use a lot of oil or if you have friends who would like to share a quantity of a versatile, high-grade marine motor oil, this 55-gallon package could be just what you're looking for.
The oil in the package is a high-performance lubricant compatible with premix, electronic injection, or direct injection motors. It exceeds the manufacturer's warranty specifications for all domestic and imported outboards and is also compatible with personal watercraft. That versatility makes this deal a great bulk purchase for a boating group with diverse needs.
Specs
Compatibility

:

Outboards

Base Type

:

Conventional

Quantity

:

2.5 Gallons

Oil Rating

:

TC-W3
Features
Formulated For Modern And Older Outboards
Compatible With Carbureted, EFI, And Direct Injection Engines
Meets Specifications For Mercury Optimax, Yamaha HPDI, Johnson/Evinrude Ficht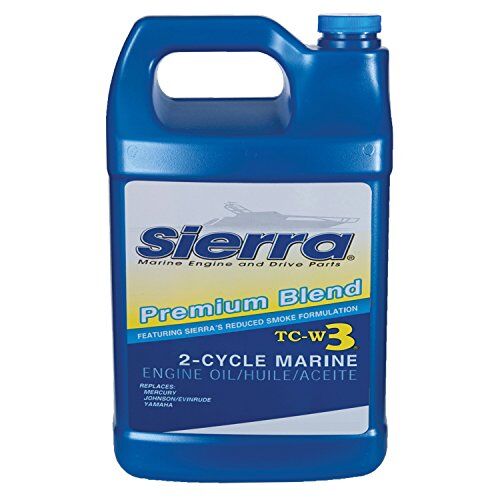 BEST FOR VERSATILITY
If you need a 2-stroke oil that's compatible with just about any outboard on the water today, this is your oil. Sierra 2-Stroke Marine Premium meets requirements for both carbureted and Electronic Fuel Injection engines and can also step up for use in modern Direct Fuel Injection engines from major manufacturers like Mercury, Yamaha, and Johnson/Evinrude. If you have multiple outboards from different generations or if you just prefer a product that can be used on almost any outboard, this will serve you well.
Yamaha Yamalube 2M Outboard 2-Cycle
Specs
Compatibility

:

Direct Fuel Injection Outboards

Base Type

:

Synthetic

Quantity

:

1 Gallon

Oil Rating

:

TC-W3
Features
Optimizes Performance During Extended Full-Throttle Operation
Superior Lubrication And Anti-Wear/Anti-Rust Protection
Minimizes Smoke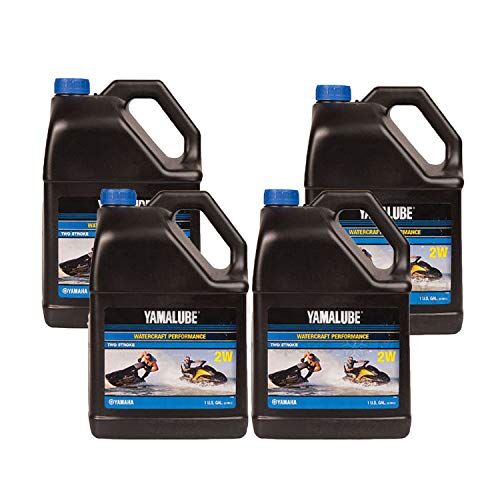 BEST FOR DIRECT FUEL INJECTION OUTBOARDS
Yamaha's entry in the Direct Fuel Injection (DFI) lubrication market is aimed at all DFI outboards, large and small, and can be used in any air or liquid-cooled2-stroke gasoline engines.
This oil is specifically optimized for the stresses of both extended full-throttle operation and the extended low-speed runs generated by trolling or passing no-wake zones. This oil is noted for a high level of anti-rust and anti-wear protection and for versatility: it's appropriate for all DFI engines.
Note that Yamalube 2M is not appropriate for the WaveRunner line or for other Personal Watercraft.
Johnson Evinrude/OMC XPS Marine XD100
Specs
Compatibility

:

Outboards

Base Type

:

Synthetic

Quantity

:

2.5 Gallons

Oil Rating

:

TC-W3
Features
Engineered For Direct Fuel Injection Outboards
Meets Or Exceeds All Manufacturer's Specifications
New Additives Provide Maximum Protection For High-Horsepower Outboards
Reduces Combustion Deposits And Friction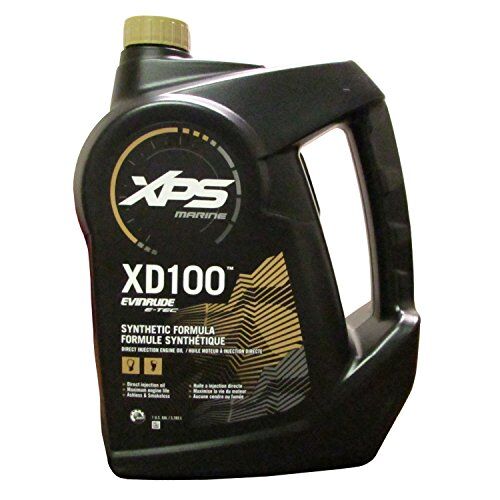 BEST FOR EVINRUDE E-TEC OUTBOARDS
Evinrude's E-Tec outboards are among the most modern and popular marine engines on the market, offering an unmatched combination of high performance, low fuel consumption, and low emissions. This oil is specifically formulated for use in E-Tec outboards, offering protection against friction and wear with minimal combustion deposits. This is a clean-burning oil that is almost entirely smokeless, ashless, and odorless.
XD100 oil can be used in any DFI outboard but is most appropriate for Evinrude's E-Tec motors. An E-Tec outboard can be reprogrammed by a dealer to minimize oil consumption, but after reprogramming they can only operate reliably with XD100 oil.
THINGS TO CONSIDER WHEN BUYING A 2-STROKE OUTBOARD OIL
QUALITY COUNTS
There are many cheap oils available in stores that claim to be suitable for marine use. Many of these are just repackaged general-purpose oils. An outboard motor is a significant investment and the quality of the lubricants you put in it has a real effect on the engine's lifespan. Inferior oil may be a few dollars cheaper, but if it leads to early repair or replacement of an expensive outboard, the savings really aren't worth it. This is one case where quality really does matter.
KNOW YOUR OUTBOARD
In 1998 the EPA mandated that between 1999 and 2006 a new set of emissions requirements would be imposed on marine outboards. Prior to 1999, almost all 2-stroke outboards on the market were carbureted models that left significant amounts of fuel unburned.
Carbureted engines required mixing oil with the fuel before use. As the new regulations were implemented, manufacturers moved to Electronic Fuel Injection and later to Direct Fuel Injection (DFI) systems. Almost all modern outboards are DFI, but many older outboards are in circulation.
Some outboard motor lubricants are specific to one type of engine, others can be used with more than one type. You should know what type of engine you have and choose an oil that's appropriate for that type.
LEARN MORE
If you're interested in exploring the differences among the types of outboard motors, Boats.com offers a review of the development of 2-stroke outboards. Sport Fishing has a tutorial on choosing oil for outboard engines, and U.S. Boatworks has a piece on which outboard motor oil is best. Boating Magazine offers this review of the differences between conventional and synthetic oils.
SPECS AND FEATURES EXPLAINED
BASE TYPE
The base type refers to the oil compound before blending with additives. Oil bases are either conventional or synthetic. Conventional-base oils are markedly cheaper and high-quality conventional-base oil is adequate for most purposes. Synthetic-base oils typically have fewer impurities and thus leave fewer deposits behind in your engine. Synthetics also flow more smoothly on cold engine starts. Most outboards can use either conventional or synthetic-base oils, but check your manufacturer's recommendations for guidance on the specific requirements of your motor.
RATING
The TC-W3 rating is issued by the National Marine Manufacturers Association. To earn the rating oils must pass a variety of tests for piston deposits, piston ring stickage, and lubricity. Any oil used in an outboard motor should carry a TC-W3 rating.
MANUFACTURER'S SPECIFICATIONS
Each manufacturer has lubricant specifications and using oil that fails to meet those specifications may void your engine warranty. Most high-quality oils are formulated to meet all major-manufacturer warranty standards, but it can't hurt to check your manufacturer's standard and be sure to use oil that meets it, especially if your outboard is still under warranty.
PERSONAL WATERCRAFT
Personal Watercraft are small jet-powered boats that you sit or stand on, rather than sit in. Many people call them jet skis. Some general-purpose lubricants may be suitable for both outboards and personal watercraft, others are not. Check the specifications on your outboard oil before using it in a personal watercraft.
READ MORE
For more of our top sailing gear recommendations, check out these popular buyer's guides: