Updated on August 28, 2020
The modern fishfinder has revolutionized fishing. Not long ago it took years, even decades, to learn the intimate details of a body of water and to know where fish would be at any time of year. Now we have the ability to see underwater, spotting fish and features where fish congregate hundreds of feet below the surface or to the sides of our boats. The best fishfinder/GPS combos are showing up on everything from fishing kayaks to commercial fishing boats, making days on the water more fun and more productive.
For more of our top sailing gear recommendations, check out the Best Marine GPS Chartplotters.
Quick Answer

-

The Best Fishfinder/GPS Combos
Garmin Echomap Plus G3 94SV

Garmin Echomap Ultra 126SV
Comparison Table

-

Best Fishfinder/GPS Combos

For the best experience turn your device horizontally
Reviews

-

Best Fishfinder and GPS Combos
Lowrance Hook2 5
Specs
Dimensions

:

7.31" wide x 4.38" high x 3.28" deep

Max Depth

:

500 feet

Mount

:

Flush, Quick Disconnect

Resolution

:

800 x 400

Screen Size

:

5"

Sidescan

:

300 feet

Transducer Included

:

Yes
Features
Autotuning Sonar Adjusts Settings As Conditions Change
Clear, Bright, Display Is Visible Even In Direct Sunlight
TripleShot Transducer Combines Down, Side, And Wide Angle Views For Full Coverage
Easy Front Dash Or Quick Release Bracket Installation
BEST BUDGET FISHFINDER/GPS COMBO
Lowrance packs a formidable range of capabilities into this very reasonably priced unit, making it an ideal choice for budget conscious buyers. At the heart of the device is the TripleShot sonar, which combines wide angle CHIRP sonar for great detail with directed down-scan and side-scan sonar for full coverage. 
The bright, crisp screen can display all three views simultaneously, and a remarkably simple user-friendly interface gives fast, easy access to the full range of sonar and GPS capabilities. The autotuning sonar feature adjusts automatically as conditions change, which means more time fishing and less time fiddling with your fishfinder!
The Hook2 5 comes preloaded with a US map package that offers 1-foot contours on over 3000 lakes. The unit's mapping capabilities are easily upgraded with separately purchased mapping cards from multiple suppliers.
Garmin Echomap Plus G3 94SV
Specs
Dimensions

:

11.4" wide x 6.5" high x 2.4" deep

Max Depth

:

1800 Feet

Mount

:

Quick Disconnect

Resolution

:

400 x 800

Screen Size

:

9"

Sidescan

:

750 Feet

Transducer Included

:

Yes
Features
Built-In Mapping Software Creates Personalized Maps As You Fish
Bright Screen Combines Touchscreen And Keyed Assist Capabilities
Preloaded Charts Cover The Coastal US
CHIRP Sonar Delivers Unusually Clear Underwater Images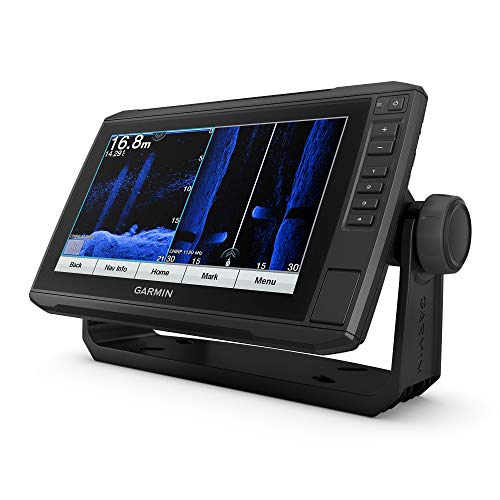 BEST AFFORDABLE GPS/FISHFINDER COMBO FOR DEEP WATER FISHING
Garmin delivers an affordable GPS/Fishfinder combo with stunning reach in the Echomap Plus G3. The unit combines traditional CHIRP sonar with Garmin's proprietary ClearVü and SideVü scanning sonars to produce clear images from up to 1800 feet depth and up to 750 feet to the sides of your boat. 
The unit is compatible with Garmin's advanced Panoptix sonar transducer (sold separately), which produces some of the clearest and most detailed images available today. Built-in WiFi links the device to Garmin's ActiveCaptain app and allows data sharing with other Garmin units, and built-in mapping software develops your own personalized fishing maps. This highly capable unit delivers high end performance at a moderate price, making it a great value. 
The Echomap G3 comes loaded with the Bluechart G3 coastal map package, and allows you to add other map data as you choose.
Raymarine Element 9HV
Specs
Dimensions

:

11.4" wide x 6.5" high x 3.28" deep

Max Depth

:

600 feet

Mount

:

Flush, Bracket

Resolution

:

800 x 400

Screen Size

:

9"

Sidescan

:

300 feet

Transducer Included

:

Yes
Features
Onboard Quad Core Processor Delivers Instant Redraws And Fast Response
RealVison 3D Sonar For Photo-Like Images Of Structures, Vegetation, And Fish
Simple Controls And Angler-Centric Operation For Easy Use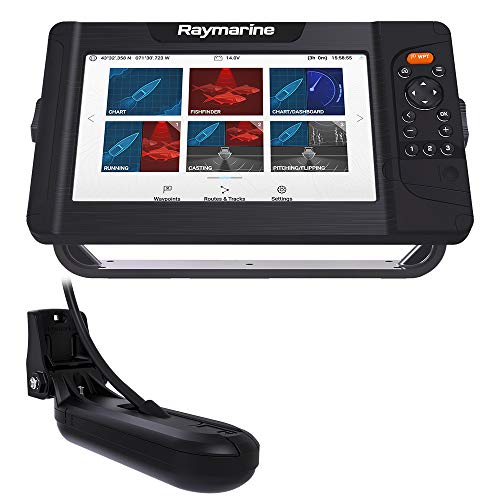 BEST FOR INLAND FISHING AND NAVIGATION
Raymarine's Element line, introduced in 2019, packs a powerful sonar punch. The high-resolution HyperVision technology combines four different sonar inputs: side vision, down vision, CHIRP 2D and Raymarine's proprietary RealVision 3D system to provide images of stunning clarity. 
The range is not as large as that of some competitors, but bass anglers in particular praised the Element for its ability to render accurate images of underwater vegetation and structures and pick fish out of the clutter. Everything you expect from a fishfinder/GPS combo is here: bright sunlight-readable screen, custom mapping, WiFi and networking capabilities.
The package offered here by West Marine includes Navionics+ charts covering the coasts of the US and Canada along with over 20,000 inland ponds, lakes, and rivers, which makes this unit a great choice for North American freshwater anglers.
Humminbird Helix 10 G3N
Specs
Dimensions

:

N/A

Max Depth

:

1200 feet

Mount

:

Gimbal, In-Dash

Resolution

:

1024 x 600

Screen Size

:

10"

Sidescan

:

400 feet

Transducer Included

:

Yes
Features
Big, Bright Screen Delivers Crystal Clear Images
Unprecedented Clarity On Both Downscan And Sidescan Sonars
You Can Map Depth Contours, Vegetation, And Bottom Hardness As You Drive Your Boat
BEST FOR IMAGE CLARITY
Most high end fishfinder/GPS combos promise detailed images and clear, sunlight-readable screens, and most of them deliver on that promise. The Humminbird Helix 10 takes it one step further. 
Many reviewers say that the big 10" screen is the brightest and clearest they've ever seen, and is visible from anywhere on the boat. Lots of fishfinders show you fish; the Helix 10 lets you see your lure presentation!
Everything else you expect in a premium fishfinder/GPS combo is there: dual spectrum CHIRP sonar, dual SD card slots, Bluetooth and Ethernet connectivity, custom mapping down and side view images, and much more, but it's that crystal clear screen that makes this unit stand out from the pack. 
The Helix 10 G3N comes loaded with charts of the US coasts and over 10,000 US lakes, and is compatible with Humminbird's LakeMaster and LakeMaster Plus chart collections.
Garmin Echomap Ultra 126SV
Specs
Dimensions

:

13" wide x 7.8" high x 2.5" deep

Max Depth

:

800 feet

Mount

:

Tilt, Flush

Resolution

:

800 x 480

Screen Size

:

12"

Sidescan

:

500 feet

Transducer Included

:

Yes
Features
Huge 12.1" Touchscreen With Keypad Assist
NMEA 2000 Connectivity Supports Heading Sensors, Autopilots, And More
Built In Support For Garmin's High End Panoptix Sonar Transducers
Preloaded With BlueChart G3 Coastal Charts And LakeVu G3 Inland Maps
BEST FOR LARGER BOATS
Garmin's high-end 12"-screen fishfinder/GPS Combo delivers everything you'd expect from a market leader's premium model. The high-definition ClearVü and SideVü sonars combine with the CHIRP high/wide sonar to produce detailed images. And the 12.1" screen splits 4 ways to give you multiple views and allows you to navigate with the unit's GPS chartplotter features and use sonar at the same time. 
There's a full suite of fish-finding and chartplotting features that includes pretty much anything available on the market. This model is aimed at charter boat operators and other serious anglers and Garmin has loaded it with everything they've got.
The Echomap Ultra 126sv comes loaded with Garmin's BlueChart G3 coastal chart package and Lake Vü inland maps, both of which are equipped with Navionics data and Auto Guidance technology. The unit comes with a transom-mount transducer, but it's also available without a transducer if you'd like to use a through-hull transducer or upgrade to Garmin's premium Panoptix transducer.
THINGS TO CONSIDER WHEN BUYING A FISHFINDER/GPS COMBO
Fishfinders combine with GPS technology to produce devices that combine the features of a fishfinder and a GPS chartplotter. These devices deliver an array of information that fisherfolk of old could scarcely imagine: full underwater profiles combined with detailed navigational information and the ability to place their location on a chart instantly, lay down waypoints, and mark spots to return to. Many of these devices are remarkably affordable, and while they may make life harder for the fish, they are certainly a huge advantage for those of us who chase them!
UNDERSTAND WHAT IT DOES
A fishfinder/GPS Combo, as its name suggests, combines two electronic devices. It's important to understand what each of these devices does and how they work together to help you.
The fishfinder gives you an intimate view of what's going on under the water. The fishfinder unit connects to a transducer. Many transducers are attached to the boat's transom or to a trolling motor. Some sit inside the hull and transmit through it and others are installed through the hull. Some kayak-oriented transducers fit into the scupper hole of a self-bailing kayak.
The fishfinder sends a signal to the transducer, which sends pings of sound into the water and returns the echoes to the fishfinder for processing. Modern fishfinders often combine sonar signals of different types.
Downscan sonar is directed down and gives a picture of what's under the boat.
Sidescan sonar is directed to the sides and gives you a picture of what's going on to the sides of the boat.
CHIRP, or Compressed High Intensity Radar Pulse units, transmit a signal that sweeps through multiple frequencies, delivering extremely high resolution and target detection.
The fishfinder combines these signals to generate the images that display on the fishfinder screen. Manufacturers use a dizzying variety of specialized frequency combinations and modifications of this basic pattern to deliver clear, precise underwater images that show both fish and underwater features that could conceal fish. Many modern fishfinders generate custom underwater maps as you fish, letting you record key features and fish concentrations for later use.
Combo units combine fishfinder features with those of a GPS chartplotter. While the fishfinder is directed underwater, the GPS chartplotter focuses on the above water environment. Modern GPS chartplotters come loaded with baseline data on different coastal and inland bodies of water,most of which can be upgraded with specialized chart packages. The GPS unit keeps you constantly informed of your position on the chart and lets you place waypoints and record locations, placing powerful navigational capabilities at your fingertips.
Many modern fishfinder/GPS combo units allow split-screen displays so you can monitor your chart position and one or more sonar readings at the same time. Many are also networked to allow communication with other navigational devices and mobile phone apps.
CONSIDER YOUR BOAT
Before you shop for a fishfinder/GPS combo, consider the size of your boat and the manner in which you'll mount the unit. Fishfinder/GPS combos are routinely installed on everything from fishing kayaks to commercial fishing boats, but different units fit best on different boats. Consider the size of the unit, the level of waterproofing, the type of transducer, and the type of mount you will use!
CONSIDER WHERE YOU'LL BE FISHING
Different types of fishing place different demands on a fishfinder/GPS combo. If you're bass fishing on shallow inland lakes you may not care much about how deep your sonar reaches, but you'll want the widest possible side scans and the ability to pick fish out of vegetation and obstacles. If you're fishing deep water for bottom-dwelling fish you may be less concerned with the ability to spot fish than you are with the ability to map bottom features that attract and conceal fish. Knowing how you will fish and what specific demands that type of fishing will place on your Fishfinder/GPS combo will help you choose the right device for you.
There's a great deal to learn about fishfinder/GPS combos if you want to take a deep dive into the technology and how it works. West Marine has a concise explanation of fishfinder technology and fishfindertech.com delves into things to look for when choosing a fishfinder.
SPECS AND FEATURES EXPLAINED
SCREEN SIZE AND RESOLUTION
The screen size of a fishfinder/GPS combo is measured diagonally. The resolution is measured in pixels per square inch. A bigger screen and higher resolution enable the device to render more detailed images, making it easier to pick out fish or the details of structures that could hide fish. Many larger screens can split and show multiple images.
MOUNTING
You want your fishfinder to mount securely to your boat, but you may also want to be able to dismount it quickly and easily to take it home when you're done fishing, unless you leave it on your boat. Many fishfinders accept a range of mounting accessories enabling use on anything from kayaks to offshore powerboats.
TRANSDUCERS
The transducer is a key part of a fishfinder. Transducers broadcast pings of sound into the water and record the echoes, providing the data that the fishfinder uses to produce images. Your transducer must be compatible with your fishfinder.
Many transducers mount to your boat's transom or trolling motor. These allow direct contact with the water but may create interference from the boat's wake. Some transducers are mounted inside the hull and broadcast through the hull, which is easy and convenient but can reduce the unit's range. The most expensive and effective installations are through-hull transducers, which require a hole to be cut in the hull. Some kayak-oriented transducers will fit in the scupper of a self-bailing kayak.
Most fishfinder/GPS combos come with a transducer designed to mount on a transom or trolling motor. If you want a different type of transducer you may wish to purchase a unit without a transducer and buy the transducer separately. You will need to be sure that the transducer you buy is compatible with your unit.
CHIRP
CHIRP, or Compressed High Intensity Radar Pulse, is a type of sonar that sweeps through a range of frequencies to deliver extremely precise images. The range of CHIRP units may be limited by the power output of your device, so many fishfinder/GPS combos combine CHIRP sonar with longer range downscan and sidescan sonars. The fishfinder's internal software resolves and combines these images or displays them separately on command.
CHART PACKAGES
The GPS portion of your fishfinder/GPS combo relies on pre-loaded chart packages to support its navigational capabilities. Different units come with different packages, but most deliver charts of the coastal US and sometimes Canada and some inland bodies of water. Most popular fishfinder/GPS combos are compatible with additional packages, usually loadeed on a standard SD card.
NETWORKING
Many fishfinder/GPS combos have networking capabilities to allow them to connect to other devices. Connections to other marine navigation devices usually use the NMEA 2000 standard, which is the most common communication standard for marine devices. Many units also connect to phones and other devices through wifi or Bluetooth systems.
READ MORE
For more of our top sailing gear recommendations, check out these popular buyer's guides: