Updated on October 1, 2020
Climbing tape is sticky business. A tiny tool that does huge things, it's something you always want to have in your pack at the crag or the gym. Whether you're crack climbing or nursing an injury, climbing tape protects your hands (and feet!). From tape specifically designed for climbing to first aid tape that climbers have adopted over the years, you have a lot of options to choose from, and they can all seem the same. Here at The Adventure Junkies, we will help you tell the difference and choose the best climbing tape for you.
For more of our top climbing gear recommendations, check out the Best Climbing Helmets.
Quick Answer

-

The Best Climbing Tape
Johnson & Johnson Coach Sports
Comparison Table

-

Best Climbing Tape

For the best experience turn your device horizontally
Reviews

-

The Best Tape for Rock Climbing
Metolius
BEST FOR: ALL-AROUND USE
Metolius Climbing Tape is the gold standard for taping up your beaten up and abused climber hands. The tape stays in place with an extra sticky zinc oxide adhesive that is moisture resistant to stand up to sweat when you're trying hard. It's 1.5 inches wide, so it's useful for taping wrists and ankles for support, and can also be cut in half to tape finger injuries.
Metolius Climbing Tape is also excellent for making tape gloves for crack climbing. It's durable enough that you can re-use the tape gloves for multiple days, so you don't need to waste time or tape. The packaging even includes instructions for how to properly make crack gloves.
Evolv Magic
Specs
Width

:

0.75 in finger/1.5 in hand

Roll Length

:

10 yards
Features
Self-Sealing (sticks only to itself)
Breathable
Textured Surface (won't slip off rock surfaces)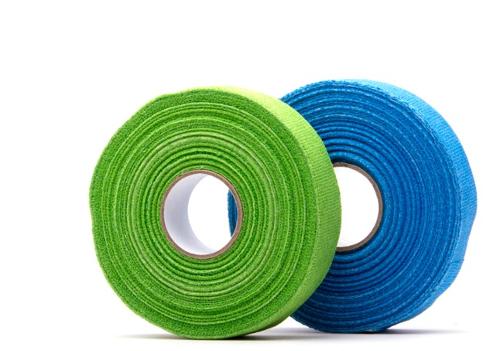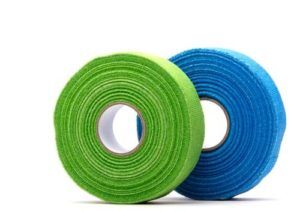 BEST FOR: DURABILITY
Evolv Magic Finger & Hand Tape is a unique gauze tape that sticks only to itself. This means that it won't leave any sticky residue on your hands, despite the fact that it is extremely durable. Also, because of the gauze, it has a textured surface that will provide more grip on rock surfaces than most smooth tape.
It comes in two widths, the Finger Tape which is 0.75 inches, and the Hand Tape which is 1.5 inches. The Finger Tape is especially great for taping up small injuries such as fingertip splits, while the Hand Tape can be used for supportive taping of wrists as well as creating crack gloves.
Trango EuroTape
BEST FOR: CRACK GLOVES
Trango EuroTape is beloved by crack climbers who need to make tape gloves to protect their hands from being destroyed during hand, fist, and finger jamming. EuroTape is made from a blend of cotton and polyester, unlike many tapes which are only cotton, making it extra easy to tear. The tape is also designed not to stretch so your crack gloves will keep their shape no matter how much you abuse them.
Even with crack gloves, you'll probably still end up with scraped up skin somewhere, and Trango EuroTape also works well to use on any injuries the rock doles out.
Trango MTape
BEST FOR: COLORFUL TAPE GLOVES
If you want the coolest crack gloves at the crag, Trango MTape is the tape for you. It comes in 6 different colors, so you can pick your favorite or customize your own rainbow. The 1.5 inch width is exactly what you need for creating crack gloves to protect your hands from any kind of jamming.
The wide width also works for bracing wrists and supporting ankles, and you can also tear it to tape smaller areas like fingers and toes. Trango MTape is made of 100% cotton, so it's non-stretch and easy to tear to size.
Metolius Finger
BEST FOR: BRIGHT COLORS
If you have a finger injury that's making you sad, Metolius Finger Tape will brighten your mood with colorful tape that protects. At only 0.5 inches in width, the Finger Tape is extra skinny so you can use it for all kinds of finger injuries, from splits to tendon support to buddy taping. The Metolius packaging even has an illustration that demonstrates how to properly tape a finger.
The colored Metolius Finger Tape is a little less sticky than the standard white Metolius Climbing Tape, so it's not the best choice for long multi-pitch days or alpine adventures.
Johnson & Johnson Coach Sports
Specs
Width

:

1.5 in

Roll Length

:

10 yards
Features
Sweat Resistant
Perforated for Breathability
Affordable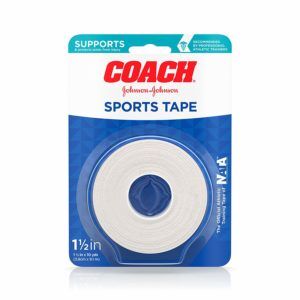 BEST FOR: FIRST AID
While it's not designed specifically for climbing, climbers still swear by Johnson & Johnson Sport Tape because it is made to treat all kinds of injuries, and it's a great value. You can tape everything from a small finger injury to a sprained ankle with the Sport Tape, and it is sticky enough to stay on for your whole climbing session.
It is also perforated for breathability, so if you're sweating up a storm on your project, it shouldn't slide off during the crux. It comes in a wide 1.5 inch roll, but it's easy to tear to whatever size you need.
Curity
Specs
Width

:

2 in

Roll Length

:

10 yards
Features
Serrated Edges (for easy tearing)
Porous (for breathability)
Extra Sticky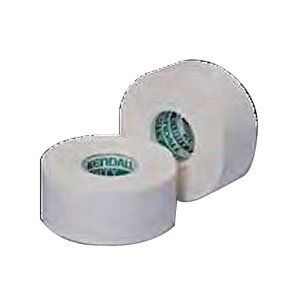 BEST FOR: WET CONDITIONS
A medical tape discovered by climbers, Kendall Curity Tape is beloved for its extra sticky adhesive that stays on no matter what, whether you're sweating profusely in the hot sun or caught in a rainstorm. The tape is also porous, meaning it breathes extremely well and helps to keep your hands dry in the first place.
Curity Tape has ingenious serrated edges to make tearing the tape incredibly easy no matter how tired your hands are from climbing all day. The only downside to Curity Tape is that it can be hard to find, so if you discover that it's your favorite, you might want to stock up.
Black Diamond Split
Specs
Width

:

1.5 in, split into 1 & 0.5 in strips

Roll Length

:

15 yards
Features
Pre-Split into Thin & Thick Strips
Super Sticky
Non-Stretch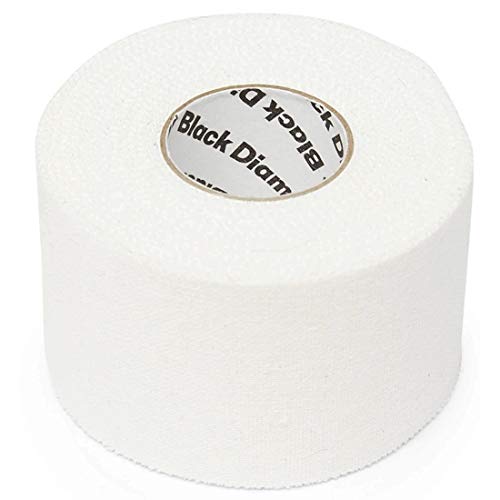 BEST FOR: EASE OF USE
The Black Diamond Split Tape is not named because it's great for taping up finger splits – even though it is. It is actually because the 1.5 roll of tape is pre-split into 1 inch and 0.5 inch widths. So you're ready to go whether you need to tape those finger flappers or make some crack gloves before hand jamming your way up the wall.
With super stick zinc oxide adhesive, the Black Diamond Split Tape will stay in place no matter where you put it and how you use it. And it's non-stretch so your tape gloves will never sag and cause your perfect fist jam to slip.
Liberty Mountain
BEST FOR: VARIETY OF SIZES
Liberty Mountain Climber's Tape comes in 3 different widths – 0.5 inches, 1 inch, and 1.5 inches. If you buy them all, you'll have what you need to cover everything from finger injuries to tape gloves to ankle sprains, and everything in between. This might not be the easiest tape to tear, but that's why it's handy to have one of every size.
Durable and strong, Liberty Mountain Climber's Tape will stay in place to protect your hands whether you're bouldering inside the gym or crack climbing outside.
Armadillo Skin
Specs
Width

:

0.3 in

Roll Length

:

15 yards
Features
Extra Thin (for precise placement)
Strong & Durable
Residue-Free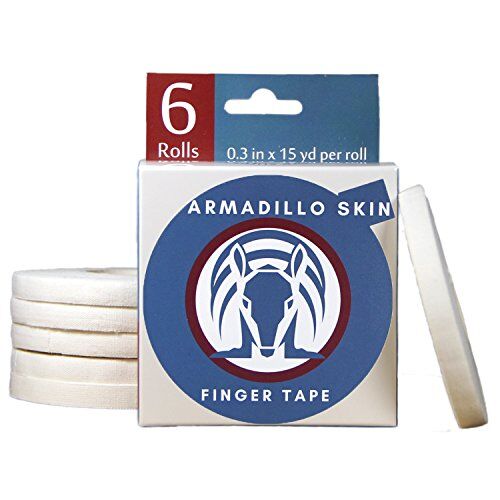 BEST FOR: FINGER INJURIES
The thinnest of any tape out there, Armadillo Skin Finger Tape is only 0.3 wide. While this won't make for good tape gloves, it's perfectly precise for taping finger injuries. The adhesive is quite strong yet leaves no residue so your fingers won't be covered in anything but chalk after you're done climbing. The tape is cotton and doesn't stretch, so your fingers will stay snugly supported.
Armadillo Skin Finger Tape comes in 6 roll packages, so it's an excellent price per roll, and you'll be stocked up for at least a season with just one purchase.
THINGS TO CONSIDER WHEN BUYING CLIMBING TAPE
Most climbers always carry climbing tape in their bags, because you never know when it might come in handy – literally, you're probably going to need it for your hands at some point. Tape is a quick fix for skin injuries and can help prevent other injuries by providing support for your tendons. According to Climbing, this is the best way to tape your fingers to prevent pulley injuries.
Of course, the other main use for climbing tape is to make crack gloves, which protect your hands when you're jamming your way up a crack route. Here are instructions and some tips for making the best tape gloves.
WIDTH
For finger injuries, you want a thinner width tape, usually about half an inch, though some tapes go even smaller to a third of an inch. For taping ankles and wrists, you probably want to choose 1 or 1.5 inch tape, depending on your size. Tape gloves should also be made with the thicker 1 or 1.5 inch tape.
STICKINESS
Different tapes have different adhesives, and some are stickier than others. If you're just doing a quick gym session, you'll probably be fine with a slightly less sticky tape that's easier to remove. But if you're going to be in the desert crack climbing for days, you want the stickiest tape you can find so your crack gloves don't fall apart.
TEARABILITY
When your fingers are already sore from climbing, the last thing you want is to struggle when trying to tear the tape that will make them feel better. It's hard to quantify tearability, but some tapes are definitely easier to tear than others, especially those with serrated edges.
FEATURES EXPLAINED
ADHESIVE
The substance used to make the tape stick.
POROUS
Tape with tiny holes in the surface to provide airflow and breathability.
NON-STRETCH
Made of stiff material that will provide support without losing shape.
READ MORE
For more of our top climbing gear recommendations, check out these popular buyer's guides: