Updated on April 8, 2022
Although boots, crampons, and ice axes might be the first things that come to mind when you think of mountaineering gear, glacier glasses are equally important on alpine expeditions. When you're high up in the mountains, the thinner atmosphere filters less UV rays and the sun reflects off the snow, so you must wear glacier glasses to help you see clearly and prevent vision damage. But how do you determine the right glacier glasses for you? Here at The Adventure Junkies, we have sorted through the options to help you find the best glacier glasses to protect your eyes.
For more of our top mountaineering gear recommendations, check out the Best Mountaineering Boots.
Quick Answer

-

The Best Glacier Glasses
Comparison Table

-

Best Glacier Glasses

For the best experience turn your device horizontally
Reviews

-

The Best Glasses for Glacier Hiking
Julbo Vermont Classic
Specs
Frame Material

:

Metal

Polarized

:

No

Side Shields

:

Removable
Features
Darkest Lens Option Provides 100% UV Protection
Moldable Temples Allow For A Precise Fit
Side Shields Are Vented To Prevent Lenses From Fogging
BEST FOR: RETRO STYLE
Created for Julbo's 125th anniversary, the Vermont Classic glacier sunglasses have a decidedly old-school style combined with the latest technology to protect your eyes. If you choose the darkest lenses, you will be protected from 100% of UV rays and 95% of all visible light. Side shields and a leather nose piece prevent light from entering at all angles and can be removed when not needed.
The Vermont Classic glacier glasses are extremely comfortable, thanks to flexible temples which mold to your face to keep the glasses on without being too tight. However, the glasses might be a bit large for people with smaller heads.
Vuarnet Glacier
Specs
Frame Material

:

Metal

Polarized

:

Yes

Side Shields

:

Removable
Features
Lenses Resist Scratches, Oils, And Water
Leather Side Shields Are Magnetic For Easy Removal & Attachment
Neck Strap Secures Glasses To Prevent Dropping Them
BEST FOR: QUALITY CONSTRUCTION
The Vuarnet Glacier glasses are extremely high quality glasses that come with an extremely high price tag, but they are also designed to last. The lenses are scratch-resistant, as well as coated to repel water and oils. The glasses also feature a raised bumper to protect the lenses if they are accidentally dropped.
One potential downside to the Vuarnet Glacier glasses is that they are quite heavy. The weight of the glasses can lead to pain when wearing them, and also makes them more prone to slipping off when you're on the move. A neck strap is included to prevent them from falling completely off, but you'll want to make sure it is tightly secured.
Julbo Explorer 2.0
Specs
Frame Material

:

Nylon

Polarized

:

No

Side Shields

:

Removable
Features
Lenses Offer 100% Protection From UV Rays
Temples Are Adjustable Up To 360°
Nose Features A Shock-Absorbent Insert For Comfort
BEST FOR: ALL-AROUND PERFORMANCE
With ergonomic style and plenty of thoughtfully designed features, the Julbo Explorer 2 glacier glasses provide exceptional performance. Large lenses and removable side shields offer a wide field of vision while keeping out peripheral light. A coating on the lens offers a mirrored effect, which filters visible light, and another coating on the back of the lens significantly reduces glare.
The Julbo Explorer 2 glacier glasses are also constructed for comfort. The temples can be adjusted up to 360° and feature a grippy layer to keep them on. The nose also has a soft grip, as well as a shock-absorbent insert to maintain comfort during high-impact activity.
Julbo Sherpa
Specs
Frame Material

:

Plastic

Polarized

:

No

Side Shields

:

Removable
Features
Wrap-Around Ear Temples Are Flexible For A Custom Fit
Vented Side Shields Provide Breathability & Reduce Lens Fogging
Included Neck Cord & Carrying Case
BEST FOR: VALUE
If you need a pair of good glacier glasses but aren't looking to invest a lot of money, the Julbo Sherpa glasses are a great value. The side shields protect your eyes from peripheral light, and they are breathable so the glasses won't fog up and obstruct your vision. Wrap-around ear temples can be molded for a custom and comfortable fit. A carrying case and neck strap are also included with the glasses.
While the lenses of the Julbo Sherpa block all UV light, they only block 88% of visible light, which is less than higher quality, more expensive lenses, but still provides enough protection for many mountaineering adventures.
Julbo MonteBianco
Specs
Frame Material

:

Nylon & Rubber

Polarized

:

No

Side Shields

:

Removable
Features
Inserts At Ear Stems Become Grippy When You Sweat So They Won't Slip
Lightweight Frames Are Designed To Fit A Range Of Face Shapes
Unobtrusive Side Shields Block Light & Are Removable
BEST FOR: EVERYDAY WEAR
The Julbo Montebianco glacier glasses provide eye protection for extreme mountaineering environments in a more classic sunglasses shape so you can also wear them in your day-to-day life without looking like you belong on a mountain. The removable side shields make it easy to transition from everyday wear to alpine adventure.
The frames of the Julbo Montebianco glasses are lightweight and have flexible temples which allow them to comfortably fit a variety of face shapes, though they might be too large for people with small heads. A special grippy coating at the end of the temples actually grip more as you sweat to keep the glasses securely on your head even as you're working up a sweat.
Julbo Shield
Specs
Frame Material

:

Polymer

Polarized

:

No

Side Shields

:

Removable
Features
Removable Fabric Side Shields Block Light Comfortably
Non-Slip Temples Stay In Place
Anti-Reflective Coating Reduces Glare On Back Of Lens
BEST FOR: VERSATILITY
If you want glacier glasses that you can also use for all of your other outdoor activities, the Julbo Shield glasses perform well in a variety of conditions. The lenses are lightweight yet block 95% of visible light, so they can handle everything from alpine mountaineering to bright sunny days on a trail run or mountain bike ride.
The side shields of the Julbo Shield are comfortable fabric with a soft feel and can be removed when you don't need peripheral light protection. A non-slip grip on the nose and temples keeps the glasses in place no matter how much you sweat.
Julbo Cham
Specs
Frame Material

:

Polymer

Polarized

:

No

Side Shields

:

Removable
Features
Soft, Moldable Nose Pieces Offer Custom Fit
Mirror Finish Provides Increased Light Filtering
Temples Are Covered In A Soft Finish For Comfort
BEST FOR: COMFORT
The Julbo Cham glacier glasses are extremely comfortable while also providing great performance during the rigors of mountaineering. The temples are completely adjustable to stay in place without pressure, and a soft finish keeps them from slipping and prevents them from getting stuck in your hair.
The pliable leather side shields and nose cover block light in retro-style, and are removable when not necessary. The nose pieces are soft and moldable to provide a custom fit that stays in place. However, the nose pieces also can be prone to falling off, so it might be worth reinforcing them before wearing.
Julbo MonteRosa Spectron
Specs
Frame Material

:

Nylon

Polarized

:

No

Side Shields

:

Removable
Features
Anti-Reflective Finish Reduces Glare
Cured Temples Provide Peripheral Coverage
Side Shields Are Easy To Remove Or Install In Changing Conditions
BEST FOR: WOMEN
Many glacier glasses are too big for petite women, but the Julbo Monterosa are specifically sized in a narrow fit to better accommodate smaller heads. The curved temples offer greater peripheral coverage while a soft grippy layer keeps the glasses comfortably in place without getting caught in your hair.
The side shields on the Julbo Monterosa block light when you're mountaineering, yet can be removed when you are doing other activities or even just to wear around town. The lenses block all UV light, and an anti-reflective coating on the lens significantly reduces glare in all conditions.
Bertoni Glacier
Specs
Frame Material

:

Nylon & Rubber

Polarized

:

Yes

Side Shields

:

Fixed
Features
Polarization Of Lens Reduces Reflections From Snow & Ice
Curved Ear Pieces Keep Glasses Securely In Place
Side Shields Have Aeration Holes To Prevent Lens Fogging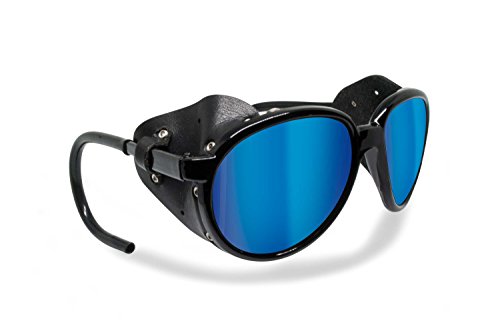 BEST FOR: POLARIZED LENSES
The Bertoni Glacier glasses feature polarized lenses to significantly reduce reflections from snow and ice. The blue version of the lenses also block 88% of visible light while the brown lenses block 86%, and both block 100% of UV light. You can find glacier glasses with higher quality lenses that block more visible light, but they come at a higher price.
Another drawback to the Bertoni Glacier glasses is that the side shields are not removable, although they are breathable to prevent fogging on the lenses. The glasses also come with a carrying case, a microfiber cloth for lens cleaning, and a neck cord.
THINGS TO CONSIDER WHEN BUYING GLACIER GLASSES
When you're mountaineering, you absolutely need to protect your eyes with more than just typical sunglasses. Glacier glasses are specifically designed to protect your eyes from the extra strong UV rays at high altitudes and the reflection of sun off the snow and ice in the mountains.
This article from Alpine Ascents explains the importance of glacier glasses when mountaineering, while Outside Online goes behind the scenes at Julbo to see how glacier glasses are specially designed for alpine athletes.
PERCENTAGE OF LIGHT FILTERED
Most glacier glasses offer a choice of lenses, and you should consider the amount of light they filter when making your decision. All lenses for glacier glasses should block 100% of UV rays, so make sure that is the case. For mountaineering, you should have either Spectron 4 or Spectron 3 CF lenses. Spectron 4 lenses block around 95% of all visible light, while Spectron 3 CF lenses block about 88% of visible light. Although Spectron 4 lenses will be more expensive, they are worth it if you will be spending time at high altitudes.
PERIPHERAL COVERAGE
Beyond the light that is filtered by the lenses, glacier glasses are specifically designed to prevent light from getting in around the lenses. Side shields prevent peripheral light from entering your eyes while nose guards prevent light from filtering in between the eyes. The amount of coverage differs between glasses, so you'll want to make sure to find glasses with enough coverage for your adventures.
FEATURES EXPLAINED
SIDE SHIELDS
Pieces of material (often leather) that block peripheral light.
POLARIZED
Filter that specifically reduces glare.