Updated on October 6, 2020
Wouldn't it be great to know exactly where to cast your line when fishing from the comforts of your kayak? Maybe you're a recreational fisherman who only paddles out every once in a while or maybe you're a fisherman who goes out daily. Either way, you'll want to find the best kayak fish finder to make sure every moment on the water counts.
But, how do you know which fish finder is right for you when choosing among tons of options? The different sonar systems and features can be confusing. Here at The Adventure Junkies, we take pride in finding the most useful technology available and have come up with the best fish finders of the year.
For more of our top kayak fishing gear recommendations, check out the Best Kayak Fishing Rods.
Quick Answer

-

The Best Kayak Fish Finders
Humminbird PiranhaMax 4PT

iBobber Smart Fish Finder
Comparison Table

-

Best Kayak Fish Finder

For the best experience turn your device horizontally
Reviews

-

The Best Fish Finders for Kayaks
Garmin Striker 4
Specs
GPS

:

Yes

Max Depth

:

1,600 feet

Display Size

:

3.5 inches
Features
Compatible with other transducers
Mark and return to favorite fishing spots
Easy to use buttons
Compact
Easy to upgrade
Speed display
Maximum depth of 1,600 feet in freshwater and 750 feet in saltwater
Color screen
CHIRP 77/200 kHz sonar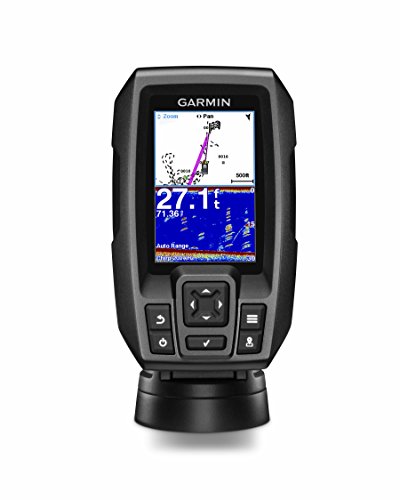 BEST FOR:

SERIOUS FISHERMEN NEEDING A FISH FINDER THAT CAN DO IT ALL
PROS: Incredible detail on display and great value for price point, multiple settings, customizable
CONS: Those looking for a simple fish finder might find this one a challenge to set up and understand
Humminbird PiranhaMax 4PT
Specs
GPS

:

No

Max Depth

:

320 feet

Display Size

:

4.3 inches
Features
Depth alarms
Easy to use interface
Color screen
Screen calibration for high sunlight
Temperature gauge
Dual beam 200/455 kHz sonar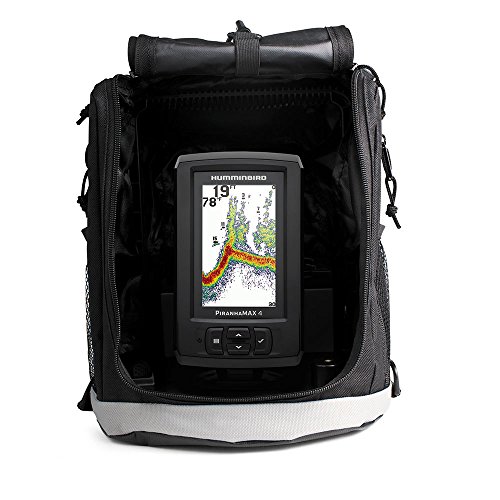 BEST FOR:

KAYAK FISHERMEN CASTING UNDER SUNNY SKIES
PROS: Easy to use, compact, accurate
CONS: Does not provide speed, transducer cable very long for kayak
iBobber Smart Fish Finder
Specs
GPS

:

Yes

Max Depth

:

135 feet

Display Size

:

Syncs With Your Phone Screen
Features
Portable iBobber connects via Bluetooth with your smart phone app to show sonar readings
Social media sharing options
Saves favorite fishing spots
Rechargeable battery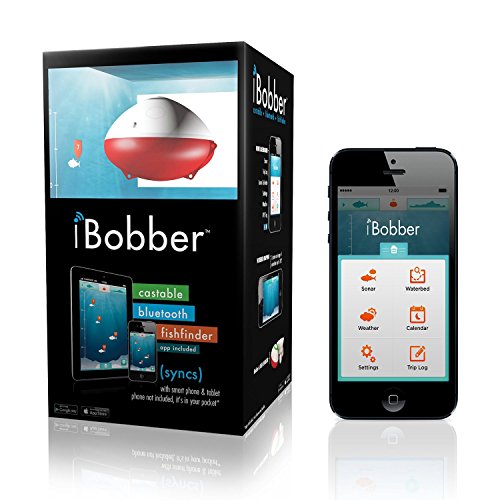 BEST FOR:

FISHERMEN WHO LIKE TO HAVE ALL OF THEIR DATA IN ONE PLACE
PROS: The lightest and most portable fish finder on the market, ideal for kayaking, syncs with already owned smart phone, can use with all types of fishing, uses Bluetooth instead of WiFi
CONS: Expensive considering it does not come with a display, can sometimes lose connection with the phone, shallow depth range
FishHunter Pro
Specs
GPS

:

Yes

Max Depth

:

150 feet

Display Size

:

Phone Screen
Features
Connects to smart phone app where you can store pictures
Favorite fishing spots and fish dimensions
Easy to install and carry
WiFi connected
GPS tracking
Triple frequency sonar system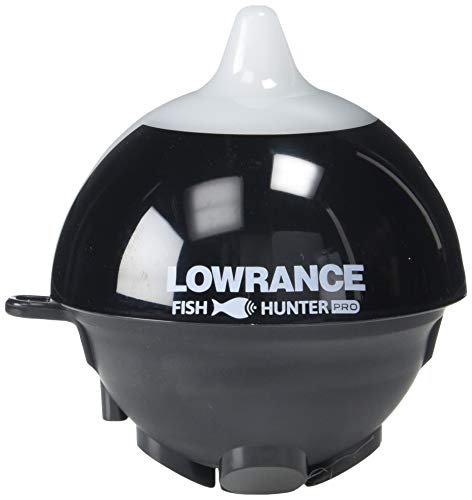 BEST FOR:

FISHERMEN ON LONG KAYAKING FISHING TRIPS WHO PREFER TO HAVE ALL FISHING DATA SYNCED TOGETHER
PROS: Easy to use and very portable, able to store all types of fishing data in one place, perfect for fishermen in variable conditions, 10-hour battery life
CONS: High price point, sometimes has connection issues in colder temperatures
Lowrance Hook-3X
Specs
GPS

:

No

Max Depth

:

230 feet

Display Size

:

3 inches
Features
Backlit color display
Water resistant
Advanced signal processing
Zoom capability
Night-specific settings
Dual beam 83/200 kHz sonar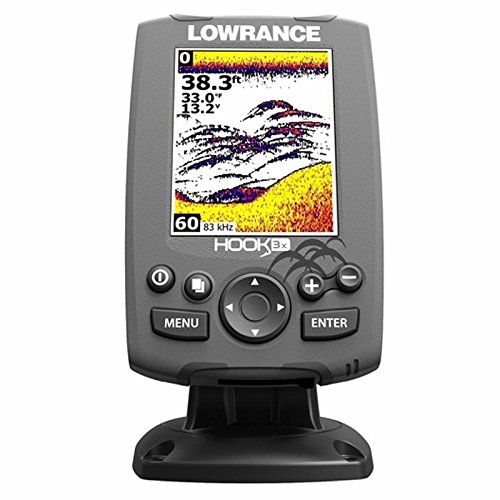 BEST FOR:

FISHERMEN ON A BUDGET WHO WANT A DEVICE THAT DOES IT ALL
PROS: Easy to mount, affordable, durable, screen is easy to see even in direct sunlight
CONS: Sometimes becomes inaccurate if used at high speeds – so is generally only a kayak fish finder rather than a fish finder for faster vessels
Venterior Portable
Specs
GPS

:

No

Max Depth

:

328 feet

Display Size

:

3.2 inches
Features
Displays the nature of the bottom of the water – distinguishes between rock, grass, and sand
Removable transducer float ad stopper
Neck strap
Temperature reading
LCD display and green LED backlight
Sensitivity calibration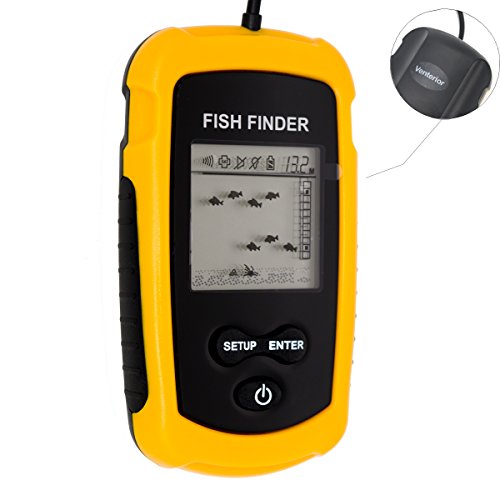 BEST FOR:

FISHERMEN IN NEED OF A RELIABLE AND BASIC FISH FINDER THAT CAN BE CUSTOMIZED
PROS: Affordable, compact, simple, easy to use
CONS: Does not give approximate size of the fish – can only adjust sensitivity to alert for larger or smaller fish, sensitive to turbulence
Hawkeye FT1P FishTrax
Specs
GPS

:

No

Max Depth

:

240 feet

Display Size

:

2.4 inches
Features
Bottom composition notes
Can be mounted or used as a portable fish finder
Reads water depth
Easy to understand icons and notes
Can set it to see fish sizes
Dual frequency sonar
BEST FOR:

FISHERMEN WANTING A FISH FINDER THAT CAN SENSE FISH DEEPER THAN MANY OTHER FISH FINDERS AT A SIMILAR PRICE POINT
PROS: Affordable, easy to use, secure mount system, compact, display is bright even under direct sun
CONS: Batteries not rechargeable and have to be changed often
HOW TO CHOOSE THE BEST KAYAK FISH FINDERS
DISPLAY SIZE
Since you're limited to fishing from a kayak – a vessel that's obviously smaller than a standard fishing boat – you'll want a fish finder with a display size of less than five inches. Anything larger than five or six inches will get in the way, be a challenge to mount and is frankly too bulky for a kayak.
It's unlikely that your larger display will come with any extra features. So, there's no reason for you to opt for an eight-inch clunker.
PORTABILITY
Some kayak fish finder displays and transducers need to be mounted to the kayak to work. If your fish finder needs to hook up to an external battery or is too large, it might not be portable enough for your fishing style.
Thanks to new technology, you can hook a fish finder up to your smartphone. Just attach it to a line or buy one that has its own compact rechargeable battery pack.
If you often use your kayak for recreational kayaking or let others take it for a paddle, you'll want a portable fish finder. That way, it won't get in the way or knocked into the water when it's not being used.
There are so many benefits of kayaking. One of the major ones is stress reduction. The relaxation factor can quickly become undone by knocking an expensive piece of gear into the water.
However, if your kayak is used strictly for fishing, you might find it convenient to have a larger display set up where you can always see the screen.
Some of the smaller and more portable fish finders are awkward to mount or need to be carried in a pocket. The ultra-portable fish finders can be connected to your smartphone. This is often the best choice for fishermen who want to save on space and seek convenience.
Buy a waterproof case for your phone if you get the fish finder for smartphones. This is often the best budget option if you already have a smartphone. After all, your phone has GPS and can even connect to other fishermen who frequent your fishing spot!
Check out this guide on creating a DIY kayak fish finder mount to save money and mount nearly any type of fish finder.
TRANSDUCER STYLE AND COMPATIBILITY
The transducer is the part of your fish finder that uses an echosounder system, which reads what is underwater. In an article on how to read your fish finder by Kayak Critic, they explain a bit more about how the transducer works and its purpose such as looking for underwater hazards.
The great thing about kayak fishing is that it's easier to mount a transducer on a kayak than on a boat. How you mount your transducer will depend on your preference and the make of your kayak. Note that they are typically mounted in the hull, in the scupper hole, with a suction cup or near the rudder.
A few kayak brands have partnered with fish finder companies to create a transducer mount area that is compatible with one another. Though having the specific fish finder placement areas is a bonus, it shouldn't be the main deciding factor when choosing the best fish finder for you.
If you're a serious fisherman, you'll want to read our guide to choosing the best fishing kayak to go with your fish finder.
GPS
GPS is great if you are frequenting new waters and want to keep track of where you're reeling in the best fish. However, if you are frequenting the same lake or river repeatedly, you can save a few bucks by relying on your memory. This isn't an essential feature that a fisherman needs, but is a nice extra to have.
SONAR VS. 3D SONAR
Some fish finders use 3D SONAR rather than the traditional SONAR through the transducer. The 3D SONAR shows a very detailed view of what lies beneath.
Though this is a bonus to have when you're fishing off of your kayak, the range that 3D SONAR covers is often less than traditional SONAR and the beam does not go as deep. Get the 3D SONAR if you are fishing primarily in shallow water or the fish you're searching for are typically found at shallower depths.
READ MORE
For more of our top kayak fishing gear recommendations, check out these popular buyer's guides: