Updated on October 30, 2020
Kayak fishing is typically very safe, but as with all water sports, it's your responsibility to yourself and your loved ones to always wear a personal flotation device (PFD). With so many to choose from, it can be difficult to find the best kayak fishing PFD.
PFDs are available to suit a wide variety of sizes, budgets and performance options in an assortment of materials, buoyancies, and weights. Simple design features can sometimes make or break your kayak fishing experience.
Here at The Adventure Junkies, we've done the research to help you choose a PFD that fits your body and your budget in order to ensure your day on the water is a successful one. A proper PFD choice will save your life in an emergency and fit comfortably when you're simply reeling in the big ones.
For more of our top kayak fishing gear recommendations, check out the Best Kayak Paddles for Fishing.
Quick Answer

-

The Best Kayak Fishing PFDs
Comparison Table

-

Best Kayak Fishing PFDs

For the best experience turn your device horizontally
Reviews

-

The Best PFDs for Kayak Fishing
NRS Chinook
Specs
Best Use

:

Overall

Material

:

200 denier urethane-coated ripstop nylon

Buoyancy

:

16.5 lbs.
Features
Front-zip entry
Ventilated high back
Seven adjustment points
Key lanyard in front pocket
Rod holder loops
Retractable tool clip
Fly drying patch
D-rings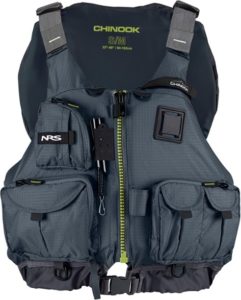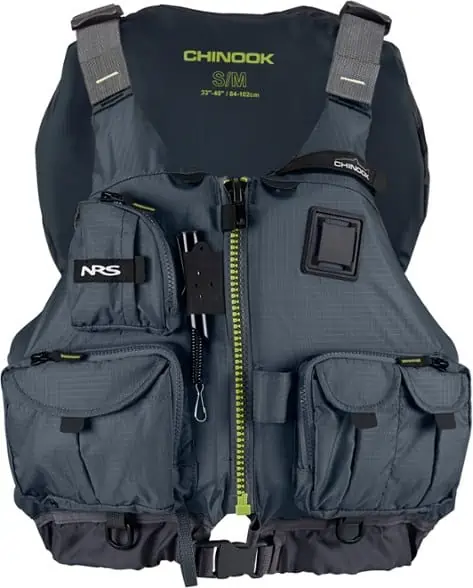 BEST FOR COMFORT AND UTILITY WHILE FISHING
MOBILITY: Seven adjustment points make this the most adjustable PFD
PROS: Comfort, adjustability, unique rod holder loops
CONS: Lacks drop-down platforms
Astral Ronny
View Women's Version
Specs
Best Use

:

Lightweight

Material

:

200 x 400 denier ripstop nylon outer, 200 denier nylon liner, polyethylene foam

Buoyancy

:

16.0 lbs.
Features
Reflective trim
Beverage pocket
Six adjustment points (2 side
2 shoulder
1 waist)
Quick-access knife tab
Lightweight construction
Front-zip entry
BEST FOR CASUAL FISHING
MOBILITY: Good shoulder mobility, but ½ inch foam back pad is bulkier than a mesh back
PROS: Lightweight, durable polyethylene foam, minimal design, perfect for casual fisherman, reflective trim
CONS: Bulky in chest, moderately comfortable, lacks fishing-specific features
Stohlquist Fisherman
Specs
Best Use

:

Overall

Material

:

500 denier cordura shell, 200 denier oxford liner, and eco-conscious Gaia foam

Buoyancy

:

16.8 lbs.
Features
Open sides for ventilation
High back
Adjustable shoulder and side straps
Gear storage
Anchor points
Front-zip entry
Padded neoprene shoulders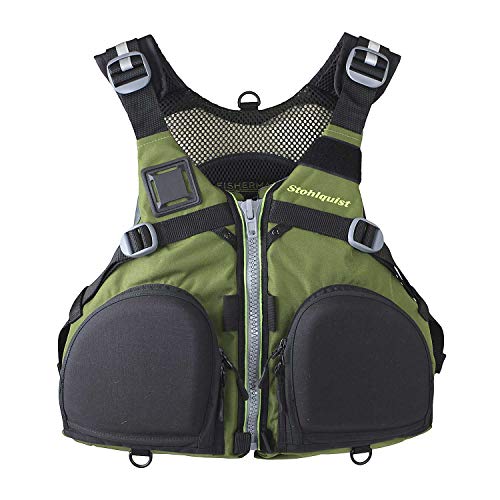 BEST FOR ALL AROUND KAYAK FISHING
MOBILITY: Offers good shoulder mobility but leaves more to be desired ergonomically
PROS: Comfortable, well-ventilated, plenty of gear storage
CONS: Drop-down platforms not ideally located
Stohlquist Ebb
Specs
Best Use

:

Lightweight

Material

:

200 X 400 denier ripstop outer shell and soft 210 denier inner liner, polyethylene foam

Buoyancy

:

16.1 lbs.
Features
Cross-chest cinch
High-back
Lightweight
Open sides
Front-zip non-corroding entry
4-way lash tabs
Self-draining pockets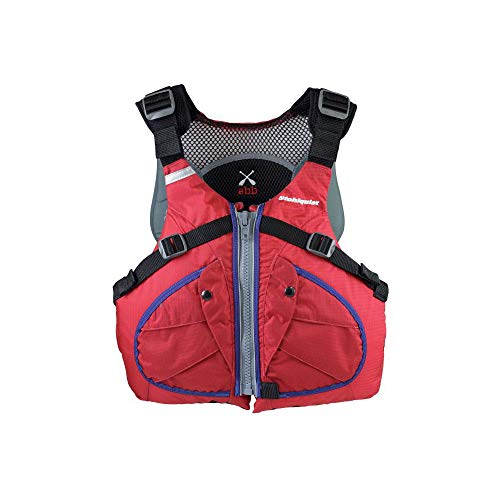 BEST FOR COMFORT AND COOLNESS IN SIT-ON-TOP KAYAKS
MOBILITY: Good shoulder mobility, high back
PROS: Cross-chest cinch, self-draining pockets
CONS: Slightly heavy at 1 lb. 6.4 oz, lacks fishing-specific features
ONYX MoveVent Curve
Specs
Best Use

:

Lightweight

Material

:

200 denier nylon outer shell, soft, lightweight flotation foam

Buoyancy

:

15.0 lbs.
Features
Shoulder and side adjustments
Mesh in lower back
Solar reflective
BEST FOR LONG DISTANCE PADDLING AND HOT SUMMER DAYS
MOBILITY: Fits like a glove, amazing mobility
PROS: Lightweight, comfortable, relatively inexpensive
CONS: Lacks fishing-specific features
ONYX Kayak Fishing
Specs
Best Use

:

Budget

Material

:

400 denier nylon oxford

Buoyancy

:

15.0 lbs.
Features
Zippered fleece-lined pockets
Opening in top of pockets for quick access
Lash tab
Six adjustment straps
High back
One-push drop-down tray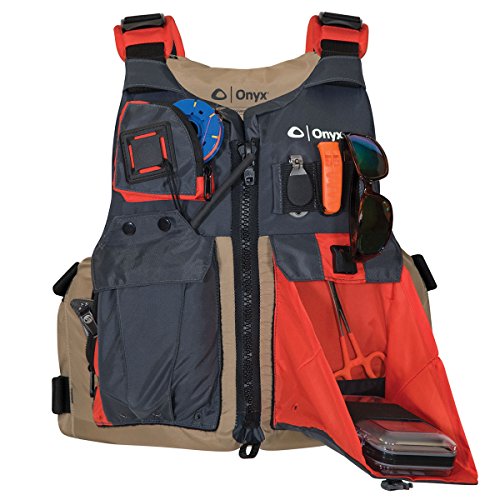 BEST FOR UTILITY ON A BUDGET
MOBILITY: Sufficient mobility for arms and shoulders
PROS: Best value vest
CONS: Least buoyant vest, lower quality construction
ONYX MoveVent Dynamic
Specs
Best Use

:

Budget

Material

:

200 denier nylon ripstop and nylon oxford

Buoyancy

:

15.0 lbs.
Features
High back
Low mesh back
Shoulder and waist adjustments
Unique bubble foam
Zippered pocket
Emergency whistle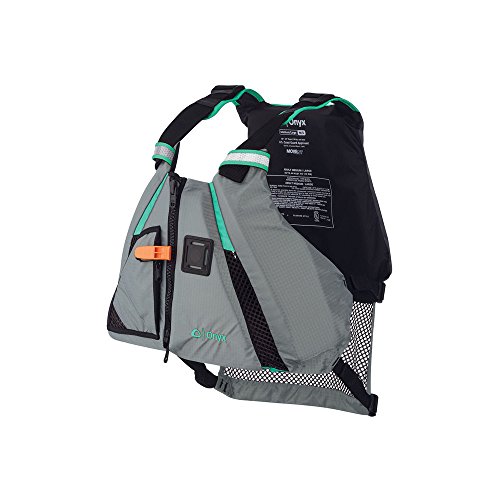 BEST FOR ATHLETIC PADDLERS
MOBILITY: High mobility for arms and shoulders, moderately bulky
PROS: Price, comfort, fits like a glove for athletic, dynamic paddling
CONS: Offers little storage
HOW TO CHOOSE THE BEST KAYAK FISHING PFDS
PURPOSE
It's important to ask yourself what type of fisherman you are. Do you have a checklist of fish you want to catch or places you want to visit for fishing? Are you more of a casual fisherman, interested in how far you have to reach for your beverage, instead of how many lures your can pack into your pockets?
It's also important to know how tall your kayak seat back is while deciding what type of PFD back (high, low, mesh, foam, etc.) you need. If you don't know or remember what type of kayak you have, review this kayak buying guide from Paddling.com.
Are you new to the sport?If so, have a look at our Beginner's Guide to Kayak Safety and Paddling Techniques.
MATERIAL
Most PFDs are made of various types of nylon for its mildew resistant properties. Some are simply nylon, some are coated, others are ripstop, which can greatly extend the life of a vest. Consider what type of climate you mainly fish in, and you'll be able to decide if a mesh back is important to you, or if you'd prefer to have fleece-lined pockets, etc.
MOBILITY
Mobility is one of the most important things to consider when choosing a kayak fishing PFD. Casting, reeling, and fighting fish all require that the shoulders and arms can move freely. Adjustable straps are typically high on the kayak fisherman's priorities, because there is nothing worse than being on a beautiful lake for hours, uncomfortable the entire time. There are five main types of PFDs, all differing in comfort and mobility.
FEATURES
This is where things start to get interesting! Think about how much gear you typically take on a fishing trip, and how you like to use it. Do you prefer to have a set of pliers hanging from your vest to easily remove a hook from a fish's mouth? Do you fish in a location subject to strong winds and need a hat loop so your hat won't blow away? PFDs are available with (or without) almost any fishing-specific feature you could think of.
BUOYANCY
According to REI, the average person only needs 7 to 12 lbs. of buoyancy, which is the United States Coast Guard minimum. Body fat also helps to keep you afloat, so the more body fat you have, the less buoyancy you need in a PFD.
WEIGHT
Some people prefer a lightweight PFD, even at the expense of fishing-specific features. If you're not too concerned with the weight, a heavier PFD with more features may be perfect for you.
READ MORE
For more of our top kayak fishing gear recommendations, check out these popular buyer's guides: