Updated on October 6, 2020
An essential element to customizing your fishing pole, we've gathered the best spincast reels with the highest ratings and reviews. Whether you're looking for versatility, specificity, top-of-the-line, or a budget-conscious spincast reel, we've got it all here. 
Only the highest quality spincast reels made it into our Top 10. If you have any questions about the specs or terminology throughout the article, be sure to check out the Things To Consider section at the end of the article.
For more of our top kayak fishing gear recommendations, check out the Best Kayak Fishing Rods. 
Quick Answer

-

The Best Spincast Reels
Abu Garcia Black Max Low Profile
Comparison Table

-

Best Spincast Reels

For the best experience turn your device horizontally
Reviews

-

The Best Spincast Reels
Penn Battle II
Specs
Bearing Count

:

5+1

Gear Ratio

:

6.2:1

Weight

:

1 lb.

Max Drag

:

12 lbs.
Features
Heavy Duty Aluminum Bail Wire
All Metal Design, No Plastic Parts
Carbon Fiber Washers Reduce Weight While Adding Strength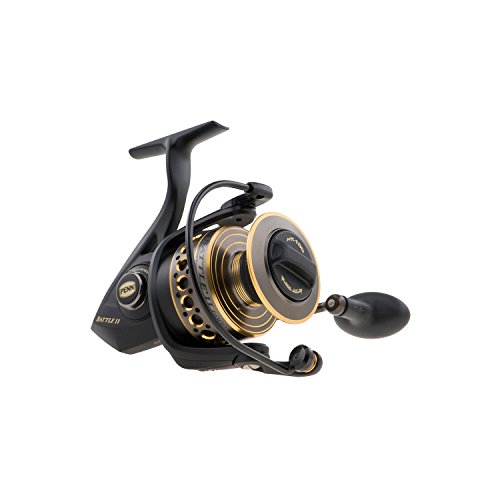 BEST FOR: QUICK RETRIEVE
If you like a speedy spincast reel that's able to bring in your catch quicker, then the Penn Battle II Spinning Fishing Reel is your best choice. Sporting a 6.2 to 1 gear ratio, you'll be in the upper range of speed.
The gear ratio means that for every turn of the handle, the bail will complete 6.2 revolutions around the spool. The higher the number on the gear ratio, the faster you'll be able to reel in your catch! 
This spincast reel also has 6 ball bearings arranged in a 5+1 design, meaning that 5 bearings work to provide smooth performance while 1 is an "instant anti-reverse bearing." So when the fish begins to fight back and pull your line back out, the 1 anti-reverse bearing will catch and prevent you losing ground in your fight.
Kastking Royale Legend
Specs
Bearing Count

:

4, 5, 7, 8, 10, & 11

Gear Ratio

:

5.3:1 - 8.1:1

Weight

:

7.3 oz

Max Drag

:

17.6 lbs.
Features
Available In 4 Different Colors
Can Be Bought In Either Right Or Left-Handed Retrieve
Colors Are Coordinated To Gear Ratios To Help You Know Which Is Which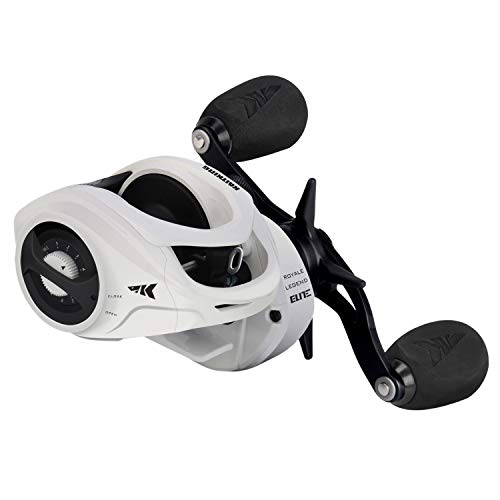 BEST FOR: VERSATILITY
It's always nice to have options when buying a new piece of gear. The spincast reel with the most options is the KastKing Royale Legend Baitcasting Reel that sports a variety of gear ratios and bearing counts so you can get exactly what you need. 
And if you're the type of angler that enjoys having multiple spincast reels for each potential fishing occasion, then you've hit the jackpot! Grab 2, 3, or even 4 to complete a set with a wide variety of utility! 
The KastKing Royale Legend also comes in 4 distinct colors that correspond with their respective gear ratios so you never have to guess which one is which.
Abu Garcia Black Max Low Profile
Specs
Bearing Count

:

4

Gear Ratio

:

6.4:1

Weight

:

7.3 oz

Max Drag

:

18 lbs.
Features
Compact And Lightweight Design
Ergonomic Handle Increases Hand Comfort
Magnetic Braking System Improves Casting Accuracy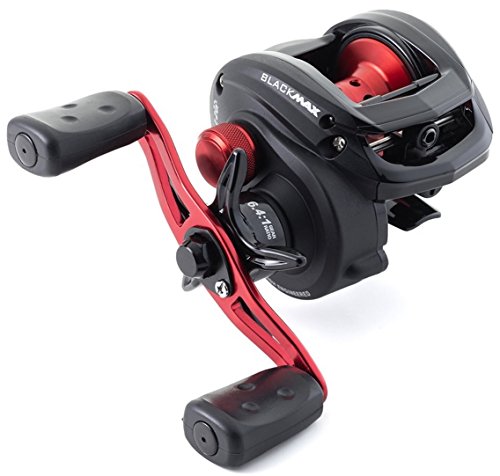 BEST FOR: ERGONOMIC COMFORT 
Let's be reel (fishing puns!), when you've invested money into your fishing setup there is nothing worse than realizing that your top-notch gear is annoyingly uncomfortable. The Abu Garcia Black Max Low Profile Reel is the most ergonomically comfortable spincast reel we could find! 
In addition to having a low profile design that increases your hand comfort, this reel also has a "Magtrax" braking system that engages with the push of your thumb, allowing you optimal control over the line and where you cast. 
But don't take our word for it! Just check out the 450+ positive reviews with people raving over this one.
Kastking Crixus
Specs
Bearing Count

:

5+1

Gear Ratio

:

6.5:1

Weight

:

7.3 oz

Max Drag

:

17.6 lbs.
Features
Available In 2 Colors
Exceptionally Lightweight Design
Can Be Bought In Either Right Or Left-Handed Retrieve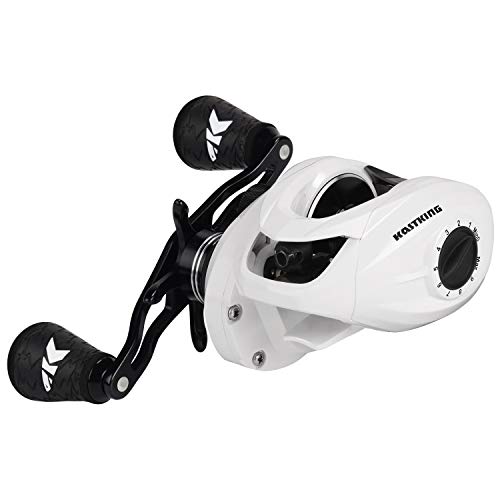 BEST FOR: TOURNAMENT PROVEN RELIABILITY
Whether you're a weekend angler or a competitive tournament fisherman, the KastKing Crixus Baitcasting Reel relies on quality components that only the best use. This spincast reel is designed with longevity in mind and ease of use. 
The 4 carbon disc drag system can apply up to 17.6 lbs of fish stopping drag power and can be manually tuned to your preference. Add to that the 6.5 to 1 gear ratio and you've got a spincast reel that is both quick but can handle heavier fish - the perfect combo! It's also a super lightweight reel and comes in two different colors.
Zebco Bullet
Specs
Bearing Count

:

8+1

Gear Ratio

:

5.1:1

Weight

:

13.9 oz

Max Drag

:

10 lbs.
Features
All-Metal Construction Is Highly Durable
Can Be Bought In Either Right Or Left-Handed Retrieve
Gear Ratio Splits The Difference Between Power And Speed
BEST FOR: POWER
If you're casting lines with bigger fish in mind, then you're gonna need the power provided by the Zebco Bullet Spincast Reel. It hits big in 3 major categories: overall weight, bearing count, and gear ratio. 
With an overall weight just under 1 lb., the Zebco Bullet still fits into the lightweight category. The bearing count is also higher than most, sporting an 8+1 setup that provides smooth reeling and the necessary anti-reverse bearing to prevent your fish from getting away. As for gear ratio, the 5.1 to 1 is the sweet spot between speed and power for the best results.
Zebco 888
Specs
Bearing Count

:

2+1

Gear Ratio

:

2.6:1

Weight

:

1 lb. 7.2 oz

Max Drag

:

25 lbs.
Features
Low Gear Ratio Lands Bigger Fish
All-Metal Gears Deliver The Highest Quality
Max Drag Is Adjustable For Customizability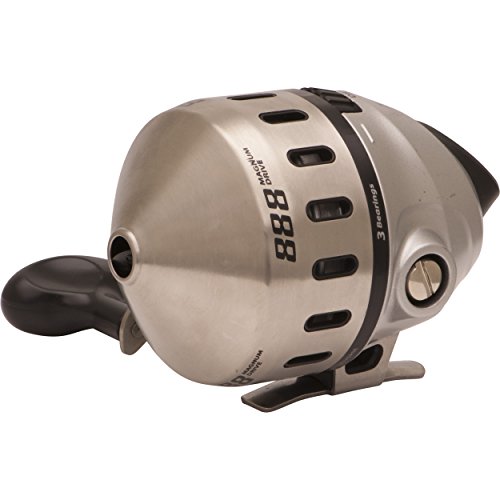 BEST FOR: BIG FISH
Anglers looking to land big fish will need a helping hand from the Zebco 888 Spincast Reel. It has the heftiness and specs to deliver the biguns. 
Though the bearing count may be low, the max drag is a whopping 25 lbs. Meaning you'll be able to stop a fish up to that size in its tracks before you initiate the fight. Furthermore, the extremely low gear ratio, while slow to reel in your catch, will deliver the most power necessary when fighting with your catch. 
While it is much heavier than plenty of other reels listed here, there are many reviews that attest to how easy it is to cast this reel and as such it is definitely worthy of consideration.
Zebco Omega 3 Pro
Specs
Bearing Count

:

6+1

Gear Ratio

:

3.6:1

Weight

:

10.6 oz

Max Drag

:

10 lbs.
Features
High Quality Materials Used For All Pieces
Anti-Reverse Bearing Prevents Fish From Getting Away
Adaptable: Can Be Setup For Left Or Right-Hand Retrieve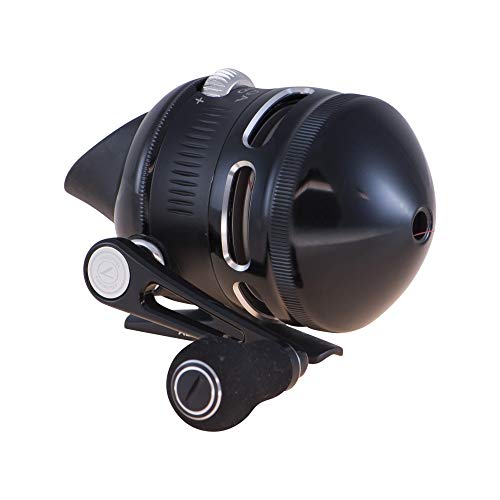 BEST FOR: LEFT OR RIGHT-HAND RETRIEVE
Are you ambidextrous? Do you sometimes lend your extra rod to a friend? Then the Zebco Omega 3 Pro Spincast Reel is perfect for switching between left-handed or right handed casting/retrieving. Instead of choosing either/or, why not have both!
While the max drag is on the lower end of the spectrum and you may find it difficult to reel in larger fish, the low gear ratio (3.1 to 1) gives you the power to go toe-to-toe (or fin-to-fin) with strong swimmers. 
Last but not least, the 6+1 bearing setup provides smooth performance and ensures your catch won't slip away.
Cadence Ultralight CS4
Specs
Bearing Count

:

8

Gear Ratio

:

6.2:1

Weight

:

8.3 oz

Max Drag

:

13 lbs.
Features
Corrosion Resistant Composite Carbon Materials
Machined Aluminum Spool Is Both Lightweight And Strong
Stainless Steel Ball Bearings Are Smooth, Quality, And Resist Corrosion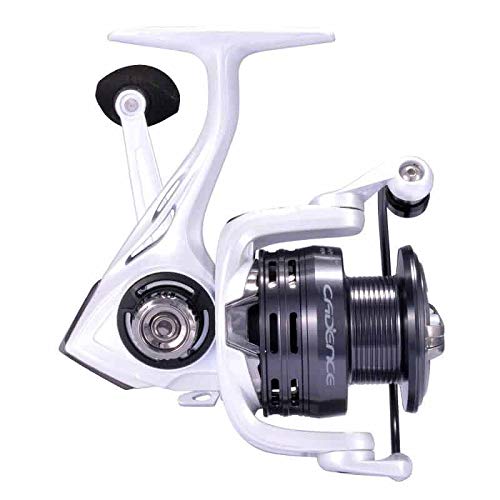 BEST FOR: ULTRALIGHT PERFORMANCE
While technically not the lightest spincast reel on the list, the Cadence Ultralight CS4 has the best bang-for-the-buck in terms of low weight and high max drag. 
With 13 lbs. of max drag stopping power, the Cadence Ultralight CS4 is able to handle some bigger fish than many other options. The 8 bearings provide for super smooth casting without any hiccups and the higher gear ratio (6.2 to 1) is exceptionally fast. 
You'll be able to land a variety of fish with this unique combo and the manufacturer backs up their product with a 1-year warranty.
Pflueger President
Specs
Bearing Count

:

5

Gear Ratio

:

3.8:1

Weight

:

11.2 oz

Max Drag

:

10 lbs.
Features
Perfect For Beginners
Stainless Steel Ball Bearings Are Smooth, Quality, And Resist Corrosion
Instant Anti-Reverse Ball Bearing Keeps Your Catch From Getting Away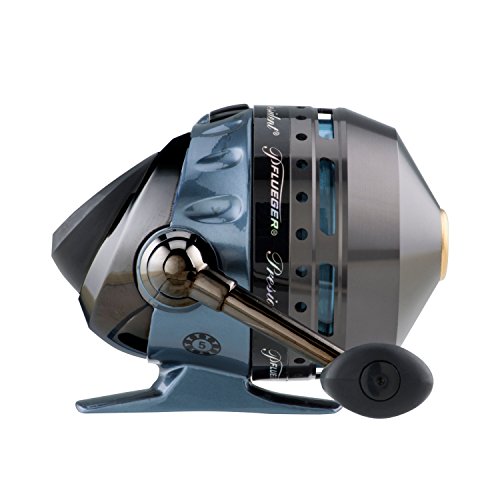 BEST FOR: BUDGET-CONSCIOUS ANGLERS
While many fishing enthusiasts insist on only buying expensive gear to achieve the next level performance, fish aren't smart enough to tell the difference. Thankfully there are quality options at an affordable price point like the Pflueger President Spincast Fishing Reel. 
At just under $40, you'll get a lightweight spincast reel that can handle strong fish with its lower-end-of-the-spectrum 3.8 to 1 gear ratio. This combo makes up for the 10 lbs. of max drag stoppage power which is conservative. 
However, the 5 ball bearing count makes for smooth casting and retrieve and evens out this reel. Overall, this is a good quality piece that will serve you well on the water.
THINGS TO CONSIDER WHEN BUYING SPINCAST REELS
BEARING COUNT  
Simply stated, the more ball bearings your spincast reel has, the smoother and better performance you will have overall. 
GEAR RATIO
Gear ratio is a measure of how many revolutions the bail completes around the spool for each time the reel handle is turned. So the bail on a spincast reel with a 5:1 (5 to 1) ratio turns 5 times every time you turn the handle. Now you just need to determine what type of ratio is best for you. 
The higher the ratio (closer to 6:1), the faster you can reel in your catch. The lower the ratio (closer to 4:1), the slower you will reel in your catch but you will have more power to reel in larger fish. 
It's best to have a range of spincast reels with varying ratios for each situation, but if you must choose one, best to get something in the mid-range (around 5:1) that can handle a little bit of everything. 
MAX DRAG
Max drag is measured in pounds – the higher the number, the more fish you can handle. It's definitely more complex than that, but that's it in a nutshell. 
Additionally, there are 2 types of drag systems and they are classified by their position. There's front and rear drag systems. Front drag systems are more durable and can fight larger fish better, but rear drag systems are much easier to access. It really comes down to personal preference. 
ANTI-REVERSE HANDLE
An anti-reverse handle is a must have when choosing a spincast reel, as it keeps your line from reversing when a fish is on the line and fighting to get away. Think of the mechanism working the way a seatbelt does — when there is a jarring movement in the opposite direction, it locks up, allowing you to maintain control. 
FEATURES EXPLAINED
Anti-Reverse Switch 
Usually found in the form of a ball bearing, an anti-reverse switch automatically locks to keep your catch from getting away once the fish pulls in the opposite direction rather than the line reversing and losing your catch. 
Bail 
The bail is a piece of wire attached to the body and is shaped in a half-circle. It's purpose is to hold the line for casting and then flips out of the way when retrieving. 
Body 
The body is the main housing of a spincast reel and holds the gearbox. 
Casting 
The action of throwing your line out to begin fishing.
Drag Adjustment Knob 
Max drag (see above) can be adjusted by turning the drag adjustment knob. 
Gearbox
Within the housing of the body is the gearbox which creates a ratio of rotations/revolutions between the spool and the handle. So as you turn the handle on the reel to retrieve your line, the spool also turns. A gearbox with a gear ratio of 5:1 will have the spool complete 5 revolutions for every 1 full turn of the handle. 
Handle 
The handle is what you crank to retrieve your line. By turning the handle, you reel the fish in. 
Spool
The spool is what holds the fishing line (the line is wrapped around the spool). As the spool turns, the line is either wound up or unwound. When casting, the spool spins freely to unwind and let the line go. When retrieving, the spool rotates to wind up the line at a given ratio for each turn of the handle (see Gearbox definition). 
Retrieve
The opposite of casting. Once you've hooked a fish, you will retrieve your line (tow it back in) to reel the fish in.
READ MORE
For more of our top kayak fishing gear recommendations, check out these popular buyer's guides: