Updated on November 30, 2021
Whether you're trolling your favorite lake, river, or other waterway in a quest to land the big one, a good kayak paddle is the key to propulsion. Kayaking allows professionals and weekend warriors alike the opportunity to reach areas that might otherwise be inaccessible. In addition to being a great outlet for getting a little exercise, it also provides a mobile platform for fishing familiar and new locations. We know that selecting the best paddle for kayak fishing can seem like a perpetual game of catch and release, which is where we come in.
Never fear and take the bait! Here at The Adventure Junkies, we'll lure you in with the best gear for your next adventure. In this guide, we'll help you select the best kayak paddles for fishing so you can propel yourself to your new (or old) favorite fishing spot.
For more of our top kayak fishing gear recommendations, check out the Best Fishing Kayaks.
Quick Answer

-

The Best Kayak Paddles for Fishing
Bending Branches Angler Classic

Bending Branches Angler Ace Snap

Bending Branches Bounce X-Grip

Bending Branches Angler Scout

Perception Kayaks Pescador
Comparison Table

-

Best Kayak Paddle for Fishing

For the best experience turn your device horizontally
Reviews

-

The Best Paddle for Kayak Fishing
Bending Branches Angler Classic
Specs
Blade Material

:

Fiberglass-Reinforced Nylon

Shaft Material

:

Fiberglass

Shaft Type

:

2-Piece
Features
Built-In Hook Retriever
Available In Sizes Ranging From 220-260cm To Fit A Wide Variety Of Paddlers
3-Hole Snap-Button Ferrule (Connector) That Allows For Adjustable Feathering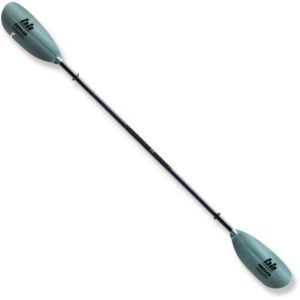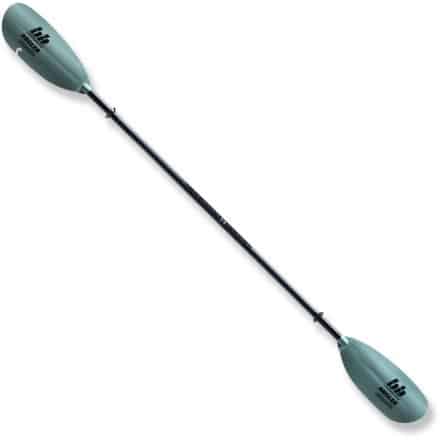 BEST FOR: SERIOUS ANGLERS ON A BUDGET
Founded in 1982, Bending Branches has grown to become one of the largest and most well known paddle manufacturers in recent years.  Based in Wisconsin, this renowned brand has justifiably landed several paddles in this guide.
The Angler Classic is low-angle style paddle and is available in multiple sizes to accommodate paddlers of varying sizes and kayak widths. This two-piece, largely fiberglass paddle features a three hole button-snap ferrule (connection point between the two pieces) that allows for adjusting the blade angle to accommodate paddling technique. However, if you're relatively new to the paddling arena, you can just put it together and hit the water. 
If you get your line caught on a branch, the integrated hook retrieval system will allow you to extend your reach while the measuring tape on the shaft of the paddle will allow you to quickly access which fish to keep and which to throw back.
Werner Camano Hooked FG
Specs
Blade Material

:

Fiberglass

Shaft Material

:

Carbon Blend

Shaft Type

:

2-Piece
Features
Super Lightweight
Utilizes Leverlock System Which Allows For 20cm Of Adjustment To Fit A Variety Of Paddling Styles and Kayak Sizes
Made In The USA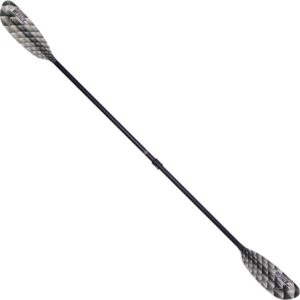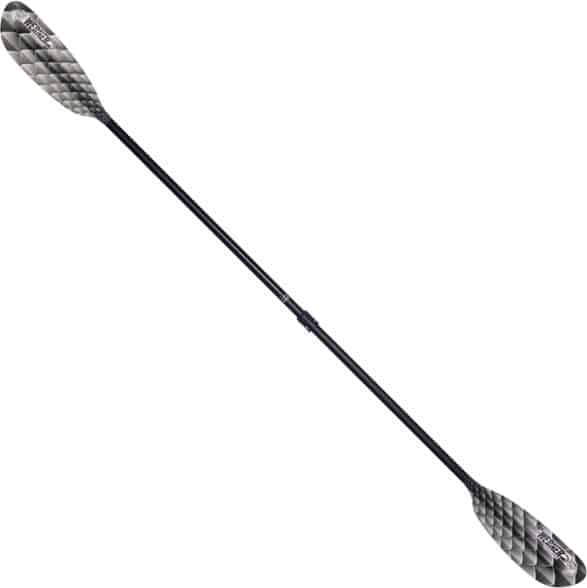 BEST FOR: ADVANCED PADDLERS
What began in the 1940s has grown to become one of the most respected names in paddle design and production. This heritage brand has continued that tradition with the Werner Camano Hooked FG paddle. 
The midsize fiberglass blades are designed to cater to a wide range of paddlers while the carbon fiber shaft provides a lightweight compliment to this two-piece paddle. This low-angle paddle is ideal for a relaxed and powerful stroke. 
The locking system allows for easy opening of the lever to adjust and easily closes to lock in the desired position. The 20 centimeters of adjustment allows for customizing the length to accommodate varying seating positions within a set kayak or use with kayaks of varying widths.
Bending Branches Angler Ace Snap
Specs
Blade Material

:

Reinforced Nylon

Shaft Material

:

Carbon

Shaft Type

:

2-Piece
Features
Built-In Tape Measure To Size Up Your Catch
Hook-Retrieval Notch On One Blade In Case Your Line Gets Caught In A Tree
Lightweight For All Day Comfort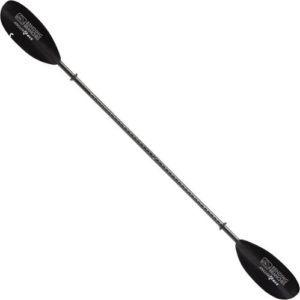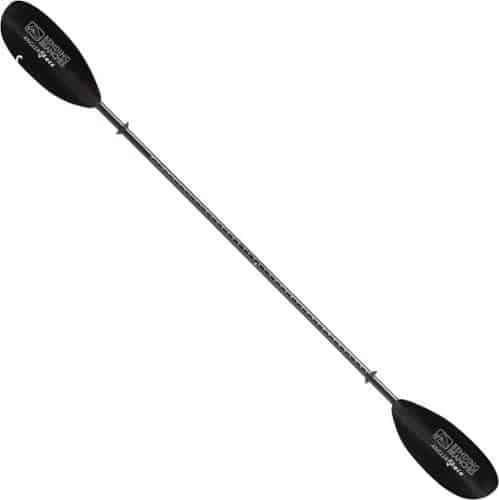 BEST FOR: EXCEPTIONAL VALUE IN CARBON FISHING PADDLE
This is the Cadillac of paddles from Bending Branches in this guide. The Angler Ace  features a 100% carbon fiber shaft and carbon reinforced nylon blades for a lightweight and responsive paddle.
This paddle is available in an array of lengths so the paddler can find the perfect size before ever hitting the water. With every pun intended, this can be your ace on the water and is suited for a day of just cruising or reaching that secret fishing hole.  And like most Bending Branches paddles, this premium product is no exception and includes a hook retrieval notch and a built in tape measure on the shaft, making it a premium paddle for anglers.
Bending Branches Bounce X-Grip
Specs
Blade Material

:

Polypropylene

Shaft Material

:

Aluminum

Shaft Type

:

2-Piece
Features
Extremely Durable
Heavy-Duty Rubber Drip Rings Prevents Water From Splashing Into Your Lap
Feathering Is Adjustable 0o or 60o For Extreme Adjustability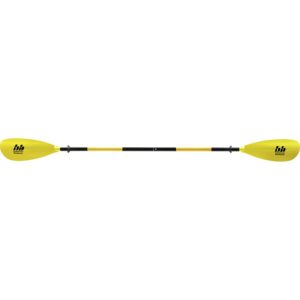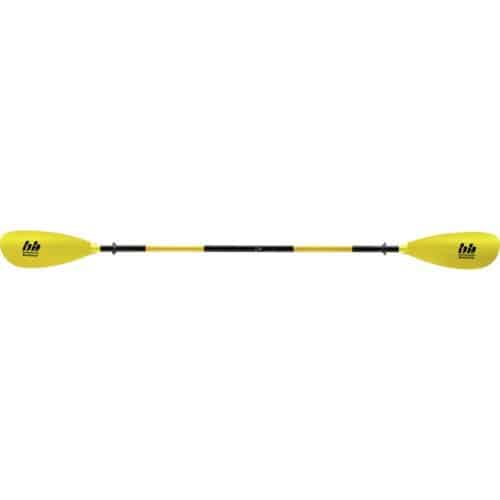 BEST FOR: BUDGET CONSCIOUS ANGLERS
The Bounce X-Grip paddle is a great entry level paddle for the aspiring angler. Don't let the budget price point deter you from considering this great value paddle. The rigid aluminum shaft will provide a durable and rugged paddle for years of use and abuse. 
The plastic blades feature a low-angle design but more importantly provide a durable tool for pushing off docks, rocks, or river bottoms. The heavy duty rubber drip rings deflect the water away from your lap with each stroke. 
This two-piece paddle is adjustable to find the perfect blade for your style. And while the Bounce X-Grip doesn't have any fishing specific features, it's still a great paddle for getting on the water. Let your fishing skills say the rest.
Bending Branches Angler Scout
Specs
Blade Material

:

Reinforced Fiberglass

Shaft Material

:

Aluminum

Shaft Type

:

2-Piece
Features
Built In Tape Measure On The Shaft Allows You To Size Up Your Catch
Hook Retrieval Notch So You Never Lose Another Lure
Adjustable Feathering Angles Of 0o And 60o Offers Superior Paddle Stroke Adjustability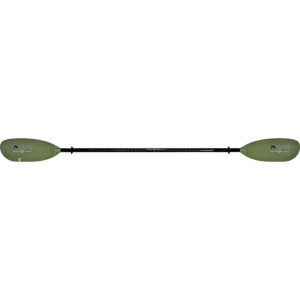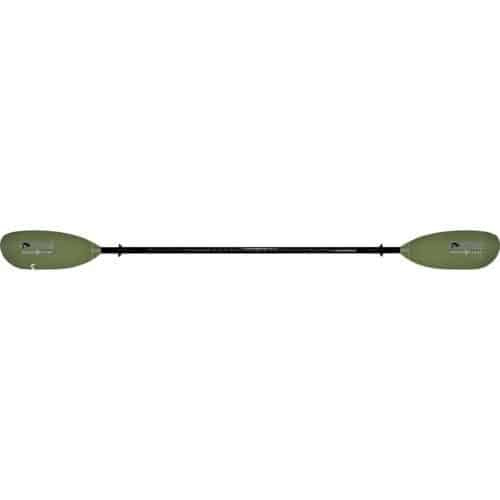 BEST FOR: ENTRY LEVEL KAYAK FISHING
Bending Branches offers something for every budget and the Angler Scout is a great entry level kayaking fishing paddle. The durable aluminum shaft will provide years of reliable service while the reinforced fiberglass blades provide an ideal blend of durability and lightweight performance on the water. 
The three hole snap-button ferrule (the joint that connects the two parts of the paddle) allows for adjustable feathering angles of 0o and 60o. This two-piece paddle easily separates for efficient storage and travel. Like other models of the Bending Branches paddles in this guide, the Angler Scout also features an integrated measuring tape in the shaft and a hook retrieval notch in the blade, making it an ideal paddle for first-time kayak anglers.
Perception Kayaks Pescador
Specs
Blade Material

:

Plastic

Shaft Material

:

Aluminum

Shaft Type

:

2-Piece
Features
Measuring Tape On The Shaft To Size Up Your Catch
Adjustable Length From 230-240cm Allows For Considerable Adjustability
Line Hook On Blade For Dealing With Snagged Lines

BEST FOR: FLATWATER FISHING
The Perception Pescador is made by the same company that produces a line of fishing kayaks by the same name. The durable aluminum paddle shaft will insure years of use while the plastic blades will hold up to whatever environment you subject them to on your angling adventures. 
This heavy duty paddle is ideal for propelling those heavier and bulkier kayaks. The shaft on this two-piece paddle is adjustable from 230-240 centimeters thanks to the push button ferrule (the joint that connects the two parts of the paddle). The dihedral blade (two planes) promote a smooth and stable ride on a variety of surfaces and conditions. A line hook in the blade can assist in retrieving that snagged line so you'll never lose your prized lure.
THINGS TO CONSIDER BEFORE BUYING A FISHING KAYAK PADDLE
COST
If you're reading this, it's likely that you've already purchased a fishing kayak or have plans to do so. In addition to a kayak, a paddle will be one of the next purchases that follows. Price can play a big role in choosing a kayak paddle. Brand, materials, and features can also factor into the cost of the paddle.
PADDLE LENGTH
Choosing the right sized paddle can be one of the easiest decisions to make. The height of the paddler and the width of the boat are two factors that determine the length of the paddle. Taller paddlers will need longer paddles. Wider kayaks, like those typically used for fishing, will also often require longer paddles. As variations can occur between manufacturers, it's best to refer to each brand's specific sizing to determine the appropriate size for you.
PADDLE MATERIALS
Just like with kayaks, paddles come in an array of materials. Aluminum and plastic (polypropylene) are typically the heaviest and cheapest options. On the flip side, carbon fiber is the strongest, lightest, and most expensive material used in paddles. Other options include fiberglass and composite (blend of multiple materials). Paddles can be comprised of multiple materials. The blades can be made of one material while the shaft is made from a different material.
FEATURES EXPLAINED
BLADE
Kayak paddles contain two blades. The blades provide the surface area on the paddle that allow the paddler to propel themselves through the water.
SHAFT
The shaft is the handle of the paddle and connects the two blades.
FERRULE
A ring or band (often metal) strengthening or forming a joint. In the case of multiple piece paddles, the ferrule is the joint joining the two pieces.
POLYPROPYLENE
Polypropylene is a type of plastic and is harder and more heat resistant than other types.
CARBON FIBER
Carbon fiber is the strongest and lightest paddle material on the market. It also garners the highest price tag.
FEATHERING
Feathering refers to the angle that the blades are offset from one another. Most kayak paddle shafts allow you to rotate them to feather the blades (so they're not on the same plane). Matched blades are all within the same plane. Depending on the paddle, feathering can be adjusted in set increments or in some cases, feathering can be fine tuned.
DIHEDRAL BLADE
Dihedral blades are easily identifiable by the ribbed separation down the center of the blade. This perpetuates a natural flow of water over both halves of the blade.
ASYMMETRICAL BLADE
As opposed to symmetrical blades, asymmetrical blades are shaped differently in relation to the shaft. When holding the paddle and looking at the blade, the top side is typically longer and tapers downward to the bottom. This design provides a much more efficient paddling style.
READ MORE
For more of our top kayak fishing gear recommendations, check out these popular buyer's guides: