Updated on August 28, 2020
These days even sailboats need more power than you thought was needed for a wind-powered vessel. For day sailers, things like your GPS unit, sound system, bilge pumps, and more will all need some kind of power, and cruising vessels need even more consistent power, particularly with things like electric winches. Therefore, having a battery charger that you can rely on is incredibly important for a safe and consistent time out on the water. In terms of choosing the right marine battery charger for you, you'll have to consider the size of your boat, how you enjoy using your boat (do you prefer to go on day-long excursions or multi-day cruises?), and what kind of battery charger features are most important for you. We've put together this guide to help you get to know marine battery charger features as well as showcase some of the best marine battery chargers on the market. Take a look, and see you out there, sailor!
For more of our top sailing gear recommendations, check out the Best Wind Generators for Sailboats.
Quick Answer

-

The Best Marine Battery Chargers
PROMARINER ProNautic 1260P
Comparison Table

-

Best Marine Battery Charger

For the best experience turn your device horizontally
Reviews

-

The Best Chargers for Marine Batteries
PROMARINER ProSport 12
Specs
Compatibility

:

Flooded, Gel, AGM, and Performance AGM

Weight

:

4 Pounds

Warranty

:

2 Years

Waterproof?

:

Yes

Voltage

:

12/24

Amperage

:

12 Amps

Status Indicators

:

LED Display of system check, battery bank status
Features
Distributed On-Demand Technology Ensures That 100% Of The Charging Amps Are Fully Utilized Across Each Battery Onboard
Includes "System OK" and "Battery Bank Trouble" Status Indicators On Exterior Of Charger
Storage Recondition Mode Automatically Reconditions All Batteries On Board Once Per Month For Maximum Battery Life
BEST FOR: WATERPROOF PERFORMANCE
Though you may think that waterproofing a battery charger for marine use would be a given, it's actually not. The ProMariner ProSport 12 Heavy-Duty marine battery charger is one of the few on the market that promises full waterproofing along with lightweight, advanced charging technology. 
The software built into this charger monitors and maintains the charge only as needed, thereby reducing its AC power consumption. It also features an LED indicator display that shows you easily whether the system is running well or if the battery bank is in trouble. This eliminates the time it takes to diagnose and troubleshoot a problem and shows you if there's an issue with a specific battery bank. 
Finally, this charger has a robust energy saving mode that automatically monitors and maintains battery charge only when needed. This reduces AC power consumption, lowers your operating costs, and maximizes reserve power performance.
GUEST ChargePro
Specs
Compatibility

:

Flooded, AGM lead acid batteries

Weight

:

N/A

Warranty

:

2 Years

Waterproof?

:

Yes

Voltage

:

12 Volts DC

Amperage

:

15 Amps

Status Indicators

:

Graphics, lights battery status indicators
Features
New Design Is 40% Lighter Than Previous Models While Increasing Durability
Features A Totally Waterproof Design With Heavy Duty End Caps For 100 Percent Waterproofing Performance
Each Bank Has Its Own Battery Charging, Sensing, And Control With Easy-To-Read Graphics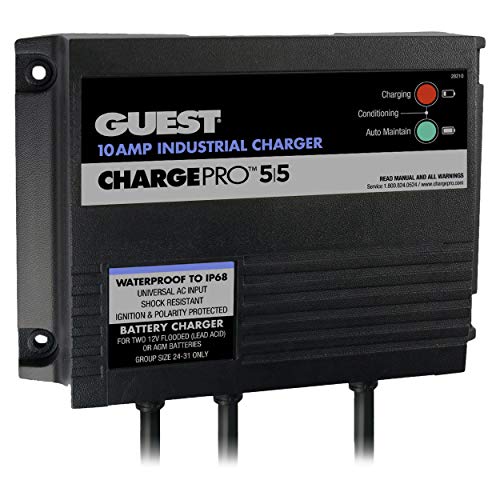 BEST FOR: HIGH TECH CHARGING
The latest technology has made this charging unit more efficient than almost any other model on the market. The Guest ChargePro onboard battery charger has a microprocessor and software that is designed to control for precision, and fully automatic five-stage performance charging. 
It also has a dedicated battery charger, sensor, and control mechanism for each individual battery bank so that it can compensate for differences in power and charging needs. Additionally, an expanded LED status monitor displays and detects issues with wiring in addition to battery fault detection. 
Finally, the 100 percent waterproof and shock resistant design of this battery charger allows you to use it in both fresh and saltwater scenarios without endangering the technology or use of the charger.
Blue Sea Systems P12
Specs
Compatibility

:

Flooded, AGM, Gel, Thin Plated Pure Lead

Weight

:

N/A

Warranty

:

5 Years

Waterproof?

:

N/A

Voltage

:

12 Volts DC

Amperage

:

25 Amps

Status Indicators

:

Digital diagnostics screens
Features
Finned Aluminum Case Protects The Charger From The Elements
Customizable And Compatible With Lead Acid, Gel, AGM, And Thin Plate Pure Lead Batteries
Five User Languages Available, Including English, French, Germain, Italian, Spanish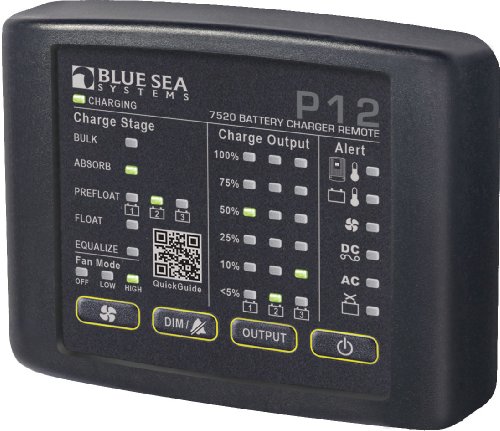 BEST FOR: INTERNATIONAL CRUISING
Headed out on a multi-day, multi-week, or even season-long cruise through the Mediterranean? If so, it'll be really convenient for your boat mechanisms to come pre-loaded with different languages in case something breaks down and you need some local maintenance. The Blue Sea System P12 battery charger Gen 2 can be programmed for English, French, German, Italian, and Spanish languages. The digital display utilizes your language of choice. 
In addition to this convenient feature, this charger also has advanced technology that ensures the adjustment of charge voltage based on battery temperature. Additionally, built into this charger is AC over- and under-voltage shutdown and automatic restart to prevent overuse and damage to the battery charger. 
Finally, this charger can charge up to three battery banks with customizable user-profiles for each one so that you can utilize the battery of your choice – lead acid, gel, AGM, or Thin Plate Pure Lead batteries.
PROMARINER ProNautic 1260P
Specs
Compatibility

:

Flooded, AGM, Gel, Lithium

Weight

:

N/A

Warranty

:

5 Years

Waterproof?

:

No

Voltage

:

Power Factor Correction software automatically adjusts to AC input

Amperage

:

60 Amps

Status Indicators

:

LED indicators
Features
Ensures Maximum Battery Life And Performance With Power Factor Correction And Conservation Energy Saver Mode
Includes Fully Automatic Temperature Compensation
Digital Displays Show Real Time Charging Voltage, Amperage, And Percentage Of Power Out
BEST FOR: AUTONOMOUS PERFORMANCE
The last thing you need to be doing while you're under way is worrying about a faulty battery charger or troubleshooting a charger that isn't providing enough power. The ProMariner ProNautic 1260P marine charger has a multitude of autonomous features that both work and diagnose issues with the device so that you're free to enjoy your time on the water. 
Power Factor Correction (automatically adjusts for AC source input) and Conservation Energy Mode will ensure maximum battery life and performance in addition to conditioning and maintaining batteries of every type, including flooded, sealed AGM, gel, and lithium. 
Additionally, this charger has automatic temperature compensation to adjust the output if the temperature of the charger gets above a certain threshold. Finally, with power-on self-start-up diagnostics with pass or fail status, as well as a discreet warning indication to alert you of faulty wiring or adverse battery conditions, you can head out of the harbor with peace of mind about the state of your battery and power mechanisms.
MASTERVOLT ChargeMaster
Specs
Compatibility

:

Flooded, AGM, Gel

Weight

:

N/A

Warranty

:

2 Years

Waterproof?

:

No

Voltage

:

90-265 Volts AC; 12 Volts DC

Amperage

:

25 Amps

Status Indicators

:

Digital display
Features
Features Fully Automatic Multi-Stage Battery Chargers With Customizable Voltage Settings
Provides Consistent Charge Even In Low Quality Dock Service Stations
Safety Features Include Over-Temperature Shutdown, Ignition Protection, Overload Protection, Surge And Short Circuit Protection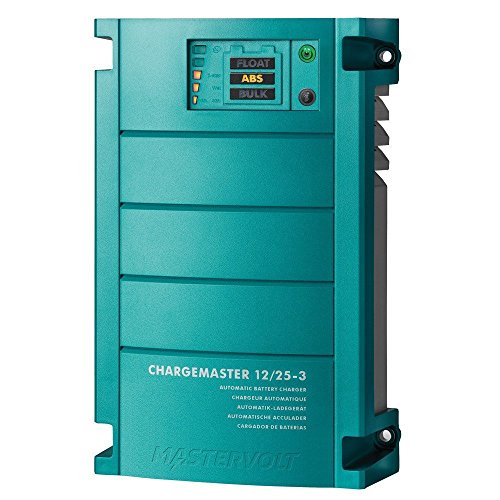 BEST FOR: MIDSIZE VESSELS
If you've got a mid-sized vessel with a fairly complicated electrical system, you're going to need a battery charger that can handle the system. Luckily, the MasterVolt ChargeMaster 12/25-3 Battery charger is up to the task. 
It features a MasterBus network that allows you to control the system via SMS technology remotely from anywhere on the boat. It also has fully automatic multi-stage chargers with customizable voltage settings as well as universal input for worldwide use. 
Plus, it comes loaded with built in safety features like over-temperature shutdown, ignition protection, overload protection, and surge and short circuit protection so that you can head out on your cruise without having to worry about the stability and safety of your onboard electrical system. Finally, this device provides consistent charge even in low quality dock service situations.
THINGS TO CONSIDER WHEN BUYING A MARINE BATTERY CHARGER
CHARGER SIZE
Deciding on the size of your charger is determined by the size and type of your batteries and whether your boat has a continuous or intermittent source of AC power to run the charger. Boats that spend most of their time in a slip hooked up to a shore power source will be fine with a smaller charger. Make sure to check with your boat manufacturer or a trusted source to help you determine the size you need.
TIME IT TAKES TO CHARGE
How long it takes for your marine battery charger to charge depends on a lot of different factors. It depends on the size of your charger, the power draw of your boat, and if your charger can charge up while underway, just to name a few.
Interestingly, using a massive charger can be counterproductive as it heats up batteries beyond capacity and causes the production of gas, which can shorten overall battery life. For more information about choosing the right marine battery charger for your vessel, check out this article from West Marine.
MAINTAINING BATTERY LONGEVITY
To maintain battery life over an extended period of time, you should remember a few key tips. First, shallow discharges lead to longer battery life. Second, 80 percent discharge is the maximum safe discharge, and finally, always remember to charge batteries after each period of use. For more information about maintaining the health of your batteries, check out this article from Boating Magazine about choosing an appropriate marine battery charger for your vessel.
PITFALLS OF BATTERY CHARGING
Though it may seem like a simple mechanism, there are certainly a few habits that can seriously drain the health of your batteries. Undercharging, overcharging, and excessive deep discharging will all damage your batteries over time. If you have Gel or AGM batteries, you definitely do not want to overcharge them, and if you have a deep cycle battery, you'll only want to discharge them to between 50-85 percent and then level them off.
FEATURES EXPLAINED
VOLTAGE
An electromotive force that makes electric charges move.
AMPERAGE
A measurement of the strength of an electric current. The unit of measurement is "amperes".
AC POWER
"AC" stands for alternating current, which means the electrical current frequently reverses direction. AC electricity is measured according to its cycles.
DC POWER
"DC" stands for direct current, which is the unidirectional flow of an electric charge.
BULK PHASE
This is where the heavy lifting in the charging effort takes place. The batteries are charged at a rate up to 20 to 40 percent of the battery's capacity.
FLOAT PHASE
This refers to the maintenance phase of a charging cycle. This is done to maintain the battery without losing electrolyte from the cells.
EQUALIZATION
This stage prevents flooded lead acid batteries from aging prematurely and is an optional, frequently omitted phase.
READ MORE
For more of our top sailing gear recommendations, check out these popular buyer's guides: