Updated on February 15, 2022
Mountaineering is no joke: The freeze-dried food, the impromptu porta-potties and above all, the gnarly weather. There are so many different physical and emotional stresses you'll face along the course of any mountaineering adventure, but to ensure your success, there are a few things you need to plan for. The first and most important thing to consider is shelter.
Finding the best mountaineering tent for you can be a long and arduous task. What season is it best in? How many people does it fit? How hard is it to assemble? These are only a few of the questions you'll ask along the way. Fortunately, our team of mountaineers at The Adventure Junkies have picked out the ten best mountaineering tents for you! So read through the list below to find out which one will accompany you on your next expedition.
For more of our top mountaineering gear recommendations, check out the Best Mountaineering Backpacks.
Quick Answer

-

The Best Mountaineering Tents
Mountain Hardwear Trango 2

Black Diamond Mega Light Shelter

The North Face Mountain 25

Big Agnes Copper Spur HV2 Expedition
Comparison Table

-

Best Mountaineering Tents

For the best experience turn your device horizontally
Reviews

-

The Best Tents for Mountaineering
Mountain Hardwear Trango 2
Specs
Capacity

:

2-Person

Footprint Included

:

No

Weight

:

9lbs. 10.2oz.

Number of Poles

:

5
Features
Internal Shelves For Storing Gear Inside The Tent
Inner Light Pocket Turns Your Headlamp Into A Diffused Light Source
Internal Guyout Acts As An Added Support System To Increase The Tent's Strength In High Winds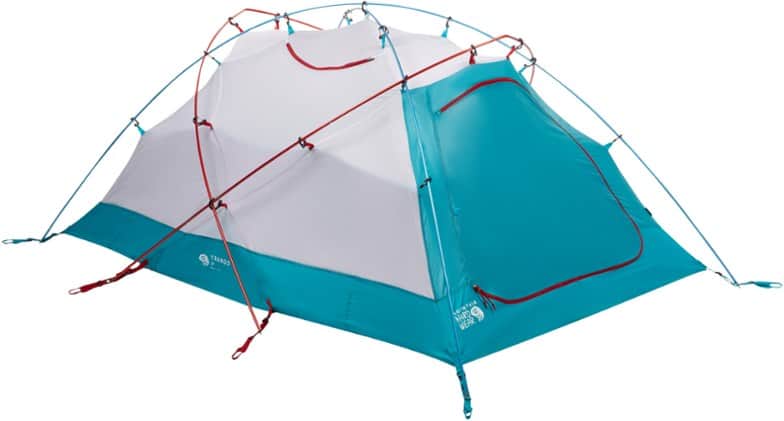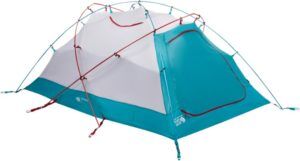 BEST FOR: EXTENDED MOUNTAINEERING TRIPS
Outfitted with internal storage areas and a well-designed support system, this heavy-duty tent can withstand the blows of severe weather for extended periods of time. Though it may take a bit longer to set up, once arranged, this tent's two mesh doors, a rear-overflow storage area, inner shelves, and an entry vestibule all work together to give you more than enough room to store any and all of your mountaineering gear.
An abundant guyout system and five sturdy poles strongly anchor this tent to the ground. If you choose to, you can even buy a separately sold footprint for added comfort and protection from the wet or rocky ground. Overall, we recommend this 2-person beast to seasoned mountaineers willing to haul an excess amount of gear for an added level of luxury on the mountain.
Black Diamond Eldorado
Specs
Capacity

:

2-Person

Footprint Included

:

No

Weight

:

5lbs. 1oz.

Number of Poles

:

2
Features
Internal, Aluminium Poles For Lightweight Strength
Four Internal Mesh Pockets For Storage
Two Zippered Vents For Ventilation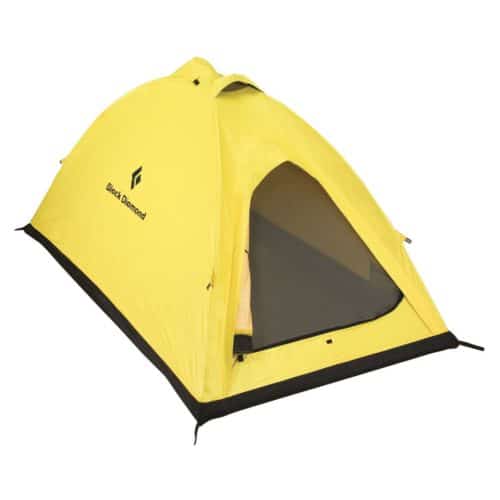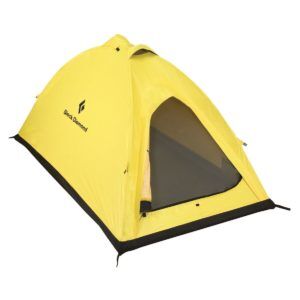 BEST FOR: ALPINE CLIMBERS
Minimalist climbers hoping for an extremely lightweight tent that can fit on any ledge or slit of land out there may want to consider Black Diamond's Eldorado Tent. This tent is freestanding, meaning it doesn't need to be staked into the ground, and requires far less assembly than other tents. Two zippered vents at its peak aerate air throughout the tent while four internal mesh pockets store your overnight essentials.
Feel free to buy the optional footprint as well, but if you're getting into serious mountaineering, you may not need it. We recommend this tent to climbers with short nights and long days, small loads, and much experience.
Black Diamond Mega Light Shelter
Specs
Capacity

:

4-Person

Footprint Included

:

No

Weight

:

2lbs. 13oz.

Number of Poles

:

1
Features
Ski Pole Can Double As The Center Pole So You Don't Have To Carry Extra Weight
Long Lasting Waterproof Technology
One-Year Warranty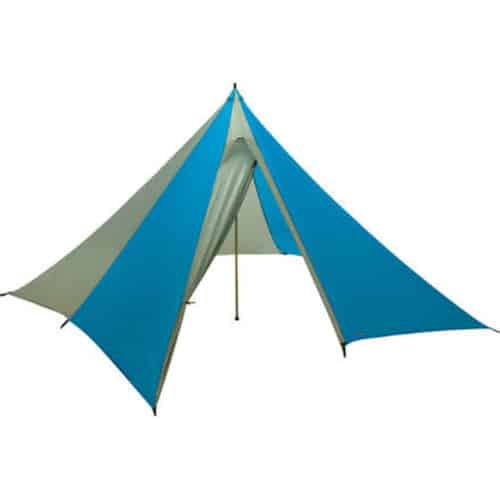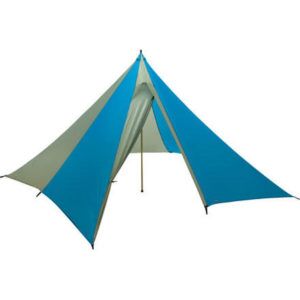 BEST FOR: EXTREME MINIMALISTS
There are few tents out there that are as lightweight and minimalistic as the Black Diamond Mega Light Shelter. Perhaps the most unique feature about this tent is that in place of its central pole, a mountaineer can actually use his or her own ski pole to support the tent. The tee-pee like structure houses four sleepers beneath it and will sufficiently protect them from any storm. It also doesn't come with a floor, which allows you to dig out space for a kitchen within the confines of this shelter.
This tent is great for imaginary back-country riders looking for a homey, fun experience in mild winter environments. Before buying, however, take note of what else may be required as seam-sealer technology is not included. Sealed seams are important to keep moisture out of the tent if you're camping in wet conditions, so it's very important that you buy and apply separately sold sealers (like the McNett Silicone sealant).
Marmot Fortress 2
Specs
Capacity

:

2-Person

Footprint Included

:

No

Weight

:

6lbs. 2.8oz.

Number of Poles

:

3
Features
Lampshade Pocket Converts Headlamp Into Tent Light
Vertical Walls For Roomier Sleeping
Top Vent For Ventilation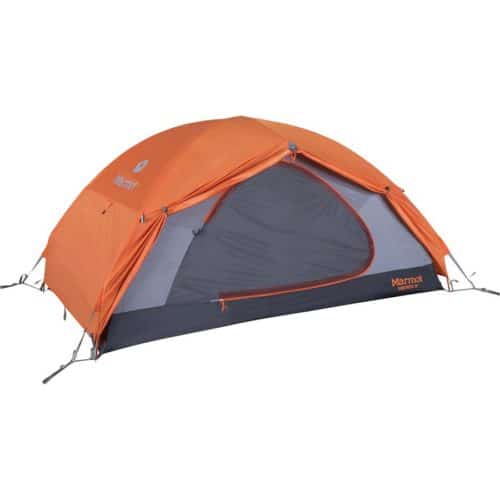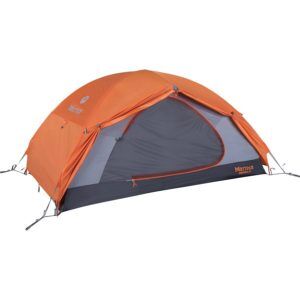 BEST FOR: WET ENVIRONMENTS
With a full canopy complete with a vent and two half-mesh zippered doors, the Marmot Fortress ventilates air and prevents condensation far better than other tents. Extra guyouts anchor you to the ground and a lampshade pocket overhead converts your headlamp into a nightlight. For easier assembly, poles come color-coded and once constructed, the Fortress's vertical walls give you a roomier feel inside. We recommend this spacious 2-person tent to hikers, climbers, and alpinists journeying into woodsy, wet environments.
Nemo Kunai
Specs
Capacity

:

2P / 3P

Doors

:

1

Floor Area

:

26.0 sq ft

Footprint Included

:

No

Weight

:

4 lbs 13 oz

Season

:

4-Season

Number of Poles

:

2
Features
Double-Walled Construction Prevents Condensation From Forming, Keeping You Warmer At Night
Stuff Sack Included For Convenient Storage
Quick And Easy Set-up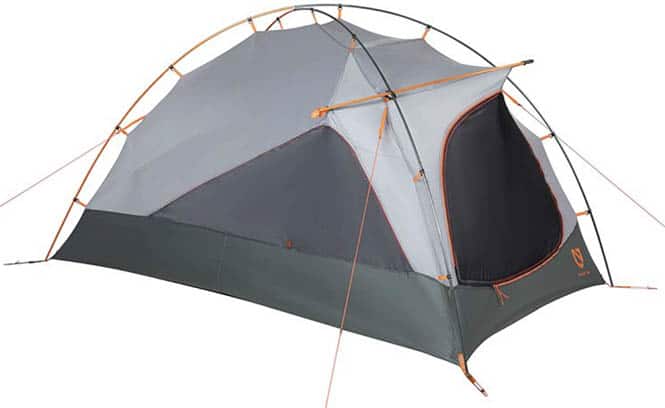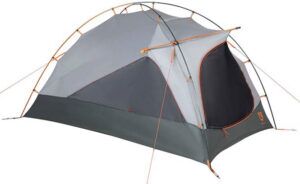 The Nemo Kunai is a 4-season tent that was designed for short and light mountaineering trips.
What we love about the Kunai is it's only 4 pounds, which is light for a 4-season winter tent. It has a double wall construction, so the inner isn't mesh, it's fully lined. So basically it's like having two tents. This design is great for insulation and strength. The Kunai can handle extreme weather from strong winds to snowstorms.
The double wall is great for staying warm and dry but we were concerned about the airflow and condensation. The large vents on the inner tent worked great at keeping the tent ventilated in cool weather. It would be way too warm for summer camping, but that's not what it's built for.
The Nemo Kunai also comes in a 3-person model.
The North Face Mountain 25
Specs
Capacity

:

2-Person

Footprint Included

:

Yes

Weight

:

8lbs. 13oz.

Number of Poles

:

2
Features
Glow-In-The-Dark, Colored Zippers For Easier Maneuverability
Aluminum Poles For More Strength And Less Weight
8 Interior Pockets For Storage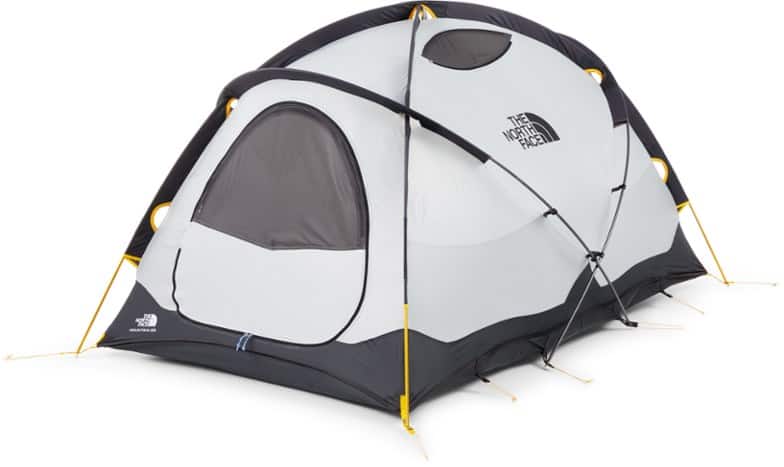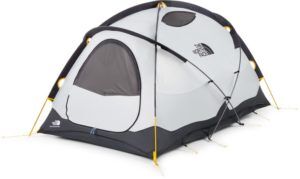 BEST FOR: RUGGED ENVIRONMENTS
The North Face Mountain 25 Tent is one of few spacious tents that can sustain frigid temperatures, tearing winds, and heavy snow. The high-low venting system sifts air evenly throughout the structure while welded reinforcements ensures cold stays out down to -60 degrees Fahrenheit.
Other features include 8 interior pockets to store any essentials overnight and two doors for easy entry and exit. We recommend this rugged tent to experienced mountaineers seeking a larger, more luxurious shelter for their alpine adventures. It can sustain just about any environment, but might take a bit more work to carry in to your destination.
Big Agnes Copper Spur HV2 Expedition
Specs
Capacity

:

2-Person

Footprint Included

:

Yes

Weight

:

4lbs. 10oz.

Number of Poles

:

2
Features
Closable Ceiling Vent Increases Airflow And Prevents Condensation From Building Up, Keeping You Warmer
10 Interior Mesh Pockets and 2 Media Pockets
Dual-Zipper Doors For Quick Entry And Exit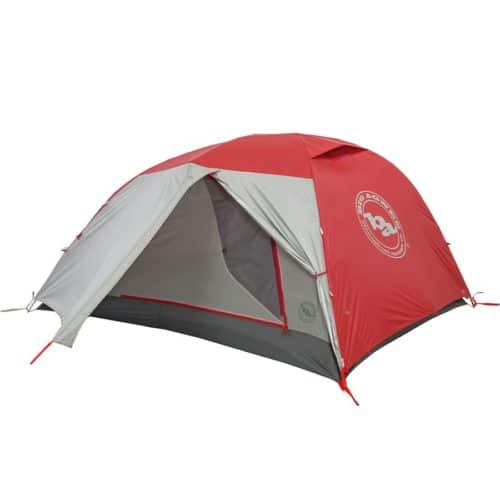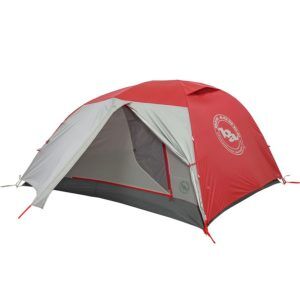 BEST FOR: MILDER ENVIRONMENTS
There are few tents with as long a list of features as the Big Agnes Copper Spur HV2 Expedition Tent. With a silicone-treated, waterproof coating and taped seams to keep out any and all rain and snow, this well-vented tent is constructed to last. Unlike other tents, the Big Agnes Expedition camp comes with 29 square feet of space inside, so if a neighbor's tent collapses, you'll have extra space to house a friend while it's being fixed up. We recommend this tent for milder environments where there is enough room underfoot to set-up a larger tent. A newer version is also available as the HV3 Tent which houses three people (or two people and a lot of gear).
REI Co-Op Base Camp 4
Specs
Capacity

:

4-Person

Footprint Included

:

No

Weight

:

16lbs. 14oz.

Number of Poles

:

5
Features
Multiple Pockets For Storage Inside
Heavy-Duty Storage Sack Included
2 Roof Vents For A Chimney-Like Ventilation Effect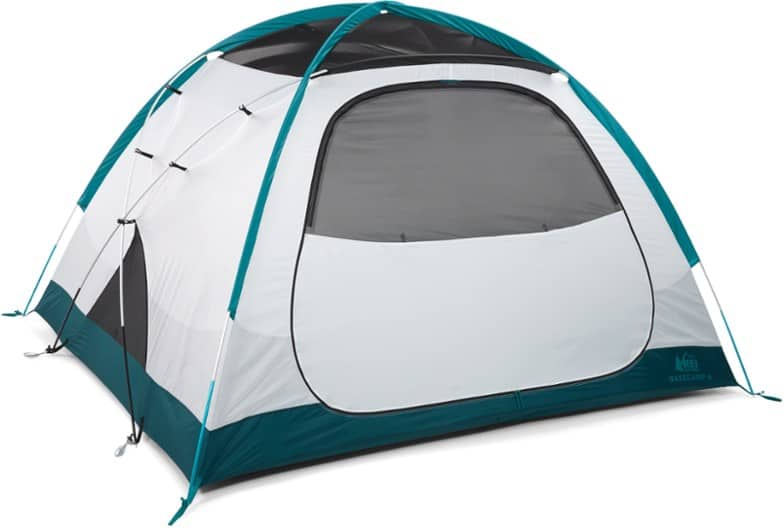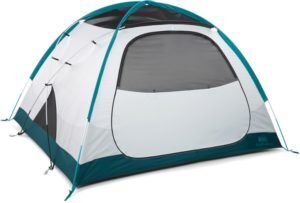 BEST FOR: LARGER GROUPS
As the only four person tent on our list, REI's Co-Op Base Camp 4 Tent is a reliable option for any larger group of mountaineers looking to settle into a mild environment. Complete with two roof vents, a large front door, and a dome-like design, the Base Camp 4 gives every sleeper immediate and easy access to the outside.
Though large, this is a relatively simple tent and we don't recommend taking it out into extreme environments such as on to the summit or a windy cornice of a mountain. This tent is best used to house climbers at a protected base camp.
THINGS TO CONSIDER WHEN BUYING A MOUNTAINEERING TENT
When you start searching for your next or first mountaineering tent, there are a few things you should take into consideration before making your decision. For starters, take a look through what REI and Gear Junkie have to say on how to choose a backpacking tent and an explanation of how to pick the best mountaineering tent for you. Then, feel free to read through some of the key points to consider below.
CAPACITY
First off, check the capacity. Is it a 2-person, 3-person, 4-person or more tent? Most high-level mountaineering tents stick to 2-person models because more serious mountaineers wouldn't want to have a large tent on the side of a mountain. It's just too risky. So, whatever your journey, match it up to the tent size you desire. There are larger, sturdy tents for big groups, but the reliable ones will cost you a pretty penny.
WEIGHT
The weight will quite literally weigh pretty heavily on your decision making. If you're expecting a long and arduous journey, you'll probably want a lightweight tent to cut down on your load. If it's a shorter expedition, you may feel comfortable carrying in a heavier tent. In any case, it's your decision, but even a few pounds will add up over the days.
CONSTRUCTION
How many poles does it need? Is it a freestanding tent without stakes or not? The construction of the tent is a vital point to consider when buying your tent. The number of poles speaks to how bulky the tent will feel in your backpack and the freestanding capacity of it lets you know whether you'll need to pack along extra stakes or not. Less poles is easier to set-up and carry, but sometimes not as sturdy in the long run.
COST
Tents vary pretty widely in cost with some around the low hundreds and other's teetering up to and over a thousand. As a general rule of thumb, the more expensive the tent, the more durable its material and the more likely it is to withstand more inclement weather.
FOOTPRINT
Does your tent come with a footprint or not? This isn't that important, but if you'd prefer a tent with a footprint, keep in mind that most mountaineering tents don't come equipped with one so you'll have to buy it separately. The general purpose of a footprint is to add an extra level of padding and insulation beneath your tent as well as to protect the bottom of your tent from the rough ground.
CANOPY
Make sure to double check whether or not your tent comes with a canopy. You'll most likely want one in wet, snowy environments to prevent snow and rain from accumulating overhead.
FEATURES EXPLAINED
FOOTPRINT
A mat of cloth placed beneath your tent for padding and insulation.
FREESTANDING
A tent that does not require additional stakes or guyouts to stand upright.
GUYOUT OR GUYLINE
A guyout or guyline is a cord or string extending from the tent down to the ground and is often used as an added anchoring point.