Updated on March 2, 2022
Mountaineering is no joke. The strong wind, freezing temperatures, icy cliffs and hard nights will pummel you. After only a few hours, your body is going to hurt. Your head is going to pound. And your legs are going to cry out for rest. So you set up camp. You've lugged your tent up the mountain and now you need as much warmth as possible. Fortunately, you brought along the best mountaineering sleeping bag you could find, so you can rest assured that tomorrow will be a better day.
Finding the right sleeping bag for your alpine adventures is no easy task. Normally it might take you a few trial and error expeditions into the backcountry to find out which bag suits you best, but we here at The Adventure Junkies are here to expedite that process. Below, we've picked out ten of our favorite mountaineering sleeping bags which we think you'll love too. Read through the list to determine which one best suits your next mountaineering adventure!
For more of our top mountaineering gear recommendations, check out the Best Mountaineering Backpacks.
Quick Answer

-

The Best Mountaineering Sleeping Bags
Mountain Hardwear Phantom Gore-Tex
Comparison Table

-

Best Mountaineering Sleeping Bag

For the best experience turn your device horizontally
Reviews

-

The Best Sleeping Bags for Mountaineering
Marmot Col
Specs
Gender

:

Unisex

Shape

:

Mummy

Temp Rating

:

-29 Degrees F (Lower Limit)

Insulation Type

:

Down
Features
Hidden Pocket For Nighttime Essentials
Drawcords Allow For Quick Adjustments
Waterproof Breathable Fabric
BEST FOR: LOW-ALTITUDE BASE CAMPS
Made with a thick, dry layer of premium goose down, the Marmot Col Sleeping Bag keeps you warm down to -20 Degrees Fahrenheit. Its unique waterproof, breathable fabric can resist even the harshest of weather while the specially designed "nautilus" hood, as it's called, offers a complete and superior warmth for your head. And in the dead of night, when you're all cozied up, use hidden drawcords around the hood to adjust your comfort in the dark.
All-in-all, this is a strong, warm sleeping bag that will fare well on most any backcountry expeditions. If you plan on battling seriously frigid temperatures on a mountain summit, you may want to consider a thicker sleeping bag. But if you're journeying anywhere else in less-than-frigid conditions, this all-encompassing sleeping bag will do just the trick.
Therm-a-Rest Oberon
Specs
Gender

:

Unisex

Shape

:

Mummy

Temp Rating

:

0 Degrees F (Lower Limit)

Insulation Type

:

Down
Features
Zoned Insulation Throughout The Bag Adds Warmth Where You Need It Most
ThermaCapture Material Reflects Back Your Own Heat For Extra Comfort And Warmth
Internal Pocket And Loops Compatible With A Quilt Or Blanket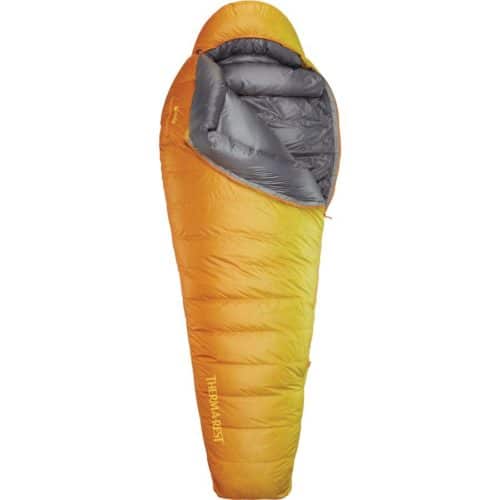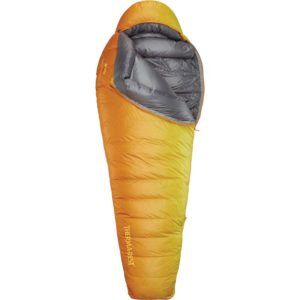 BEST FOR: EXTENDED MOUNTAINEERING
Most mountaineering sleeping bags can sustain temperatures down to 0-degrees, which includes the Therm-A-Rest, but few have the capacity to mount a blanket or quilt to add even more warmth. The Therm-A-Rest sleeping bag, however, comes with an internal pocket and loop design to mount any separate blanket. Furthermore, a well-designed foot space naturally encases your feet so your toes stay toasty and an included stuff sack means you can easily pack this bag away for any alpine adventure.
We recommend this sleeping bag to those considering mild climates and extended stays. The blanket connector particularly grants you a bit more comfort at base camp than most other bags will provide.
Kelty Cosmic Down 0
Specs
Gender

:

Men's

Insulation

:

Down

Weight

:

4.5 lbs

Shape

:

Mummy

Temp Rating

:

2 Degrees F

Insulation Type

:

Down
Features
Soft Yet Durable Nylon Shell
Dual-Sliding Locking Zipper
Hand Pocket For Storing Overnight Essentials


If you're on a budget and looking for a highly affordable, cold-bearing sleeping bag, then definitely consider the Kelty Cosmic 0. This bag, although ringing in at a lower cost, will keep you warm down to 2 Degrees Fahrenheit and it comes equipped with all the features you need for a good night's rest. A draft collar ensures warmth around the neck while the water repellent coating easily wicks away moisture.
Pack this bag if you're thinking about a quick, cold weather expedition. You probably won't want to rely on this bag for long duration expeditions, where you may be spending a lot of time in your tent, but if a quick in-and-out journey is on the docket, then definitely consider saving yourself some money and going with the Kelty Cosmic 0.
Mountain Hardwear Phantom Gore-Tex
Specs
Gender

:

Unisex

Shape

:

Mummy

Temp Rating

:

0 Degrees F (Lower Limit)

Insulation Type

:

Down
Features
Glow-In-The-Dark Zipper Pulls
Draft Collar For Maximum Warmth Around The Head And Shoulders
Expedition Specific Design

BEST FOR: ALPINE BACKPACKING TRIPS
One of the most versatile sleeping bags on the market, Mountain Hardwear's Phantom Gore-Tex Sleeping Bag is capable of keeping you warm on a backpacking, skiing, climbing or mountaineering trip. This mummy-shaped bag is made with Gore-Tex protection to block out the wind and rain while its draft collar keeps your head and shoulders warm and restricts the elements from ruining your night.
Warm and easy to use in the dark with glow-in-the-dark zipper pulls, this well-designed sleeping bag will last you years of expeditioning. And with just enough firepower to keep you warm in cold environments, it can be used almost anywhere you decide to adventure.
NEMO Sonic 0
Specs
Gender

:

Unisex

Shape

:

Mummy

Temp Rating

:

-1 Degrees F (Lower Limit)

Insulation Type

:

Down
Features
Offset Zipper For Optimal Seal To Keep Heat In And Cold Out
Drawstring Adjustable Hood To Keep Your Head And Neck Warm
Stretch At Knees For Sideways Sleeping


BEST FOR: UNPREDICTABLE ENVIRONMENTS
If you're anticipating severe and rapidly changing weather, you may want to consider bringing along the NEMO Sonic 0 bag on your next adventure. This unique bag is made with patented Thermo Gills that allow you to regulate temperature on the fly without letting cold air in. Once inside of it, the contoured and drawstring-adjustable hood provides maximum warmth while the unique material stretches at the knees for added mobility.
This is a sleeping bag that values comfort and customization. So if you're looking for a comfortable and reliable bag that can face rain, snow, and wind at a moment's notice, we suggest looking into the NEMO Sonic 0 Sleeping bag.
Marmot Lithium
Specs
Gender

:

Unisex

Shape

:

Mummy

Temp Rating

:

-1 Degrees F (Lower Limit)

Insulation Type

:

Down
Features
Offset Zipper For Best Seal To Keep Heat In And Cold Out
Evenly Distributed Insulation To Keep Your Whole Body Warm
Stuff Sack Included For Easy Packing


BEST FOR: LIGHTWEIGHT BACKPACKERS
Weighing less than 3 pounds, the Marmot Lithium 0 Sleeping Bag is one of the lightest and warmest bags on the market. Stuffed full of 800-fill-down, this bag will keep you warm down to 0 Degree weather while the unique, double-zippered design allows for quick venting if you overheat.
Whereas some down bags get wet and lose their efficiency, the Lithium is coupled with Marmot's Down Defender water repellent to ensure that it stays warm and efficient in any weather, even if it gets a bit wet. We highly recommend this bag to any lightweight backpackers seeking a long-lasting sleeping bag for their adventures.
Marmot Ouray 0
Specs
Gender

:

Women

Shape

:

Mummy

Temp Rating

:

-12.3 Degrees F (Lower Limit)

Insulation Type

:

Down
Features
Women-Specific Design
Drawcord Adjustable Hood And Collar To Keep Your Head And Neck Warm
Stuff Sack Included For Easy Packing


BEST FOR: ALL FEMALE MOUNTAINEERS
Designed to withstand temperatures down to -12 Degrees Fahrenheit and made especially for women, the Marmot Ouray 0 Sleeping bag comes with all the features and more that you need out of a good mountaineering sleeping bag. With an all-encasing footbag for extra toasty feet and a second, fold-down zipper for impromptu ventilation if needed, this bag will keep you at the perfect temperature in nearly any environment.
Unless you're looking for an extreme high-altitude or freezing weather bag, the Marmot Ouray 0 sleeping bag will work like a charm for all of your wildest mountaineering adventures.
Marmot CWM
Specs
Gender

:

Unisex

Shape

:

Mummy

Temp Rating

:

-40 Degrees F (Lower Limit)

Insulation Type

:

Down
Features
Waterproof, Breathable Shell
Unique Construction Eliminates Cold Spots
Several Drawcords For Easy Adjustment In Darkness


BEST FOR: EXTREME MOUNTAINEERING
Exposed cliff faces, frigid mountain summits, and sheer arctic conditions are no match for this extreme cold weather beast from Marmot. As the coldest bag on our list, the Marmot CWM sleeping bag is able to withstand temperatures down to -40 degrees F.
Improvise a bivouac on the summit or tredge into the tundra with this bag and you'll have all the warmth you need. Several drawstrings allow for quick and easy adjustments in the dark while its unique design eliminates cold spots by evenly dispersing the down beneath you.
We highly recommend the CWM to serious mountaineers looking for a bag that can sustain the most inclement of weather.
Sierra Designs Nitro
Specs
Gender

:

Unisex

Shape

:

Mummy

Temp Rating

:

2 Degrees F (Lower Limit)

Insulation Type

:

Down
Features
Weighs Less Than 3 Pounds
Cinch Cord Adjustable Hood To Keep Your Head And Neck Warm
Anti-Snag Zippers For Easy In And Out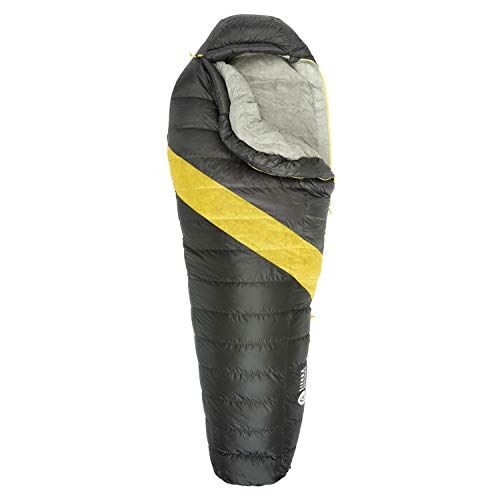 BEST FOR: MINIMALISTS AND THRU-HIKERS
If you're looking for the lightest sleeping bag out there then you may want to consider the Sierra Designs Nitro sleeping bag. Clocking in at just 2 pounds and 8 ounces, this durable bag is good for warmth down to 2 Degrees Fahrenheit. It even comes equipped with a self-sealing footvent to aerate your lower half if you're overheating.
We highly recommend this bag to minimalists camping out in slightly warmer climates. This sleeping bag is simple, comfortable, and efficient, and makes for a good thru-hike trail bag that you'll use for weeks on end.
THINGS TO CONSIDER WHEN BUYING A MOUNTAINEERING SLEEPING BAG
Unlike a normal, everyday camping bag, when buying a mountaineering sleeping bag, you're going to want to keep you eyes on a few key features. Take a look through what REI has to say about choosing a sleeping bag and what Gearx advises about how to buy a mountaineering sleeping bag. After that, cruise through the most important considerations below before making your choice from the list above.
TEMPERATURE
Before you do anything, consider the typical nighttime temperatures of the place you'll be camping and your intended environment. Where are you going? How cold will it be? Do you intend on bringing the bag out in extreme conditions? Whatever your answer, when choosing a sleeping bag for your next mountaineering trip, make sure that it matches the environment you're venturing into. Check records to see the coldest temperature during the dates of your intended adventure, and then match the bag to that. The last thing you want is a freezing night on the side of the mountain because you brought an insufficient bag!
INSULATION / DOWN
When buying your sleeping bag, do as much research as you can on the type and quality of down insulation. Most bags range from 600- to 800-fill in their down inner quantities, with the higher number being warmer. Check before you buy. Furthermore, if you can, look into the type and percentage of down the bag has as well. Some bags have 95% down, whereas others may not have as much. A few bags may even use synthetic down which won't keep you as warm in cold weather.
COST
Cost is a big one with sleeping bags. As you'll see, the lower-end models are dramatically more affordable than the more serious of bags. So before you make your choice, make sure you know that a cheaper sleeping bag will not be as reliable and warm as a more expensive sleeping bag. On a less expensive bag, the zipper may tend to break or snag and the insulation might shift beneath your body, creating cold spots. Of course, this is not always the case, but when it comes to a life and death situation in the cold, we recommend spending a few extra bucks for a reliable sleeping bag.
FEATURES EXPLAINED
BAFFLE
A baffle is a vertical wall that separates one layer of down from another. These walls are used to enhance insulation by preventing any shifting of down beneath you. More expensive bags often have more baffles.
MUMMY
A sleeping bag design that encapsulates the sleeper almost completely, like a mummy, leaving only the eyes exposed.
FOOTBOX
The area of a sleeping bag that surrounds your feet.