Updated on October 29, 2020
When you're out exploring in the wilderness, you want a watch that does much more than simply tell time. A good mountaineering watch offers plenty of features to help keep you safe when you're adventuring at altitude in the backcountry. You should choose a mountaineering watch with an altimeter, barometer, and a compass, but it can be difficult to sort through all the options and their different features. Here at The Adventure Junkies, we will help you choose the best mountaineering watch for you.
For more of our top mountaineering gear recommendations, check out the Best Mountaineering Boots.
Quick Answer

-

The Best Mountaineering Watches
Garmin Fenix 5X Plus Sapphire
Comparison Table

-

Best Mountaineering Watches

For the best experience turn your device horizontally
Reviews

-

The Best Watches for Mountaineering
Garmin Fenix 6 Sapphire
Specs
Display

:

1.3 in

Bluetooth

:

Yes

Navigation

:

GPS + Global Satellite Navigation/Topo Maps
Features
High Quality Construction Includes Scratch-Resistant Lens
Tracks Heart Rate & Blood Oxygen Level Through Wrist Sensor
Display Is Easy To Read In All Conditions Including Bright Sun
BEST FOR: ALL-AROUND PERFORMANCE
The Garmin Fenix 6 Sapphire can help you train for your next mountaineering adventure, and then help you navigate your way through your expedition. A wrist sensor on the watch tracks both heart rate and blood oxygen level, which you can use to help acclimate to altitude as well as to track your sleep to make sure you're recovering from exertion properly.
With the Garmin Fenix 6 Sapphire, you can navigate in challenging conditions since the GPS is supplemented by other global navigation satellite systems. The watch comes pre-loaded with topo maps, including maps of ski resorts. Whether you're navigating, monitoring your performance, or checking the time, the "always-on" display is extremely easy to read, even in bright sunlight.
Garmin Fenix 5X Plus Sapphire
Specs
Display

:

1.2 in

Bluetooth

:

Yes

Navigation

:

GPS + Global Satellite Navigation/Topo Maps
Features
Pre-loaded With Topo Maps Of The U.S.
Measures Blood Oxygen Levels Via Wrist Sensor To Help Determine Effects Of Altitude
Can Store Music To Be Played Via Bluetooth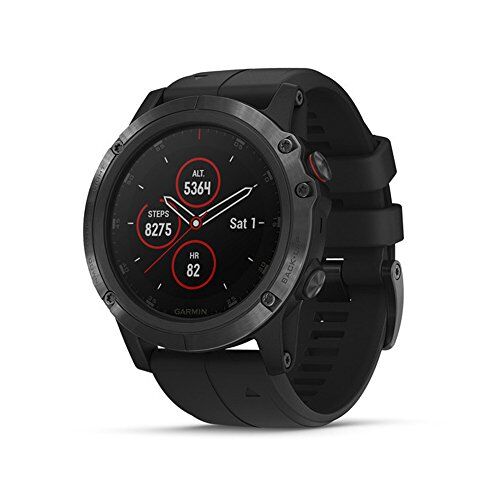 BEST FOR: EXTRA FEATURES
The Garmin Fenix 5X Plus Sapphire is packed with features, though the extra functionality comes with a hefty price tag. The Fenix 5X can navigate via GPS (or other global satellite navigation if you're out of GPS range). Plus, it comes pre-loaded with topographic maps of the U.S.! And if you're acclimating to altitude, the Pulse Ox sensor tracks your blood oxygen levels so you can always stay in the safe zone.
When you're not out in the backcountry, the Garmin Fenix 5X Sapphire can connect to WiFi for notifications from your smartphone. It can also store or stream music to play via Bluetooth headphones when you're walking around town or training for your next adventure.
Suunto 9 Baro
Specs
Display

:

1.97 in

Bluetooth

:

Yes

Navigation

:

GPS
Features
Motion Sensor Data Accurately Judges Distance Between GPS Points
Intelligent Battery Estimates Life For Activity & Prompts To Switch Mode If Running Low
Pairs With Smartphone To Receive Notifications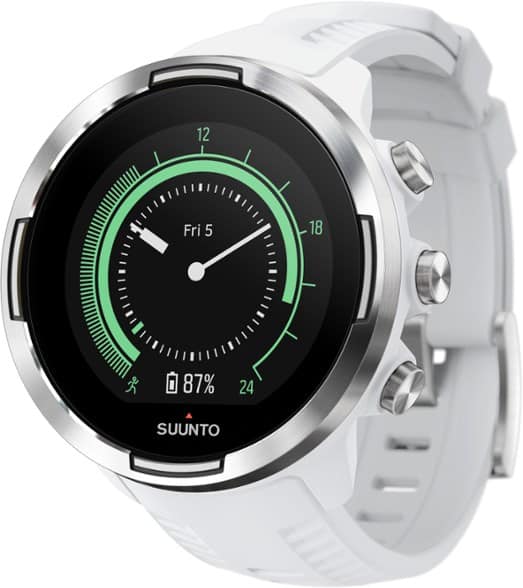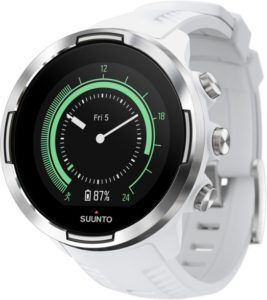 BEST FOR: VERSATILITY
If you spend your time in the mountains pursuing a variety of activities, the Suunto 9 Baro will keep up with your many extreme adventures. The intelligent battery of the watch makes sure you stay charged by letting you know if you need to switch to a power-saving mode to make it through your intended workout. Also, if you choose to take less frequent GPS readings to save battery, the Suunto 9 Baro uses its motion sensor to continue to accurately track your distance.
The watch tracks your heart rate through a wrist sensor and combines that with your distance and elevation gain/loss to provide useful training logs for each of your different activities.
Garmin Instinct
Specs
Display

:

1.2 in

Bluetooth

:

Yes

Navigation

:

GPS + Global Satellite Navigation
Features
Can Access Multiple Global Satellite Navigation Systems
GPS Feature Allows You To Follow Your Same Path Back To Starting Point
High Contrast Display Is Easy To Read Even In Bright Sun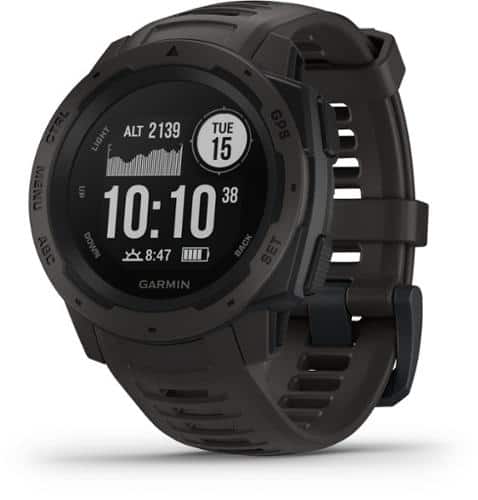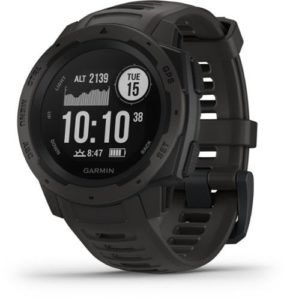 BEST FOR: VALUE
While the Garmin Instinct might not offer some of the fancy features of other mountaineering watches, it is a solid choice at a solid price. Like most Garmin watches, the Instinct includes GPS navigation as well as other global satellite navigation systems, although the watch does not offer topo maps. It does have a TrackBack feature, which helps you retrace your steps back to a starting point.
The Garmin Instinct has a smaller display than some mountaineering watches, but this makes it more unobtrusive and comfortable to wear. The high-contrast display is also easy to read in all conditions, including bright sunlight.
Casio Pro Trek PRW2500
Specs
Display

:

1.5 in

Bluetooth

:

No

Navigation

:

Compass
Features
Recharges Via Sunlight
Backlight Makes It Easy To Read At Night
Water Resistant Up To 200 Meters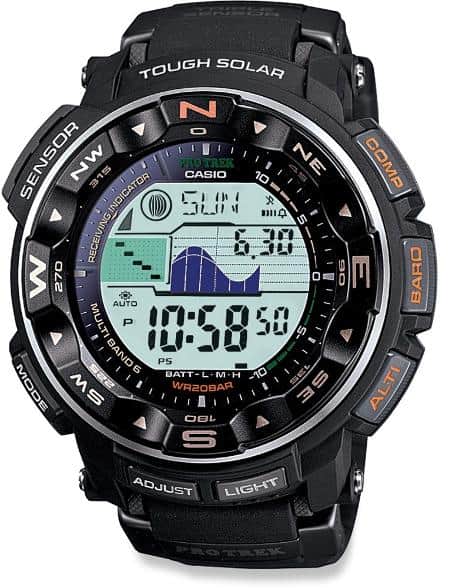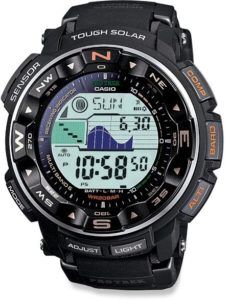 BEST FOR: SOLAR-POWERED
If the battery life of your mountaineering watch is a concern, you'll appreciate that the Casio Pro Tek PRW2500-1 is solar powered, so you can recharge on-the-go during your mountaineering adventure. The Pro Tek also lasts up to 5 months between charges, and it doesn't require much light in order to charge.
The Casio Pro Tek PRW2500-1 doesn't have all the bells and whistles of a fancier smart watch, but it does feature an altimeter, barometer, and compass so you can track your altitude and the atmospheric pressure, as well as get your bearings to navigate. The display also features a backlight for easy reading at night.
Suunto Core
Specs
Display

:

1.875 in

Bluetooth

:

No

Navigation

:

Compass
Features
Storm Alarm Indicates When Bad Weather Is Approaching
Sunrise & Sunset Times Let You Know How Much Daylight Remains
Extremely Accurate & Easy To Use Altimeter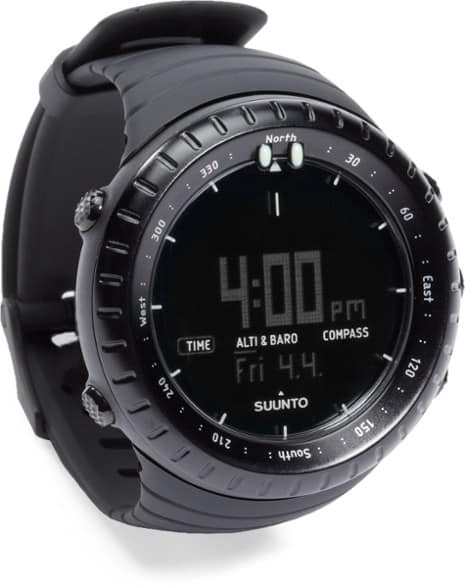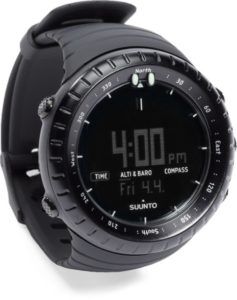 BEST FOR: WEATHER TRACKING
The Suunto Core is a great mountaineering companion, thanks to many handy features that help keep you informed about your location and the weather conditions. The altimeter of the Suunto Core tracks your altitude in three foot intervals (up to 29,500 feet), and it's readings are very accurate. Plus, you can keep a log of your altitude to measure your elevation gain on your outings.
The watch also has a storm alarm which measures barometric pressure and warns you when bad weather is on the way so you can seek safety. Although it has a digital compass for checking your bearings, the Suunto Core does not offer GPS navigation, nor does it sync with a smartphone.
Polar Vantage V
Specs
Display

:

1.2 in

Bluetooth

:

Yes

Navigation

:

GPS
Features
Track Your V02 Max For Training Efficiency
Wrist-Based Sensor Measures Running Power
Tracks Your Sleep Stages For Measuring Recovery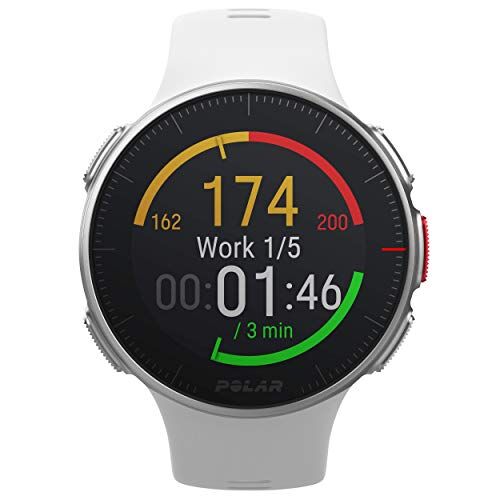 BEST FOR: TRACKING TRAINING
The Polar Vantage V watch is the perfect companion when you're in training mode for your next mountain adventure. The watch can track your blood oxygen levels to provide your VO2 max, a strong measure of performance. The Polar Vantage V also tracks your running power, and can differentiate your cardio load from your muscle load, to help you design a training program to meet your body's needs.
With a bright color display that can be operated via touchscreen or buttons, the Polar Vantage V is easy to read and easy to use. It also connects to training and tracking apps via Bluetooth.
Casio Pathfinder PAG240
Specs
Display

:

1.5 in

Bluetooth

:

No

Navigation

:

Compass
Features
Solar Powered Battery Recharges In The Sun
Altitude Target Alarm Notifies You When You've Reached Your Desired Altitude
Display Features Backlight For Easy Reading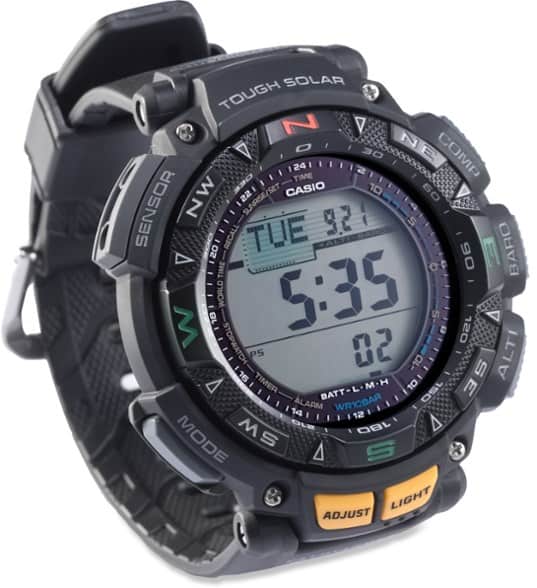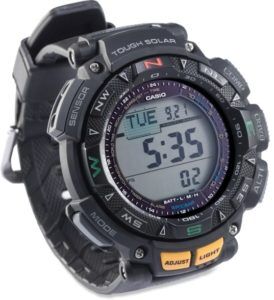 BEST FOR: MINIMALIST
When you need a watch that works while keeping things simple, the Casio Pathfinder PAG240-1 gives you the basics of what you need in a mountaineering watch. The battery is solar-powered, so you don't need to worry about losing power. The display is clear and has a backlight so you can read it in the dark.
The Casio Pathfinder PAG240-1 has an altimeter, barometer, and compass to give you all the information you need to stay on course in the mountains. You can also set your target altitude for your adventure, and an alarm will let you know when you reach it.
SUUNTO Ambit3 Peak
Specs
Display

:

1.97 in

Bluetooth

:

Yes

Navigation

:

GPS
Features
Widely Spaced Buttons Are Easy To Operate While Wearing Gloves
Connects To Smartphone For Use As Second Display
Track Training Trends With User-Friendly App
BEST FOR: BACKPACKING
The Suunto Ambit3 Peak is an accurate and reliable mountaineering watch that can help you navigate and track your adventures. You can navigate via GPS, marking waypoints and leaving virtual breadcrumbs. The altimeter measures your altitude, so you can monitor your elevation gain and loss as you make your way through the mountains.
The buttons on the watch are spaced in such a way that makes them easy to manipulate with gloves, while the Suunto Ambit3 Peak can also connect to your smartphone for use as a second display. You can track your training and progress through the Suunto app as well.
COROS VERTIX
Specs
Display

:

1.925 in

Bluetooth

:

Yes

Navigation

:

GPS
Features
Digital Knob Makes It Easy To Use With Gloves
Blood Oxygen Monitoring For Tracking At High Altitudes
Extra Long Battery Life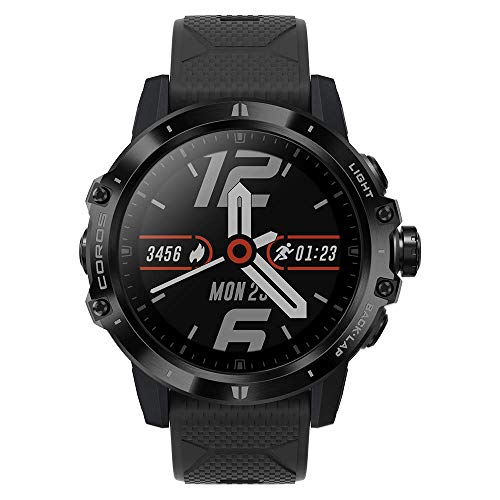 BEST FOR: EXTENDED EXPEDITIONS
If you need your mountaineering watch to last for a prolonged period without requiring charging, the Coros Vertix is an excellent choice for long expeditions. The battery lasts for 45 days in regular mode, and if you turn on the full GPS, it still lasts for 60 hours, which is impressive for a mountaineering watch. The watch measures your blood oxygen level as well as your altitude which can help you track how your body is acclimating to high altitude.
The Coros Vertix is operated via a knob and buttons, which are easy to use when wearing gloves in extreme weather. The sapphire glass face is diamond-hard to resist scratches, even in the harshest conditions.
THINGS TO CONSIDER WHEN BUYING A MOUNTAINEERING WATCH
All mountaineering watches should have an altimeter to measure your altitude, a barometer to track barometric pressure changes (which can determine both altitude and impending weather), and a compass for navigation.
Beyond those basic features, you need to decide whether you want to invest in a watch that can do things such as help you train and connect to a smartphone. The Appalachian Mountain Club gives some insight into the important features of a mountaineering watch.
NAVIGATION
Are you planning to depend on your mountaineering watch for navigation? While many mountaineering watches have GPS capabilities, some only include a compass for navigation. If you don't have a separate GPS unit (or don't want to carry one on your expedition), you should choose a mountaineering watch that includes a GPS. Some watches also include topo maps, which can be useful in planning and finding routes.
BATTERY
You definitely don't want your watch battery to die when you're depending on it in the backcountry, so battery life is an important consideration when choosing a mountaineering watch. The use of GPS drains battery life, but most watches allow you to turn off the GPS when it's not needed to save power.
Also, the Casio watches are solar-powered, which is a good option if you don't want to have to worry about your battery life on long trips.
FEATURES EXPLAINED
ALTIMETER
Measures altitude based on atmospheric pressure.
BAROMETER
Measures changes in air pressure to track weather patterns.
PULSE OXIMETER
Sensor that measures the level of oxygen saturation in blood.
SAPPHIRE GLASS
Super clear synthetic glass that is almost twice as hard as standard glass to resist scratching.