Updated on February 7, 2020
Rebreather diving has gained popularity over the last few years. As you can imagine, these high tech dive units are not cheap. As with any large investment, buying your first rebreather can be daunting. Before you make the big purchase, it's crucial that you dive and test out a variety of different models. But where do you start? How do you know what's the best rebreather for your style of diving?
Though rebreathers all perform the same task: removing additional CO2 from the breathing loop while adding the necessary amount of oxygen or nitrox – The way different models execute this task varies. Remember, a rebreather is a huge investment, and thus it's important that you take the time to find the right machine for you and your type of diving.
One of our goals here at The Adventure Junkies is to make your life easier when it comes to gear shopping. In this guide, we'll walk you through some things to consider before buying a rebreather and show you our selection of some of the best models out there.
For more of our top scuba gear recommendations, check out the Best Underwater Scooters.
QUICK ANSWER – THE BEST REBREATHERS
1. AP INSPIRATION EVP CCR
3. AP INSPIRATION EVO CCR
COMPARISON TABLE – THE BEST REBREATHERS
REBREATHERS REVIEWS
AP INSPIRATION EVP CCR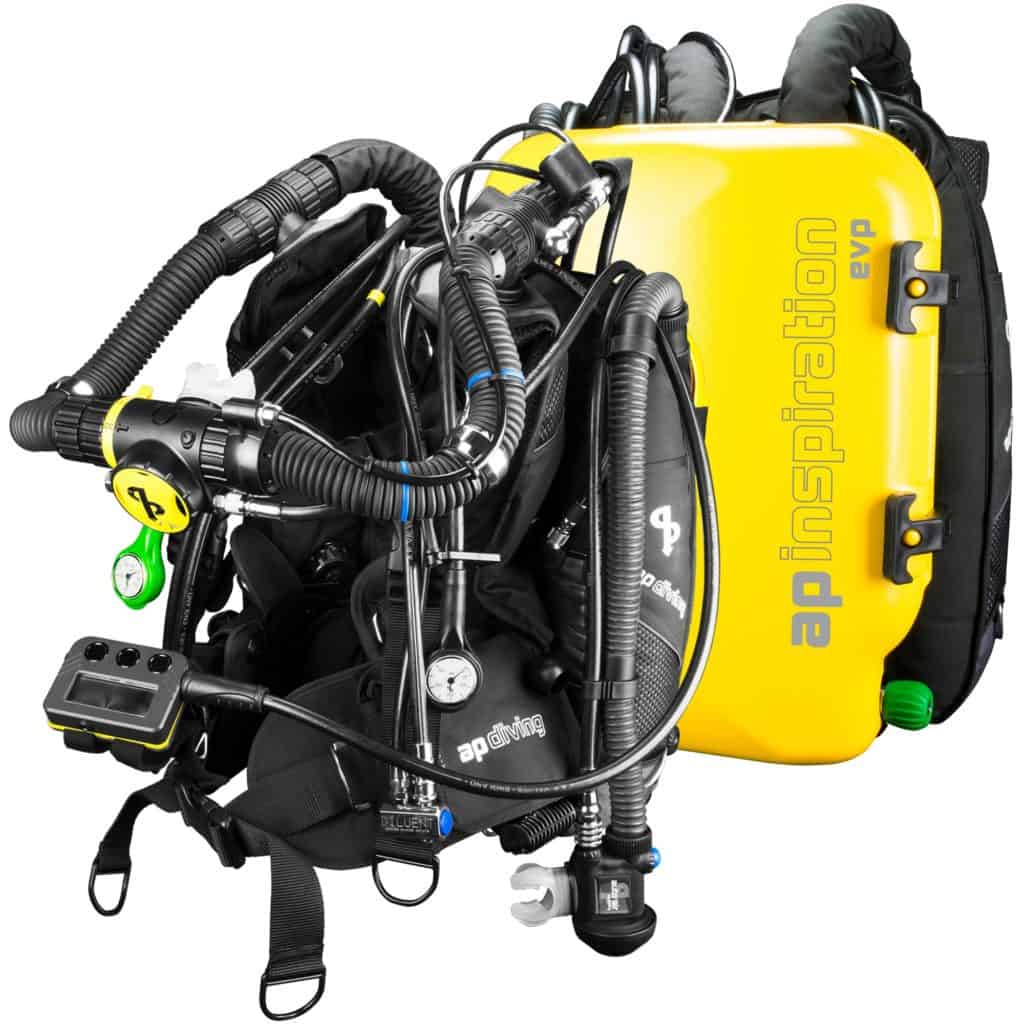 Check out the latest price on:
BEST FOR: All dive profiles, a great all-rounder rebreather
SCRUBBER DURATION: 3 hours
COUNTER LUNG LOCATION: Over the shoulder
PROS: Small enough to be convenient for travel
CONS: Some people are not a fan of the big bulky yellow box design
REVO III CCR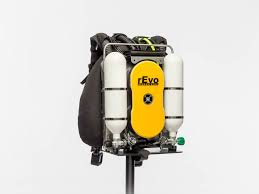 Check out the latest price on:
BEST FOR: Good all around unit – but particularly good for cave diving due to slim design
SCRUBBER DURATION: 3 hours
COUNTER LUNG LOCATION: Back mount
PROS: Unique scrubber system that is designed to cater for safety
CONS: Metal case and frame need extra attention and care to keep well maintained
AP INSPIRATION EVO CCR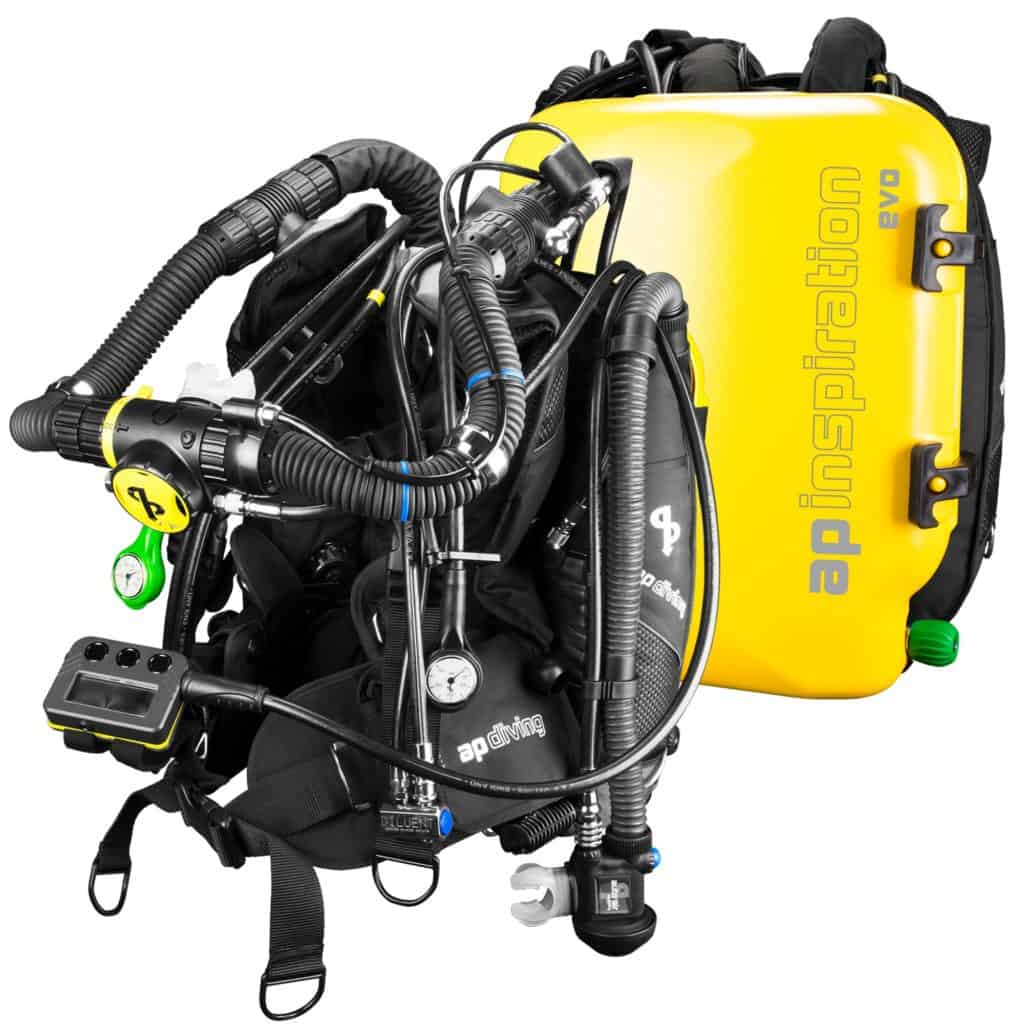 Check out the latest price on:
BEST FOR: Recreational diving and travel – better suited for smaller sized divers.
SCRUBBER DURATION: 2 hours
COUNTER LUNG LOCATION: Over the shoulder
PROS: Compact light and easy to fly with – the perfect travel unit
CONS: Not ideal for deep technical dives of long duration
MEGALODON CCR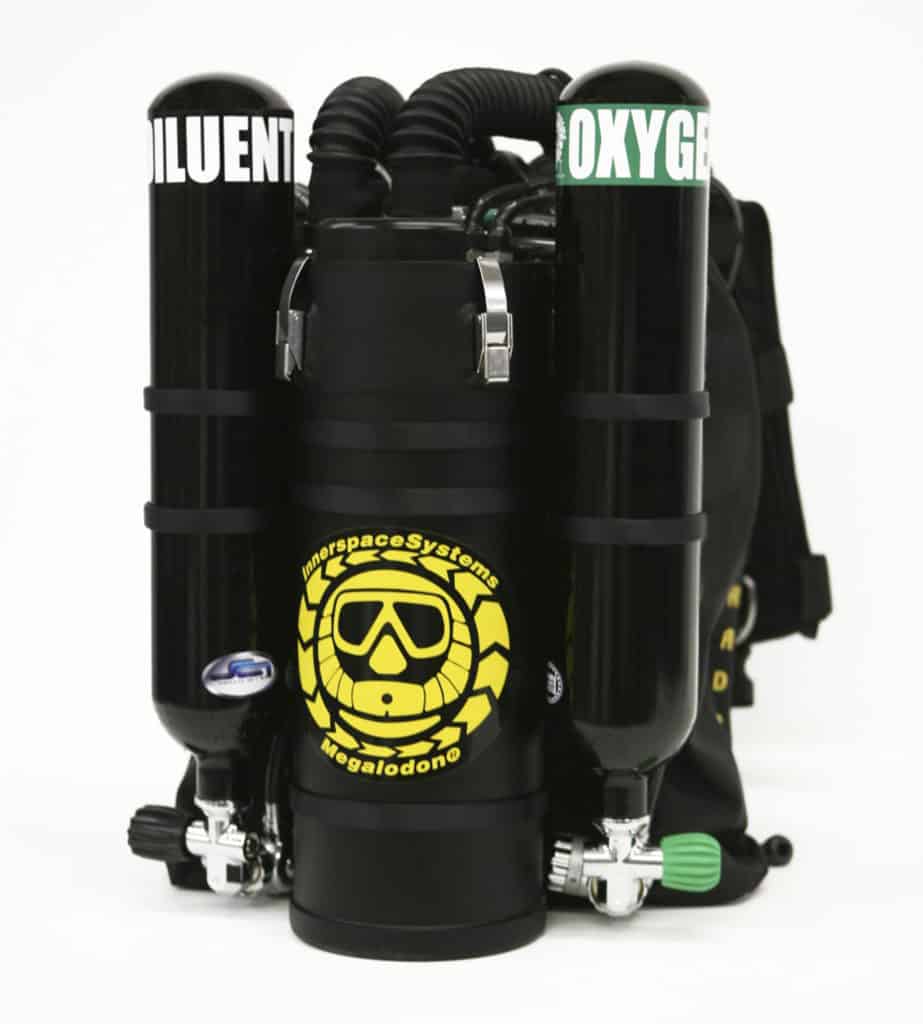 Check out the latest price on:
BEST FOR: Deep / long duration technical diving
SCRUBBER DURATION: 3 hours
COUNTER LUNG LOCATION: Over the shoulder
PROS: Very sturdy rugged and reliable CCR and comes with two independent handsets
CONS: Dives slightly butt heavy
JJ CCR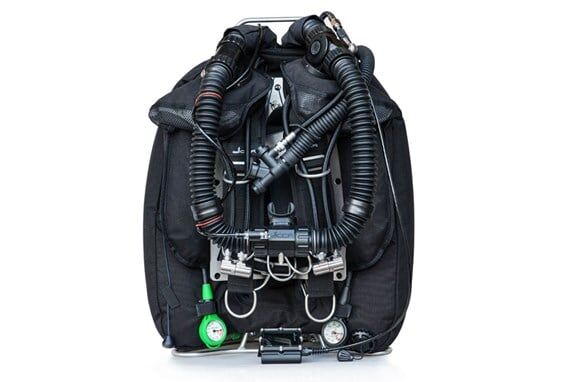 Check out the latest price on:
BEST FOR: Technical diving
SCRUBBER DURATION: 3 hours
COUNTER LUNG LOCATION: Back mount
PROS: Very nice and clean setup
CONS: Quite large and heavy
KISS EXPLORER MCCR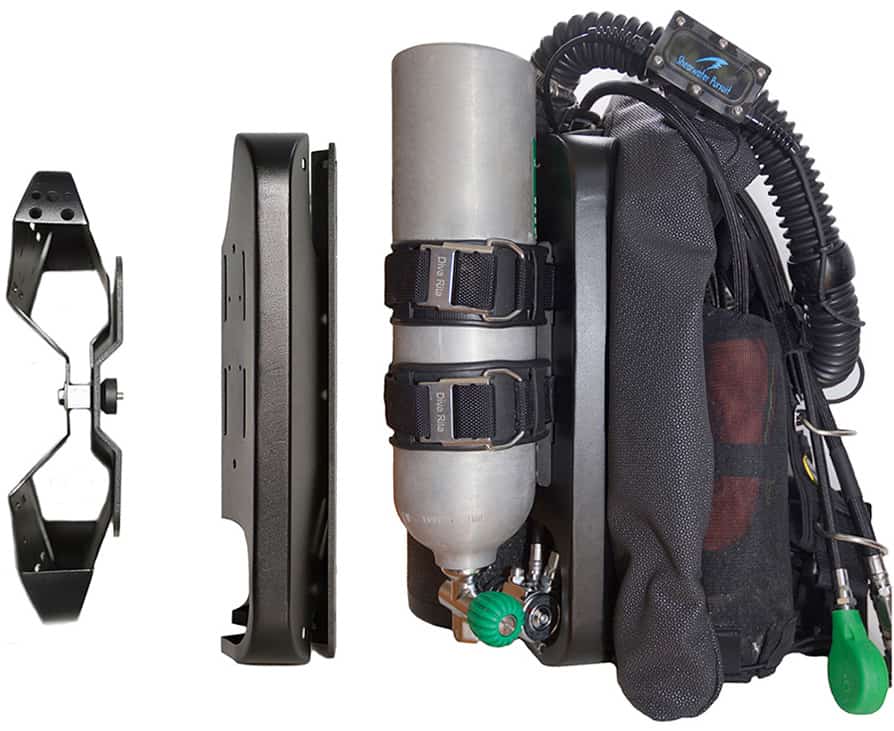 Check out the latest price on:
BEST FOR: Vigilant divers who want full control over the unit for added safety
SCRUBBER DURATION: 2 hours
COUNTER LUNG LOCATION: Back mounted
PROS: Added safety of a manual CCR – but remember a vigilant rebreather diver = a safe rebreather diver
CONS: Limited scrubber life and counter lungs not so sturdy to access
SENTINEL REDHEAD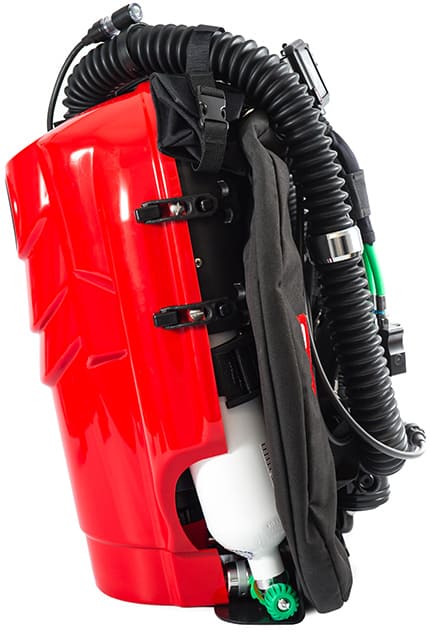 Check out the latest price on:
BEST FOR: Great deep ocean exploration unit
SCRUBBER DURATION: 3 hours
COUNTER LUNG LOCATION: Over the shoulder
PROS: Has a unique infrared CO2 detection system
CONS: Heavy and hard to travel unit
HOW TO CHOOSE THE BEST REBREATHERS
THE TYPE OF DIVING YOU DO
Rebreathers are ideal for divers who conduct long or deep technical dives using mixed gas. These machines are also ideal for underwater photographers and scientists who wish to stay shallow for long periods of time. There are many advantages of diving with a rebreather, but there are also many disadvantages.
ADVANTAGES OF A REBREATHER
Gas and deco efficiency (especially with expensive helium!)
Longer bottom and dive times
Silent
DISADVANTAGES OF A REBREATHER
Expense
Exceptional understanding of the machine and discipline is crucial
Complex
A rebreather should be viewed as a 'mission specific item.' Your field of diving should be able to exploit all the merits and benefits of this piece of technology. Considering the exceptional cost, maintenance, and life risk that the machine imposes, you'll need to consider whether a rebreather is ideal for your type of diving.
If you are just learning to dive or can complete your dive goal and mission on a single tank of air, then maybe a rebreather is not the right piece of equipment for you. Typically, rebreathers are not the ideal choice for general recreational / sport diving.
Rebreathers also come in different designs, and some designs are more suited for certain types of diving. For example, if you are doing lots of wreck penetration dives or tight cave dives then you'll want a slim designed machine instead of a larger bulky one.
DO YOU UNDERSTAND REBREATHER DIVING?
Rebreathers are a complicated piece of technology. You need to have an in-depth knowledge of how this machine works. Rebreather diving also requires good understanding of diving physics and physiology.
Understanding how your machine works and how it affects your dive profile and body while diving is crucial. You'll have to complete a four / five-day training course before you are legally able to purchase a machine. This course is only the first step, and you should be prepared for continual learning. There is always room for skill improvement and better understanding of the physics and physiology of rebreather diving.
YOUR COMMITMENT
Owning a rebreather is like being in a marriage. There is no way around it; a rebreather needs proper care and commitment. Failing to do so, you risk equipment malfunction which often leads to death.
Constant maintenance, pre-dive and post-dive checks and regular skill enhancing are all part of owning a rebreather. All these things will take up more of your time than diving with it underwater.
A perfectionist mindset is ideal. You'll constantly need to check things over and over again. If you are the 'lazy diver type' who enjoys taking naps between dives and kitting up as late as possible, then rebreather diving is not for you.
TYPE OF REBREATHER
There are lots of different types and models of rebreathers available today. The most common is the closed circuit rebreather (CCR). You have the option of purchasing either an eCCR or an mCCR. The main difference between the two is the way oxygen is inserted into the breathing loop.
ECCR – ELECTRONIC CLOSED CIRCUIT REBREATHERS
Electronic Closed Circuit Rebreathers use a computer to constantly measure the amount of oxygen in your breathing loop and automatically maintain the PPO2 set point.
MCCR – MANUAL CLOSED CIRCUIT REBREATHERS
Manual Closed Circuit Rebreathers require the diver to constantly check the PPO2 level in the breathing loop and manually inject more oxygen when necessary to keep the oxygen content at the correct level. These machines are cheaper and simpler than eCCR's but require a whole new level of diver diligence.
SEMI-CLOSED CIRCUIT REBREATHERS
Semi-Closed Circuit Rebreathers are also available. These machines lose gas with every exhalation. They also keep a constant percentage of oxygen, unlike fully closed units. This is not ideal for decompression dives and is better suited for recreational depths.
SCRUBBER AND COUNTER LUNG DESIGN
One of the main life-saving components of a rebreather is the scrubber canister. This canister is composed of a chemical that is responsible for extracting the extra CO2 in your breathing loop. Scrubbers come in different sizes and designs which all affect its duration.
AXIAL
A cylindrical shaped pipe where the gas can pass in a vertical direction.
RADIAL
In a radial-shaped scrubber, the gas passes in a radial direction from the middle of the canister towards the outer sides. The radial design is known to have a longer duration.
COUNTER LUNGS
The counter lungs on a rebreather are the bag like features on the breathing loop. These bags can either be over the shoulder or back mounted. With back mounted counter lungs, the chest area is clutter free. This location of the counter lungs makes exhalation easier but inhalation harder.
Over the shoulder mounted counter lungs are designed to be placed as close to your real lungs as possible. This position has a better work of breathing than back mounted counter lungs, but the chest is cluttered.
Counter lungs also come in a variety of sizes so you will need to figure out which size suits you best.
WHAT OTHER FEATURES WOULD YOU LIKE?
What kind of electronics do you want on your rebreather? What design do you prefer for you Bail-Out valve? Would you prefer a machine with a head-up display and audible alarms?
Scrubber and counter lung design and placement are only one of many design variations on a rebreather. There are a variety of other different features that you will need to look into and research upon when buying a rebreather.
READ MORE
For more of our top scuba diving gear recommendations, check out these popular buyer's guides: