Updated on October 26, 2021
You've just bought your shiny, brand new drysuit, but the question now is what to wear underneath it, and what are the best drysuit undergarments available? Whether you're a recreational diver diving in cold water or a technical diver used to deep diving, choosing the right undersuit is crucial to enjoying your diving.
Staying warm but avoiding overheating in the water is a joint effort between the drysuit and the undersuit. Looking around there are plenty of options available, all promising to keep you warm, but ultimately which ones are the best?
One of our big goals here at The Adventure Junkies is to make your life easier when it comes to gear shopping. In this guide, we'll walk you through which drysuit undergarments are the best, and when and where you can best use them.
For more of our top scuba gear recommendations, check out the Best Dry Suits.
Quick Answer

-

The Best Drysuit Undergarments
Waterproof Warmtec HD 200G Fiberfill
Comparison Table

-

Best Drysuit Undergarment

For the best experience turn your device horizontally
Reviews

-

The Best Scuba Diving Drysuit Undergarments
Scubapro Climasphere
Specs
Material

:

Fleece

Part of a Layer

:

No

Warmth

:

*
Features
2-piece suit with a full body undersuit
Shorty-like top for additional warmth
Thumb and foot loops
Neoprene ankle and wrist cuffs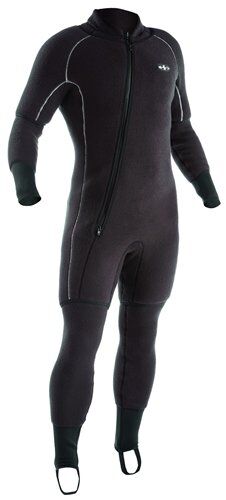 BEST FOR:

DIVING IN TEMPERATE AND COLD WATERS, BY CHOOSING TO WEAR EITHER ONE OR BOTH LAYERS
PROS: Two-piece gives more flexibility, cuffs and loops make putting the drysuit on much easier
CONS: Two-piece design can be bulky around the midriff, chest and shoulders area, not easy to route a P-valve, somewhat heavy
Fourth Element Halo3D
View Women's Version
Specs
Material

:

Dual Layered Stretch with SPACETEK

Part of a Layer

:

Yes

Warmth

:

****
Features
Thumb and foot loops
Right arm pockets
P-valve holes
Three-layer construction with SPACETEK insulated panels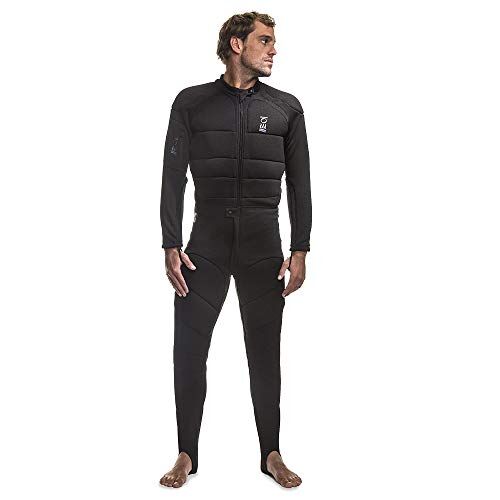 BEST FOR:

COLD WATER DIVING, OR ULTRA-LONG DIVES IN TEMPERATE WATERS, IDEAL FOR COMBINING WITH THE XEROTHERM BASE LAYER
PROS: Super warm even when soaking wet, pockets, thumb and foot loops make donning the drysuit very easy, P-Valve holes allow for easy routing of the hoses
CONS: Expensive, can be bulky especially when worn with base layer
Fourth Element Arctic
Specs
Material

:

Dual Layer Fleece-Like

Part of a Layer

:

Yes

Warmth

:

***
Features
Thumb and foot loops make it easier to put on the drysuit
Will continue to provide warmth even after minor leaks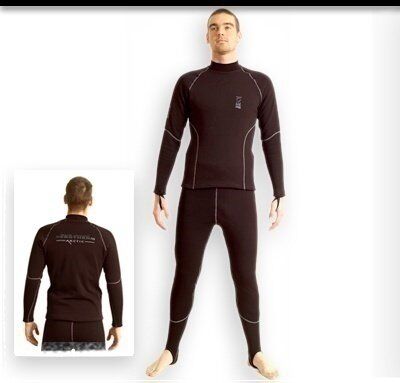 BEST FOR:

IDEAL FOR COLDER WATERS WHEN USED ALONE, WHEN COMBINED WITH THE XEROTHERM CAN BE USED IN VERY COLD WATERS
PROS: Very warm, lightweight, and combines very well with Fourth Element base layers, stays warm when wet
CONS: Somewhat expensive, does not offer ideal routing for a P-valve, and can take a while to dry
Waterproof Warmtec HD 200G Fiberfill
Specs
Material

:

100% Nylon Taffeta/Polyester

Part of a Layer

:

No

Warmth

:

**
Features
Four pockets
Front entry zipper
Mesh shoulders
Elastic waist
Zippered legs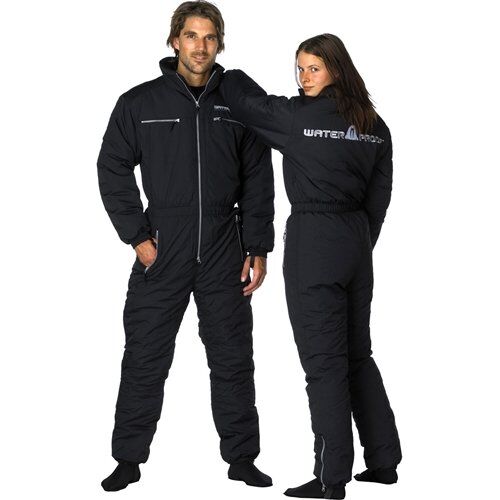 BEST FOR:

WATER TEMPERATURES FROM 45-65 DEGREES FAHRENHEIT
PROS: Great value for the money, snug fitting, four pockets for stashing essentials
CONS: Not for the coldest waters
Aqua Lung MKO
Specs
Material

:

Bamboo Blend

Part of a Layer

:

No

Warmth

:

*
Features
1-piece suit with rear convenience flap
2-way torso/relief zipper
Non-corroding YKK zippers
Smooth Lycra stirrups
Elastic thumb loops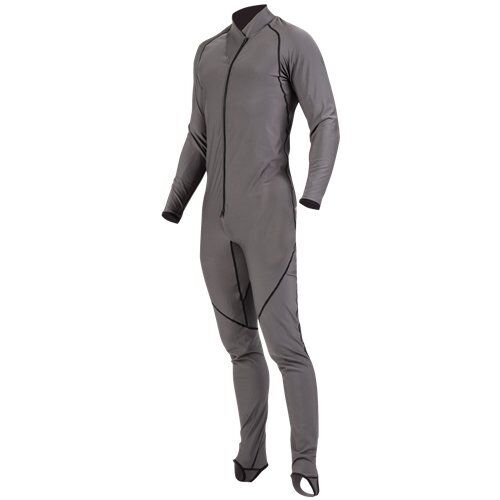 BEST FOR:

A MOISTURE-WICKING BASE LAYER
PROS: Additional Spandex content results in an extreme stretch suitable for all body types
CONS: Not easy to route a P-valve, not suitable for extreme conditions
HOW TO CHOOSE THE BEST DRYSUIT UNDERGARMENTS
WARMTH
The key factor when choosing the best drysuit undergarment is how warm they can keep you for the type of diving you are doing. Since minor leaks are a fact of life when diving with a drysuit, it is crucially important to know whether your undergarment will still keep you warm when it is wet.
LAYERING
On land, layering your clothing is key to staying warm, and it's no different underwater. Multiple layers are far more effective for maintaining thermal protection. The best drysuit undergarments can be layered as part of a bigger system—providing warmth and flexibility no matter what the water temperature or diving conditions. One drawback to look out for is that with layering, the undergarment can end up being very bulky and hinder movement and performance, and even negatively affect your buoyancy control.
DESIGN & MATERIAL
There are several accessories that make life so much easier when using a drysuit. The best drysuit undergarments have foot and thumb loops that prevent the suit from rolling up your limbs when you've zipped up your drysuit. They should also make it relatively easy to route hoses from P-valves. The material the suit is made from is also important since it should wick away moisture and keep the diver's skin dry throughout the dive.
COST
It's a fact of life—cost does play a part in determining whether you buy a suit or not and whether you can justify the cost. A dive professional making several hundred dives a year might opt for a very expensive suit, whilst someone who only does 10-15 dives per year might find the price prohibitive.
READ MORE
For more of our top scuba diving gear recommendations, check out these popular buyer's guides: