Updated on October 8, 2020
Sailing is all about sunny days and swimwear, at least in our imaginations. Once we get on the water, we discover that weather is unpredictable and some of those sunny days turn quickly to wind and rain, rough water, and cold air. Sailors have packed foul-weather gear for as long as humans have taken to the water and centuries of evolution have left us with a huge variety of clothing designed to protect water-borne people from the inevitable onslaught of the elements. This list of the best sailing jackets should help you select the one that's best for you!
For more of our top sailing gear recommendations, check out the Best Sailing Shoes.
Quick Answer

-

The Best Sailing Jackets
Comparison Table

-

Best Sailing Jackets

For the best experience turn your device horizontally
Reviews

-

The Best Jackets for Sailing
Helly Hansen Crew
View Women's Version
Specs
Pockets

:

2 Front, 1 Chest

Shell

:

Polyester

Hood

:

No

Lining

:

Polartec Fleece
Features
Waterproof, Windproof, and Breathable
Fleece-Lined Collar And Handwarmer Pockets
One-Hand Adjustable Waist
Men's & Women's Versions Available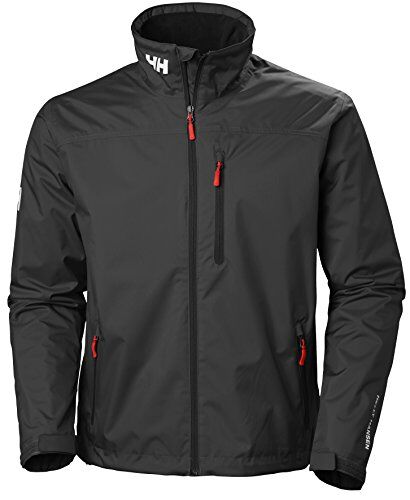 BEST LIGHTWEIGHT COASTAL JACKET
This coastal sailing jacket delivers waterproof, windproof, breathable protection is a stylish package that fits in just as well off the water as on it. Use it alone in moderate conditions or as a mid-layer under an outer shell for more aggressive weather! The relatively snug cut allows the jacket to move with you and keeps it compact enough to wear under a shell if needed. This industry-standard item earned its popularity and is an automatic choice for any list of sailing jackets.
Reviews of the Helly Hansen Crew Jacket are overwhelmingly positive, but some reviewers do complain that the jackets run smaller than the rated size. The jacket is designed to be relatively snug and some buyers may simply be ordering the wrong size, but if you're ordering online and prefer a loose jacket you should be aware of this and consider sizing up!
GILL OS2
View Women's Version
Specs
Pockets

:

2 Front Cargo, 2 Zippered Chest

Shell

:

Seam-Taped Nylon

Hood

:

Yes

Lining

:

Polyester Fleece
Features
High-Cut Thermal Collar
Available In Men's And Women's Models
Fully Lined High-Vis Adjustable Hood
Adjustable Cuffs With Inner Watertight Seals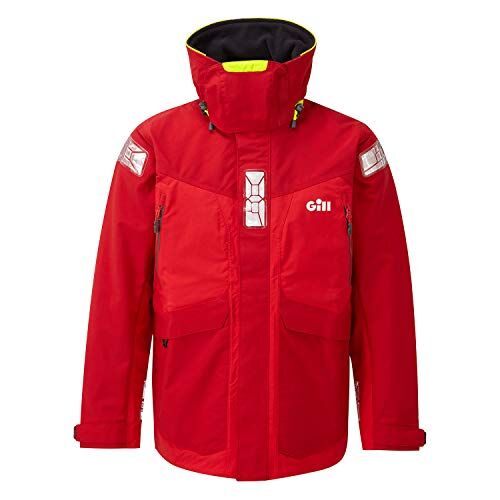 BEST OFFSHORE JACKET
Gill is a company built on sailing-specific gear and all of their experience with open-water protection is visible in the OS2, their flagship offshore sailing jacket. This one is made for the rough stuff: it's cut long in the waist and sleeves to keep you dry even if you're reaching up, and there's a host of features, from the lined high-visibility hood to the internal seals on the wrists, designed specifically to keep sailors warm and dry in the worst conditions. Gill has summoned every material and design feature available to produce a jacket that's absolutely waterproof, windproof, and breathable.
It's hard to find much to criticize in this one, but some users do find that the high-cut collar, designed to protect the neck, is too high for them and chafes the chin, something to keep in mind if you have a short neck!
Specs
Pockets

:

2 Front, 1 Inner

Shell

:

Nylon

Hood

:

Yes

Lining

:

Polyester Fleece
Features
Jacket/Pants Combination For Foul Weather Protection
Fleece-Lined Hand Warmer Pockets
Inner Zipper Pocket, Front Pockets With Storm Flaps
Fluorescent Hood And Reflective Taping For Visibility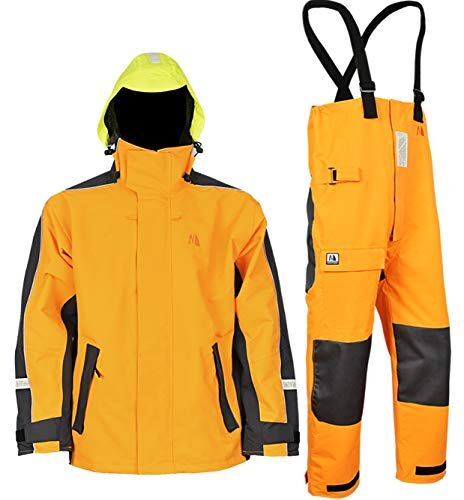 BEST FOUL-WEATHER FULL PROTECTION
Sometimes weather can be unfriendly, and sometimes it can be downright hostile. When wind and rain take over, break out the Navis Marine Coastal Jacket and Bib Pants combination. This set gives near-complete coverage and full protection against the elements, whether you're sailing in a storm or working the foredeck in heavy seas! There's a sophisticated 3-layer fabric design to assure waterproof but breathable performance and abrasion-resistant Cordura patches to reduce wear in key areas. A fluorescent hood and multiple reflectors keep you visible in a worst-case scenario!
Remember that this combination is mainly designed for protection from wind and water, and doesn't have much insulation. In cold weather you'll want to layer up underneath, so you'll want a size large enough to accommodate those layers if you're looking at sailing in cold conditions.
GILL Tournament
Specs
Pockets

:

2 Zippered Chest, 2 Cargo

Shell

:

Coated Nylon

Hood

:

Yes

Lining

:

Polyester Fleece
Features
Vortex Hood Technology Vents Air Through Collar In High Winds
Adjustable Cuffs With Watertight Inner Seals
Multilayer Design For Absolutely Waterproof Warmth
High Cut Thermal Collar
BEST FOR COLD WEATHER
This one is about as far as you can get from sunny days and swimwear! For the worst possible conditions, when cold meets rain, wind, and spray in a combination that goes beyond discomfort and reaches potentially dangerous levels, we go back to Gill Marine for one of the best cold-weather sailing jackets you can buy at any price. The Insulated Tournament takes all of Gill's offshore sailing tricks and combines them with upgraded insulation to produce a jacket that's completely waterproof, windproof, and breathable, offers exceptional coverage, and is also seriously warm. There's a long catalog of features on offer, notably the vortex hood, which vents air out through neck ports if you're facing into a strong wind.
If you're looking for a downside to this one, good luck. We couldn't find one, except that if you aren't going to sea in truly horrible conditions it's probably more protection than you need. If you are, or if you want a sailing jacket that doubles up as maximum-protection wet winter gear, this is your jacket!
Kokatat Hydrus 3L Stoke
Specs
Pockets

:

Zippered Chest

Shell

:

Polyurethane-Coated Nylon

Hood

:

No

Lining

:

Polyester
Features
Latex Wrist And Neck Gaiters Keep Water Out
Triple Layer Waterproof, Breathable Fabric
Body-Hugging Cut For Range Of Motion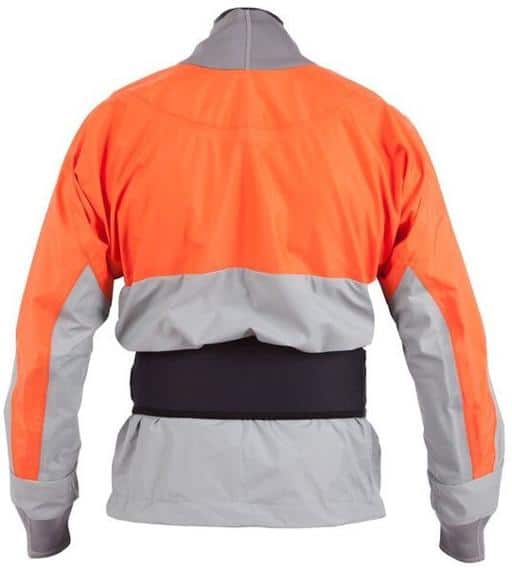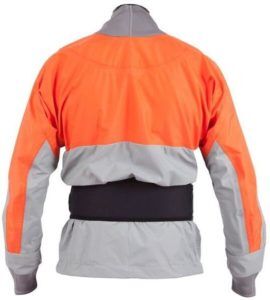 BEST DRY TOP/DINGHY SAILING TOP
Is that a sailing jacket at all? Some purists might say it's not, but if you're sailing small self-bailing dinghies or catamarans and pushing yourself to the limit, you're likely to end up in the water at some point and this kayak-style dry top is a great choice for protection. Like most paddling gear, it's cut close to the body to allow fast, athletic movements and the neck and sleeve seals keep water out. The waist won't seal as tight as it would in a skirted kayak, but this will still keep you drier and warmer than anything short of a full drysuit.
As with most dry tops, there's no hood, so you'll need head protection if you're out in really bad conditions. Pocket space is also limited. This is a good choice for aggressive day sailing in small boats in rough conditions, but it's not for offshore sailing!
THINGS TO CONSIDER WHEN BUYING A SAILING JACKET
Sailing jackets are usually classified by types of sailing. Gear designed for "coastal' conditions tends to be lighter and gives less coverage, while "offshore" gear is designed for colder, wetter, rougher conditions. Those distinctions aren't absolute. If your sailing is coastal but you often sail in cold, windy, or rainy weather, you're probably better off with gear labeled "offshore"! Clothing marketed for "dinghy" sailing is aimed at sailors in small boats requiring fast, athletic movements and a high probability of total immersion, which is a polite way of saying you fall in the water a lot. True "foul weather" gear is for maximum coverage in conditions that are truly foul. Most of us don't seek those conditions out, but sometimes they find us, and when they do we have to be ready!
DESIGN
Sailing places unusual demands on outerwear, especially in bad weather. Sailors are exposed not only to rain but to spray from every direction, including from below. High winds are expected, and the word "windproof" carries higher expectations in sailing than it would in a conventional windbreaker. Sailing is an active sport and we work hard, so sweat inside a jacket is a major consideration, and the ability to move water from inside away from the skin is as important as the ability to keep water from outside away from the skin.
Foul-weather gear has evolved over centuries to meet these constraints, and modern manufacturers are combining the lessons of sailing history with modern materials and design to build products that deliver effective combinations of low weight, extreme protection, and high durability. Sailing jackets have long been cut with extra long sleeves, long waists, and high collars, to provide protection even when reaching overhead at full extension. Hoods are a high priority and designers go to great lengths to provide head protection while retaining visibility. Multilayered designs combine waterproof outer layers with inner layers that wick moisture away from the skin.
The number of different design options and the language manufacturers use to describe their designs can be daunting, but we have more and better options available today than sailors ever have before.
TYPES OF JACKETS
Sailing jackets are typically broken down into three categories, by intended use.
Coastal or Inshore jackets are intended for near-shore use and day sailing in generally moderate conditions. Coastal jackets are less robust and may not have hoods; they are also usually designed with a bit more style and an eye toward off-water wear as well as sailing use.
Offshore jackets are designed for multi-day open water sailing in harsh conditions. They are heavily built, often bulky and long, and have an array of protective features designed to keep the wearer warm and dry.
Dinghy sailing outerwear is designed for use on small boats where fast, athletic movement is a priority and the wearer is likely to end up in the water on any given sailing day.
These are general categories and there's some crossover: if you're sailing for a day near the coast in cold, wet weather and rough seas you'll probably still want a jacket designated for "offshore" use!
Some manufacturers and sellers add other classifications and you may see gear described in other ways, but the categories above remain the simplest way to classify sailing jackets.
LEARN MORE
Annapolis Performance Sailing and West Marine offer good discussions of foul weather gear, including jackets.
FEATURES EXPLAINED
MATERIALS
Most sailing jackets use nylon or similar fabrics for the outer shell, which needs to be strong and waterproof. The outer shell is often coated to enhance its waterproof qualities, and seams are usually taped. Liners are typically polyester fleece, often using materials designed to move water away from the skin. Different manufacturers use different names for their proprietary variants on these basic materials but the differences are generally small, at least among the reputable brands.
POCKETS
Pockets are useful to have: there are always tools, snacks, or other small items we want to keep easily accessible but secure. Many sailing jackets have zippered inner pockets for protected storage of a wallet, phone, or documents. Outside pockets often include zippered chest pockets and deep lower pockets with secure velcro closures, often with fleece-lined hand warmer pockets behind them. You know what you carry, so assess your pocket needs accordingly!
HOODS
A hood is important for keeping wind, spray, and rain away from your head, but you'll also want one that doesn't constrain your peripheral vision too much. Protection vs visibility is always a compromise, but some manufacturers have adjustable hood closures that let you change the balance according to prevailing conditions. Most sailing jacket hoods can be stowed in a collar pocket to keep them out of the way when not in use, and most are in bright colors, often with reflective tape, for maximum visibility if you ever end up in the water!
READ MORE
For more of our top sailing gear recommendations, check out these popular buyer's guides: