Updated on August 28, 2020
We'll sail in any weather, but when summer comes and the air turns warm the water is more inviting than ever. Sailing shorts are at the core of our warm-weather wardrobe, and any old pair of shorts won't do. Fortunately, we have a range of sailing and water-sport specific shorts to choose from, and whether you're sailing dinghies, keelboats, or anything in between, you'll find the best sailing shorts for your needs on this list.
Sailors look for shorts that dry fast, stand up to repeated wetting and drying, and have solid seat protection to deal with friction on non-slip decks. We like deep side pockets and secured cargo pockets. Cuts have to be loose enough to avoid binding or impeding movement but snug enough not to snag on deck equipment. Some of us even prefer shorts that look good! Whatever your priorities, read on and select the shorts that meet them.
For more of our top sailing gear recommendations, check out the Best Sailing Shoes.
Quick Answer

-

The Best Sailing Shorts
Musto Evolution Deck Shorts

Helly Hansen Hydropower 120
Comparison Table

-

Best Sailing Shorts

For the best experience turn your device horizontally
Reviews

-

Best Shorts for Sailing
NRS Hydroskin 0.5
View Women's Version
Specs
Material

:

0.5mm Neoprene

Closure

:

Draw Cord

Padding

:

No

Pockets

:

None
Features
4-Way Stretch Fabric For Maximum Mobility
Soft ThermalPlush Lining For Added Comfort
Friction-Free Seams Prevent Chafing
Water-Repellent Coating Sheds Water And Prevents Evaporative Cooling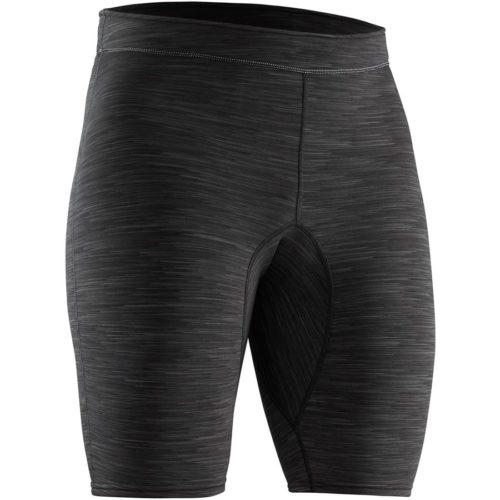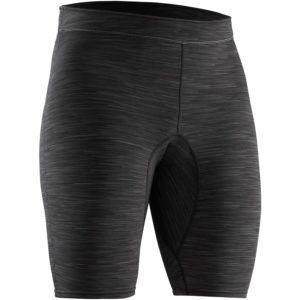 BEST BUDGET SHORTS FOR SMALL BOATS
If you're sailing aggressively in dinghies, small catamarans, or self-bailing boats you're likely to spend time in the water pretty much every time you sail. If you plan to be wet and you aren't concerned with pockets, these fleece-lined neoprene shorts are ideal. The lining keeps them comfortable on the skin and the durable water-resistant coating helps water roll off, reducing evaporative cooling and keeping you warmer.
These shorts are an ideal underlayer for colder days and work well as your main shorts for any water sports that require mobility and comfort. They're designed for paddling but adapt well to sailing in conditions that keep you close to (and sometimes in) the water. They're also reasonably priced, a useful feature in a versatile water sports short.
Musto Evolution Deck Shorts
Specs
Material

:

96% Nylon, 4% Elastane

Closure

:

Button/Zip

Padding

:

No

Pockets

:

2 Side, 2 Thigh
Features
Light Fast-Drying Stretch Fabric For Comfort And Mobility
Reinforced Seat For Added Durability
Deep Thigh Pockets With Secure Closures
Water-Resistant Inner Pocket Inside Left Cargo Pocket
BEST FOR HOT WEATHER
This is a classic warm-weather sailing short. The material is soft, breathable, and comfortable, with a spandex blend adding enough stretch to assure mobility. They're designed for sitting down, with upward-facing pockets that won't spill their contents while sitting and a tough reinforced seat paned to keep the shorts intact even when you're sitting on rough non-skip decks. There's lots of secure pocket space, there's UV protection for your thighs, and the shorts dry fast.
If you're looking for a reasonably priced all-around sailing short specifically for those hot summer days, this is a solid bet.
Zhik Deckbeater
Specs
Material

:

Spandex/Neoprene

Closure

:

None

Padding

:

No

Pockets

:

None
Features
Specifically Designed For Seated Water Sports
Ergonomically Designed Padded Seat Panel Stands Up To Non-Skid Decks
3D Body Mapped Fit For Ultimate Comfort
Perforated For Fast Drainage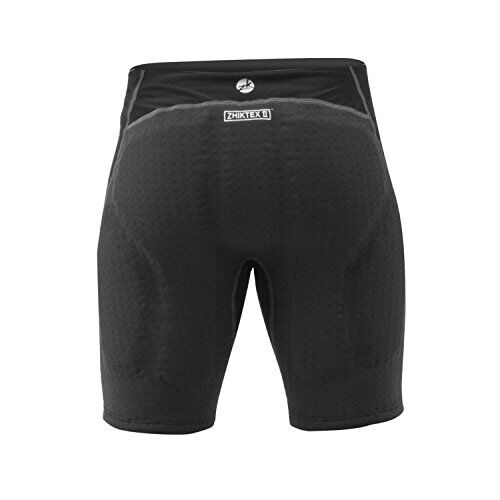 BEST FOR AGGRESSIVE SAILING
To build these shorts Zhik took all the traditional elements of sailing short design, rolled them into a tidy package and threw it out the window. The Deckbeater shorts look like nothing else on the water, but they also perform like nothing else on the water. The spandex/neoprene combination is aimed specifically at seated water sports, and the heavy-duty 7mm neoprene seat pad puts a lot of protection between your backside and any hard or rough objects it might encounter. They are sleek, form-fitting, and comfortable despite that beefy pad.
On the downside, these shorts may be hot off the water and they certainly aren't fashionable. If you're looking for shorts that fit in at the yacht club bar after sailing, these may not fit the bill. If you want to get out on the water and beat your shorts up, they'll do just fine!
Gill OS3 Coastal
Specs
Material

:

Nylon/Polyester

Closure

:

Button/Zip

Padding

:

No

Pockets

:

2 Side, 1 Thigh
Features
Abrasion-Resistant Seat Panel
Water Resistant Fabric With Taped Seams Keep Water Out
Comfortable Semi-Elastic Waist
External Pad Pocket To Add Optional Padding
BEST REMOVABLE PAD SHORT
Gill's OS3 line of sailing-specific clothing is designed specifically for offshore sailing, and these shorts fit that mold perfectly. The 2-layer coated fabric, taped seams, and water-repellant coating keep your backside dry even when sitting on a wet deck. The shorts are fully lined for comfort and drain easily if water gets inside. Two large side pockets and a cargo pocket on one thigh handle the storage duties and the abrasion-resistant seat stands up to wear.
Helly Hansen Hydropower 120
Specs
Material

:

Nylon/Polyester

Closure

:

Double Button/Zip

Padding

:

No

Pockets

:

2 Slant Hip, 2 Zippered Thigh
Features
Durable Quick-Dry Ripstop Material With Reinforced Seat
Gusseted For Freedom Of Movement
Comfortable Semi-Elastic Waist With Velcro Side Adjustments
D Ring For Secure Attachment Of Tools Or Keys
BEST ALL-AROUND SAILING SHORT
These water-resistant, quick-drying sailing shorts are built for the water, with elastic fabric providing mobility, reinforced high-wear areas providing durability, and zippered side and velcro-sealed thigh pockets providing storage where you need it. They're cut long for full protection and the fabric is waterproof, windproof, and breathable. The leg is roomy enough for comfort but snug enough to avoid snagging.
If you like to walk off your boat and straight into normal life, you'll like these shorts: they look as good on the street as they do on deck!
THINGS TO CONSIDER WHEN BUYING SAILING SHORTS
Sailing places unique demands on a pair of shorts. Sailors are often wet. We spend a lot of time sitting, often on wet surfaces. Those surfaces are often highly abrasive: non-slip deck coatings are critical for safety onboard but they abrade fabrics very quickly. There are obstacles on a deck that can get in our way. Who can forget the first time they sat on a cleat? We carry tools and other objects in packets and we need to keep them secure. We need full freedom of mobility but we also can't have fabric snagging on objects.
Modern sailing shorts are designed to operate and perform within those constraints. Here are some common features to keep in mind.
MATERIALS
Sailing shorts need to be comfortable, they need to dry fast, and they need to have some elasticity to provide freedom of movement. Nylon fabrics are often chosen, often with some Spandex, Lycra, Elastane, or other elastic fabrics woven in to provide stretch.
Some shorts, especially those designed for sailing in small boats where you're essentially wet all the time, use neoprene or a Spandex/neoprene blend and are closer to wetsuit shorts than to traditional cargo shorts.
Sun protection is also a factor, and many shorts advertise a UPF factor that rates the level of sun protection they provide.
WARMTH AND WATER RESISTANCE
Shorts are mainly used in warm weather sailing, but the weather can change fast and water is often cold even when the air is warm. Water and windproof shorts can keep your butt dry even when sitting on a wet deck and keep spray off your upper legs, which helps keep you comfortable.
Many shorts have durable water repellent coatings that encourage water to bead up and drip off. That also helps keep you warm. If water on your shorts runs off it won't evaporate, and evaporating water pulls heat from whatever's near it, a process called evaporative cooling.
Waterproof shorts may be hot and uncomfortable in very warm weather or off the water, so many manufacturers use breathable fabrics to make them more wearable in those conditions.
PROTECT YOUR SEAT
Most sailing-specific shorts incorporate some level of seat protection.
Reinforced shorts use an extra layer of rugged, abrasion-resistant fabric to protect the shorts from wear from sitting on rough surfaces.
Padded shorts go further and incorporate a physical cushion to prevent impact and abrasion damage to both the shorts and your backside. Some shorts integrate the padding into the shorts, which is convenient but may lead to slow drying and can make them awkward for off-water wear. Others integrate a low-profile pocket that accepts a seat pad, usually sold separately. In most cases, you have to take the shorts off to install the pad.
DESIGN
Sailing shorts typically integrate common design features to enhance on-water performance.
Length is usually above that of a typical short. Longer cuts provide more protection to your thighs and the backs of your legs. Many sailors prefer shorts cut just above the knee, though many women's models are cut shorter.
Waist adjustments come in multiple forms. Many shorts have belt loops, but some sailors find belts inconvenient, so many shorts also integrate adjustment tabs using velcro or other closure systems. Some use drawstrings. Buttons, often oversized, are the preferred waist closure.
Pockets have to be designed to avoid spilling while seated. Sailing sort pockets are usually on the sides and thighs, not the back. Again, we sit a lot, often on hard, rough, surfaces.
The cut needs to be loose enough to avoid constraining movement and provide air flow, but not so loose that the shorts easily snag on obstacles.
LEARN MORE
Annapolis Performance Sailing has a good introduction to choosing sailing shorts. Practical Sailor ran field tests on popular sailing shorts, including some of those reviewed here.
SPECS AND FEATURES EXPLAINED
MATERIALS
Nylon is the preferred base material for sailing shorts: it's light, it's tough, it dries fast, and it's comfortable. Some shorts mix nylon with elastic materials like Spandex, Elastane, or Lycra to allow some stretch. Some may also be lined with softer materials, especially around the waist.
Some shorts designed for fill immersion are made of neoprene or a Spandex/Neoprene mix, and tend to look more like wetsuit shorts than conventional street shorts. These may be lined with fleece materials for comfort.
Cotton and other natural materials tend to retain water, dry slowly, and wick heat away from the body, and are not usually used in sailing or other water sports shorts.
POCKETS
Sailing short pockets need to be designed to keep contents secure in a sitting position. Side pockets usually have upward-facing openings and may have zippers. Cargo pockets are usually on thighs and may have velcro or zipper closures.
Back pockets are not generally used on sailing shorts, because of the frequency of sitting on hard decks.
PADDING
Padding on seats may be built-in or may come in the form of a removable pad that slots into a discrete rear pocket. Pads are usually sold separately and must match the shorts. In most cases, the shorts must be removed to insert the pads.
CLOSURE
Buttons, often oversized, are the preferred waist closure for most conventionally styles sailing shorts. They are usually used in combination with a zipper. Neoprene shorts tend to be elastic and often have no closure.
GUSSETS
Gussets are pieces of fabric sewn into a seam to allow it to expand when needed. They are often used to enhance freedom of movement without making the shorts excessively baggy.
READ MORE
For more of our top sailing gear recommendations, check out these popular buyer's guides: