Updated on September 30, 2020
At the end of a long day of bike travel, a super cozy sleeping bag might just be your best friend. If you've ever gotten that dreamy night's sleep in a tent, then you know that your sleeping bag is a key player in that pursuit. We want to make sure you're outfitted with the highest quality gear out there, so our experts here at The Adventure Junkies have compiled a list of the best bikepacking sleeping bags.
We've handpicked these favorites based on their ability to keep you warm and aid in lightweight travel. We know how important having the right gear is to you, and we've included products best suited to all different types of bikepackers — from those with the need for speed to those who prioritize a plush, all-encompassing camping experience. We've got you covered. Read on!
For more of our top bikepacking gear recommendations, check out the Best Bikepacking Tents.
Quick Answer

-

The Best Bikepacking Sleeping Bags
Comparison Table

-

Best Bikepacking Sleeping Bags

For the best experience turn your device horizontally
Reviews

-

The Best Sleeping Bags for Bikepacking
Marmot Trestles
Specs
Weight

:

3 lb. 13.5 oz.

Shape

:

Mummy

Temperature Rating (F)

:

2

Insulation Type

:

Synthetic

Compressed Volume

:

16.9 L
Features
Mummy Shape Aids In Warmth And Low Packed Size And Weight
Special Trademarked Insulation Is Light, Soft, And Super Warm
Zipper Guard Prevents Snags


BEST FOR ZERO DEGREE NIGHTS
If you want to guarantee your warmth on super cold nights, you've gotta check out the Trestles 0 Sleeping Bag from Marmot. Not only will this bag keep you warm on the coldest of bikepacking trips, it is also made to be super plush and comfy and still weighs under five pounds. Plus, the price is right, especially for a bag with such a low temperature rating.
In addition to its great little set of basic features, this bag has some tricky features, too. (Tricky in a good way, you know: It's Tricky, Tricky, Tricky). It has not one, but two zippers to aid in easy ventilation. It has both a 3D hood and foot space, which work to envelope your face, provide extra room for your feet, and keep you as warm as possible.
One of this bag's most unique features is its external pocket that makes storing your nighttime essentials, like a flashlight or cell phone, easy to find in the dark. This bag also comes in three sizes — regular, long, and wide-long, so you can customize your perfect fit.
Big Agnes Lost Dog
Specs
Weight

:

3 lb. 3 oz.

Shape

:

Semi Rectangular

Temperature Rating (F)

:

15

Insulation Type

:

Synthetic

Compressed Volume

:

7.8 L
Features
Attaches To Your Sleeping Pad To Keep You In Place All Night
Jacket Style Hood Allows For Comfortable Head Movement
100% Recycled Insulation Makes This Bag A Cut Above In The Sustainability Department


BEST FOR: THE TOSSER AND TURNER
If you tend to toss and turn, wrestle with your pillow, or get separated from your sleeping pad when you camp, the Big Agnes Lost Dog has your back (figuratively and literally). This bag is made to keep even the most extreme tosser and turner comfortable while they sleep.
It has several features to help all the components of a good night's sleep stay firmly in place, even as you wiggle around inside. It attaches to your thermal sleeping pad (be sure to check fit measurements listed in the specs to ensure compatibility) so that as long as you stay in the bag, you'll stay on the pad, too.
It also has a "pillow barn" that keeps your pillow secure all night, and its roomy jacket-style hood allows you to comfortably move your head from side to side, or cinch up tight when it gets really cold. To top it all off, this bag is made for plush comfort and has a super reasonable price tag.
The North Face One Bag
Specs
Weight

:

3 lb. 12 oz.

Shape

:

Semi Rectangular

Temperature Rating (F)

:

5/20/40

Insulation Type

:

Down And Synthetic

Compressed Volume

:

17.5 L (Maximum)
Features
Innovative 3-In-1 System Tailors To All Different Temperatures And Trips
Goose Down Insulations Ensures A Cozy Night's Sleep
Mid Layer Can Also Be Used As A Shawl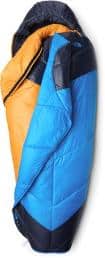 BEST FOR: VARYING CONDITIONS
Not really into spending the cash on two or three different sleeping bags for the different weather conditions you may experience on different bikepacking trips? Don't want to choose just one bag that will leave you slightly too cold on some nights and a little too warm on others? The North Face One Bag is, well…your one bag solution!
This nifty sleeping bag comes with three different layers that can be combined or used on their own to provide the ultimate temperature control in warm, cool, and cold conditions. Pack just one or bring all three and cozy up. With the quality and versatility of this bag, you'll never need to buy another sleeping bag again!
Know that there may be a bit of a learning curve to figure out how the layers unzip and zip together, and if you do bring all three with you, while they're still impressively lightweight, they will take up a good chunk of space in your pack.
Therm-A-Rest Questar
Specs
Weight

:

2 lb. 3 oz.

Shape

:

Mummy

Temperature Rating (F)

:

20

Insulation Type

:

Down

Compressed Volume

:

5.4 L
Features
Special Down Insulation Blend Repels Water And Dries Super Fast
Unbeatable Warmth To Weight Ratio
Trademarked "Toe-asis" Provides A Pocket Of Warm Down To Quickly Warm Cold Feet


BEST FOR: THE ULTRALIGHT BIKEPACKER
This bag has two very important qualities for the serious bikepacker: it is super lightweight and it is also super warm. Built for temperatures as low as 20 degrees Fahrenheit and weighing in at just over two pounds, the Therm-A-Rest Questar Sleeping Bag is a dream come true.
Not only is this sleeping bag super warm and lightweight, it is also water resistant and has a quick drying fill and outer fabric layer. Its smart construction is designed to minimize cold spots and provide an abundance of heat in the places you need it most. It also has a snag-free zipper system and an external pocket to store your nighttime essentials. This sleeping bag does come at a higher cost than the others on this list, but if you're serious about bikepacking (or want to be!), it is definitely well worth the purchase.
REI Co-op Helio Sack
Specs
Weight

:

1 lb. 9 oz.

Shape

:

Semi Rectangular

Temperature Rating (F)

:

50

Insulation Type

:

Synthetic

Compressed Volume

:

3.1 L
Features
Ultralight And Super Compressible -- You'll Barely Know It's In Your Pack
Short Side Zipper Works As An Arm Hole And Vent
A Moisture And Stain Resistant Finish Keeps Your Bag Clean And Dry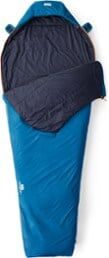 BEST FOR: WARM WEATHER BIKEPACKING
While the primary goal of any sleeping bag is to keep you warm at night, you don't always need one made with heavy down. In fact, on warmer nights, a heavy down bag will have you waking up in a sweaty frenzy, and no one wants to deal with that. That's why we've included the REI Co-Op Helio Sack on our list of best bikepacking sleeping bags. It's perfect for your warm weather trips!
This sleeping bag comes with some really great features and a price that is truly unbeatable. For starters, it has a relaxed, semi rectangular shape that won't overly restrict you, and two zippers: one is your standard long zipper, and the other is short so you can vent in air without totally unzipping and tangling up while you sleep.
One of this bag's most unique features is its drawcords. There are two, one for neck and the other for hood, and each is shaped differently so you can make easy adjustments in the dark. To top it all off, it comes with both a compression sack for travel and a bigger, breathable sack for off-season storage.
Just know that if you plan to do any cool or cold weather bikepacking, you'll need a second, warmer sleeping bag, too.
THINGS TO CONSIDER WHEN BUYING BIKEPACKING SLEEPING BAGS
WEIGHT AND COMPRESSED VOLUME
However, as a bikepacker, there are certainly reasons you might opt for a lighter one. As you'll find (if you don't already know) when traveling by bicycle, you have extremely limited space and a limited maximum weight, as well. Lighter bags preserve space and weight in your pack so you have more room for other trip essentials. Heavier bags don't compress as well and take up more space and weight, but tend to be warmer.
SHAPE
There are two main bikepacking sleeping bag shapes: mummy and semi rectangular.
Mummy bags are considered a more "advanced" bag shape because they prioritize low space and weight, high warmth, and they do not necessarily prioritize roominess or comfort.
Semi Rectangular bags, on the other hand, tend to be a little bit bigger and weigh a little more than the mummy bags, but as a trade off, you'll get more wiggle room at the base of the bag and therefore a little bit more comfort.
INSULATION
There are two main types of insulation found in bikepacking sleeping bags: synthetic and down.
Down insulation is considered the warmest and highest quality. It is made from goose feathers. It is also the most expensive type of insulation.
Synthetic insulation also has the ability to provide a great deal of warmth, though it is man-made insulation. It tends to be cheaper than down.
TEMPERATURE RATING
When viewing the specs of various bikepacking sleeping bags, you may notice that there are two ratings that relate to the bag's ability to keep you warm: the temperature rating and the comfort rating.
For simplicity, we have listed the bag's temperature rating only. This rating indicates the temperature at which the bag will keep the average sleeper warm. The comfort rating, on the other hand, indicates the temperature at which the bag might keep a cold sleeper warm. If you tend to get cold easily, especially while you sleep, be sure to keep that comfort temperature in mind! You can read more about temperature ratings and how sleeping bags are tested here.
PRO TIP
Not sure the best way to care for your sleeping bag? Proper care and washing can greatly extend the longevity of the product. Read all about storage, washing, and general sleeping bag care here.
SPECS AND FEATURES EXPLAINED
FILL
Another word for sleeping bag insulation.
COMPRESSION SACK
A special bag that compresses the sleeping bag to reduce its size when not in use.
HOOD
The part of the sleeping bag designed to keep your face and head warm.
TOE BOX/FOOT SPACE
The part of the sleeping bag where your feet fall.
ZIPPER GUARD/SNAG FREE ZIPS
Zippers designed in such a way that prevents them from catching on the sleeping bag fabric.
READ MORE
For more of our top bicycle touring gear recommendations, check out these popular buyer's guides: