Updated on September 17, 2020
Getting ready for your next multi-day bike touring trip or your epic single day adventure and looking for the best bike handlebar bag to carry your gear? If you're not sure what types of bags are available on the market or how to choose the best bike handlebar bag to suit your next cycling adventure, then look no further – we've got you covered!
The Adventure Junkies biking experts pulled together a short list of the best bike handlebar bags so you can get back to cycling in no time. Covering everything from small and lightweight handlebar bags through to fully waterproof, highly durable, and substantially sized bags, you're sure to find exactly what you're looking for on this list. So no matter what adventure you have in mind, we have the best solution for you right here!
For more of our top biking gear recommendations, check out the Best Bike Frame Bags.
Quick Answer

-

The Best Bike Handlebar Bags
Salsa EXP Series Anything
Comparison Table

-

Best Bike Handlebar Bag

For the best experience turn your device horizontally
Reviews

-

The Best Handlebar Bag for Biking
Chrome Helix
Specs
Material

:

Coated Nylon And Waterproof Liner

Capacity

:

3L

Weight

:

9.6 oz

Size

:

9" x 5.5" x 3"
Features
Waist Strap For Off Bike Use
2 Internal Mesh Pockets
Coated Zipper For Easy Opening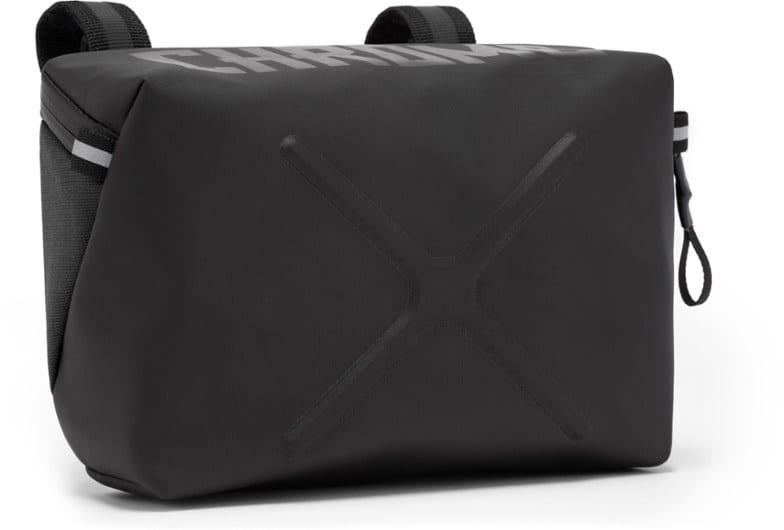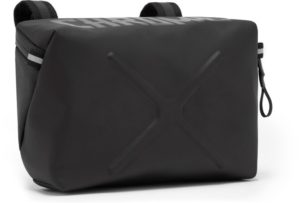 BEST FOR: LONG DAY TRIPS
The Chrome Helix Handlebar Bag is ready for on and off the bike action. Fitted with both a handlebar hook and loop attachment and a waist strap, it's easy to mount to your bike or simply click on the waist strap and you're ready to explore on foot.
This bag is small enough to carry as a shoulder bag yet big enough to fit all your essentials. This is the perfect pack for those longer day trips when you need plenty of space to carry extra snacks, a small jacket, and other day trip essentials, but not all your gear for a multi-day trek.
The internal lining keeps your gear protected from inclement weather. The coated zipper not only allows you to easily open the pack, but also ensures the weather stays on the outside. Two internal mesh pockets help keep your phone, wallet, and keys separated and quick to locate inside the bag.
Topeak Frontloader
Specs
Material

:

Nylon

Capacity

:

8L

Weight

:

13.6 oz

Size

:

19.7" X 5.9" x 5.9"
Features
Quick Release Straps Allow For Easy Access
Durable Materials
External Strap Holds Additional Gear That Doesn't Need To Be Protected From Weather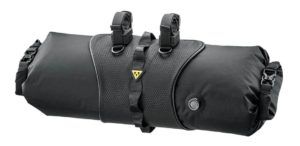 BEST FOR: WET WEATHER BIKE TOURING
If the chances are you will be caught in monsoon weather or wet muddy roads on your next adventure, the Topeak Frontloader Pack could be your solution to dry and clean gear. The lightweight and durable design is great for storing light yet bulky items such as your sleeping bag or extra clothes.
This 8L waterproof bag keeps your gear completely dry and the built in air-release button pulls air out of the bag to keep it compact. The bag also features an external strap around so you can clip on small essential items if required. The quick release buckles on either end make it easy to access your gear quickly and the hook and loop handlebar attachments allow you to load up your pack quickly if you need to hit the road on a time crunch.
Ortlieb 9L
Specs
Material

:

Nylon

Capacity

:

9L

Weight

:

21.8 oz

Size

:

15.7" x 5.9" x 5.9"
Features
Compact Shape Is Ideal For Narrow Handlebars
Waterproof Design Keeps Your Belongings Dry In Inclement Weather
Reflectors On The Bag Make You Visible At Night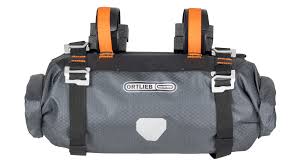 BEST FOR: NARROW HANDLEBARS
The Ortlieb 9L Handlebar Pack is awesome for bikes with narrow handlebars such as drop handlebars (the curly bars). The total length is a mere 15.7", yet it still manages to pack a punch with its load capacity of 9L. As with most handlebar bags, it is waterproof and suited to carrying lightweight yet bulky items.
The velcro straps that connect the handlebar pack to the handlebars are made of bright reflective material so you're sure to be seen by headlights at night. The straps also include various spacers so the bag can be fitted to a variety of handlebar shapes and sizes. This bag also features a reinforced section that helps to keep the pack stable and secure on your handlebars.
Salsa EXP Series Anything
Specs
Material

:

Coated Nylon

Capacity

:

15L

Weight

:

22.5 oz

Size

:

33.4" x 7.8" x 9"
Features
Includes Bag, Cradle, and Straps
Fully Waterproof
Hook And Loop Attachment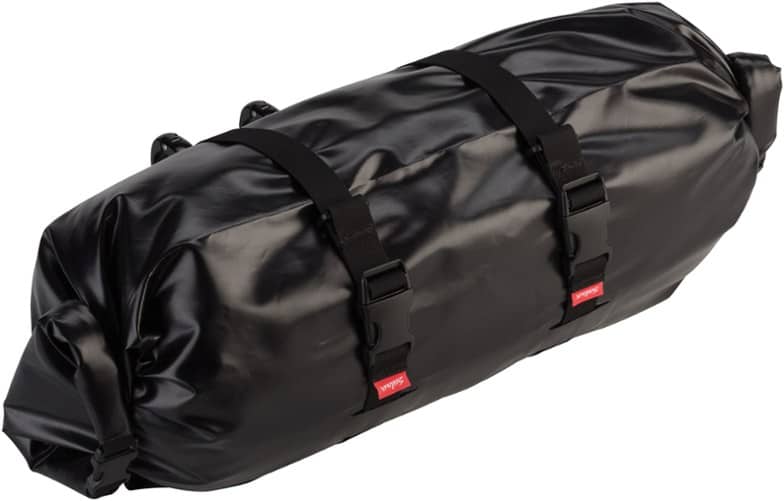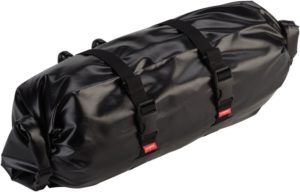 BEST FOR: SERIOUS BIKE PACKING
The Salsa EXP Series Anything Cradle, Drybag, and Straps is the ultimate bike handlebar bag combo. Although it sits at the higher end of the price scale, it is a fully inclusive package that is made to rack up and hit the road.
Featuring a fully waterproof drybag with a capacity of 15L, this handlebar bag can carry all your lightweight and bulky items. The additional straps help to keep the drybag packed tight and allows you to attach extra items to the outside of the pack.
It also includes a cradle, which is a special mount that keeps your bag stable to prevent it from moving around on your bars. The cradle also ensures the bag stays firmly in position and does not sag onto your front wheel when it is full. This bag will allow you to enjoy your ride without worrying about the position of your bags!
THINGS TO CONSIDER WHEN BUYING MOUNTAIN BIKE HANDLEBAR BAGS
How much gear do you need or want to carry and what gear are you planning on carrying? Bike handlebar bags are best suited for bulky yet lightweight items, such as sleeping bags, lightweight clothing, and small essentials such as your phone and wallet.
If you're planning a multi-day bike touring adventure you'll probably need to carry more gear, so a larger handlebar bag (up to 15L) would be a good option. If you're planning on going on a single day epic adventure where you just need somewhere to put your phone, wallet, a small jacket, and extra snacks then a 3L bag may be enough.
If you want some inspiration for what to pack – check out The Adventure Junkies Bike Touring Packing List here.
SIZE – LENGTH
The length of the bike handlebar bag will also need to be considered. If your bike has drop handlebars, which tend to be narrower than their flat bar counterparts, you may need to choose a shorter bag so it fits on your handlebars. There are options on the list above like the Ortlieb 9L which are considered a compact design and are best suited for drop handlebars.
MATERIAL
Most bike handlebar bags are waterproof, and some will feature specially designed heavy duty materials so they are suited to rugged riding and terrain. These materials are often lightweight. Depending on your bike touring adventure, you may want to choose a bag that features waterproof and heavy duty material to ensure your gear stays dry and safe.
FEATURES EXPLAINED
HOOK AND LOOP
This is a mounting system that is most commonly velcro or buckle style straps that are on top of the bag. It allows the bag to loop over the handlebars and can be micro-tightened to ensure the perfect fit.
ROLL TOP
This is a style of bag closure. You simply roll the top of the bag down and then clip the buckle to keep it tightened. Some bags will have this on both ends for easy access to both sides of the bag.
DRYBAG
A waterproof and lightweight bag that will keep anything inside dry.
CRADLE
A separate piece of hardware that is a stiff structure – often hard plastic, that attaches to the handlebars and allows the bike handlebar bag to sit inside. This keeps the bag very stable and stops it from moving around when riding on rough terrain. Some bike handlebar bags will either come with a cradle or it can be bought separately.
EXTERNAL STRAP
A piece of thick strapping material that wraps around the bag. With an external strap, you can clip small attachments onto the outside of the bag or slide gear into the straps such as small tent poles.
WAIST STRAP
A separate strap that can be attached to the bag to allow you to carry it as a shoulder bag or fanny pack. This extra strap makes it easy to carry your bag when you get to a destination and want to take it off the bike.
READ MORE
For more of our top bicycle touring gear recommendations, check out these popular buyer's guides: