Updated on September 28, 2020
Touring bikes are the perfect way to see the world. They allow you to immerse yourself in your natural surroundings and free you up to explore the rarely seen nooks and crannies of the globe. With so many different options, styles, and prices for touring bikes, it can be a minefield trying to choose the right bike for your next adventure. The bike experts here at The Adventure Junkies have pulled together a comprehensive list of the 10 Best Touring Bikes just for you, to make your life easier and your bike tour more enjoyable. We've included everything from the most budget friendly touring bikes right through to the most serious bike touring rigs on the market. If "choose your own adventure" is your style, then find your ideal partner in crime right here!
For more of our top bicycle touring gear recommendations, check out the Best Touring Bikes Under $1,000.
Quick Answer

-

The Best Touring Bikes
Pure Cycles Gravel Adventure
Comparison Table

-

Best Touring Bikes

For the best experience turn your device horizontally
Reviews

-

The Best Bikes for Touring
Niner RLT 9 2 Star
Specs
Weight

:

21.2 lb

Wheel Size

:

700c

Frame

:

Aluminium

Handlebar Shape

:

Drop

Brake Type

:

Disc Brakes

Number of Gears

:

20
Features
Disc Brakes For Excellent Stopping Power
Rear Rack Mounts To Load Up All Your Gear
Ability To Fit Extra Wide Tires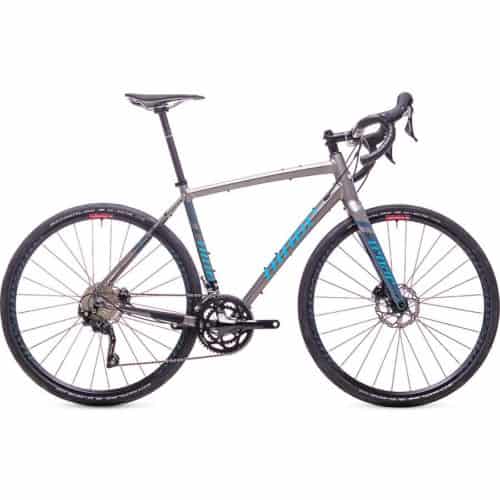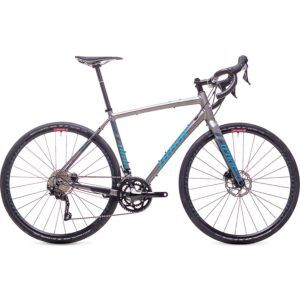 BEST FOR: THE ROADS LESS TRAVELLED
If you want to keep exploring when the road turns to gravel, the Niner RLT 9 2 Star is the perfect bike for the job. Fitted with wide tires that provide plenty of comfort and grip, disc brakes for excellent stopping power on mixed terrain, and a wide range of gears to make climbing mountains a breeze, you will have all day fun on this bike.
While this bike is fitted with rear rack mounts, it does not come with front mounts, so it's best suited to those who prefer to travel light.
Co-op Cycles ADV 1.1
Specs
Weight

:

32.7 lb

Wheel Size

:

700c

Frame

:

Steel

Handlebar Shape

:

Drop

Brake Type

:

Disc Brakes

Number of Gears

:

30
Features
Includes Front And Rear Racks For Attaching Bags and Gear
Ultra Low Gears To Make Climbing Easier
Fitted With Road Tires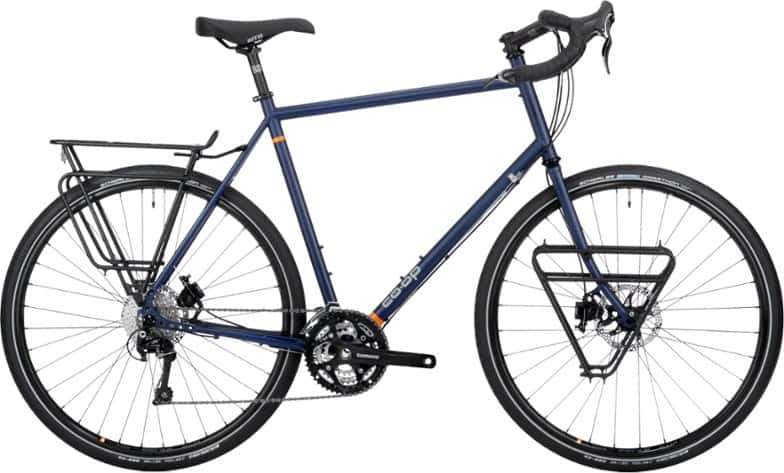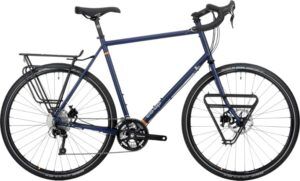 BEST FOR: MULTI-DAY ROAD TOURS
If you want an all inclusive package for a very reasonable price then the Co-Op Cycles ADV 1.1 could be the bike for you. This bike is designed specifically for bike touring, with an extra strong frame and ultra low gears. The ADV 1.1 is literally built for carrying a loaded bicycle over any mountain pass you may encounter.
This bike is fitted with road style tires and is best suited to smoother paved roads. It also includes the front and rear racks for carrying your bags and gear, so you don't have to worry about buying extra pieces to clip in before heading out on your epic tour.
Co-op Cycles ADV 4.2
Specs
Weight

:

35 lb

Wheel Size

:

700c

Frame

:

Aluminum

Handlebar Shape

:

Drop

Brake Type

:

Disc Brakes

Number of Gears

:

22
Features
Includes Front And Rear Racks For Attaching Bags And Gear
Suspension Seat Post To Help Smooth The Ride
Strong And Sturdy Frame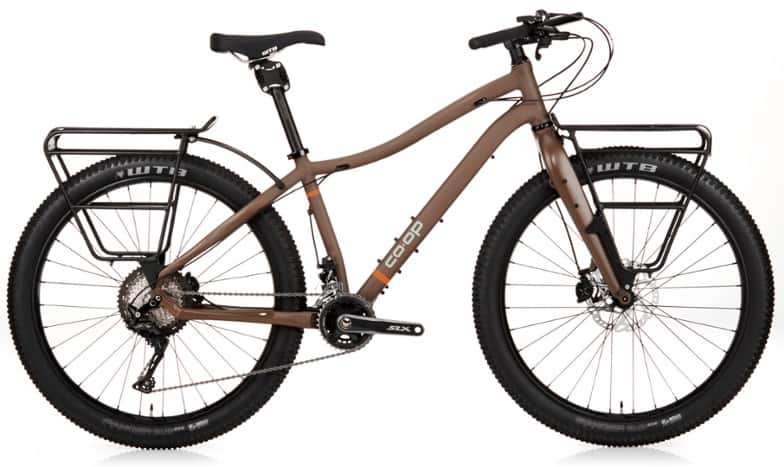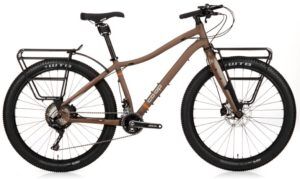 BEST FOR: SERIOUS BIKE TOURING
This beefy touring bike is fitted with all the bells and whistles to take you on a loaded-up long haul adventure. The extra strong frame combined with touring specific geometry means it will handle those heavy loads while keeping you feeling in control while riding.
Custom front and rear racks are included as well as wide chunky tires, a huge selection of gears, and disc brakes. All of these features combine to make this bike ready to take you to places you never knew you could go. The Co-Op Cycles ADV 4.2 is a "choose your own adventure" style of bike and it won't disappoint.
Pure Cycles Gravel Adventure
Specs
Weight

:

31 lb

Wheel Size

:

700c

Frame

:

Aluminum

Handlebar Shape

:

Drop

Brake Type

:

Disc Brakes

Number of Gears

:

16
Features
Durable Frame
Disc Brakes Offer Excellent Stopping Power
Multiple Mounting Points Allow You To Load Up Racks And Bags
BEST FOR: ADVENTURING ON A BUDGET
This bike is built for adventures with a full selection of mounting points, to attach all the racks and bags you'll need for your next multi-day bike tour.
Although this is a slightly heavier bike due to its steel frame construction, you can be reassured of its strength and durability. The wide grippy tires and disc brakes means this bike is suited to mixed terrain environments, including dirt and gravel roads. A large selection of gears also makes this bike adaptable to rolling and undulating terrain.
Stacked with features, the Pure Cycles Gravel Adventure bike is an exceptional value for cost – you really can't go wrong if you're looking to save money but still invest in a quality touring bike!
THINGS TO CONSIDER WHEN BUYING A TOURING BIKE
Touring bikes are extremely versatile. If you're thinking of buying a brand new touring bike, it's worthwhile to do some research into the destinations and terrain you plan on exploring. Maybe you just want a solid bike that can carry you for short weekend excursions around your local city. Or perhaps you're looking to get into Ultra Endurance Bike Packing – whatever it is you plan to do on your new bike, it's important to know what features you'll need before making your decision about which new rig to buy. Doing some research beforehand about where and how you plan to ride your new touring bike will ensure you get the maximum bang for your buck.
It is also worthwhile to consider how much gear you want to travel with, as each bike will have various carrying weight limits and mounting points for attaching that gear to your bike.
Read more about how to choose the right touring bike for your needs.
TERRAIN
Exploring the roads less travelled can also mean you might find yourself on some rough and rugged terrain at times. When choosing a touring bike, consider where your adventure is going to take you so you can choose a bike that is best suited to your riding.
Paved Roads are best suited to bikes with narrower tires to keep your rolling fast with no suspension.
Smooth Dirt Roads are best suited to medium width tires, to give you some extra traction but still have you rolling fast. A bike without suspension is suitable for this terrain.
Gravel and Dirt Roads are best suited to bikes with chunky tires for added traction. If you are a very confident rider, a bike without suspension will do. However, if aren't as confident with your bike handling skills, look for a bike with suspension as it will help smooth the ride and inspire confidence over the small rocks and uneven surfaces.
Rough Tracks are best suited to bikes with chunky tires for added traction and grip. Front suspension is a good choice to help smooth the ride and inspire confidence on the uneven terrain.
BRAKE TYPE
There are two types of brakes on touring bicycles: rim brakes and disc brakes. Rim brakes effectively slow down the bike, but tend to be slower to come to a complete halt than disc brakes. When touring with a fully loaded bicycle, it is often safer to have disc brakes as the weight of the bike, yourself, and your gear combined requires greater stopping capability.
TIRE SIZE
Touring bikes are usually fitted with wider tires. You'll want to consider the terrain where you plan on riding and select a tire size that is suitable for the terrain. Rough roads are best suited to wide, chunky tires as they will offer more grip, stability and comfort. Paved and smooth roads are best suited to a smooth, narrow tire that will help keep you moving fast.
TOURING GEAR
Touring bikes are equipped with multiple mounting points to carry racks and bags. These mounting points are usually located at the front and rear of the bike, however every bike varies as to how many mounting points they have and where they are located on the frame. You'll want to make sure you choose a bike that has enough mounting points for the amount of gear you want to take. If you are not sure what to carry or how to choose the right bag, then check out a bag buying guide here.
GEARING
There are many options for touring bike gearing and the type of gearing you'll need on your bike will often depend on the terrain and route you plan on riding. It is possible to climb mountain passes with a fully loaded touring bike as long as you select the right gearing.
You want to ensure that the bike you choose has a wide selection of gears available that are suited to the route and terrain. For example, a bike with 1 x 10 gearing will only have 10 gears to choose from, while a bike with 3 x 8 gearing will have 24 gears (8 x 3 = 24) to choose from. More gears means more choice for hard and easy gear selection when riding.
FEATURES EXPLAINED
MOUNTING POINTS
These are small screw holes located on the frame that allow you to attach a rack or water bottle. Mounting points for racks are most commonly found at the front and rear of the bike near the wheels, while water bottle mounting points will be somewhere in the middle of the frame.
Not all touring bikes will be fitted with the same amount of mounting points so consider what you plan on carrying and choose a bike that has the appropriate number of mounting points.
RACKS AND BAGS
The racks are a metal frame that attach to the mounting points. These racks are used to attach your bags and gear to the bike.
Make sure there is an even weight distribution when loading your gear so the bikes center of gravity is straight rather than heavily loaded on one side. This will help with stability and bike handling when riding.
DISC BRAKES
These are a style of brake. The caliper – which works like a clamp – grips the metal rotor on the wheel to bring the bike to a quick stop.
Disc brakes offer quick and even stopping power which is required for a fully loaded touring bike.
FRONT SUSPENSION
Front suspension means that the suspension is located at the front of the bike. The suspension is a metal rod that is internally tensioned with springs which moves up and down based on the terrain. It insulates the rider from feeling every bump.
DROP HANDLE-BARS
These are the curly looking bars on the front of the bike. Although they're a little unusual looking, they are extremely comfortable.
Due to the comfort of drop handlebars, they're becoming some of the most common touring bike handlebars, as they offer the rider a variety of places to position their hands. This will reduce rider fatigue when you are spending long hours on the bike.
FLAT BARS
These handlebars can be flat all the way across or even slight curved towards the rider. These offer a wider and more upright holding position. Flat bars can make you feel more confident while riding because your arms are held wide and high, keeping you stable and secure on any terrain. Unlike drop handle bars where you can change your hand position, with flat handlebars there is less ability to change your hand position, which can lead to rider fatigue when spending long hours in the saddle.
WHEEL SIZE
Touring bike wheels come in a variety of shapes and sizes. Most commonly a wheel that is sized 27.5 or 29" is a mountain bike style wheel and can fit very wide and chunky tires. Wheels that are sized 650B or 700c are more commonly found on a road or gravel bike. Although road bike frames can fit wider tires, you will not be able to fit a mountain bike tire to these types of bikes.
Wheel size matters when you consider the terrain you will be riding on – extremely rough terrain would be best suited to a wheel that can fit a wide chunky tire like a mountain bike style wheel, whereas smooth paved roads and even gravel can use a narrower tire. Check out this article for more information about touring specific tires.
READ MORE
For more of our top bicycle touring gear recommendations, check out these popular buyer's guides: