Updated on April 12, 2022
Remember the first time you saw a fat bike? You probably asked "what is that thing?", and then wondered what it would be like to ride around on those enormous balloon-like tires. Fat bikes – usually defined as bikes with tires over 4" wide – have been around for some time but have become much more popular over the last few years. They were originally designed for riding in sand or snow, but riders discovered that they perform well on other forms of terrain as well, and today it's common to see fat bikes on everything from urban bike paths to challenging mountain bike trails.
Fat bikes use those huge tires to soak up bumps and many don't come with mechanical suspension. That allows manufacturers to price them lower than conventional mountain bikes, and there's a wide range of budget-friendly options available. This guide to the best fat bikes under $2000 should help you choose the one that's best for you!
For more of our top bike gear recommendations, check out the Best Fat Bike Tires.
Quick Answer

-

The Best Fat Bikes Under $2000
Gravity Bullseye Monster Five X
Comparison Table

-

Best Fat Bikes Under $2000

For the best experience turn your device horizontally
Reviews

-

Best Bikes for Fat Biking Under $2000
Mongoose Malus
Specs
Frame Material

:

Steel

Weight

:

42 lbs

Drivetrain

:

1x7

Brakes

:

Mechanical Disc
Features
Shimano Drivetrain For Smooth Shifting
Mechanical Disc Brakes For Reliable Stopping
Steel Frame For Strength And Reliability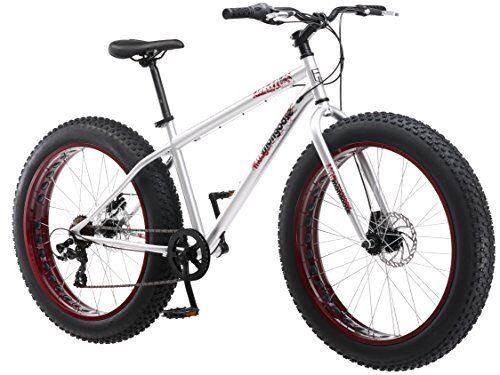 BEST LOW BUDGET FAT BIKE
Mongoose has a reputation for delivering bikes that are reliable and affordable, and this is no exception. Don't expect a high-end machine at this price point, but if you're looking to get on the trails with the lowest possible budget this is a great way to do it. The bike is undeniably heavy, but it's sturdy and functional and it will do what you need it to do!
Vtuvia Electric
Specs
Frame Material

:

Aluminum

Weight

:

N/A

Drivetrain

:

1x10

Brakes

:

Hydraulic Disc
Features
Electric-Assist Fat Bike With 60-75 Mile Range Per Charge
Durable Samsung Lithium Battery
Intelligent Pedal Assist Blends Pedal And Motor Power
BEST ELECTRIC ASSIST FAT BIKE UNDER $2000
Some people feel that using an electric-assist bike is cheating. Others think they're a natural extension of technology and a useful addition to the bike lineup, especially for bike commuters or riders who face extended climbs that they aren't quite ready to take on!
If you're in the latter category, this contender comes with an "intelligent pedal assist" system that reads your pedaling power and feeds power to the system proportionally to achieve your desired speed. If you want to do it the old fashioned way, the 1×10 Shimano drivetrain is more than able and Shimano hydraulic disc brakes will stop you however you're powered. The brushless motor gets 60-75 miles on a single 5-6 hour charge and there's a 2-year warranty on the frame and motor.
Diamondback El OSO Nino
Specs
Frame Material

:

Steel

Weight

:

35 lbs 8 oz

Drivetrain

:

1x7

Brakes

:

Mechanical Disc
Features
Shimano Seven-Speed Drivetrain With Grip Shifters For Easy Shifting
Simple, Durable Mechanical Disc Brakes Give Sure Stopping Power
Rugged High Tensile Steel Frame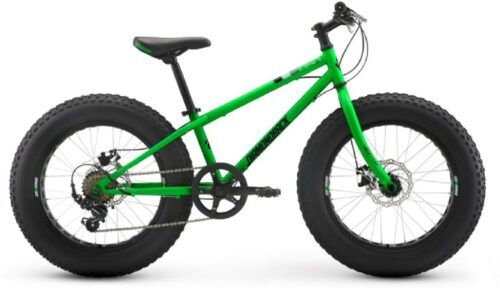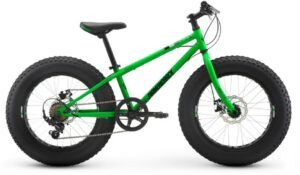 BEST FAT BIKE FOR KIDS
Kids love bikes, and they love taking bikes to places where adults would fear to pedal. That often includes mud, sand, snow, and other loose or soft surfaces, which makes a fat bike a natural for the younger rider. Besides, what kid doesn't want to ride a two-wheeled monster truck?
This kid-specific ride is built around a bombproof steel frame, with seven-speed Shimano grip shifters handling the gear changes and mechanical disc brakes providing sure stops. 20" wheels plus 4" tires gives plenty of sizing latitude, and this bike is ideal for taking 5-11 year old riders into the muck and out the other side. They may not come out clean, but they'll be smiling!
Gravity Bullseye Monster Five X
Specs
Frame Material

:

Aluminum

Weight

:

N/A

Drivetrain

:

1x10

Brakes

:

Mechanical Disc
Features
Through Axle Suspension Fork Gives A Plush Ride And Keeps Your Wheel Straight
Shimano Hydraulic Disc Brakes For Reliable Stopping
Super Wide 4.9" Tires: Fatter Than Fat!
Wide Size Range To Fit Any Rider
BEST AFFORDABLE FRONT SUSPENSION FAT BIKE
The Bullseye Monster introduces front suspension and ultra-wide 4.9" tires to an affordable fat bike build, producing a machine that's ready and raring to eat up rough technical trails. The combination of the 120mm of front fork travel and the inherent squish of those enormous tires smooths bumps and gets you over obstacles with ease.
Shimano hydraulic disc brakes and the SRAM GX drivetrain round out a very affordable bike that's ready for the rough stuff! There's also an unusually wide range of sizes available, making this a great choice for large or small riders. The wide size range makes it impossible to quote a weight for the bike but it's competitive with bikes of similar specifications.
Diamondback El Oso Dos
Specs
Frame Material

:

Aluminum

Weight

:

34.8 lbs

Drivetrain

:

2x10

Brakes

:

Mechanical Disc
Features
Front Through-Axle Keeps Front End Under Control
Shimano 2x10 Drivetrain Delivers Wide Gear Range
Strong Reinforced Aluminum Frame
BEST ALL AROUND FAT BIKE
Diamondback has a reputation for delivering functional, high-quality bikes at affordable price points, and the El Oso Dos is a great example of how they got that reputation. There's no single feature that stands out: it's just an all-around solid package that delivers the goods on the trail or on the road. If you're after a practical, eminently rideable, and versatile fat bike at a moderate price point, this is a great choice!
THINGS TO CONSIDER WHEN BUYING A FAT BIKE
As with any mountain bike, it's best to start your search for a fat bike with a realistic assessment of your needs. Will you be riding on snow and sand, on smooth cross country trails, on rough technical trails, on roads, or a blend of all of them? How much climbing do you expect to do? Once you've homed in on your riding style you'll be ready to select the bike that best suits that style. There are plenty of good quality fat bikes available at quite reasonable prices and you're sure to find something that will fit your requirements from the list above!
Buying a fat bike is a lot like buying any other mountain bike. There are lots of models available, at prices ranging from quite low to very high. Which one is right for you? Sorting that out requires a realistic look at what you want to do with your bike and what kind of bike and components you really need. Read on to learn about everything you should consider when buying your first (or fifth) fat bike and then get to riding!
KNOW WHERE YOU'LL RIDE
Most of us do most of our riding near where we live. That means that the type of riding we'll do depends largely on the trails and riding areas that are accessible. If you're relatively new to riding you'll want to take a look at the local trails and talk to some local riders to get an idea of what bikes fit best.
KNOW YOUR RIDING STYLE
Fat bikes were originally designed for riding on very loose surfaces like sand and snow. If you plan on that sort of riding you'll want the widest possible tires, leaning closer to the 5" range. Many fat bike riders now use their bikes as conventional mountain bikes, riding the same trails that anyone else would.
If you plan to ride steep or rough trails you'll be looking for bikes with sturdy components from reputable manufacturers, and possibly for bikes with front suspension. Those may be less important if you'll be riding your bike mainly around town and trying out a few trails on the side. If you do a lot of climbing, you'll want to look for wide gear ratios and quality drivetrains that can stand up to pressure.
DECIDE WHAT YOU NEED
Cycling is a gear-intensive sport and it's easy to get carried away with fancy components and the various options that manufacturers promote. High-end parts are lots of fun but they can get very expensive very quickly, and most riders, especially beginners and novice riders, don't really need them. The mid-level and even entry-level lines from major manufacturers are well made and serviceable and will do everything you need. Don't worry if you can't afford or don't want to spend on the latest and greatest. Ride what you've got, don't get carried away by comparing bikes, and focus on building up your strength, endurance, and skills. Those stay with you no matter what you ride!
LEARN MORE
REI has a good general guide to choosing a mountain bike, or try this guide to how to choose your fat bike, or this review of everything you need to know about fat bikes.
SPECS AND FEATURES EXPLAINED
FRAME MATERIALS
Fat bike frames are made from steel, aluminum, or carbon fiber.
Steel frames are strong, inexpensive, and relatively heavy.
Aluminum is a highly adaptable material and is used in bikes of many different price points. It is lighter than steel and delivers plenty of strength if properly formed and welded. Hydroformed aluminum tubes can be curved and tapered to reduce weight without cutting strength. Extra butting on frame joints increases strength.
Carbon fiber frames are light and strong and typically used on more expensive bikes.
DRIVETRAIN
A bicycle's drivetrain delivers power from the pedals to the rear wheel, and allows you to shift gears so you can pedal on anything from steep hills to level ground.
Drivetrains are classified by the number of chainrings in the front and rear. A bike with one ring in front and ten in back has a 1×10 drivetrain. Shifting the chain from one ring to another gives you different gear combinations for different purposes.
SRAM and Shimano dominate the drivetrain market and their components, especially in the middle to higher end models, are a significant selling point for bike makers.
Bicycle drivetrains involve many different components and can take some time to understand. REI has a guide on how to use bike gears that gives a good summary of how drivetrains work and how to use them effectively.
BRAKES
Almost all modern bicycles use disc brakes. Mechanical disc brakes are inexpensive, reliable, and effective. Hydraulic disc brakes are more expensive but give greater control and sensitivity and place less stress on the hands. Again, Shimano and SRAM are the preferred brands, with Avid brakes,now a subsidiary of SRAM, holding a good reputation in the mechanical disc brake market.
WEIGHT
Fat bikes tend to be heavier than conventional mountain bikes, mainly because tires and inner tubes are a large part of overall bike weight and fat bikes use big tires. Some fat bike inner tubes can weigh in at a pound each! Consider weight before you buy, especially if you'll be doing a lot of climbing or if you need to carry your bike up stairs or rack it on a vehicle.
FORKS
The fork is the part of the bike that holds the front wheel and connects it to the frame. Fat bikes rely on huge squishy tires to absorb impact and many of them use rigid forks rather than the suspension forks that are typically used on conventional mountain bikes. Some fat bikes that are oriented toward rough terrain do use suspension forks, usually wide-clearance forks made specifically for fat bikes, like the RockShox Bluto or the Manitou Mastodon.
TIRES
Fat bikes are all about those giant tires, but not all fat bike tires are the same. Some bikes come with tires in the 4" range and some have only enough frame and fork clearance to accommodate tires of that size. Others, especially those intended for use on snow, sand, or rough trails, use 4.5" or even 5" tires. If you think you might want to use larger tires than the original spec on the bike you're considering, make sure the clearance is wide enough to accommodate them.
Premium tire brands like Maxxis and Kenda are often preferred, especially by riders who expect to be riding on rough trails where grip is a priority.
SEATPOSTS
Most riders prefer to keep their seats high for maximum pedaling power on climbs or flat ground and to lower it and stand up on the pedals for control on descents. Conventional rigid seatposts have to be manually adjusted, which means stopping and getting off the bike to change your seat height. Dropper posts adjust automatically using handlebar-mounted controls. If your trails involve a lot of transitions between up and down, a dropper seatpost can be a big advantage.
CABLE AND HOSE ROUTING
Brakes, derailleurs, and dropper seatposts are linked to their controls by cables or hydraulic hoses. These are usually bundled and tied to the frame by cable ties. Some frames use internal routing to keep them inside the frame tubes, which gives a cleaner appearance and reduces snags but can make controls harder to reach for maintenance.
THROUGH AXLES
Both front and rear wheels are traditionally mounted to the frame and fork by quick-release skewers. Bikes designed for rough terrain often replace the skewer with a thicker, stronger through axle, which takes a bit longer to remove but keeps the bike more rigid and controllable.
READ MORE
For more of our top bicycle touring gear recommendations, check out these popular buyer's guides: