Updated on October 1, 2020
When the chill of fall enters the air, nothing is better than cozying up in a fleece vest as you hike through the changing colors of the foliage or get toasty around a campfire. From super fuzzy thick fleece to keep you warm on cold nights to thin lightweight fleece for layering while you're working hard, there are a lot of options for fleece vests. Here at The Adventure Junkies, we have sorted through the options to help you find the best fleece vest for you and your favorite outdoor activities.
For more of our top hiking apparel recommendations, check out the Best Fleece Jackets.
Quick Answer

-

The Best Fleece Vests
Patagonia Classic Synchilla

Sherpa Adventure Gear Tingri
Comparison Table

-

Best Fleece Vest

For the best experience turn your device horizontally
Reviews

-

The Best Fleece Vests for Hiking
Patagonia Classic Synchilla
View Women's Version
Specs
Material

:

100% Recycled Polyester

Pockets

:

2 Zippered Hand, 2 Open Internal

Fleece Weight

:

Medium
Features
Full Front Zipper w/Stand-Up Collar for Extra Insulation
Zippered Chest Pocket & Handwarmer Pockets
Offset Shoulder Seams Avoid Irritation Under a Pack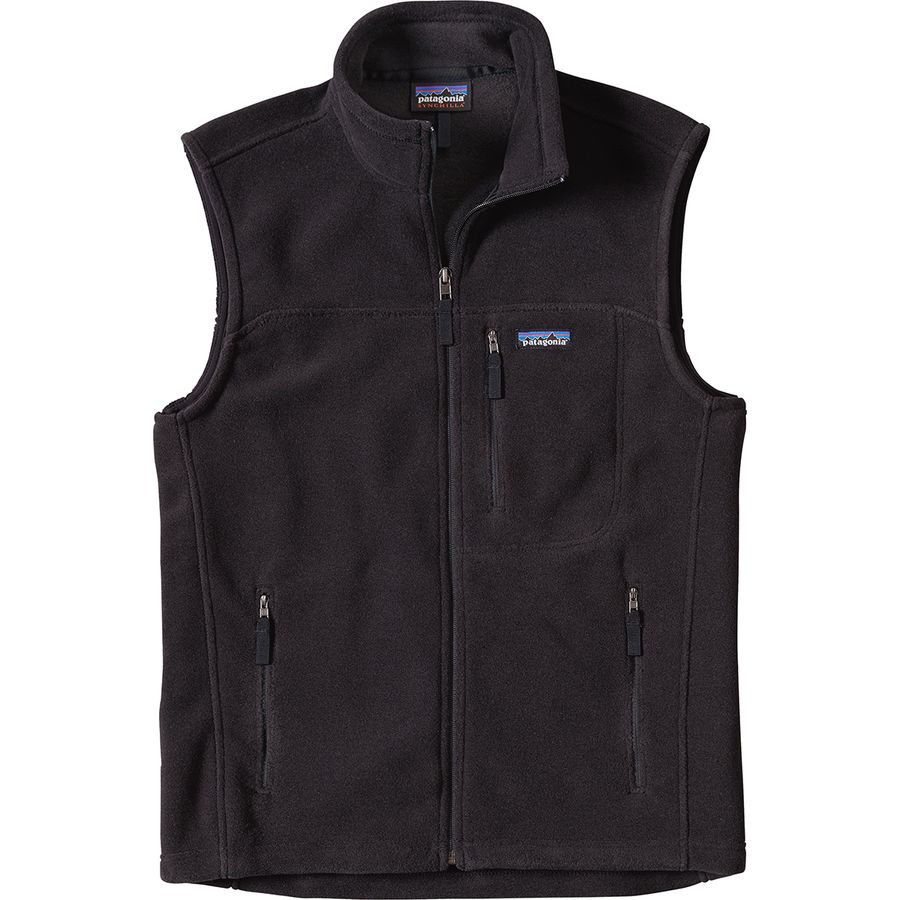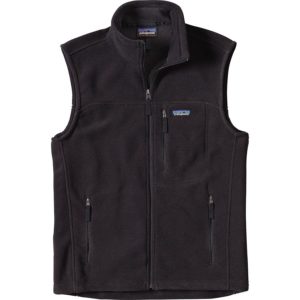 BEST FOR: VERSATILITY
Patagonia fleece vests are ubiquitous for a reason – they are high-quality, versatile, and comfortable, without a high price tag. The Patagonia Classic Synchilla vest is the perfect layer for outdoor adventures in the fall or anytime you need to keep cozy without too much bulk. You can wear it over a base layer or under a thicker jacket to maintain heat in your core.
The Patagonia Classic Synchilla has zippered hand warmer pockets, as well as a zippered chest pocket to keep your essentials safe and handy. The shoulder seams are offset, so they won't rub and chafe under the straps of a pack. However, if you're on a backpacking trip where space in your pack is limited, the Synchilla doesn't stuff down super small.
Smartwool Hudson Trail
Specs
Material

:

45% Polyester/45% Wool/5% Nylon/5% Other Fibers

Pockets

:

2 Open Hand

Fleece Weight

:

Medium
Features
Wool Provides Natural Odor-Resistance
Cut to Fit Under or Over Other Layers
Side Pockets Keep Your Hands Warm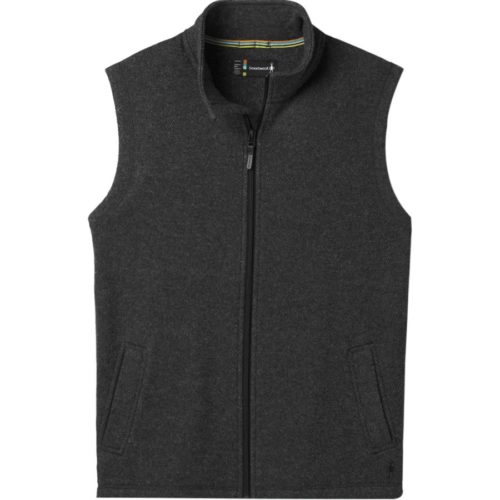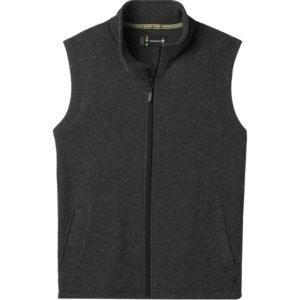 BEST FOR: OFFICE TO TRAIL
Integrating merino wool with fleece, the Smartwool Hudson Trail offers the best properties of both fabrics in a stylish vest that will take you from the office to the trail to a night on the town. The fleece keeps you insulated and provides durability, while the merino wool is soft and odor resistant (so it doesn't require as much washing). The sleek fabric is warm without looking too rugged, so you'll feel at home at happy hour or around a campfire.
The fit is roomy enough to allow other layers underneath, yet slim enough to wear under an outer layer or jacket as well.
KUHL Interceptr
Specs
Material

:

78% Acrylic/22% Polyester

Pockets

:

2 Zippered Hand, 1 Zippered Chest

Fleece Weight

:

Medium
Features
Breathable Side Panels
Microfleece Lining on Inside of Collar for Warmth
Low Bulk Seams for Comfortable Layering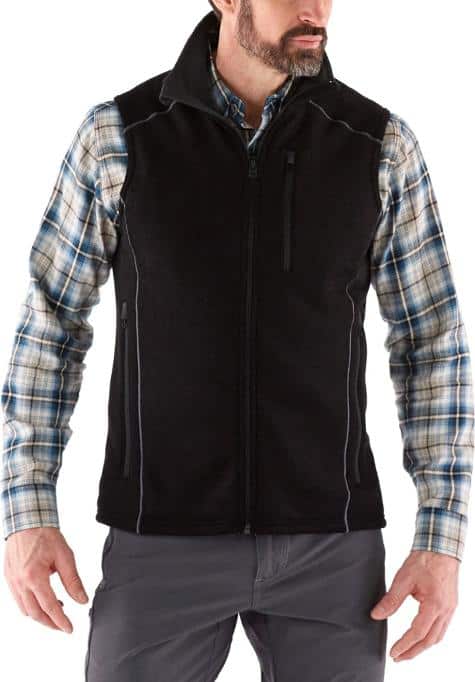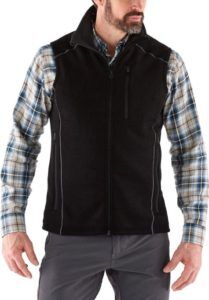 BEST FOR: VARIABLE TEMPS
The Kuhl Interceptr is a great choice if you're adventuring in a variety of seasons and changing conditions. The proprietary Alfpaca Gold fleece on the outside is warm and moisture-wicking, and the Interceptr also has side panels made of a more breathable fabric so you retain heat without feeling sweaty and uncomfortable. The side panels and the low bulk seams also make the Kuhl Interceptr ideal for layering under a jacket when it gets cooler.
The collar is lined with microfleece for an extra layer of insulation when you zip it all the way up. The Kuhl Interceptr also has dual zippered chest pockets, so you can keep everything you need close by.
Arc'teryx Kyanite
View Women's Version
Specs
Material

:

53% Polyester/38% Nylon/9% Elastane

Pockets

:

2 Zippered Hand, One Zippered Internal Chest

Fleece Weight

:

Medium
Features
Air-Permeable to Help Regulate Temperature When You're Active
4-Way Stretch Provides Full Freedom of Movement
Slim Fit Layers Well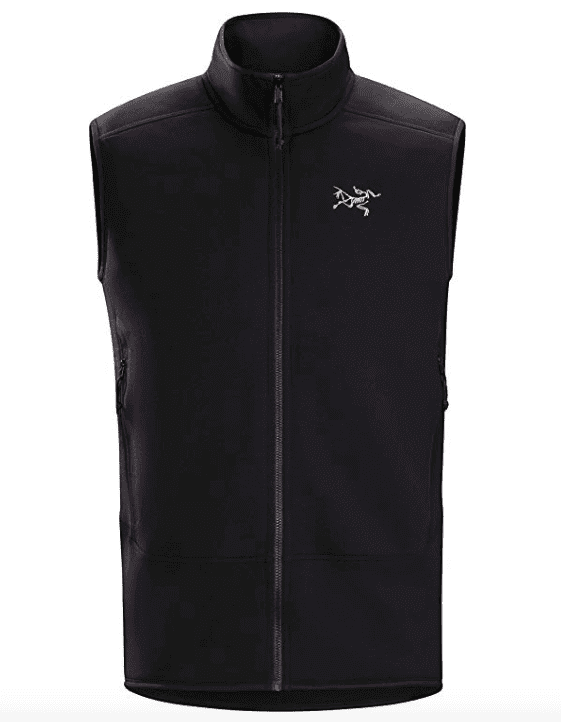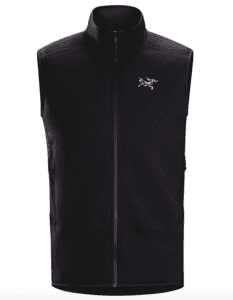 BEST FOR: ACTIVE ADVENTURES
The Arc'teryx Kyanite fleece vest is designed to keep your core insulated during strenuous activity. The proprietary Polartec Power Stretch Pro is air-permeable, so it ventilates to regulate your temperature when you're on the move, and the interior lining wicks away moisture when you start to sweat. The fabric is also abrasion resistant if you're bushwhacking or scrambling over rocks, and it features a 4-way stretch so your movement is never restricted.
The Kyanite has a slim fit and is not bulky, so it is excellent for layering under thicker outer layers in more intense conditions, and it stands on its own in milder temps.
Patagonia Better Sweater
View Women's Version
Specs
Material

:

100% Polyester

Pockets

:

2 Zippered Hand, 1 Zippered Chest

Fleece Weight

:

Medium
Features
Moisture-Wicking Interior Lining Keeps You Dry
Wind Flap on the Zipper to Prevent Chill
Interior Pockets for Simple Storage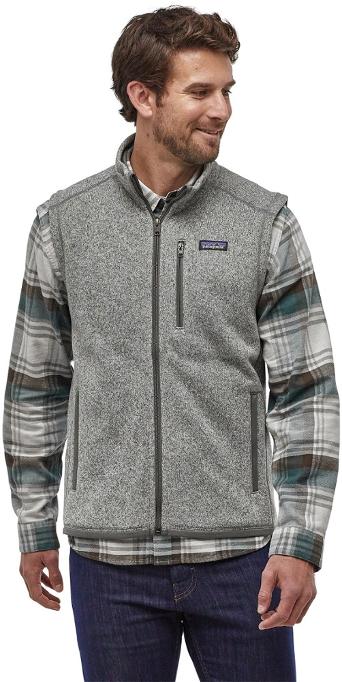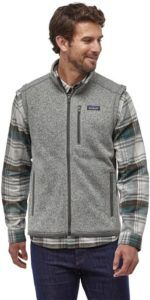 BEST FOR: DURABILITY
The Patagonia Better Sweater vest is a streamlined fleece with the look of a wool sweater that is designed to last through the seasons and the years. The interior of the vest is lined with moisture-wicking fabric to keep you comfortable and dry, while flat-seam construction makes the vest low-profile under other layers, and offset shoulder seams don't irritate under a pack.
The fleece material of the Patagonia Better Sweater vest is made from recycled polyester and is Fair Trade Certified. Also, the colors are created through a low-impact dyeing process that requires less energy and water than standard production.
The North Face Campshire
View Women's Version
Specs
Material

:

70% Polyester/30% Recycled Polyester

Pockets

:

2 Zippered Hand

Fleece Weight

:

Heavy
Features
Thick Fleece is Incredibly Insulating
Elastic-Bound Zipper & Collar Keep the Chill Out
Large Zippered Side Pockets Warm Up Hands
BEST FOR: WARMTH
The North Face Campshire is a heavyweight, fuzzy fleece vest that will keep you warm in the winter, whether you're huddling around the campfire or hitting up happy hour in town. The thick fleece is incredibly soft, so you'll feel cozy when you're out in the cold, and the cut is flattering, with contrasting zippers for a touch of style.
Because the North Face Campshire is so thick and insulating, it is not great for layering under an outer layer because it will add too much bulk, but it does work well on its own over a base layer.
Fjallraven Keb
Specs
Material

:

73% Polyester/20% Wool/7% Elastane

Pockets

:

2 Zippered Hand, One Zippered Chest

Fleece Weight

:

Light
Features
Reinforced Shoulders to Resist Abrasion
Chin Guard on Front Zipper for Extra Warmth
Hand Pockets Located to Stay Out of the Way of a Pack's Hip Belt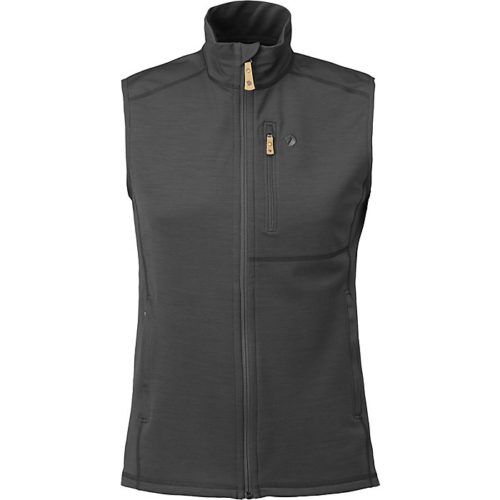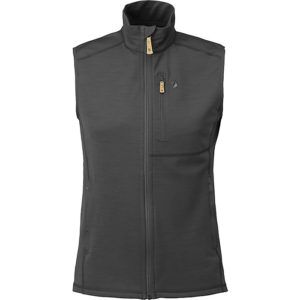 BEST FOR: PACKABILITY
The Fjallraven Keb is a lightweight fleece vest that packs down easily to throw in a bag whenever you might need it. Made of polyester and wool, the vest insulates well with a smooth, not fuzzy, finish, and the shoulders are reinforced with special G-1000 Eco fabric that resists abrasion and provides extra durability.
A chin guard at the top of the zipper keeps out wind gusts so you don't get chilly, and a vertical zippered chest pocket stores valuables safely. The zippered hand pockets on the Fjallraven Keb are positioned to avoid interfering with the waist belt when you're wearing a pack.
Columbia Steens Mountain
Specs
Material

:

100% Polyester

Pockets

:

2 Zippered Hand

Fleece Weight

:

Medium
Features
Collar Folds Down or Stands Up for Extra Warmth
Variety of Color Options
Zippered Pockets Keep Valuables Secure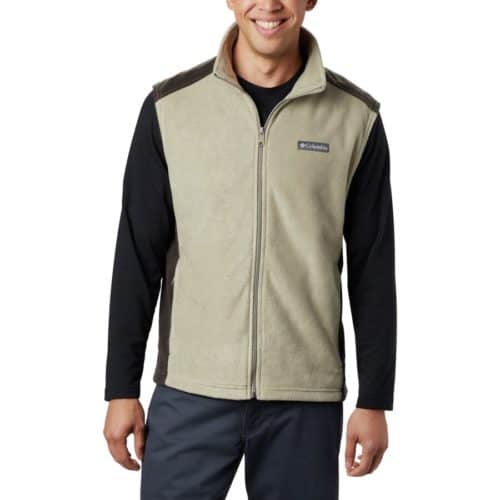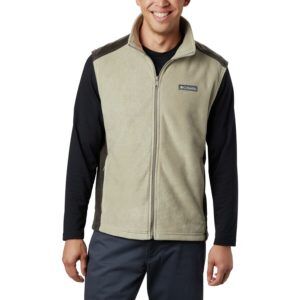 BEST FOR: VALUE
The Columbia Steens Mountain doesn't offer a lot of special features, but it is a simple, fleece vest that will keep you warm at a very low price. The midweight fleece works well as a layer on slightly chilly days. The collar can either fold down or stand up when you need some extra protection against the weather. Zippered hand pockets let you safely store your essentials when you're on the go.
When you're trying to integrate the Columbia Steens Mountain fleece vest into your wardrobe, you have lots of color options to choose from, instead of just standard muted earth tones.
Sherpa Adventure Gear Tingri
View Women's Version
Specs
Material

:

100% Polyester

Pockets

:

2 Zippered Hand, One Button Snap Chest

Fleece Weight

:

Heavy
Features
Water Repellent Finish to Keep You Dry
Media Port and Earbud Guides for Using Your Phone
Handmade in Nepal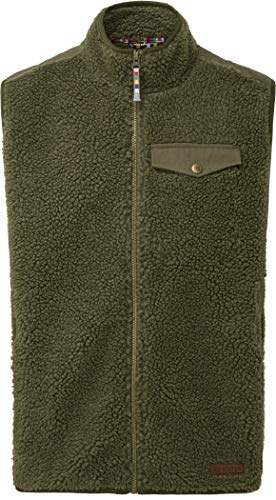 BEST FOR: DAMP CONDITIONS
If you're looking for protection from damp, chilly weather, look no further than the Sherpa Tingri fleece vest. Featuring a high-pile fleece for extra warmth, the back and shoulders are also finished with a durable water repellent treatment and wax, so water will roll right off, and you'll stay dry. This vest also makes it easy to use your phone or portable media player, thanks to a low-profile media port and earbud guides.
The Sherpa Tingri fleece vest is handmade in Nepal, and part of the proceeds go to support the Sherpa Adventure Gear Fund to help educate and empower Nepalese children.
THINGS TO CONSIDER WHEN BUYING FLEECE VESTS
When you're searching for a fleece vest, you are looking for a way to keep your core warm. As this article explains, if your core stays warm, this actually helps your extremities stay warmer as well, because more warm blood is circulating to them. Fleece is a synthetic fabric that is great for keeping you warm when you're outdoors, and this article explains why it's such a good choice.
Fleece vests come in a range of weights – light, medium, and heavy – so you'll want to consider the conditions you'll be using the vest in to figure out what is right for you.
LAYERING
Fleece vests are usually used as part of a layering system, and it's important to think about what role you want your fleece vest to play. If you're generally adventuring in a more mild climate, where you want the fleece vest to function as an outer layer, you can go for a thicker, heavyweight vest. But if you plan to wear it under outer shells and jackets, you'll want a less bulky vest. Midweight fleece vests are usually good for wearing either over or under other layers.
LINING
Many fleece vests are lined with a different fabric than the outer fleece. If you tend to sweat a lot during outdoor activities, look for a moisture-wicking lining that will keep you drier and avoid clamminess, which is never fun, especially in chilly weather.
POCKETS
If you plan to wear your fleece vest on its own without an outer jacket, you probably want pockets to keep your essentials with you. Some vests have internal pockets or zippered chest pockets, so you can choose what you prefer.
FEATURES EXPLAINED
WINDFLAP
An extra flap of fabric to cover the zipper and prevent wind from getting in.
MICROFLEECE
An extra thin version of fleece, usually used as a lining.
WATER REPELLENT
Fabric is treated with a durable water repellent so water beads up on top instead of soaking in.