Updated on September 29, 2020
You're thinking of heading out on the wide open road and you're getting all your gear ready to go. You have your bike. You have your bike shorts. You have your clip-ons and your bike gloves. But do you have a GPS yet? When you're going on a bike ride or trip, especially the longer ones, a GPS is an essential accessory, and the right one can make your ride a whole lot smoother (we mean that literally and figuratively)! You can get started with GPS selection by checking out this list of best GPS for bikepacking.
Because we want you to have one of the best of the best GPS's for bikepacking, all products on this list come equipped with a few basics. They all have Bluetooth capabilities that allow them to connect to your smartphone, and they all track basic data stats like current, maximum, and average speed, trip distance, and time. With that in mind, we've included information on some other specs that are important for riders and a range of products, from the compact and budget-friendly Wahoo MINI, to the higher budget, fully loaded Garmin Edge 1030. Happy spinning!
For more of our top bikepacking gear recommendations, check out the Best Bikepacking Bags.
Quick Answer

-

The Best GPS for Bikepacking
Wahoo Fitness ELEMNT BOLT

Wahoo Fitness ELEMNT ROAM
Comparison Table

-

Best GPS for Bikepacking

For the best experience turn your device horizontally
Reviews

-

The Best Bikepacking GPS
Wahoo Fitness ELEMNT BOLT
Specs
Altimeter

:

Yes

Battery Life

:

15 Hours

Illumination

:

Yes

Batteries

:

1 Rechargeable Lithium Ion

Weather Tracking

:

No

Dual Bike Memory

:

Yes
Features
More Than 150 Customizable Data Fields Allow You To Show Stats That Matters To You
Tactile Buttons For Easy Toggling While Riding
Pop-Up Alerts Notify You Of Incoming Calls, Texts, And Emails While Riding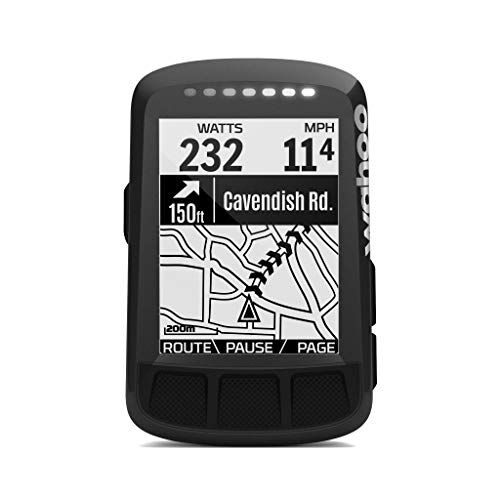 BEST TRIED AND TRUE GPS
With over 400 five star reviews on REI.com and over 100 more on Amazon, this is a GPS for bikepacking that has been tried and trusted by bikepackers again and again! If you want a GPS that you know is reliable because so many have put it to use and loved it before you, this one is a great pick. And not only is this GPS well-loved, it also comes at a great price.
The Wahoo Fitness Elemnt Bolt GPS has over 150 customizable data fields, so you can pick and choose to see the statistics that matter to you most. It has raised buttons for toggling, so you don't have to bother with a finicky touch screen while you're on-the-go. Another fan favorite feature is the "Back to Start" navigation, which navigates your route in reverse to get you back to where you started. Overall, this GPS for bikepacking is a really great value.
Garmin Edge 130
Specs
Altimeter

:

Yes

Battery Life

:

15 Hours

Illumination

:

Yes

Batteries

:

1 Rechargeable Lithium Ion

Weather Tracking

:

Yes

Dual Bike Memory

:

No
Features
LiveTrack Feature Allows Location Sharing
Download Courses From Course Creator Feature
Made Partially From Recycled Materials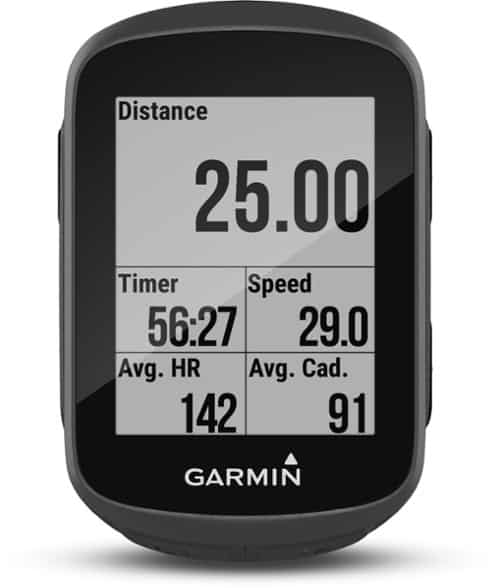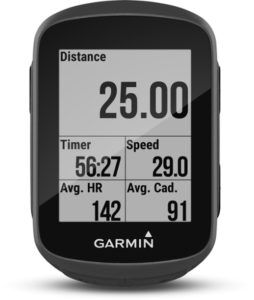 BEST BASIC GPS
This GPS for bikepacking is one that won't break the bank, but it will provide a lot of value! The Garmin Edge 130 is Garmin's most basic bike GPS, and it comes with all the essential features you need: turn-by-turn and back to start navigation, basic data recording, downloadable courses, and even weather alerts.
Be aware — this GPS does not come with many fancy features like some of the more amped up Garmin models (see below for a Garmin model with all the features), but for its moderate price tag, the Edge 130 is a great pick. If your main goal is to hit the road on a reasonable budget without sacrificing quality or basic functionality of product, we highly recommend going with this GPS.
Wahoo Fitness ELEMNT ROAM
Specs
Altimeter

:

Yes

Battery Life

:

17 Hours

Illumination

:

Yes

Batteries

:

1 Rechargeable Lithium Ion

Weather Tracking

:

No

Dual Bike Memory

:

Yes
Features
"Get Me Started" Feature Navigates To Starting Point Of Selected Route
Syncs With TrainerRoad, Which Maps Both Outdoor And Indoor Workouts
Beautiful, High Contrast Color Display Makes The Screen Easy To Read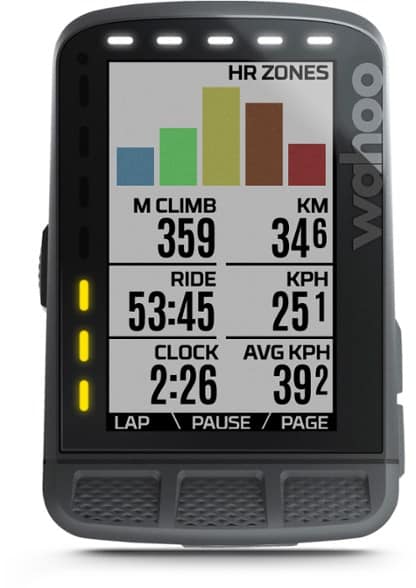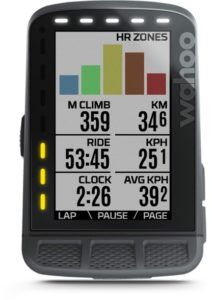 BEST TECH GPS
If in-depth data collection and high-tech capabilities are important to you in a GPS for bikepacking, the Wahoo Fitness Elemnt Roam is one you won't want to overlook! Like other Elemnt series GPS's from Wahoo Fitness, the Elemnt Roam links to the Elemnt companion app to up your cycling game by allowing you to customize your profile, choose to collect the data that is most important to you, track that data, and then share it with friends.
Not only can you do a lot with the Elemnt Roam by connecting it to the companion app, you'll also love the screen you're doing it on. This GPS features a beautiful 2.7 inch color display that really sets it apart from other bike computer screens, which typically show a black and white digital display. The ability to show color makes it easy to track your progress and data points, and the screen even lightens and dims automatically in changing light conditions so it is always easy to read! When it comes to device technology, the Elemnt Roam is a clear cut above the rest.
Garmin Edge 1030
Specs
Altimeter

:

Yes

Battery Life

:

20 Hours

Illumination

:

Yes

Batteries

:

1 Rechargeable Lithium Ion

Weather Tracking

:

Yes

Dual Bike Memory

:

No
Features
Send And Receive Messages To And From Other Edge 1030's
Trendline Popularity Routing Shows You Popular Routes Based On Other Garmin Users' Behavior
Incident Detection Feature Automatically Sends Your Location To Emergency Contacts In The Event Of An Accident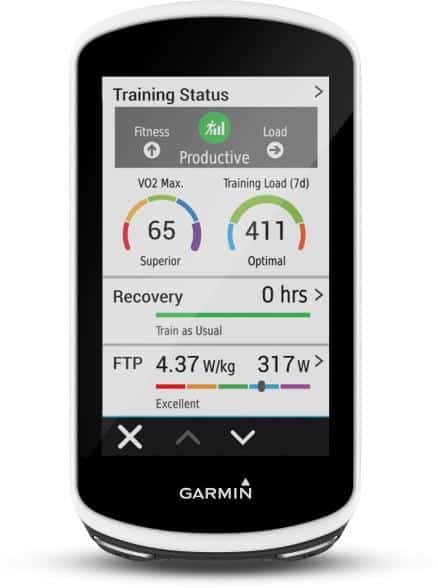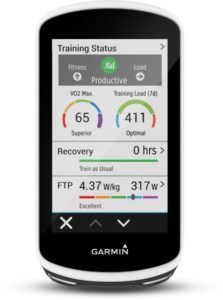 BEST AMPED UP GPS
If you liked the looks of the Garmin Edge 130, but you want to kick it up a notch (or three), we suggest taking a look at the Edge 1030 instead. With a real killing of data measurements and tracking, next-level customization components, full color display, and high-tech safety features, this GPS truly meets the definition of "fully loaded."
Before you click to check out the price tag, let us save you the sticker shock — this GPS is the real deal and you'll definitely pay the cost for that. But in this case, you really do get what you pay for. If you represent the truly intense and committed bikepacker, this GPS is the only way to go. There's not much room left for "want" with this one because the Edge 1030 integrates pretty much every existing GPS and bike computer feature out there into a single product.
THINGS TO CONSIDER WHEN BUYING A GPS FOR BIKEPACKING
COST
Bike enthusiasts know how it goes: the costs of cycling equipment add up fast, especially when you're considering something technical like a GPS for bikepacking. However, you don't have to break the bank when it comes to a bikepacking GPS. Something like the Wahoo Fitness Roam MINI will get the job done just fine and cover all your basic bike computer and GPS needs.
That being said, in some cases, you may actually want to spend a little extra and get a really nice bike computer with a slew of features and a beautiful display to top it all off. And you can! There is truly a huge range of prices on the market when it comes to bike GPS's, so if you do your research, you're sure to find something that works for you (and your wallet!).
CONNECTIVITY CAPABILITIES
In this day and age, pretty much all quality bike GPS come with the ability to link and send data to your smartphone. If this is something that is important to you, just make sure you don't accidentally snag one of the few available that do not connect.
Some bike GPS's also have the ability to connect to one another. This feature allows riders with the same GPS model to send (often pre-written) messages to each other. This can definitely come in handy, but it only works if your fellow riders have the same GPS as you do.
SAFETY FEATURES
Believe it or not, something as simple as location sharing can be a safety feature! Other common features include "Rearview," which offers the ability to see approaching cars in real time on your GPS screen, and Incident Detection, which alerts emergency contacts in the event of a crash.
If you typically ride in a group, these features may not be important to you, but if you ride alone often, we recommend a GPS that works to keep you safe in addition to keeping you on route.
DATA CUSTOMIZABILITY
Some GPS's for bikepacking have hundreds of customizable data collection fields. Others come with just the basics. The depth with which you can customize your GPS data collection is really up to you because the sky's the limit if you want it to be! However, fancy data collection and analytics is a feature that can dramatically affect the cost of your GPS.
AN IN-DEPTH GUIDE
Feeling overwhelmed by all the options you have with GPS for bikepacking? Have no fear. REI breaks down How to Choose Bike Computers here.
FEATURES EXPLAINED
CADENCE
Measured in revolutions per minute (RPM), cadence is the pace at which pedaling takes place. Not sure where to keep your RPM's? Wahoo Fitness explains cadence here.
ILLUMINATION
The ability of the device screen to light up.
ALTIMETER
A mechanism used to measure changes in altitude as you bike up and down hills.
READ MORE
For more of our top bicycle touring gear recommendations, check out these popular buyer's guides: