Updated on February 22, 2022
Bikepacking is an incredible way to explore the world on a micro level. Things move a little slower and you can spend as much or as little time in a place as you want before choosing to experience the next town, the next mountain pass, or the wide open roads. Before you plan your next bikepacking trip, make sure you stock up on the best bikepacking bags money can buy so you can ensure that all your belongings are safe and well-packed before you go!
Then there is the technical aspect of bikepacking and no doubt having the right equipment is going to make your experience even better. Bikepacking bags are one of the most important things to consider before a big cycling trip – after all, this is how you are going to carry everything from your toothbrush to your T-shirts!
There are so many different types and styles of bikepacking bags that it can be hard to choose the right bag for the job, especially if it's your first time bikepacking or bike touring. An overnight trip might require just a frame bag if you're a light traveller, a multiday trip might mean the addition of a handlebar pack, and those long epic adventures might call for large panniers too.
If your head is spinning wondering what all of these bags are for or which ones are the best on the market, then keep reading because we've compiled a list of our favorite bags for bikepacking to make sure you have the best bikepacking trip possible.
For more of our top bikepacking gear recommendations, check out the Best Bike Handlebar Bags.
Quick Answer

-

The Best Bikepacking Bags
Ortlieb Ultimate Six Free

Axiom Monsoon Oceanweave P23+

Ortlieb Seat-Pack Saddle Bag

Serfas Ark Expandable Half-Frame

Blackburn Outpost Top Tube

Revelate Designs Mountain Feedbag
Comparison Table

-

Best Bikepacking Bags

For the best experience turn your device horizontally
Reviews

-

The Best Bags for Bikepacking
Blackburn Outpost Elite
Specs
Material

:

Waterproof Material

Closure

:

Zipper

Dimensions

:

10" x 14" - 13" - 19"

Weight

:

7.3oz - 10.8oz

Style

:

Full Frame Bag

Waterproof?

:

Yes

Gear Capacity

:

3.37 - 6.76L (Small)
Features
Multi-Pocket Design To Separate Gear
Padded Mounting Straps To Protect Bike Frame
Available In Varying Sizes To Fit Different Bikes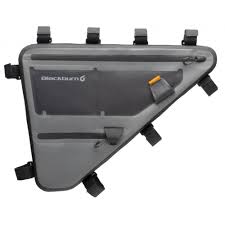 BEST FOR: THE ORGANIZED BIKEPACKER
A frame bag is a great way to store heavier items while not compromising the stability of your bike. It keeps the weight central and low giving you plenty of confidence when riding.
One of our top choices for frame bags is the Outpost Elite Frame bag. Even at first glance you can tell this bag was designed by someone who knows a thing or two about bikepacking. From the waterproof and dustproof materials to the lightweight construction that includes a multitude of organizational pockets to the design of the mounting system with soft straps to protect your frame, this bag is near perfect for the serious bikepacker.
This is a well thought out frame bag that is a great option for bikepacking. To top it off, it's available in four sizes so no matter what you ride, it's likely this line of bags will have a size option that suits you.
Ortlieb Ultimate Six Free
Specs
Material

:

PVC-Free Polyurethane-Coated Polyester

Closure

:

Magnetic Flap

Dimensions

:

9.4" x 5.3" x 5.1"

Weight

:

1.8L

Style

:

Handlebar Bag

Waterproof?

:

Yes

Gear Capacity

:

5L (Small)
Features
Removable Shoulder Strap
Easy One-Handed Access With A Magnetic Flap
Lockable Storage To Keep Your Belongings Safe And Sound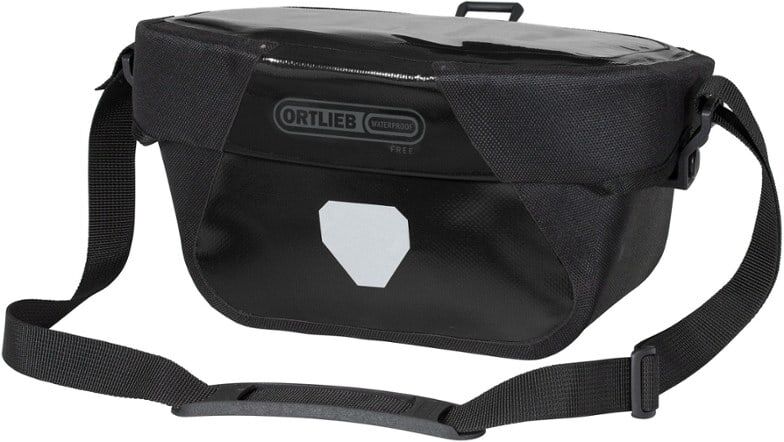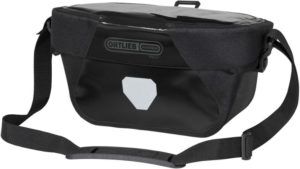 BEST FOR: EASY ACCESS TO SNACKS AND VALUABLES
If all your gear is easily tucked away into your panniers and trunk bag, or you're only headed out on a short trip, you may want to consider using a handlebar bag for your on-bike essentials.
The Ortlieb Ultimate Six Free Handlebar Bag is perfect for this. Made from a waterproof material with a rigid plastic interior, it sits upright and well away from your front wheel. This structure means it can easily handle slightly heavier objects and will have no problem holding your phone, wallet, snacks, and even a camera so you can capture your epic adventure. The bag is easily accessed with one hand due to the flap and magnetic closure system and the removable shoulder strap means it can go from handlebar bag to shoulder bag in under a minute. This multi-use bag is definitely worth checking out.
Topeak MTX Trunk Bag EXP
Specs
Material

:

600 Denier Polyester

Closure

:

Zipper

Dimensions

:

14.2" x 9.8" x 8.5"

Weight

:

2.10 oz

Style

:

Trunk Bag and Expandable Panniers

Waterproof?

:

No, Weather Resistant

Gear Capacity

:

16.6L (Medium)
Features
Expandable Panniers Store Away When Not In Use
Rigid And Protective Main Compartment For Storing Fragile Valuables
Carry Handle And Shoulder Strap Included For Easy Carrying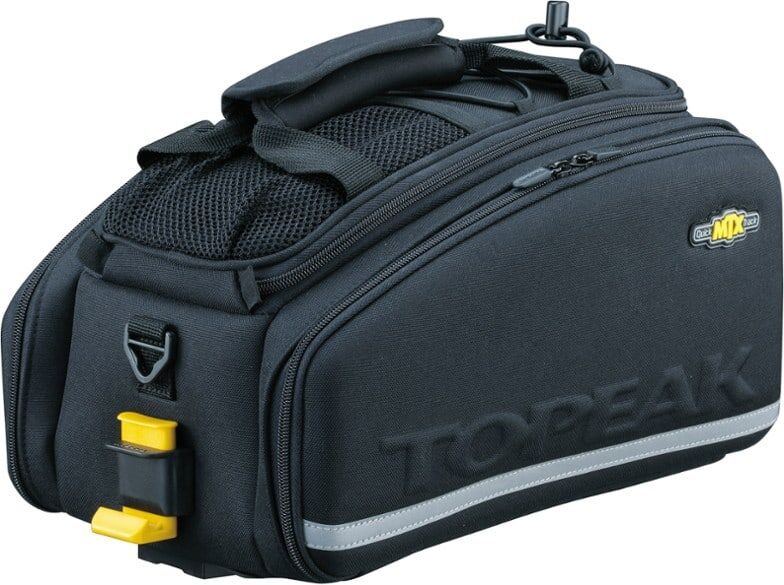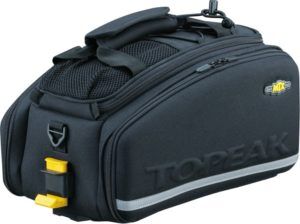 BEST FOR: PREPARING FOR UNKNOWN ADVENTURES
This bag packs a punch. Not only is it a full sized trunk bag made from a stiff, durable, and weather resistant material, it also expands in multiple directions for maximizing load capacity. The trunk bag itself has an expandable top section for stuffing in more clothes, snacks, or even a camera. Then you can simply unzip each side of the bag to roll out a set of inbuilt panniers which are perfect for storing large and bulky items.
This trunk bag also comes with a drink bottle storage pocket, a clip to attach lights on the rear for extra safety, and a shoulder strap so you can carry the bag easily off the bike. With so many features this trunk bag has to be one of the best for bikepacking and bike touring.
Axiom Monsoon Oceanweave P23+
Specs
Material

:

600 Denier Reclaimed Polyester

Closure

:

Roll Top And Buckle

Dimensions

:

18.5" x 11.3" x 5.3"

Weight

:

2.11 lbs

Style

:

Pannier

Waterproof?

:

Yes

Gear Capacity

:

23L (Large)
Features
Separate Electronics Organizer Pouches
Constructed From Recycled Materials
External Zippered Pockets Keep Items Easily Accessible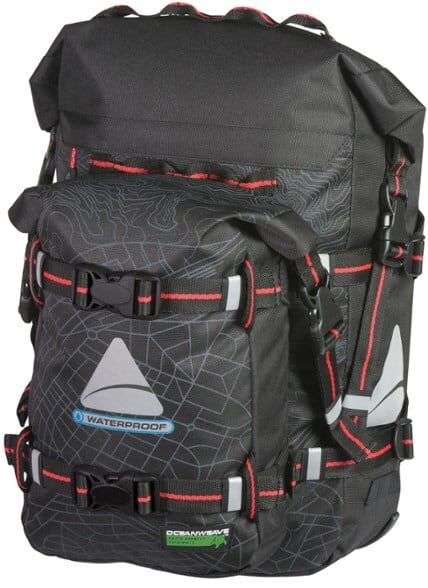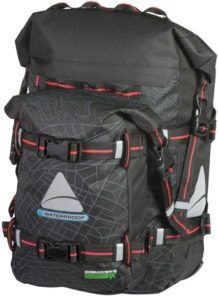 BEST FOR: DIGITAL BIKEPACKERS
In the cycling world bikepacking is definitely the latest hot trend, and if you want to ensure you capture all your adventures and can edit them along the way, then you need to take a look at the Axiom Cycling Gear Monsoon Oceanweave P+23 Pannier. This bag is specifically designed for digital nomads with separate pockets and pouches to keep your expensive digital equipment dry, dust-free, and unscathed.
The 23L gear capacity features a multitude of pockets, hooks, and straps, alongside a roll down closure to keep all your gear organized and secure. This bag comes with a hefty price tag, but it has all the bells and whistles you could possibly need in a pannier bag for digital bikepacking.
Ortlieb Seat-Pack Saddle Bag
Specs
Material

:

Polyurethane-Coated Nylon

Closure

:

Roll Top And Buckle

Dimensions

:

15.7" x 10.2" x 5.9"

Weight

:

0.7 lbs

Style

:

Seat Pack

Waterproof?

:

Yes

Gear Capacity

:

11L (Medium)
Features
Lightweight And Durable
Heavy Duty Yet Padded Seatpost Attachment
Sturdy Inner Liner For Structural Stability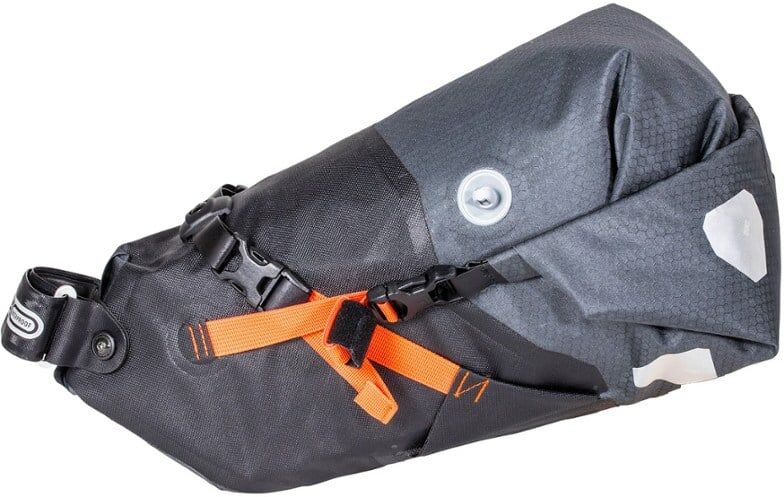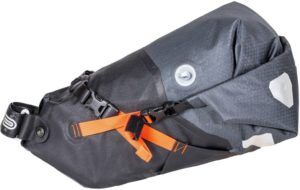 BEST FOR: LIGHTWEIGHT TRAVELERS
Bikepacking doesn't necessarily mean you have to carry stacks of stuff with you. If you are a lightweight traveller who can live off minimal possessions, a seat-pack could be the ideal solution. The Ortlieb Seat-Pack doesn't require any special racks or mounting points to attach it to you bike. It attaches with a simple yet effective velcro hook and loop strap around the seat post and a strap under your saddle.
Manufactured from high quality materials, this seatpack is waterproof and dustproof and extremely lightweight, weighing only 0.7 lbs. Although it's small and light, it is also super durable and will withstand anything you encounter on the trail.
To add to its durability, this bag is fitted with heavy duty material where it attaches to the bike to ensure the material doesn't rip or wear. The inner part of the bag is also constructed with a stiff material that holds it shape, keeping the bag from drooping when packed full. This is a solid option for bikepackers looking to travel light and fast.
Serfas Ark Expandable Half-Frame
Specs
Material

:

Water Resistant Material

Closure

:

Zipper

Dimensions

:

5.5" x 17" x 2" (9" x 17" x 2" Expanded Size)

Weight

:

3.52oz

Style

:

Half Frame Bag

Waterproof?

:

No, Weather Resistant

Gear Capacity

:

3 - 5L (Small)
Features
Expandable Storage Increasing From 3L To 5L
Adjustable Straps For Micro-Adjusting Fit
Additional Attachment Points On Exterior Of Bag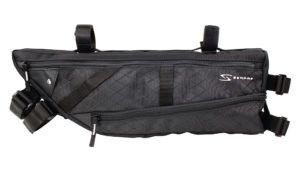 BEST FOR: SHORTER BIKEPACKING TRIPS
If you've decided a frame bag is the right type of bag for your adventures, but you're tossing up between a full frame bag and a half frame bag…why not get both? Or better yet check out the Safras Ark Expandable Frame Bag which is a two-in-one style bag. Simply unzip the lower portion of the bag to transform it from half size to full size.
This frame bag features adjustable mounting straps so you can ensure the perfect fit to your frame and additional outer straps for attaching extra gear. Made from a weather resistant material it can handle a light summer rain or a splash through puddles without getting your gear wet. This is an awesome versatile choice for the bikepacker who wants it all!
Blackburn Outpost Top Tube
Specs
Material

:

70D Nylon And 4mm Ripstop

Closure

:

Zipper

Dimensions

:

9.2" x 3.1" x -4.7"

Weight

:

0.4 lbs

Style

:

Top Tube Bag

Waterproof?

:

No, Water Resistant

Gear Capacity

:

0.5L (Extra Small)
Features
Bolt-On Option For Extra Stability
Adjustable Internal Storage Organizer
ID And Cash Stash Pocket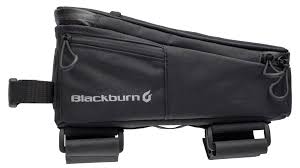 BEST FOR: GRAVEL ADVENTURES
Top tube bags are a great option for carrying small essential items like a phone, camera, cash, and on-bike nutrition. The Blackburn Outpost Top Tube Bag is a super lightweight and well designed bag. It has the option of mounting with either adjustable straps or bolting it to your bike. If your bike is compatible with bolted bags, this method of attachment keeps your belongings super secure which is especially important if you plan on riding on bumpy gravel or rough paved or dirt roads.
Accessed by a zipper, the internal compartment has a removable and movable organizer, plus the bag is padded to keep your valuables safe and secure. The bag also features a mesh pocket on top and a zippered pocket on the side, perfect for stashing a bit of cash. This top tube bag is a great option for bikepacking and one of the best on the market.
Revelate Designs Mountain Feedbag
Specs
Material

:

RevVX 21, 420 Denier Yellow Lining

Closure

:

Drawstring

Dimensions

:

Undisclosed

Weight

:

0.2 lbs

Style

:

Handlebar Feedbag

Waterproof?

:

No

Gear Capacity

:

1L (Extra Small)
Features
Easy One-Handed Access
Outer Mesh Pockets
Adjustable Mounting Straps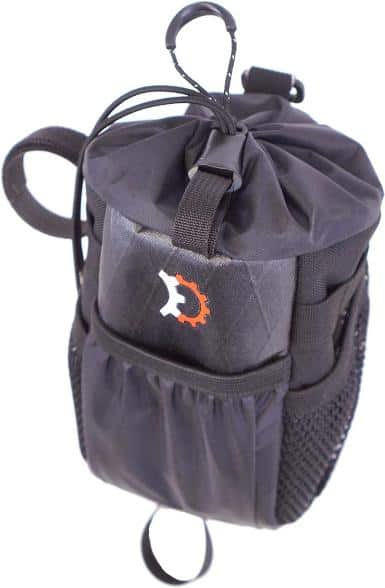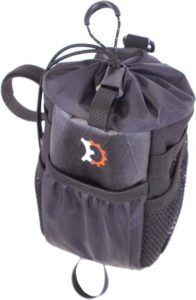 BEST FOR: BIG MILES – NO STOPS
If you're the type of rider who likes to jump on the bike and smash out big miles without stopping, you might want to consider investing in a feedbag. This bag attaches to your handlebars and allows you to carry plenty of food to keep you fueled for your ride.
The Revelate Designs Mountain Feedbag features adjustable straps so you can get the perfect fit on your handlebars because there is nothing worse than a bag that is loose and swinging around as you ride. The bag is accessed by a simple drawstring making it easy to open with one hand, and three small mesh pockets on the outside are ideal for storing the trash from your food wrappers. No doubt this addition to your bikepacking kit will put a smile on your face when you're 100kms into a ride and all you want is snacks at your fingertips!
THINGS TO CONSIDER WHEN BUYING BIKEPACKING BAGS
STYLE
There are seven main styles of bikepacking bags listed above:
Trunk Bag
These sit on top of a rear rack and are one of the larger bags used when bikepacking.
Pannier
These are used in a pair for even weight distribution and are typically attached to a rear or front rack. Panniers will often boast the largest carrying capacity of all the bags available for bikepacking.
Seat-Pack or Saddle-Bag
These attach to your seat and seat post and come in a variety of sizes. They are often used for lightweight touring and bikepacking.
Frame Bag
These sit in the middle triangle of your bike frame and will either take up the entire area (full frame bag) or part of the area (half frame bag). Frame bags are great for storing heavier items as they help keep the center of gravity low when riding.
Top Tube Bag
These are small bags that sit on the top tube of your bike. Top tube bags are commonly used for storing valuables and ride nutrition and they provide easy access while riding.
Feed Bag
These attach to your handlebars and are a small bag for storing food for riding. Easy to access while riding.
Handlebar Bag
These attach to the front of your handlebars and are commonly used to carry bulky but lightweight items. Smaller handlebar bags can be used to carry valuables and snacks for easy access.
YOUR BIKEPACKING TRIP
The length of your trip will determine how many bags you may need. A short weekend trip may only require a seat pack and handlebar bag, while a multi-week trip may require panniers and a trunk bag, handlebar bag, and toptube bag. Remember, the longer your trip, the more you will need to carry.
Your planned bikepacking route will also play an important role in choosing bags. If you plan on getting off the beaten track and sleeping out under the stars and you know there won't be a Starbucks or Chipotle in sight for quick and easy food then you'll need to carry more equipment than if you are riding from town to town, staying in accommodations, and buying supplies at restaurants or grocery stores daily.
CAPACITY
How much do you actually need to carry, what does will weigh, and what sort of space will it take up? Knowing the answers to these types of questions will help determine the type of bikepacking bag or bags you choose.
ACCESS
Think about what will go into each bag and how often you may need access to your gear or food. Easy access like a zipper or drawstring may be useful for grabbing valuables or snacks on-the-go, but a roll top with buckle may work better for storing things like your warm jacket and a spare pair of socks that you may only access once a day. It's usually helpful to have a couple of different styles of bags for your bikepacking trip, some that provide easy access and others that are only used once a day or less.
SIZE MATTERS
Bikepacking bags come in a variety of shapes and sizes. Bigger is not always better as it can often encourage you to pack more than what you really need. Additionally, not having enough room can lead to frustration trying to repack bags after each stop. Watch this video about the effect weight has on your bike when riding it.
WEIGHT
There are two weight considerations:
The Weight You Can Carry: Just because you can buy a lot of bags and you're able to carry bags with a huge carrying capacity doesn't mean you should. Traveling light is going to make the journey much more enjoyable as you will be able to cycle with more ease and tackle more interesting and exciting routes. Not to mention that an overloaded bike is often quite unstable to ride and carrying too much for the size and strength of the rider is not safe. So select your gear list wisely – check out our suggested gear for bike touring list here.
The Weight Of The Bags should also play a role in selecting a bag – you want something lightweight as it is important to keep weight down when bikepacking. The more everything weighs, the more energy you will expend cycling and the harder it may be to ride up some of those big mountains.
WATERPROOF VS WATER RESISTANT VS WEATHER PROOF
If you are comfortable riding in any weather including rain, look for a bag that is rated waterproof to ensure your gear stays dry and safe.
If you are a fair weather rider and plan on staying inside warm and dry when it's raining out then you could consider a water resistant option. Water resistant bags will likely keep splashes from creeks or rivers out and short periods of very light rain won't do any damage to your gear, but they're are not guaranteed to keep water out completely.
Choose wisely as you don't want to be caught out in a summer rainstorm with your gear and gadgets in a bag that isn't protected against the elements.
FEATURES EXPLAINED
CLOSURE SYSTEMS
Roll Top
These systems are commonly used on waterproof and dustproof bags. The top of the bag closes together and then folds over itself to roll down.
Buckle System
This is a male – female plastic closing device. It is made of two pieces that lock into one another forming a strong closure. To open you simply push two pieces of plastic together and it releases.
Flap Or Overflap
This is an additional piece of material that comes over the top of the pannier that helps with keeping the elements out. The flap is often magnetized to keep the bag closed while riding.
Zipper Closure
This is a simple but effective system – these can come in waterproof varieties as well.
CARRY HANDLE
Small handle on top of a pannier that makes it easy to carry off the bike and also helps to align the pannier when mounting it to the bikepacking rack.
DUSTPROOF
These bags have been designed to prevent dust from getting inside and coating your belongings. When traveling on dirt or gravel roads, it is worthwhile investing in a dust proof bag to ensure your clothing, gear, and digital equipment stays clean.
DAISY CHAIN
A wide strap that is attached at multiple points. It is used to attach clips or hooks for storing extra gear on the outside of a pannier.
DRYBAG
A waterproof and lightweight bag that will keep anything inside dry. These are sometimes also dust proof.
CRADLE
A separate piece of hardware that attaches to the handlebar. It is a rigid structure, commonly made from hard plastic.
REAR OR FRONT RACK
A metal rack that attaches to the rear or front of the bike. Racks are specifically designed to carry various bags from panniers to trunk bags.
EXTERNAL STRAP
A piece of thick strapping material that wraps around the bag. With an external strap, you can clip small attachments onto the outside of the bag or slide gear into the straps such as small tent poles.
WAIST STRAP
A strap that is attached to the bag to allow you to carry it around your waist.
MOUNTING STRAP OR MOUNTING ATTACHMENT
Simply the device that holds the bag to your frame, handlebars, or racks.
READ MORE
For more of our top bicycle touring gear recommendations, check out these popular buyer's guides: