Updated on October 29, 2020
Thinking about taking a bike trip soon? Well, you certainly can't go on a bike tour without a great handlebar bag for touring! The right handlebar bag has the ability to make your trip. Does that sound crazy? It's not! That's because the right handlebar bag will bring you the luxury of convenience. And we want to help you find out which one is best for you.
This is our list of the best handlebar bags for touring. We've hand selected these designs based on durability, versatility, and ease of use. Take a look at our "Things To Consider" section before diving into the list so you have an idea of what type of bag you're looking for. Happy trails!
For more of our top bike touring gear recommendations, check out the Best Tents for Bike Touring.
Quick Answer

-

The Best Handlebar Bags for Touring
Revelate Designs Salty Roll
Comparison Table

-

Best Handlebar Bag for Touring

For the best experience turn your device horizontally
Reviews

-

The Best Bike Touring Handlebar Bag
Ortlieb Handlebar
Specs
Weight

:

13 oz.

Mounting System

:

Self-Mounting

Size

:

9 L

Waterproof?

:

Yes
Features
Strong But Lightweight Material Performs Great On Touring Treks
Reflective Details Keep You Visible In Low Light
Heavy Duty Attachment Loops Keep This Bag Secure On Your Handlebars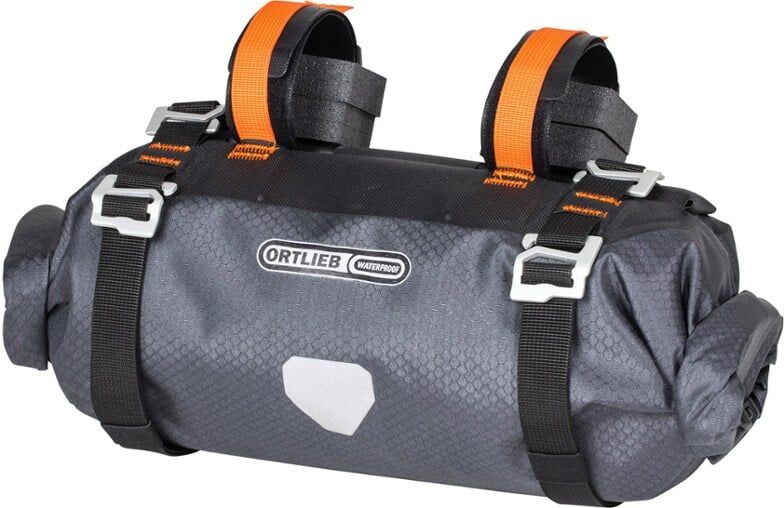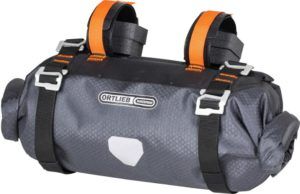 BEST FOR: THE LIGHTWEIGHT TRAVELER
For its sturdy design, the Ortlieb Handlebar Pack is also super lightweight, so if you prioritize speed and efficiency on your biking tours, you'll want to check this one out. This bag is compact and it offers two points of entry so you'll always have access to the things you need most while on-the-go.
The Ortlieb Handlebar Pack is equipped with strong attachment loops that will hold this pack firmly in place. You'll never have to worry about it slipping and sliding around. It also features waterproof material and compression straps for extra security. You'll have to pay a pretty penny for this bag in comparison to some of the others on our list, but when it comes to bike bags, it is totally worth investing. With a bag of this quality, you're guaranteed to use it through many, many rides.
REI Co-op Link
Specs
Weight

:

18 oz.

Mounting System

:

Self-Mounting

Size

:

6 L

Waterproof?

:

No, Water Resistant
Features
Convenient Stretchy Side Pocket Is Perfect For Stashing Small Snacks, Cell Phone, Etc.
Wide, U-Shaped Main Zipper Makes Getting To Your Belongings Quick And Easy
Easily Mount Bag To Drop Or Flat Handlebars Using Hook And Loop System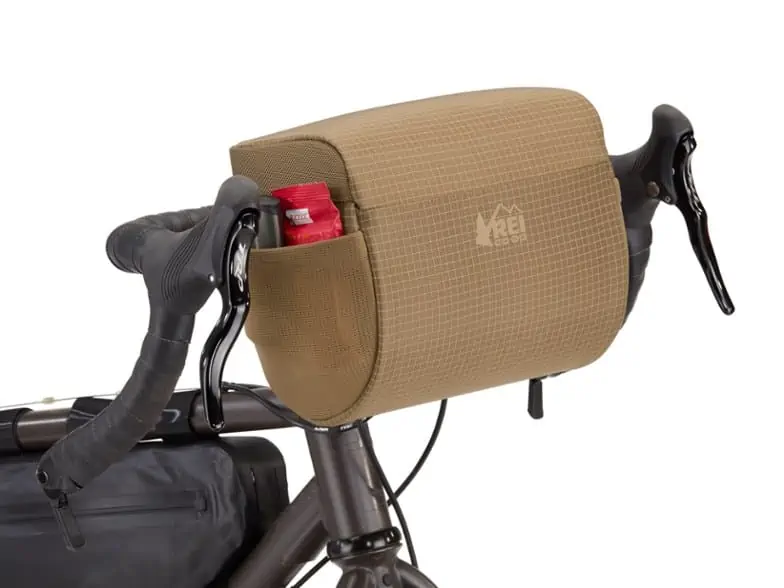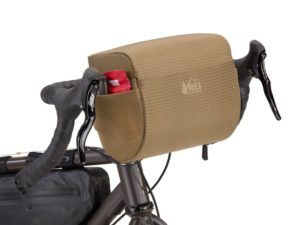 BEST FOR: SMALL ESSENTIALS
If you're seeking out a small-scale handlebar bag to stash your on-the-go goods in an easy-to-grab place, we've got just the touring bag for you. It's the Link Handlebar Bag from REI Co-op and it is perfect for all those items you want to have access to as you take on the wide open road.
This touring bag comes with an easy-to-use strap system that will hold the bag snugly and securely to your handlebars. It is also made of premium fabric that not only performs great on the road, but is also eco friendly! The wide U-shaped main zippered pocket is easy to get into, and when you open it up, you have even more compartments inside for some awesome organization. Plus, you get all this for a super reasonable price.
Topeak Compact
Specs
Weight

:

13 oz.

Mounting System

:

Self-Mounting

Size

:

3.1 L

Waterproof?

:

No
Features
Converts To A Fanny Pack For On And Off Bike Carrying
Main Compartment Is Padded To Provide Protection For Your Gear
Quick Release Handlebar Clamp Makes For Easy On And Off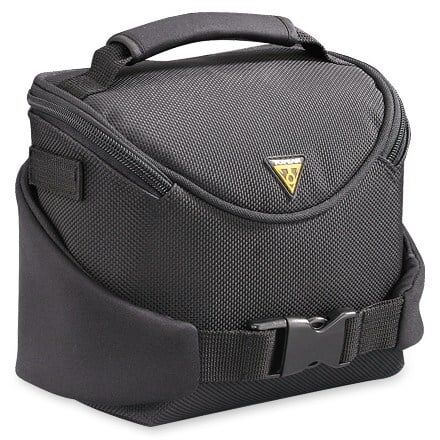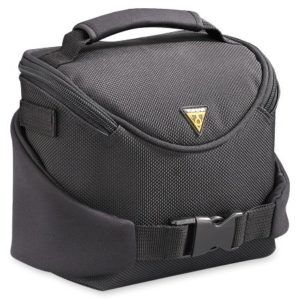 BEST FOR: DELICATE ESSENTIALS
When you're touring, there are some things that you may want to have handy, but also keep safe! Things like your phone or your camera deserve a special place in your pack. That's why we love the Topeak Compact Handlebar bag – it's great for protecting your electronics and other delicate essentials.
In addition to the internal padding, this bag also features a quick release handlebar clamp to make adjustments a breeze. Plus, it converts to a fanny pack, so if you stop and hop off your bike for some off-road touring, you'll have everything you need right at your hip. Furthermore, it comes with a removable waterproof covering for stormy weather.
Swift Industries Paloma
Specs
Weight

:

1 lb.

Mounting System

:

Not Self-Mounting

Size

:

6 L

Waterproof?

:

No
Features
Clear, Touchscreen Compatible Top Pocket Makes GPS-ing From Your Phone Easy
Strong Bag Skeleton Keeps The Shape
Large Carrying Capacity Means You Can Keep All Of Your On-The-Go Essentials Handy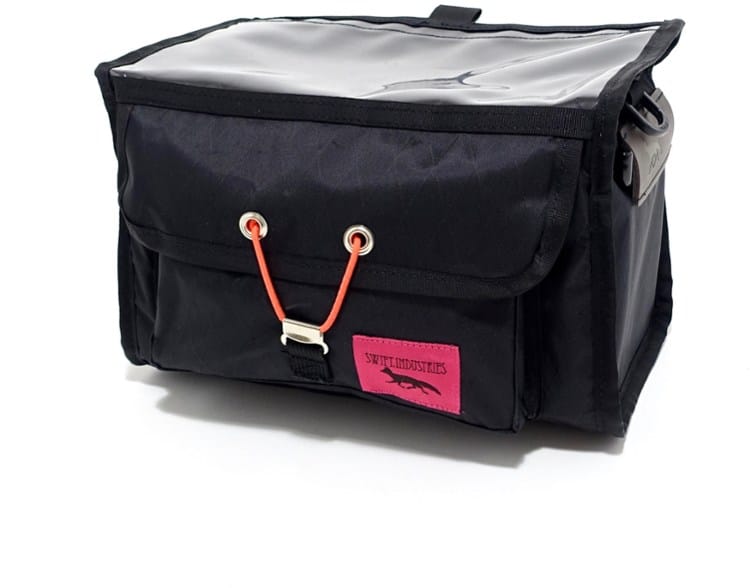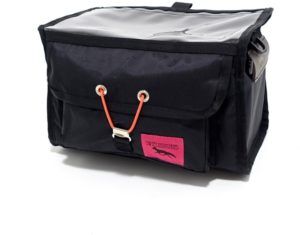 BEST FOR: USING MAPS
What's so cool about this handlebar bag is its large, clear, flat top pocket. It allows you to place a map inside so you know where you're headed! If you use your phone for a GPS, that works, too, as this clear sleeve is touchscreen compatible. You could even get a little artsy and add a photo or other reminder of home!
This bag is a little on the higher-priced side compared to others on our list, but you can be sure that it is built to last. It has a strong internal skeleton to help it hold its shape over many miles. It also has several smaller compartments located on the inside and outside of the bag so you can keep all your at-reach gear organized.
Revelate Designs Salty Roll
Specs
Weight

:

6 oz.

Mounting System

:

Not Self-Mounting

Size

:

15 L

Waterproof?

:

Yes
Features
Super Lightweight Design Means You Won't Be Top Heavy
Deliberately Placed Loops Positioned To Allow For Strap Attachment
Specialized Seam Construction Increases This Bag's Waterproof Ability


BEST FOR: WET WEATHER
Well, we cyclists still haven't figured out how to control the forecast, so we know you need to be prepared for weather of all kinds out there. That's why we've included the Revelate Designs Salty Roll Handlebar Bag on our list of best handlebar bags for touring. It is completely waterproof and has an extra large carrying capacity, so you can count on it to keep your up-front goods dry.
This touring bag is super light, meaning it won't slow you down, and it's super flexible so it can bend to fit all different items. There is one downside to this bag, which is that it does not come with its own complete attachment system. It does have loops for this purpose, but you'll have to use bungees or lace to attach it on your own accord.
THINGS TO CONSIDER WHEN BUYING HANDLEBAR BAGS FOR TOURING
COST
Don't skimp out on the cost of a handlebar bag for touring. The last thing you want to happen when you're out on the open road is to get a tear in the bag where you keep your easy-to-reach essentials! When it comes to touring bags of any kind, a higher cost is usually worth it – more expensive bags will last a good deal longer than cheap ones, and they'll give you peace of mind on your trips, too.
CARRYING CAPACITY
We've listed the carrying capacity of each of the touring bags on this list in liters. Capacity comes down to personal preference. Some cyclists use their handlebar bag as a place for some hefty extra carrying space, while others simply want a small bag with easy access to things they'll want during the ride like a snack or a camera. This is really up to you!
DESIGN
Handlebar bags for touring come in all different sizes and all different shapes, too! Some have a firm skeleton, while others are made to stretch and bend. Again, this factor comes down to preference and what you will be putting in your handlebar bag. For example, if you're simply using the bag to stash an extra layer, you probably don't care as much about the shape, but if you're someone who wants to always have a granola bar handy, you'll probably want to look for something with at least one small external pocket.
PADDING
Do you plan to hold electronics like a phone or camera in your handlebar bag? If so, you'll want to look for a bag with internal padding to protect your expensive cargo from bumps or falls.
MOUNTING MECHANISM
Many handlebar bags for touring come with an attachment mechanism for easy set up, but some don't. This is something you'll want to note when you're making your purchase, since you'll need to purchase a mount for those bags that don't come with their own attachment system.
WATERPROOFING
Not all handlebar bags for touring are waterproof. Many are, but others come with a seperate waterproof covering that you can put on in the event of wet weather. Waterproof material bags tend to be more expensive than non-waterproof material bags, but if you plan to do biking in any wet weather at all, a waterproof bag is well worth the extra cost.
FURTHER READING
Want to learn more about bike bags? REI covers other touring bag basics in this handy article.
Just want to know more about getting started with bike touring in general? REI also breaks down everything you need to know for your first bike tour.
FEATURES EXPLAINED
WATERPROOF
This article features handlebar bags that are waterproof, water-resistant, or come with a waterproof covering. A fully waterproof bag means that it won't let any water in to your valuables, keeping them safe and dry for the entire ride. If you're planning on riding in wet weather at all on your trip, then you should consider investing in a waterproof bag rather than just one with a waterproof covering or one that's water-resistant.
WEIGHT
In this article, weight refers to the weight of an empty handlebar bag.
SELF-MOUNTING
A handlebar bag that is capable of mounting to the bike without the purchase of any additional attachment mechanisms.
READ MORE
For more of our top bicycle touring gear recommendations, check out these popular buyer's guides: