Updated on October 9, 2020
Trail cookery is an art, and every artist needs the right tools. The best stoves for bike touring are light, compact, and still able to kick out enough heat to fuel your campsite gourmet meals. You'll still want to give some thought to your choice of stove type and fuel! We've chosen a few of the best options in several types, and there's a good chance you'll find your ideal camp stove here.
Before you choose a stove for your next bike touring adventure, be sure to consider where you're going and what fuels are available there. Most stove fuels are not allowed on airplanes, so you'll have to fuel up at your destination. Get a clear idea of what's available where you'll be riding and you won't have any unwanted surprises!
For more of our top bike touring gear recommendations, check out the Best Tents for Bike Touring.
Quick Answer

-

The Best Stoves for Bicycle Touring
MSR WhisperLite Universal
Comparison Table

-

Best Stove for Bicycle Touring

For the best experience turn your device horizontally
Reviews

-

The Best Bike Touring Stove
MSR PocketRocket 2
Specs
Dimensions

:

7.25 x 5 x 4 inches

Weight

:

2.6 oz.

Fuel Type

:

Canister (Top Mount)

Boil Time

:

3 min. 30 sec.

Auto Ignition

:

No
Features
No Priming, Pressurizing, Or Preheating
Fully Adjustable Flame
Includes Ultralight Hard Shell Case
Serrated Pot Support Keeps Pots In Place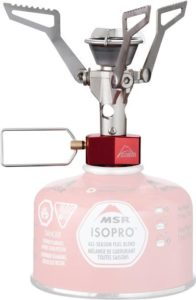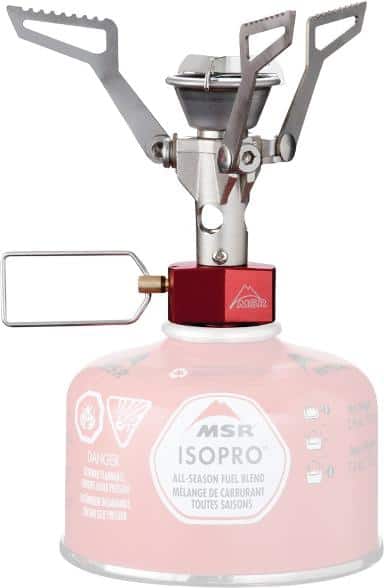 BEST ULTRALIGHT CANISTER STOVE
Yes, you read that right: 2.6 ounces. This stove comes as close to being weightless as any outdoor product on the market. It's also an upgrade on a proven, reliable design that has been cooking back-country meals for weight-conscious backpackers and bikers for many years. It's a simple stove: you attach it to the top of your canister, turn it on, light it, and cook… over and over again, for years. The upgraded Pocket Rocket 2 resolves one of the main complaints about its predecessor with an efficient control valve that lets you back the flame off to a simmer and hold it there easily. 
There aren't many downsides to the Pocket Rocket, but if you are really looking for one you could point to limited boiling power in windy conditions and to some stability issues with larger pots, which is an issue with any stove that mounts directly to a gas canister. If you're looking to cook in the field with the lowest possible weight penalty and you're using canister gas, though, it's hard to go wrong with the Pocket Rocket 2.
Jetboil Flash
Specs
Dimensions

:

7.1 x 4.1 inches

Weight

:

13.1 oz.

Fuel Type

:

Canister

Boil Time

:

100 sec. (2 cups)

Auto Ignition

:

Yes
Features
All-In-One System Combines Burner And Cooking Vessel
Reliable Push-Button Igniter
Thermochromatic Indicator Changes Color When Water Boils
Includes Fuel Canister Stabilizer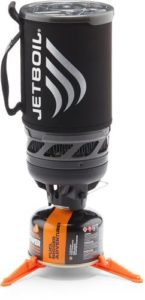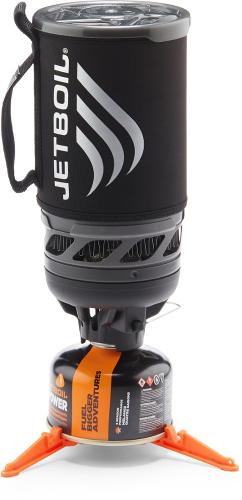 BEST FOR BOILING WATER
Gourmet cooking isn't always a priority on the road. If you need a stove mainly to prepare hot drinks and dehydrated meals, your priority will be boiling water, and the Jetboil Flash does that better than any other stove on the market. The integrated burner and cooking vessel mount directly on the gas canister, providing excellent wind protection and bringing a pot to the boiling point in as little as 100 seconds. There's even an indicator that changes color when the water boils, so you can shut the stove off and avoid wasting fuel. JetBoil offers a range of accessories, including cooking pots and that all-important coffee press, to let you get the most out of your stove.
While the Flash is ideal for any cooking based around boiling water, it handles other cooking tasks less effectively. Some reviewers also didn't like the non-rigid handle on the cooking vessel, but that's a question of personal preference. If your main cooking function is boiling water or if another member of your group is bringing a more versatile stove for other cooking functions, the JetBoil Flash is a great choice!
MSR WhisperLite Universal
Specs
Dimensions

:

6 x 6 x 4.75 inches

Weight

:

13.7 oz.

Fuel Type

:

Liquid or Canister

Boil Time

:

3 min. 30 sec.

Auto Ignition

:

No
Features
Works With Almost Any Fuel
Excellent Simmer Control
Includes Fuel Pump, Windscreen, Heat Reflector, Small Parts Kit, and Sack
Self-Cleaning Shaker Jet Technology For Easy Maintenance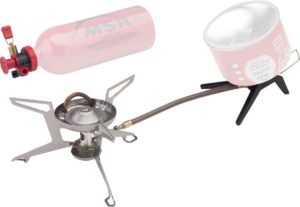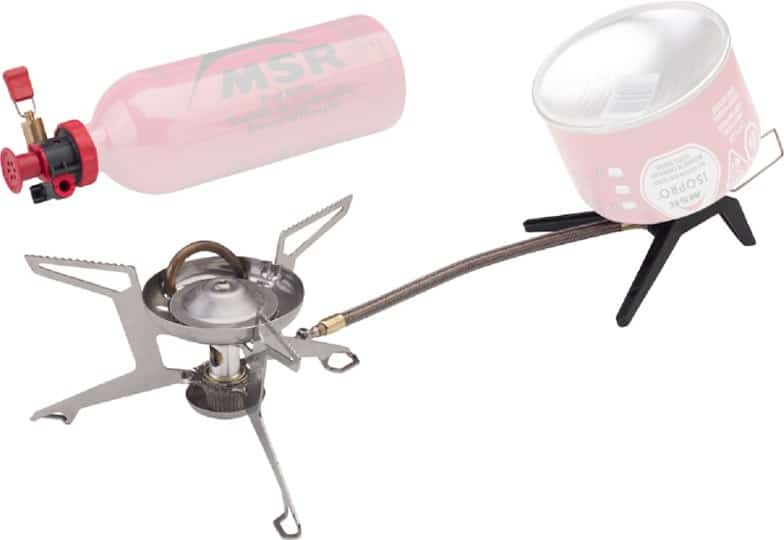 BEST MULTI-FUEL STOVE
If you don't know what you'll be burning, this is the stove for you. It will burn white gas, kerosene, unleaded gasoline, or canister-based gas fuels. It's stable, handles larger or heavier pots well, and burns well in wind. It's easy to take apart, clean, and maintain, so if something clogs in the field you'll be able to deal with it. This is an all-around package for riders who are worried about fuel availability and want multiple fuel options along with all-around excellent stove performance.
There are a few downsides. To use liquid fuels you'll need to buy a fuel bottle: it's not included with the stove. Changing fuels may require you to use a different one of the three included Shaker Jets and attachment adaptors, so you'll have to look after a number of small parts. That's the price of versatility, and if versatility is your priority this is likely to be your stove!
Kovea Spider
Specs
Dimensions

:

4.2 x 3.7 x 1.8 inches

Weight

:

5.9 oz.

Fuel Type

:

Canister (Remote)

Boil Time

:

3 minutes 30 seconds

Auto Ignition

:

No
Features
Anti-Flare System For Powerful, Stable Flame
Lower Balance For Safety And Stability
Supports Larger Pans For Larger Groups (Or Hungry Riders)
Flexible Fuel Tube Lets You Invert Canister For Higher Efficiency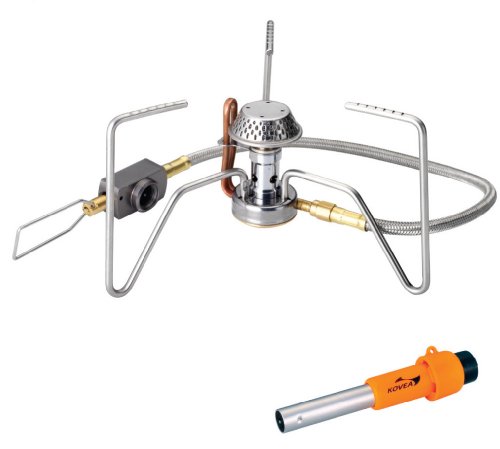 BEST FOR COLD WEATHER
Kovea is a Korean company that has manufactured stoves for major US brands for years. Their own branded models are now on the market and earning a reputation for quality and durability at attractive price points. The Spider is an extremely compact folding stove that opens up to form a stable platform even for larger pots. The flame is highly adjustable and can be easily held to a low simmer. The remote fuel hose serves as a preheat loop, allowing you to invert a canister and use the fuel as a liquid at low temperatures, allowing the stove to work reliably well below freezing.
One common complaint about the Spider is the lack of wind protection. Some tests found that boil times extended considerably in windy conditions. Because the stove is separate from the canister, though, it's easy to rig a windscreen and keep the performance up. If you're looking for a light, compact canister stove that works in the cold and can handle larger pots, here it is, at a surprisingly low price!
Trangia Spirit Stove
Specs
Dimensions

:

3.75 x 3.75 x 2.5 inches

Weight

:

10 oz.

Fuel Type

:

Alcohol

Boil Time

:

8 minutes

Auto Ignition

:

No
Features
Simmer Ring Lets You Control Flame Intensity
Holds Leftover Fuel Without Leaking
Two-Part Windscreen For Efficiency In Different Wind Conditions
Pot Stand Keeps Pots Stable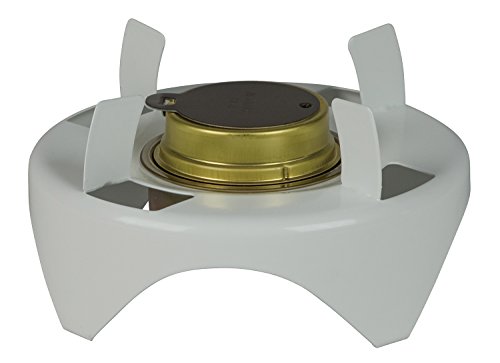 BEST ALCOHOL STOVE
The Swedish-made Trangia dominates the alcohol stove market, and for good reason: it's tiny, it's light, and it works. The stove has been on the market since 1925 and Trangia has been adding upgrades, new features, and compatible accessories all along, making this little burner the top choice for anyone who prefers an alcohol stove. The stove will burn methanol, denatured alcohol, gel fuel or even high-purity isopropyl alcohol. It keeps fuel reliably contained and can be packed (though not for air travel) with unused fuel still inside. 
As with any alcohol-based stove, the Trangia does not heat as fast as a pressurized-gas stove would and some users complained that the flame is difficult to see, especially when using methanol (methyl hydrate) as fuel. If you're willing to put up with those issues and you're planning a ride in a place where alcohol-based fuels are common, this will be your top pick.
THINGS TO CONSIDER WHEN BUYING A STOVE FOR BIKE TOURING
FUEL
Nothing crimps your cooking plans faster than discovering that you can't buy fuel for your stove! Different types of stoves use different types of fuel and not all fuels are available in all parts of the world. Be sure to determine what fuel is commonly available in your destination and consider that information when you're choosing a stove!
CANISTER STOVES
Canister stoves use compressed gas, usually butane or a butane/propane mix called isobutane. The canisters are widely available in the US and some (but not all) international markets. The isobutane canisters usually available in the US use a screw-type mount and you may need an adapter to use the pure butane canisters common in some international markets (such as Southeast Asia). If you're camping in cold weather isobutane is preferred to butane.
Direct mount canister stoves attach to the top of the gas canister. They can be very light but are sometimes unstable with larger pots.
Integrated canister stoves build a burner, canister, and cooking vessel into a single unit. They are often excellent for use in high wind, as the burner is easily protected, and deliver heat very efficiently. They may only be compatible with a few types of cooking vessels. If you have a group of riders it's often a good idea to have an integrated stove for boiling water or heating drinks and a more versatile model for cooking.
Remote canister stoves have folding legs and attach to the gas canister with a hose. This allows you to build a windscreen and usually provides a more secure base for larger pots. Remote canister stoves also allow you to invert the canister, which lets you use liquid fuel from the canister in very cold weather.
Canister gas is easy, convenient, easy to light, and widely available. On the downside, canisters cannot be reused and disposal may be difficult. It may be difficult to judge how much gas is still in a canister, so you'll need to have some extra.
LIQUID FUEL STOVES
Liquid fuel stoves can usually burn a variety of liquid fuels, including white gas, gasoline, kerosene, and even diesel fuel. The fuel is usually contained in a special canister with a pump to pressurize it. These stoves are versatile and it's almost always possible to find fuel. Some fuels may require different types of burner accessories and some vehicle fuels with additives may clog your stove after repeated use.
On the downside, many liquid fuel stoves require priming before lighting and they require occasional maintenance and cleaning, especially if you've been using dodgy fuel.
SPIRIT BURNERS
Spirit or alcohol stoves burn various types of alcohol, including methanol or methyl hydrate, denatured alcohol, high-purity isopropyl alcohol or even the local booze! They are very light and easy to keep clean: alcohol evaporates fast and will not stink up your panniers the way some liquid fuel residues can. Alcohol stoves do not use pressurized fuel and can be slow to heat. You may have to check carefully to see the flame with some fuels! If it's windy you will need to carry or contrive a windscreen.
MULTI-FUEL STOVES
Multi-fuel stoves are just what the name suggests: stoves that can handle many different fuels. No stove can handle every type of fuel, but models like the MSR WhisperLite Universal described above come close. These stoves have great versatility, but you may have to carry a kit of small parts to be sure you can set your stove up for any given fuel, and you'll need to clean and maintain it well if you end up using vehicle fuel.
TRAVELING WITH A STOVE
Airline security officers are not fond of pressurized gases and flammable liquids, and they will take a very dim view of any accidental or intentional attempt to bring them onto an aircraft. Do not try to bring fuel on a plane. Be sure your stove and fuel bottle are carefully cleaned and free of any fuel odors. Getting your stove or fuel bottle confiscated at the airport is a bad way to end a trip and a worse way to start one!
It's always a good idea to check your airline's policies on carrying camp stoves.
LEARN MORE
REI has a useful discussion of camp stoves, a review of different camp stove fuel types, and a good primer on priming liquid-fuel stoves.
FEATURES EXPLAINED
BOIL TIME
The time it takes to bring a liter of water to a full boil. This should ideally be measured at sea level. Boil time may be increased in windy or cold conditions. Some manufacturers quote boil times for different volumes of water, especially for stoves that have an integrated cooking pot.
AUTO IGNITION
Some stoves have a push-button piezoelectric igniter that lights the stove easily and quickly. Others need to be externally lit.
WINDSCREENS
Wind is not a friend to camp stoves, and many manufacturers integrate windscreens into their stove designs. Many campers build their own screens to keep the wind away from their flame!
POT STANDS
Stoves use different forms of support for pots. The wider the pot supports and the lower they are to the ground, the more secure the pot will be. If you're traveling with a group and using relatively large pots pay close attention to stability and stand size. You may want to look at a remote canister or multi-fuel stove, many of which offer excellent stability.
SIMMER CONTROL
Many stoves boil water reliably, but serious cooks also want to be able to dial a pot down to a stable simmer. Some stoves do this better than others, and manufacturers include a variety of adjustments designed to hold a stove at the simmer point.
PRIMING, PRESSURIZING, AND PREHEATING
Liquid fuel stoves are extremely versatile but may need to be primed (adding some fuel directly tot he burner), pressurized with a fuel pump, or preheated before lighting.
READ MORE
For more of our top bicycle touring gear recommendations, check out these popular buyer's guides: