Updated on November 11, 2020
Who wouldn't want to partake in an ancient Inuit activity with man's best friend? For thousands of years kayaking has been a gateway for humanity to access remote places, fish in deeper waters, and help us reconnect with nature. Inviting your furry friend to come aboard only seems natural. To do so, you'll need to find the best kayak for dogs and that's where we come in!
There are plenty of kayaks to choose from, all with unique applications in mind and at a variety of price points depending on what options you want and/or need. Throw a dog on board and the whole equation becomes even more complex.
Thankfully, we've taken the guesswork out of choosing which kayak is best for you and your pup and have done the hard work for you. I know, not all heroes wear capes. You're welcome. Below you'll find our top 10 best kayaks for dogs, each with a specific purpose in mind. Because let's face it, we all have different goals and different dogs!
Pro Tip: Wondering what the numbers next to the model name mean? They're a quick way to know the length of the kayak. A 9.5 means the boat is 9 ½' feet long and a 136 means that kayak is 13' 6" in length.
For more of our top kayaking gear recommendations, check out these popular articles:
Lake Kayaks | Sea Kayaks | Lightweight Kayaks | Kayaks Under $500
Touring Kayaks | Kayaks for Beginners | Sit In Kayaks
Kayaks for Kids | Sit-On-Top Kayaks | River Kayaks
Kayaks for Women | Canoes | Tandem Kayaks
Quick Answer

-

The Best Kayaks for Dogs
Pelican Premium Argo 136XP

Wilderness Systems Tarpon 130
Comparison Table

-

Best Kayaks for Dogs

For the best experience turn your device horizontally
Reviews

-

The Best Kayaks for Kayaking with Dogs
Eddyline Sky 10
Specs
Type

:

Solo

Length

:

10'

Style

:

Sit-In

Weight Capacity

:

250 lbs

Width

:

26"
Features
2 Color Options Available
Bow And Stern Hatch Semi-Dry Storage (to keep your belongings secure and dry while paddling)
Deck Rigging For Quick Access To Gear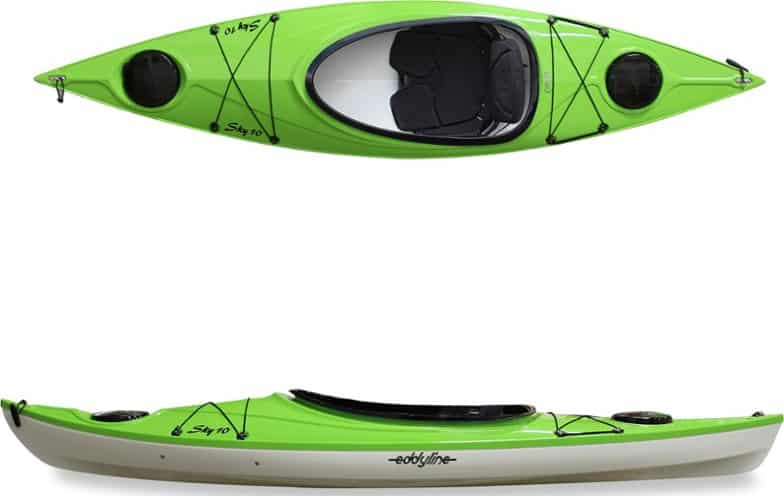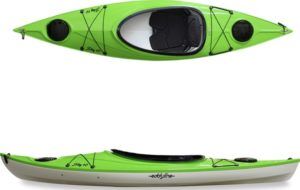 BEST FOR: SMALL DOGS
The Eddyline Sky 10 is a top-of-the-line hybrid, blurring the lines between recreational kayaking and day-touring. It's a wide, stable boat that's perfect for slow moving rivers and easy paddling lakes, but the added storage hatches upgrade it's abilities to tackling full day trips. With a plethora of raving reviews, this is an immensely popular boat that lives up to the hype!
Considering its nimble size and lower weight limit, this kayak is ideal for the paddler bringing along a smaller sized dog. Keep it casual and you can't go wrong.
Specs
Type

:

Tandem

Length

:

13' 6"

Style

:

Sit-In

Weight Capacity

:

500 lbs

Width

:

31.75"
Features
4 Water Bottle Holders
Dry Storage Hatch In Rear
Side Rigging For Holding Paddles
Keel Extension Improves Tracking (to keep you going in a straight line)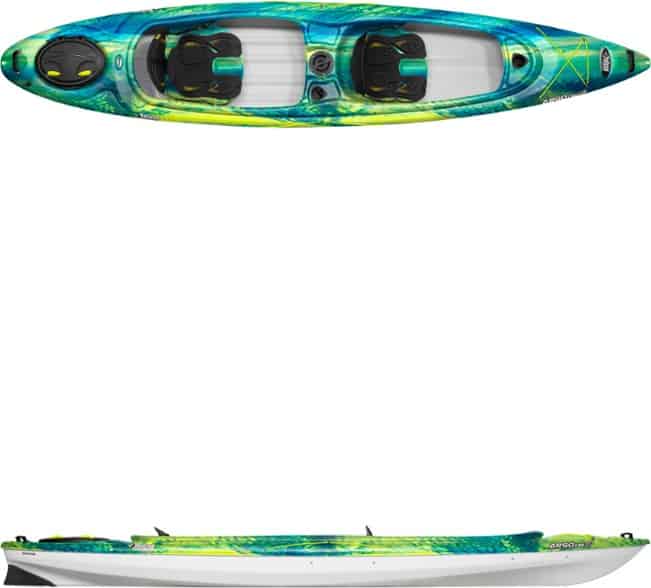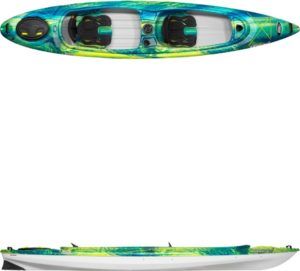 BEST FOR: 2 PEOPLE AND A DOG (OR TWO!)
All aboard the party boat! It's always better to paddle with friends and the Argo 136XP is a great choice for hanging out on the water. This kayak is by far the biggest boat on the list and is able to hold up to 500 lbs. It will easily hold 2 humans, 2 dogs, a cooler, radio, and more!
Each paddler also has their own cockpit table, making lunch on the water a breeze. The rear cargo day hatch boasts 60 liters of room, making it easy to pack snacks, dog treats, and frisbees for fun-filled pit stops on sandy inlet beaches.
Wilderness Systems Tarpon 130
Specs
Type

:

Solo

Length

:

13'

Style

:

Sit-On-Top

Weight Capacity

:

375 lbs

Width

:

32"
Features
Comes In 2 Color Options
Self-Bailing Scupper Holes (for easy removal of water from the boat)
Rear Deck Bungees For Stowing Gear
Slide Rail System For Attachable Mounts
Water Resistant Bow And Midship Storage Hatches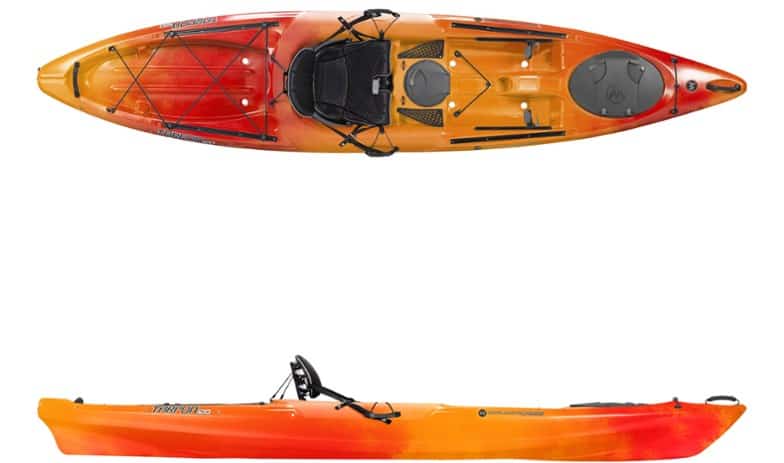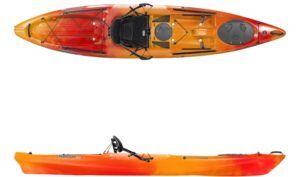 BEST FOR: DAY TRIPS
It's a Dog's Day on the Tarpon 120! Wilderness Systems has nailed down every feature to a T that you might need for a day trip with your best friend. With ample leg room in the front and a sizeable bow, your pup has the perfect perch to hang out.
Constructed from a high-density polyethylene, this tough boat can handle a variety of conditions and tracks amazingly well without sacrificing speed. It also sports an ergonomic seat and adjustable footpegs, lending itself to the perfect fit for any body type.
Delta Kayaks Delta 12 AR
Specs
Type

:

Solo

Length

:

12'

Style

:

Sit-In

Weight Capacity

:

320 lbs

Width

:

26.5"
Features
Front And Rear Bulkheads (to store lots of extra belongings for overnight trips)
Adjustable Seat With 5 Different Position Options
Water Resistant Bow And Stern Storage Hatches (for dry storage of gear)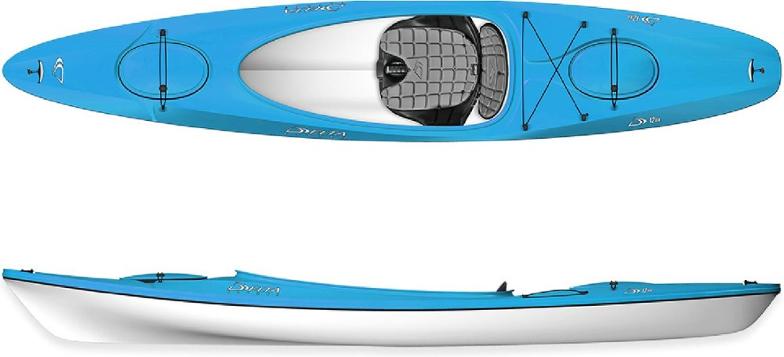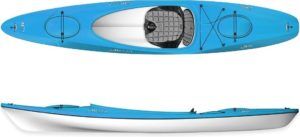 BEST FOR: OVERNIGHT TRIPS
Characterized by it's uniquely large cockpit, the Delta 12 AR has ample room for you and your dog. This boat is an excellent choice for overnight trips as it has two semi-dry hatches, one in the bow and one in the stern where you can store all the camping gear you need.
This combination makes multi-day trips a breeze as you'll be able to pack enough gear for you and fido without compromising on stability or space! The extra wide cockpit also ensures that you and your four-legged co-pilot will be cozy without being cramped.
So what are you waiting waiting for? Grab some s'mores and doggy treats for those evening fires by the river, because this boat will push the boundaries and take you two farther than you imagined!
THINGS TO CONSIDER WHEN BUYING KAYAKS
TYPE
There are two basic types of kayaks and which one you choose to use all depends on your specific needs and skillset. Each have their advantages.
Sit-In
This traditional type of design has a host of benefits and is a great choice for the skilled beginner. Sit-In kayaks can come in a variety of models, including recreational, touring, and whitewater models.
Narrow and fast, traditional sit-ins increase paddling efficiency making it easier to reach farther destinations

Increased body contact with the boat provides greater control when turning or performing maneuvers to prevent capsizing

The ability to add a spray skirt can keep you drier and warmer when the temperature drops

Better for calm and well-trained dogs who have experience on the water
Sit-On-Top
Typically used in warmer weather, sit-on-top models are a great choice for beginners still learning their skills or for those who have fishing in mind.
Easy to get in and out of while on the water. If you plan to swim after paddling out, sit-on-top boats are the easiest to manage

Self-bailing scupper holes that remove excess water automatically eliminate the need for a bilge pump. If you capsize or have water wash aboard in rough conditions, sit-on-top kayaks will drain the water for you

Ideal for rambunctious pups who are more prone to jumping in the water or knocking you off-balance
CATEGORY
There are 6 major categories that most kayaks fall into. Each have specific uses in mind and are built and outfitted to fit maximize functionality for its intended activity. The two that we'll cover here (inflatable and recreational) are best for dog pals. To learn about the other types of kayaks, click here.
Inflatables
Less expensive than their solid counterparts and better suited for those with limited space, quality inflatable kayaks can be a good choice when bringing your dog on the water. Most manufacturers use tough materials that can withstand puncturing, but keep in mind that not all inflatables are made equally. When in doubt, stick with our recommendations and avoid anything from big-box "budget" stores.
Solid
When it comes to paddling with your pooch, a solid construction kayak is going to be your most solid bet. These are the most durable types of kayaks and are sure to be long-lasting. They are able to withstand much more punishment than their inflatable counterparts.
LENGTH AND WIDTH
Kayaks come in a variety of lengths and widths that contribute to the overall specific purpose. Generally speaking, the longer and wider the kayak, the more stable the paddler will feel. This will be a key feature to keep an eye on when trying to find a suitable kayak for you and your dog.
FEATURES EXPLAINED
BILGE PUMP
A tool used for bailing water out of a boat
BOW
The front of the boat.
STERN
The rear of the boat.
BULKHEAD
A bulkhead is a water-tight partition that divides sections of the boat. Some boats have two, one in the front and rear, while others just have one. It usually has a twofold purpose:
By trapping air in the bulkheads, less water fills the boat after capsizing, thus making it easier to bail water after recovering

The bulkhead also provides space for stowing gear in a water tight compartment
CAPSIZE
When a kayak flips upside down and the paddler exits or is separated from the kayak.
HULL
The bottom side of the kayak.
COCKPIT
The area of the kayak where the paddler sits.
DECK
The top side of the kayak.
HATCH
The opening for an enclosed cargo space.
KEEL
The longitudinal structure along the centerline of the bottom of a vessel's hull. The more pronounced the keel, the more stability and the straighter a kayak will paddle.
RIGGING
A system of ropes or bungees designed to hold gear/fasten things to the deck of a kayak.
SELF-BAILING SCUPPER HOLES
When water washes onto your deck, these holes allow the water to drain back down through the boat without flooding it. It makes recovering after a capsize much easier and keeps your boat from flooding when conditions would otherwise cause you to sink.
SKEG
Sometimes your vessel needs a little help tracking (going straight). A skeg is a small fin in the rear of a kayak that drops down to provide more keel. Unlike a rudder, it stays in a fixed position.
SPRAY SKIRT
A waterproof piece of gear that paddlers wear. It attaches to the cockpit of a kayak to keep water out.
TRACKING
A kayak's ability to continue in a straight line after a paddle stroke.
WET EXIT
When paddling a traditional sit-in kayak, a wet exit is the act of removing one's self from the cockpit while under water after capsizing.
READ MORE
For more of our top kayaking gear recommendations, check out these popular buyer's guides: