Updated on November 30, 2021
Flatwater paddling on lakes is one of the best ways to spend a beautiful summer day. The best part about paddling on lakes is how easy and accessible it is for all skill levels. Whether you're a seasoned kayaker or you're just getting into the sport, getting one of the best kayaks for lakes is sure to motivate you to enjoy as many days on the water as possible this summer.
When you're shopping for a new kayak, it's important to know that there are many different styles of kayaks that are made for various purposes. In hopes of making your search a little less time consuming, we've put together our top ten list of the best kayaks for lakes.
For more of our top kayaking gear recommendations, check out these popular articles:
Sea Kayaks | Touring Kayaks | Kayaks for Beginners | Sit In Kayaks | Kayaks Under $500
Kayaks for Kids | Kayaks for Dogs | Sit-On-Top Kayaks | River Kayaks
Kayaks for Women | Canoes | Tandem Kayaks | Lightweight Kayaks
Quick Answer

-

The Best Kayak for Lakes
Wilderness Systems Aspire 105

Emotion Kayaks Spitfire 9
Comparison Table

-

Best Kayaks for Lakes

For the best experience turn your device horizontally
Reviews

-

The Best Lake Kayak
Wilderness Systems Aspire 105
Specs
Length

:

10'6"

Weight

:

48 pounds

Paddlers

:

1

Style

:

Hybrid

Width

:

29"
Features
Deep Design (for better splash protection)
Shallow Bottom (for improved maneuverability)
Sealed Rear Storage Hatch (for safe, dry storage)
Drain Holes (to keep interior dry)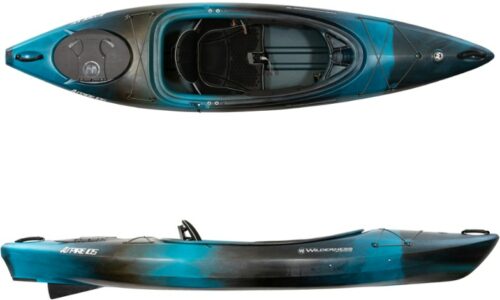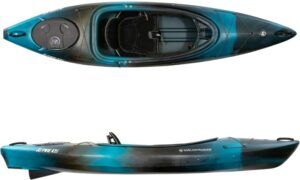 BEST FOR: MEDIUM TO LARGE PADDLERS
The Wilderness Systems Aspire 105 is a great starter kayak for medium to large-sized paddlers. It features a hybrid design that helps to keep you protected from splashing water, but also drains any water that does make its way into the cockpit. The sealed rear storage hatch gives you plenty of dry storage for extra layers or lunch gear while the kayak's shallow bottom makes it easier to maneuver in case you need to avoid any unexpected obstacles out on the lake. This kayak also offers an adjustable back strap that allows you to raise or lower the height of the seat back for a comfortable ride every time.
Emotion Kayaks Spitfire 9
Specs
Length

:

9'

Weight

:

45 pounds

Paddlers

:

1

Style

:

Sit-On-Top

Width

:

31"
Features
Paddle Attachments (to store your paddle when you want to relax)
Fold-Down Seat Back (for easy setup)
Center Hatch (for storage)
Bow and Stern Webbing (for securing additional gear)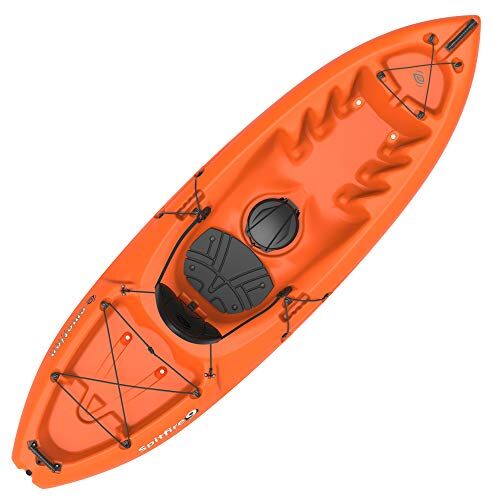 BEST FOR: EASY PADDLING AND TRANSPORT
The Spitfire from Emotion Kayaks is a compact vessel with plenty of features to make paddling comfortable and easy. It's one of the lightest kayaks on our list, which makes it very convenient to transport. At just nine feet in length, it also won't take up much room in storage when it's not in use. This kayak's fold-down seat back can be setup in just seconds when you are ready to paddle and the centrally located hatch gives you a secure place to store gear within arm's reach while you're paddling.
Hobie Mirage Passport
Specs
Length

:

12'

Weight

:

65 pounds

Paddlers

:

1

Style

:

Sit-On-Top

Width

:

34"
Features
Pedal Propulsion System (for hands-free paddling)
Roomy Cockpit (to accommodate paddlers of all sizes)
Mesh Seat and Seat Back (for comfort and breathability)
Front and Rear Cargo Areas (with webbing to secure gear)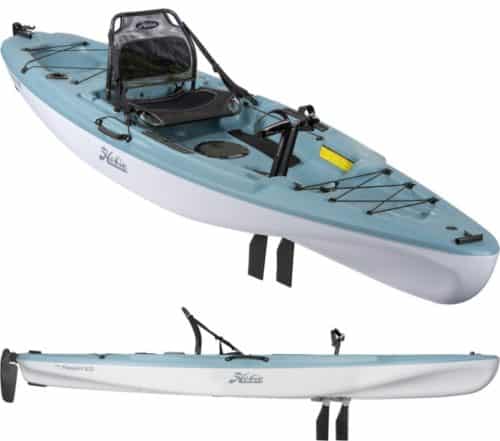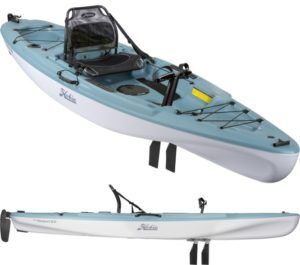 BEST FOR: HANDS-FREE PADDLING
If you're looking for a kayak that gives you the freedom to paddle with your arms or legs, look no further than the Hobie Mirage Passport. This kayak has a built-in pedal propulsion system that allows you to put your paddle down and use your legs to move along the water's surface. You can always use a traditional kayak paddle in tandem with the pedal system, but this kayak is designed for those who want to keep their hands-free as they explore their nearby lakes. There is plenty of storage in the bow and stern of this kayak and a roomy cockpit is designed specifically to accommodate paddlers of all sizes.
Oru Kayak Haven Folding
Specs
Length

:

16'

Weight

:

40 pounds

Paddlers

:

2

Style

:

Hybrid - Folding

Width

:

31"
Features
Origami Design (for packability and quick setup)
Convertible Cockpit (can be set up for one or two paddlers)
Foldable (for compact transport and storage)
Interior Track System (for plenty of points to secure gear and accessories)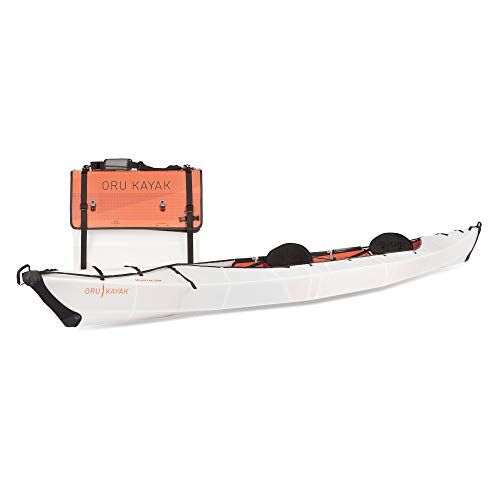 BEST FOR: LAKE PADDLERS WHO TRAVEL
Oru Kayak has pioneered the foldable, packable lake kayak. This hybrid kayak can accommodate two paddlers and packs up to dimensions of just 33 x 30 x 15 inches when you want to travel to your next favorite lake. If you happen to be flying solo for a day, you can also alter the interior setup of this kayak to make it easy to paddle as a single kayaker. The Oru's origami design makes it easy to setup and secure everything in place when you're ready to paddle and the interior of the kayak is designed to give you plenty of places to secure gear and accessories while you're on the water.
THINGS TO CONSIDER WHEN BUYING A KAYAK FOR LAKES
STYLES
To aid in your selection process, you'll need to first understand the difference between sit-on-top kayaks and sit-inside varieties. We'll start by taking you through some of the pros and cons of each.
SIT-ON-TOP
Many rental operations that make their living on lakes will predominantly offer sit-on-top kayaks. The main advantage of this style is that they're easy to get in and out of. They also make balancing and paddling very easy for beginners. However, sit-on-top kayaks don't offer as much protection from wind and water and they also tend to offer less storage capacity than their sit-inside counterparts.
SIT-INSIDE
Sit-inside kayaks are also easy to learn in and they're the best option for folks who are going to be paddling on lakes that tend to offer a variety of conditions. If the closest lake to you can go from calm, flat water to wavy and windy within a matter of hours, you might like the added protection from the elements that a sit-inside kayak offers.
Sit-inside kayaks are also compatible with spray skirts, which give you the ability to completely seal the cockpit of your kayak from the outside elements. The main disadvantage of sit-inside kayaks is that they're more difficult to right and climb back into if you do happen to capsize on an especially wild weather day.
HYBRID
This type of kayak offers a nice middle ground between a true sit-on-top and a true sit-inside kayak. Hybrids are designed to be easy to get in and out of while offering extra protection from water splashing over the sides of the kayak. Depending on the design, some are compatible with spray skirts as well.
SIZE
The main consideration when it comes to the size of kayak you should buy starts with how many people you want to fit inside of it. If you plan to kayak with a partner, you'll obviously want to focus on the tandem options we've included in our list above (Oru Kayak Haven, Wilderness Systems Tarpon 135T, Perception Tribe 13.5).
If you mainly plan to kayak solo, however, you should be aware that more length typically translates to more ability to travel faster over longer distances. Shorter kayaks, on the other hand, will give you the ability to maneuver around obstacles better. In general, if you're looking to travel as quickly as possible as a single kayaker, you're going to want a kayak that is longer and skinnier.
WEIGHT
Weight is also an important consideration because you might have to be carrying or dragging your kayak from its storage location to the edge of the water. Unless you live somewhere that allows you to keep your kayak tied up to a dock for most of the year, you don't want a kayak that's too heavy. Be careful to choose a kayak that weighs something you feel comfortable carrying to and from the water's edge. It'd be a shame if you over-exerted and injured yourself before you were even able to climb into your kayak's cockpit and start paddling.
WEIGHT CAPACITY
Weight capacity is a simple consideration but it's a very important one for your ability to effectively handle your kayak once you're on the water. Each kayak is rated for a maximum carrying capacity and choosing a kayak that is designed to fit your specific body type will make your life much easier as you learn the appropriate paddling techniques for any situation you might encounter out on the water.
FEATURES EXPLAINED
BOW
The bow is the front of your kayak. Typically there will be a handle attached at the bow of your kayak so that you can pull it down into the water. You can remember this term by thinking about the fact that you would normally bow FORWARD.
STERN
The stern is the back of your kayak. You can think of this as the type of face ("stern" face) that your parents give you when you've done something that you wouldn't necessarily go BACK and do again. Most kayaks have a handle at the stern that allows you to pull it over the beach.
HULL
The hull is the bottom of your kayak. A more defined hull will make your kayak track straighter and give you the ability to travel faster over the water's surface. A flatter hull will make your kayak more maneuverable.
COCKPIT
The cockpit is where you sit and get comfortable while you're paddling. Some kayaks will have a more defined cockpit (sit-inside and hybrid styles) while others will offer a gentle depression where you'll sit while you paddle (sit-on-top styles).
GUNWALES
The term 'gunwales' is just the fancy, technical term for the sides of your kayak. The height of the kayak's gunwales will play a role in determining how much water is able to splash over the sides of your kayak and into the cockpit.
SKEG
Some kayaks will have a plastic fin on the bottom ("hull") that is accurately called a 'skeg'. A skeg will help your kayak track straighter while you're paddling over a longer distance. A kayak with a skeg will be especially useful if you're paddling on a windy day.
SCUPPER HOLES
These are intentional holes drilled into the bottom of many sit-on-top kayaks that allow any water that splashes over the sides to drain out. Without scupper holes, your sit-on-top is much more likely to take on water and get heavier as you paddle. Additionally, scupper holes make your kayak much easier to turn over and climb back into if you do happen to tip over on a windier day.
PADDLE ATTACHMENTS
These aren't included in all kayaks, but some will offer places where you can attach your kayak paddle when you're not using it. Usually these will be some form of stretchable webbing on the sides (or gunwales) of the kayak.
STORAGE COMPARTMENTS
These compartments give you a safe and (usually!) dry place to store any gear you want to bring with you. You should be careful to thoroughly test the water tightness of your kayak's storage compartments before you trust them to keep your sensitive gear dry.
READ MORE
For more of our top kayaking gear recommendations, check out these popular buyer's guides: