Updated on February 7, 2020
We spent 3 months exploring Colombia by bicycle. It's an extremely diverse and interesting country. Here's a brief glimpse of the wildlife, views and people that we met along the way. We hope you enjoy the ride!
For those wondering about choosing a good camera, don't forget to check out our guide How To Choose The Best Camera For Travel.
 
WILDLIFE FROM THE ROAD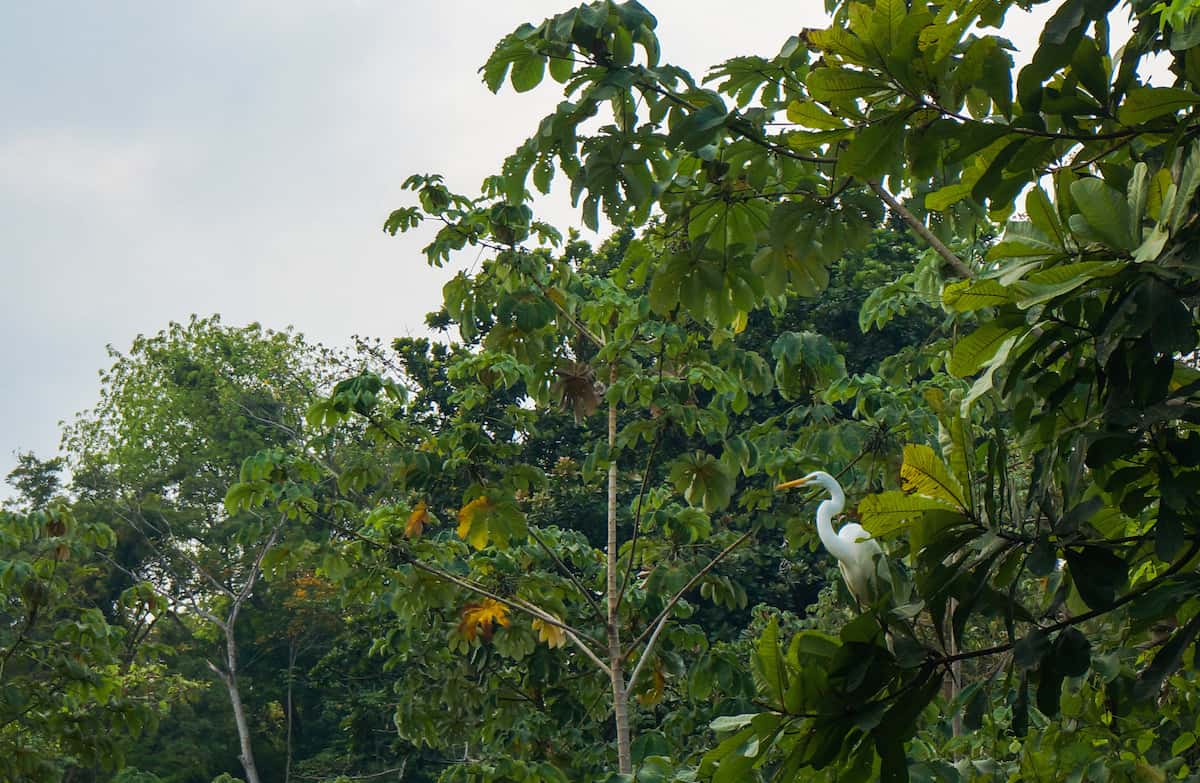 We saw many of these cranes along the road in but as soon as I would pull out my camera, it would fly away. I spent days trying get a shot of one but had no luck. Until one day, I saw this beautiful white crane perched high in a tree that wasn't camera shy. 
VAMOS JAMES!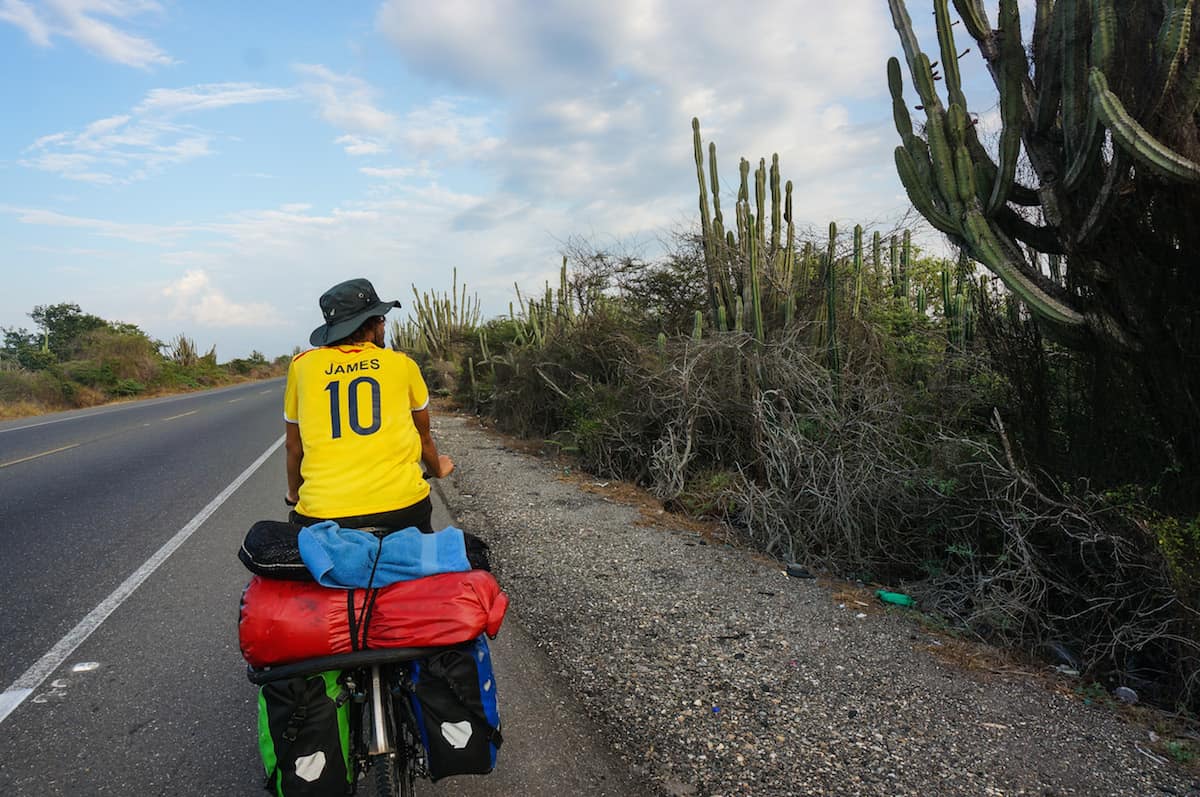 Here in Colombia the most popular shirt is the Colombia National Football Jersey of James Rodriguez. James (pronounced Ha-mas in Spanish) is a Colombian who is now playing for the Spanish team, Real Madrid. Here, Grandmas even wear a James jersey.
Antonio sported his James jersey and got lots of people yelling out car windows "Vamos James!!!"
THE BANANA TRAM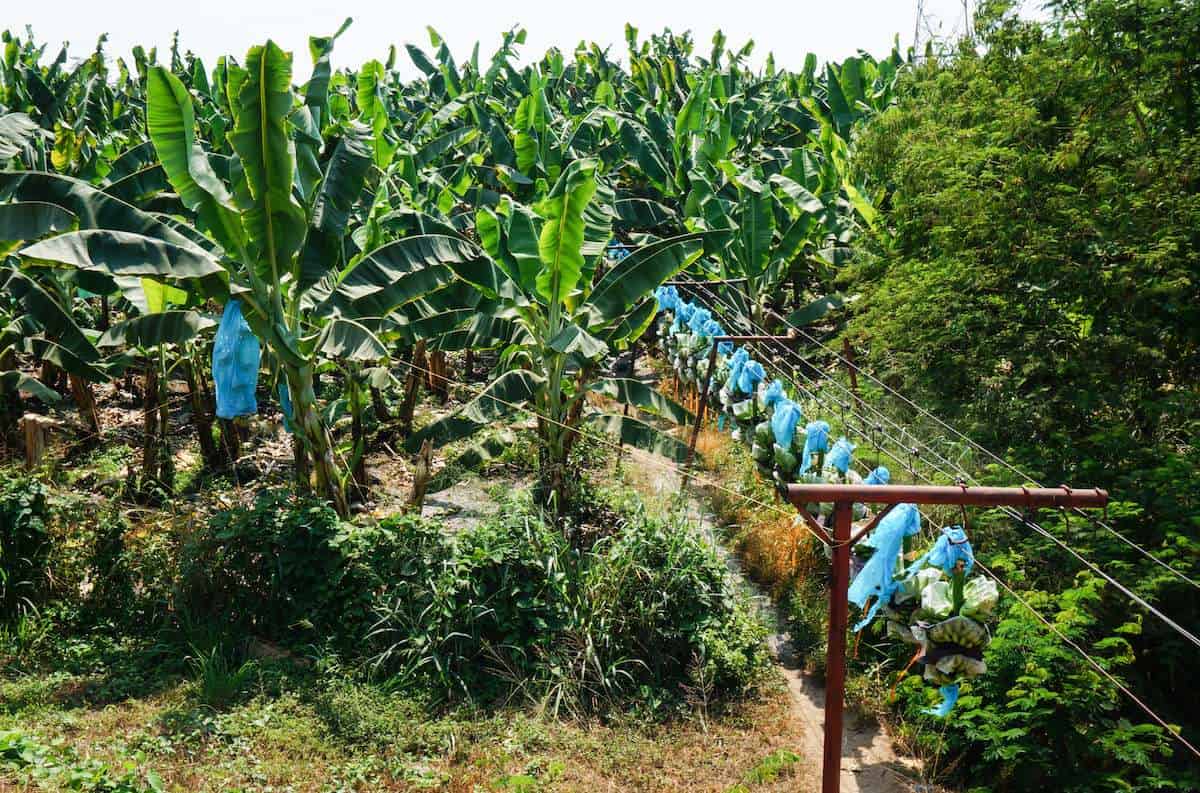 Cycling allows you to see things that you probably wouldn't notice otherwise. Here at a banana plantation, the bunches are put on a "banana tram" to be taken to the collection center. 
CHICAMOCHA CANYON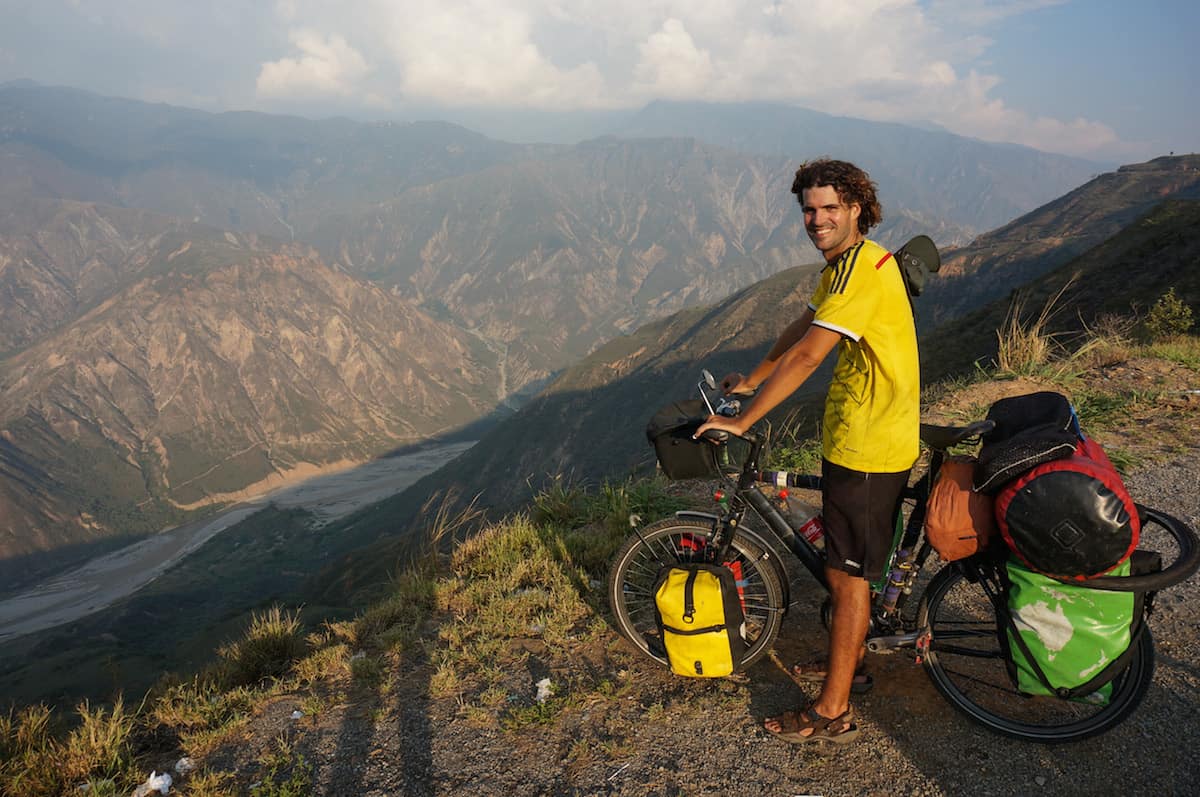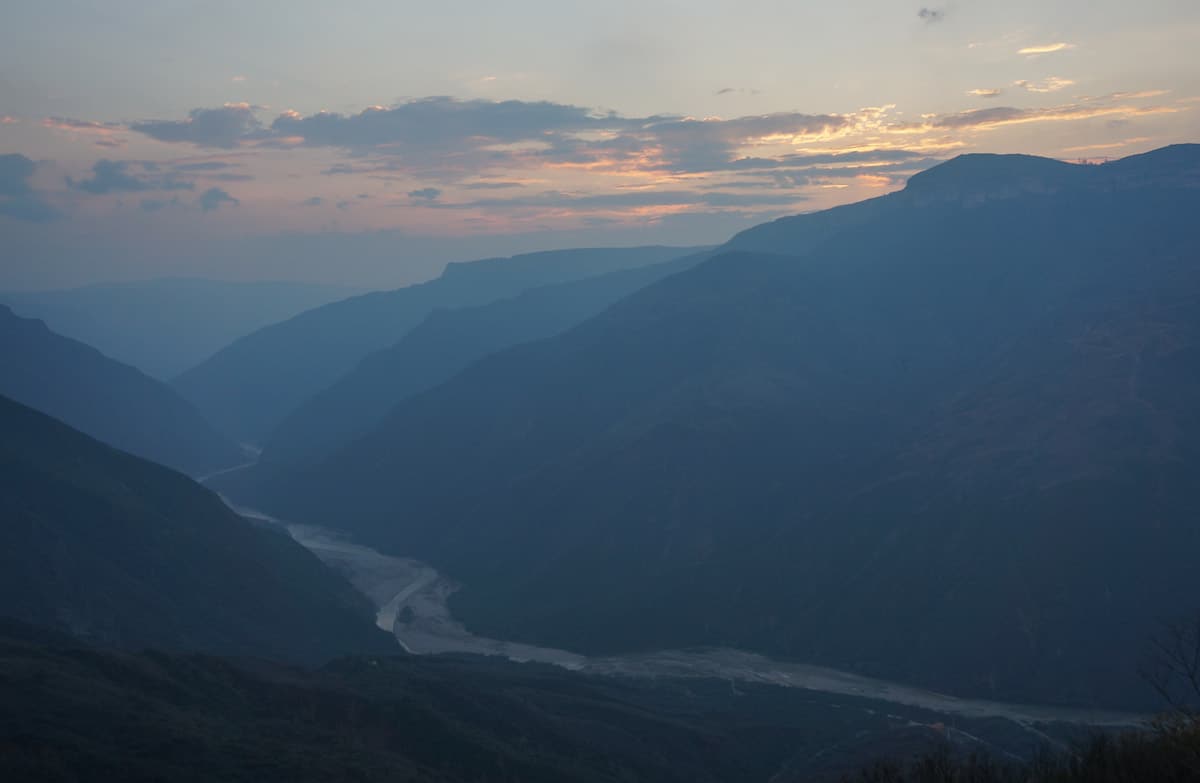 Cycling the Chichamocha Canyon was one of the biggest challenges we faced in Colombia. We had to crank the pedals up the curves of the canyon roads for hours. After hours of cycling under the pounding heat we arrived to a lookout that gave us an impressive view of the second largest canyon in the world.
THE LONE WALKER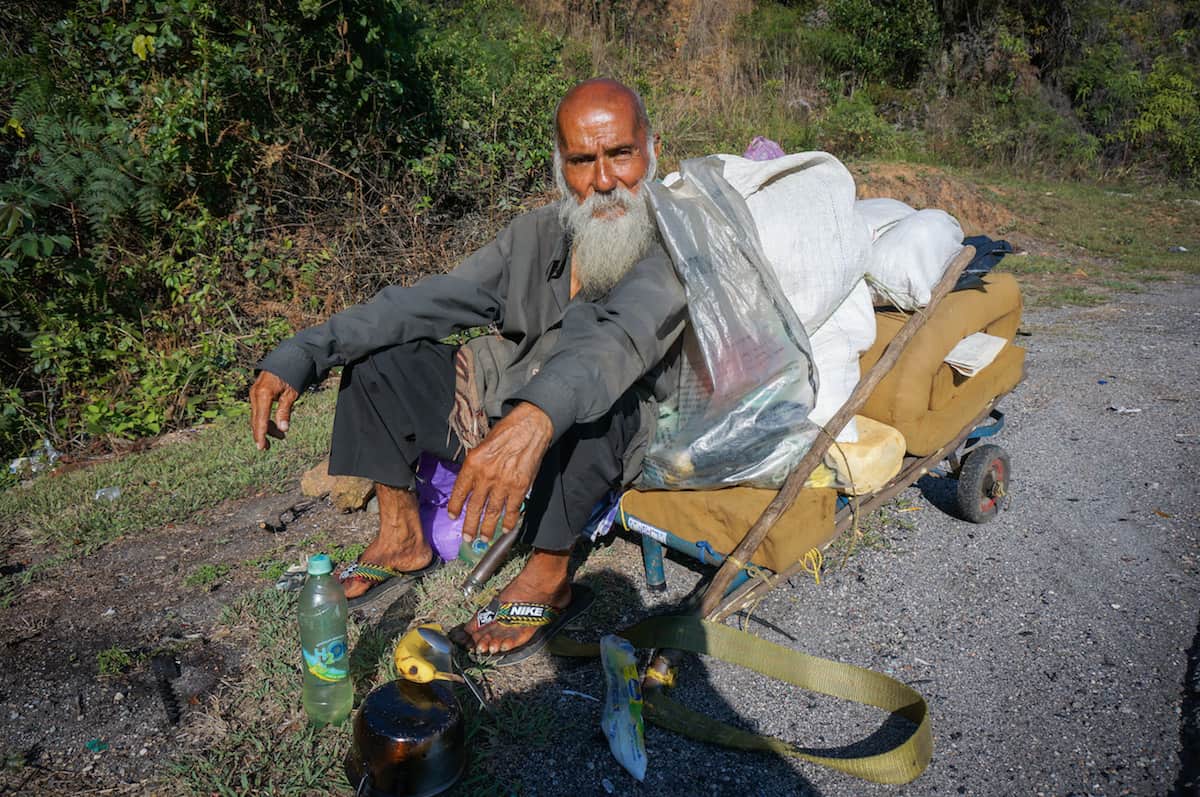 One morning we passed this man on the road. I had seen him the night before, setting up camp. At the time, I thought he lived close by and just wanted some peace from the grandkids.
When I saw him this morning he was in a different spot and I thought he must be walking. Antonio is his name. He is 76 years old and on his 21st loop around Colombia.
DANGEROUS CURVES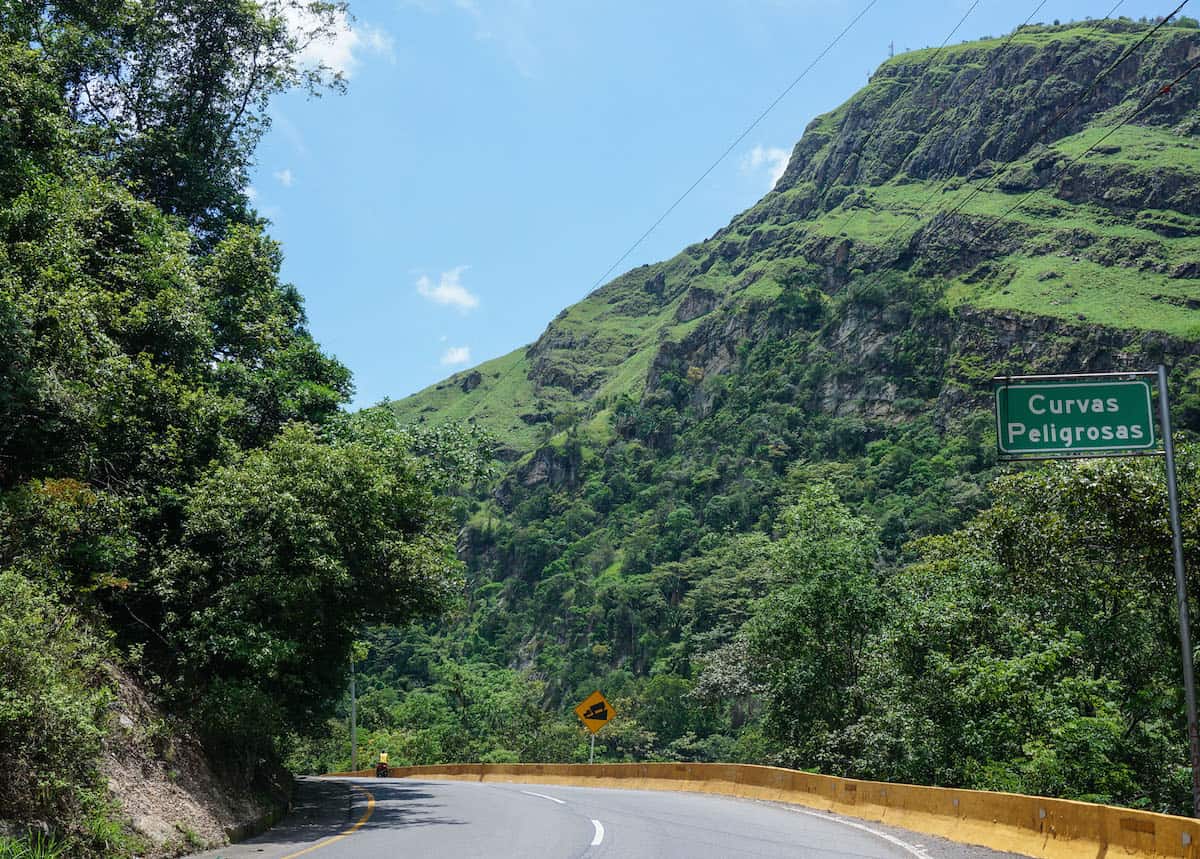 The downhill sign always puts a smile on my face. From the capital, Bogotá at 2,600 meters we descended down to 1,000 meters. These dangerous curves proved to be very fun on the bike.
UNEXPECTED KINDNESS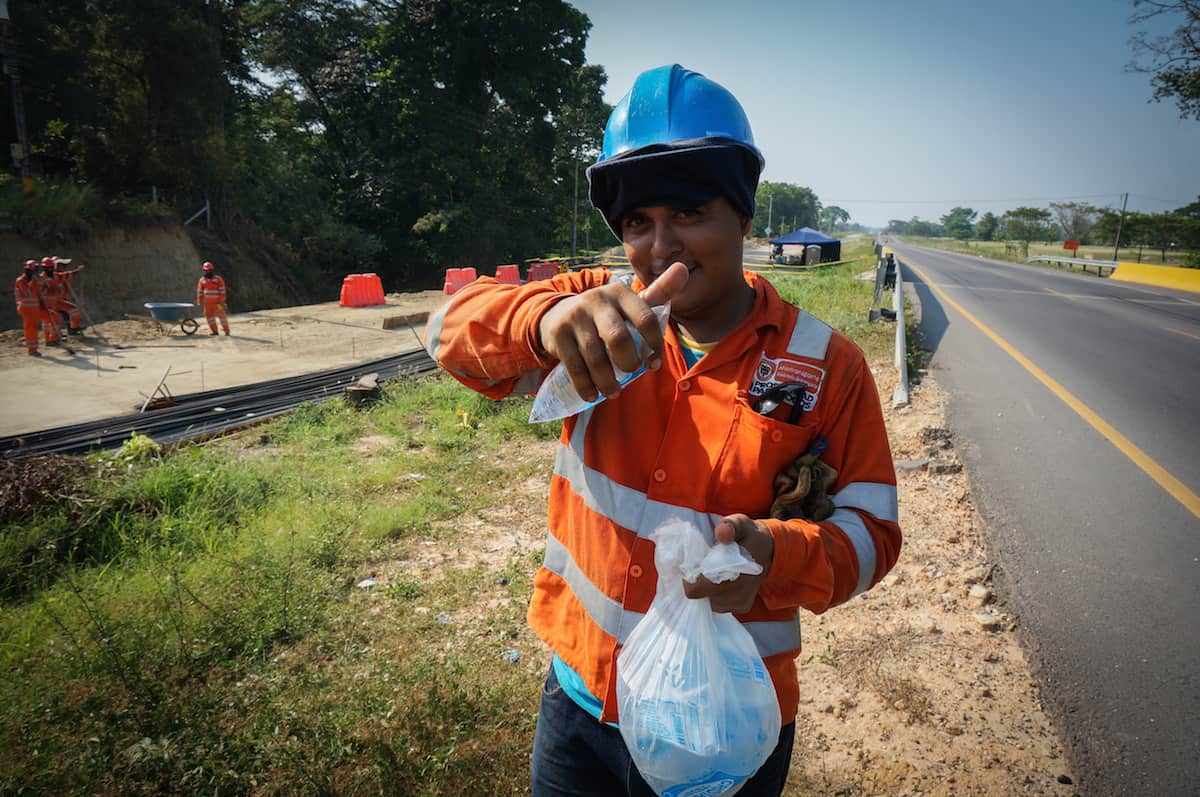 There is a section of highway called La Ruta del Sol (The Route of the Sun)…rightly named. The intense sun, boring cycling and high traffic left me miserable.
One day we cycled passed a group of construction workers and they began to yell "Agua, agua!" I stopped and this man ran up with a bunch of these ice cold bags of water. It made my day and reminded me of the power of kindness.
MOUNTAIN VIEWS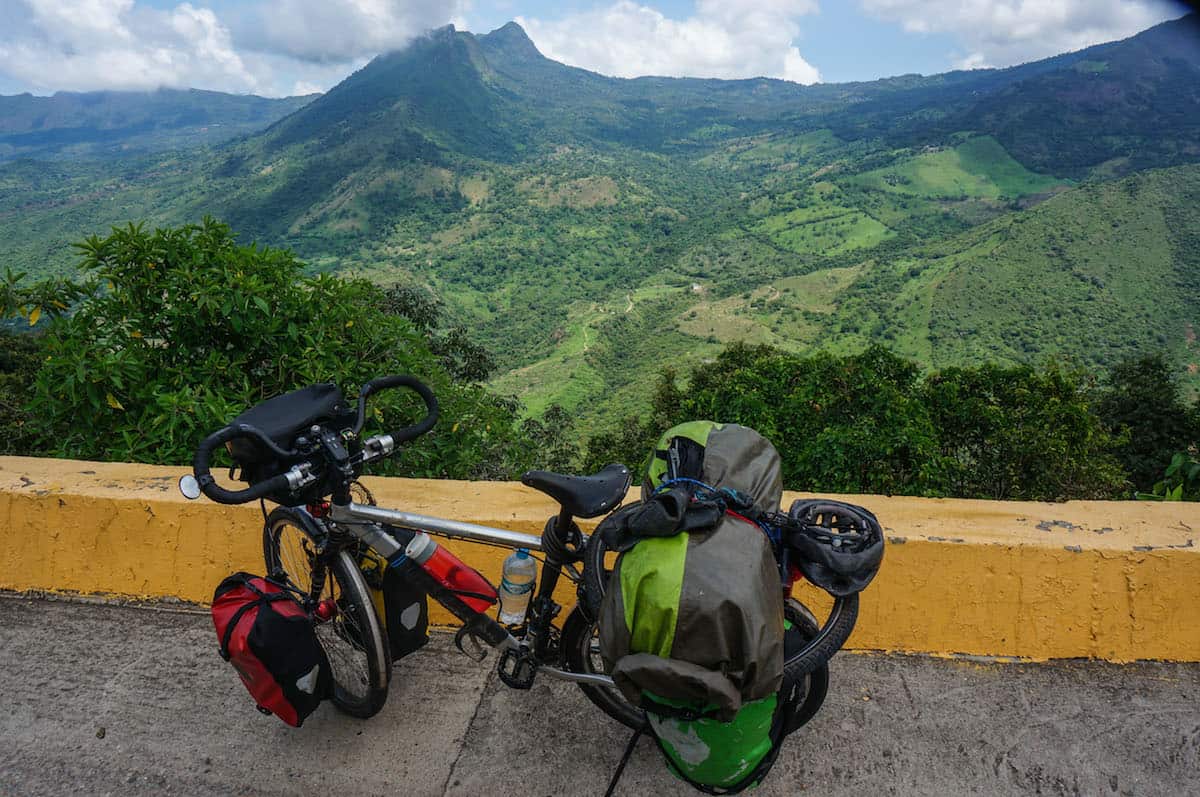 Colombia is a mountainous country. The Andes Mountain Range runs in 3 chains, from east to west, which means lots of climbing uphill and freewheeling downhill.
ROADSIDE WATERFALLS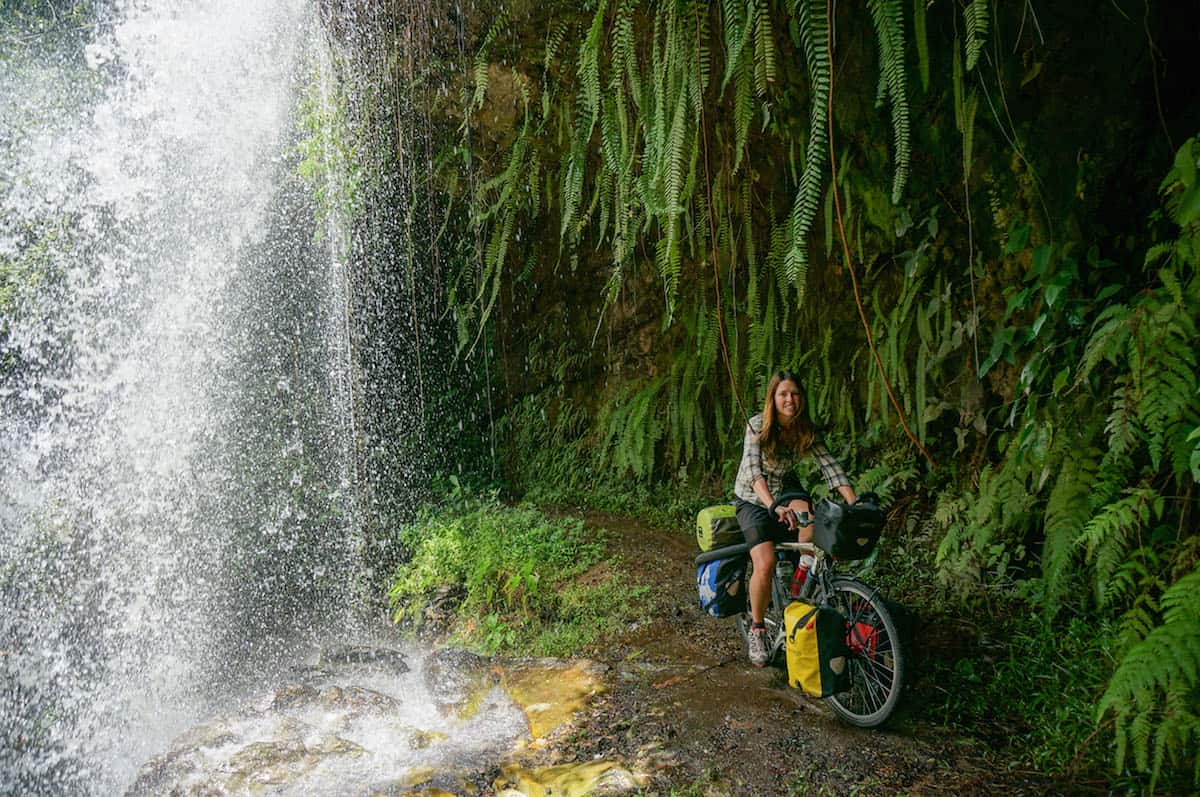 Off the main highway we spotted this waterfall with a dirt road underneath. We pulled over for lunch and had fun taking pictures.
 THE JOYS OF CYCLING IN BOGOTÁ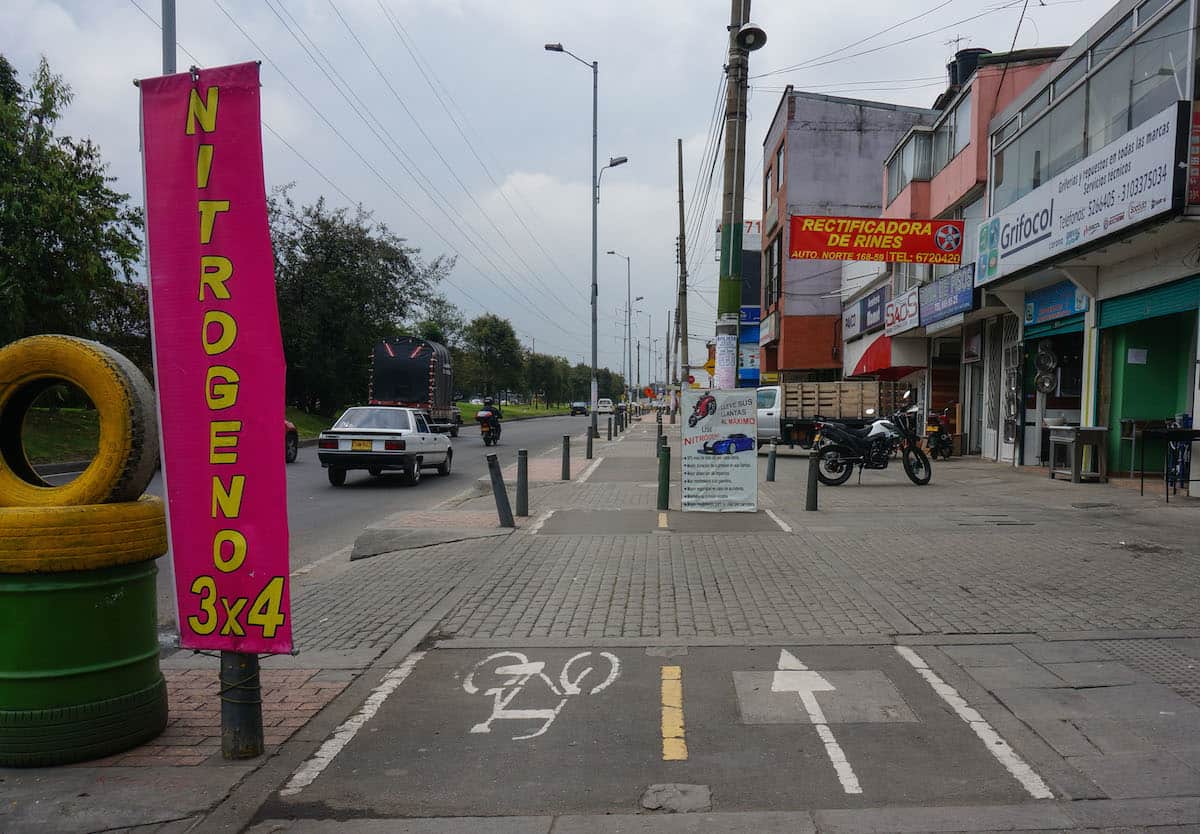 Colombia is a country of cycling enthusiasts yet conditions for cyclists still have a long way to go. Bogotá boasts about its network of bike lanes. Yes, there are lots of bike lanes however we found it safer to cycle on the road than use them.
ALTIPLANO IN THE ANDES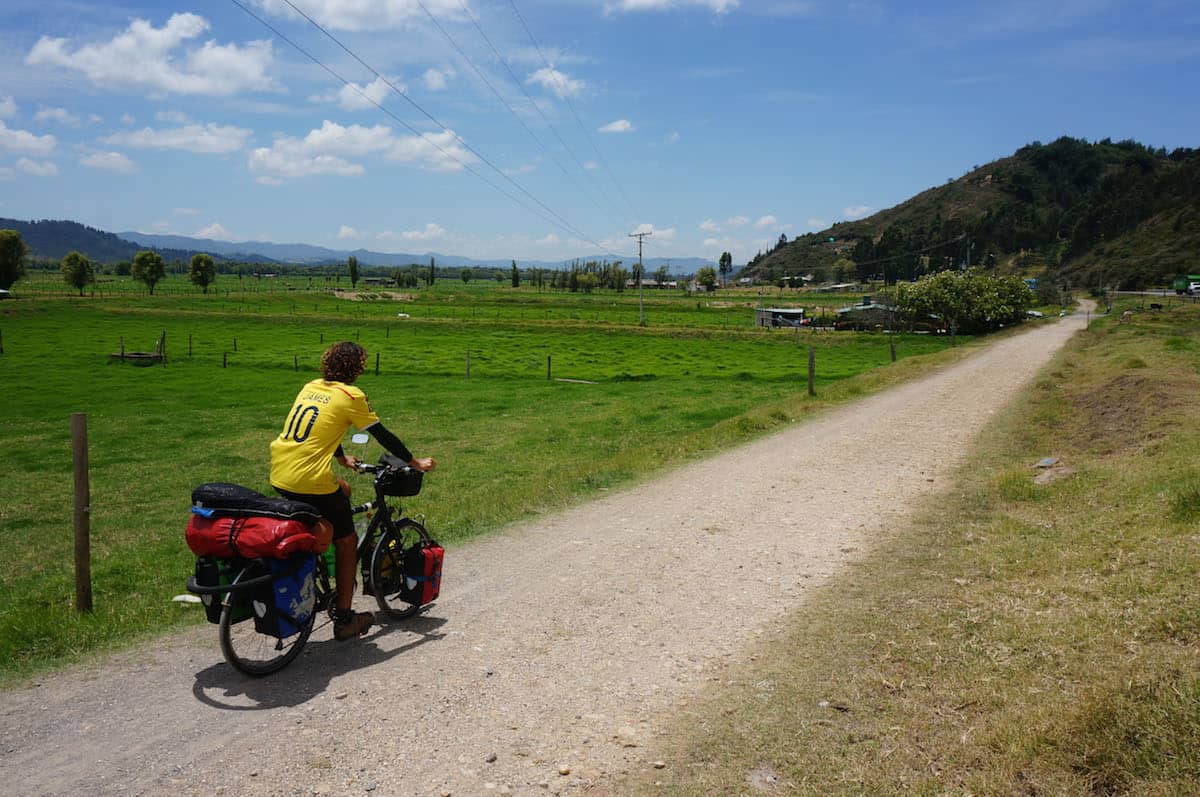 Just a hundred kilometers from the busy city of Bogotá we experienced some of the most quiet and beautiful roads in all of Colombia. After climbing to over 2900 meters we reached an altiplano, the flat roads were a much needed break from the steep climbs.
PICKING UP HITCHHIKERS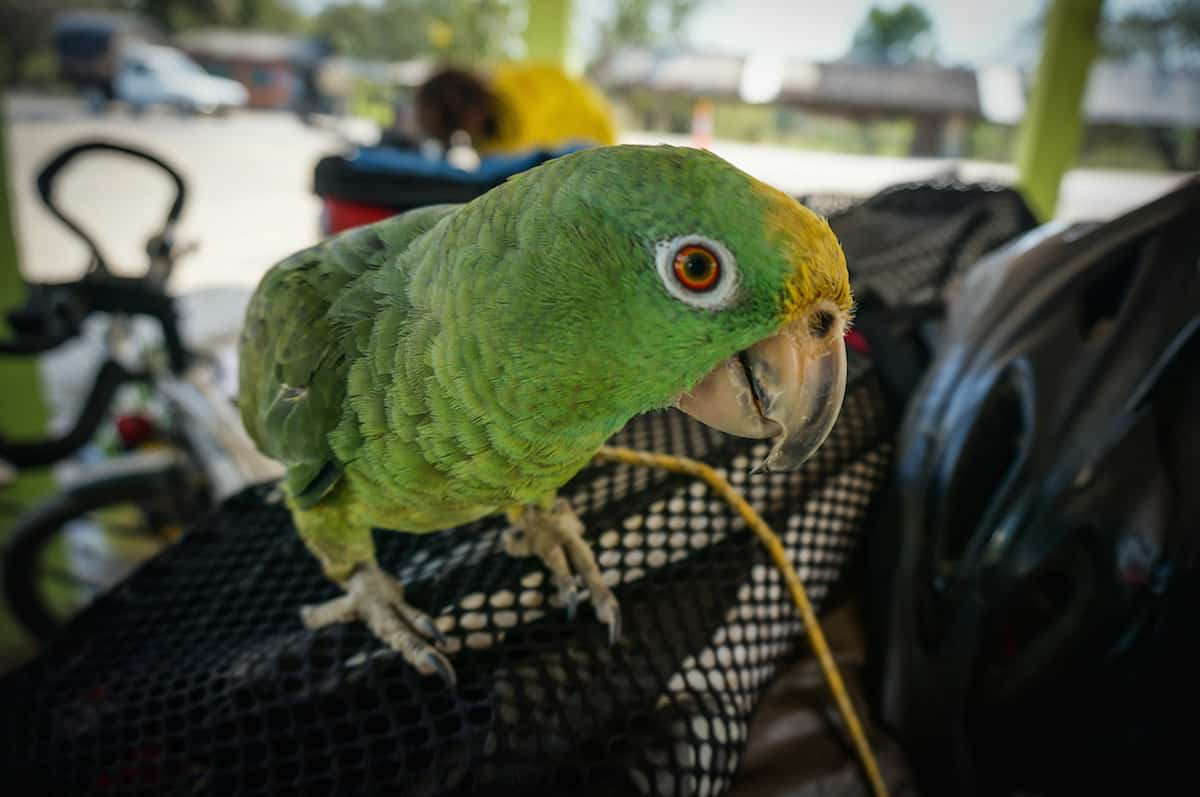 One morning after packing up the bikes this little guy jumped on the back of my bike. He was welcome to come along until he started to snack on my diving fin!
WHO SAYS BIKES CAN'T GO THOUGH THE TUNNEL?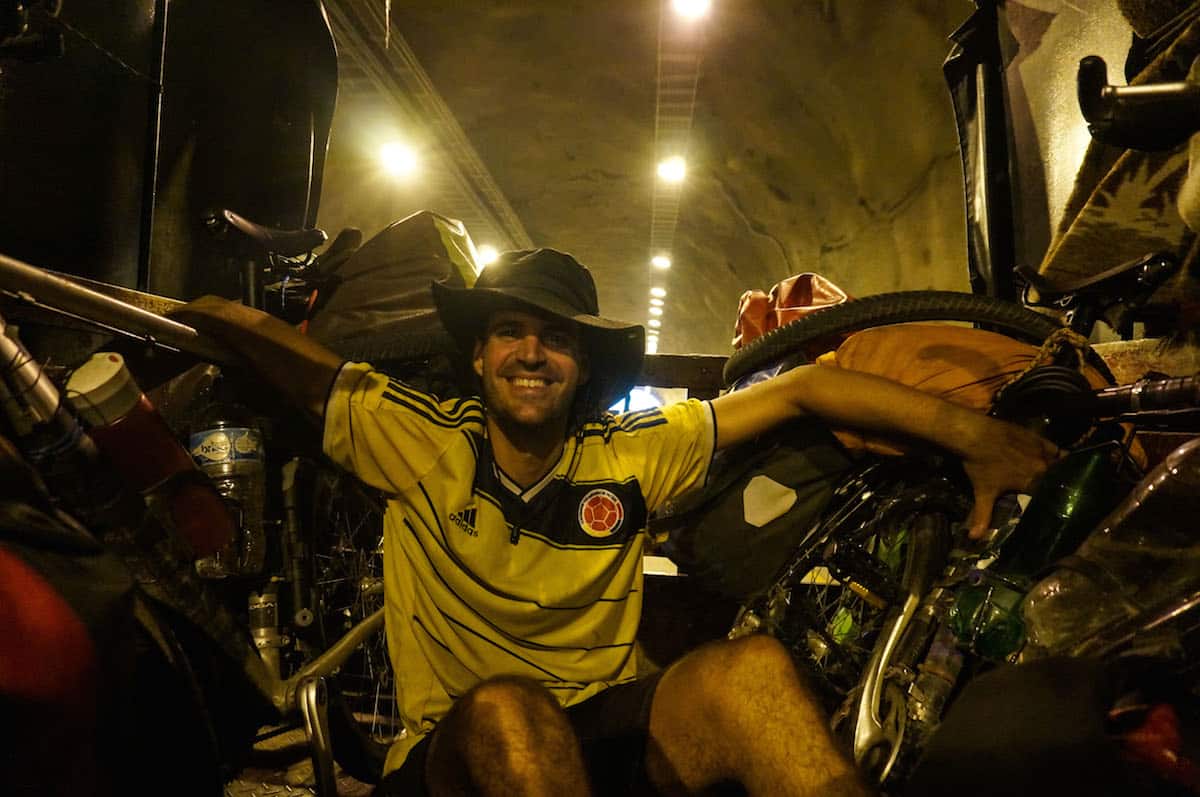 It is much easier to say sorry than please. A rule for life and even more for cycle tourists.
There were two options, climb a massive hill or go through a tunnel. The problem was that cyclists are not allowed to pass through the tunnel. There is a sign and a security guard at the entrance ready to turn people away.
Even after seeing the sign and being told that we wouldn't be allowed to pass, we decided to try our luck anyway. We stood by the enterance with thumbs out and our best smiles on. A truck stopped and carried us through the tunnel.
IN THE WHITE CITY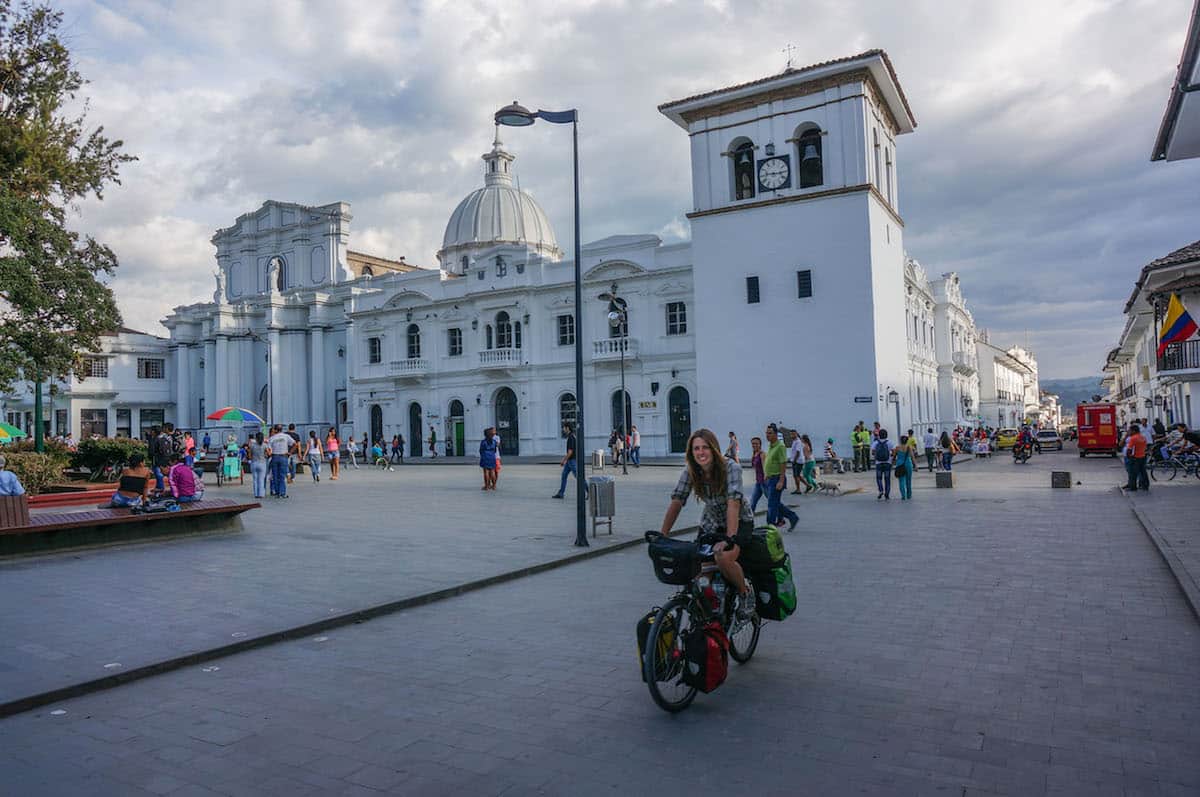 Colonial cities are one of the most interesting parts of Latin America. The central plazas and colonial buildings create a unique atmosphere. Here in Popayan, nearly all the buildings are painted white, giving it the name "La Ciudad Blanca" (The White City).
COLOMBIA'S DEATH ROAD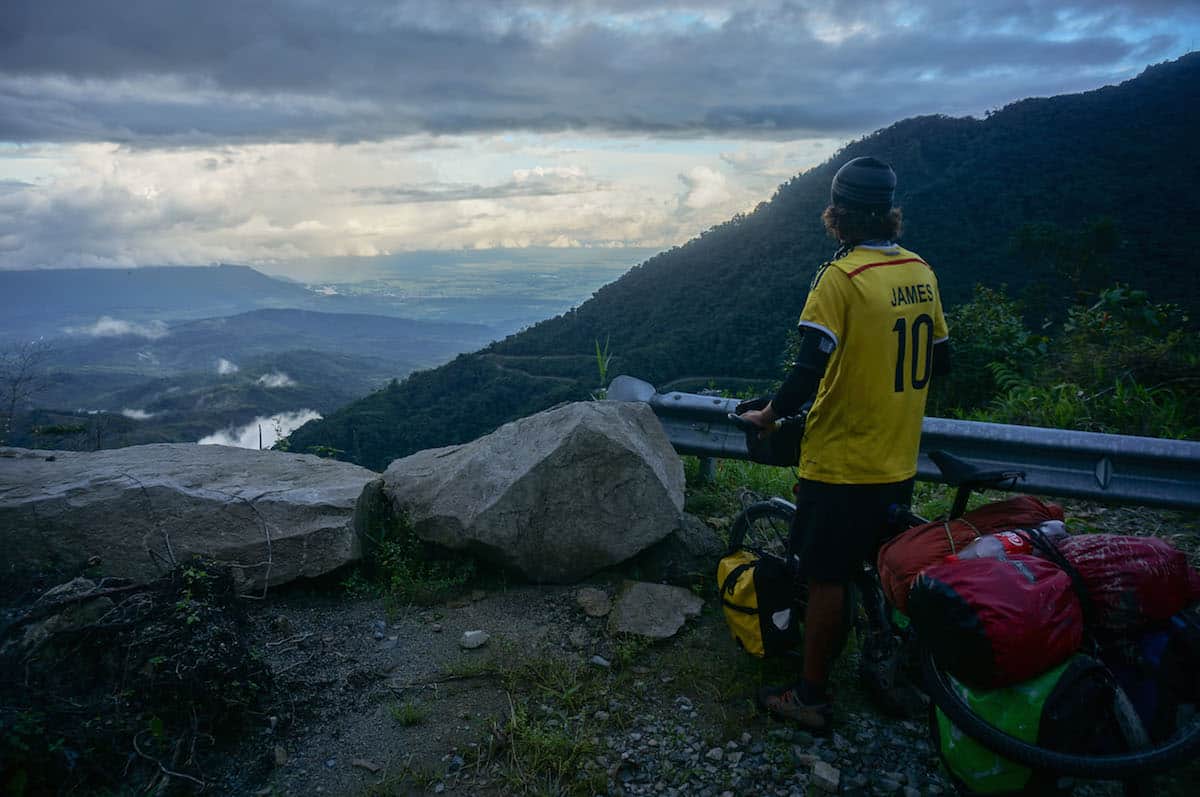 The dirt road that crosses the Southern Andes of the country has taken many lives and is known as Colombia's Death Road. It is narrow and the fog can be so thick that it's impossible to see what lies ahead. One wrong turn can send you plummeting over the edge hundreds of meters.
HAVE A NICE TRIP!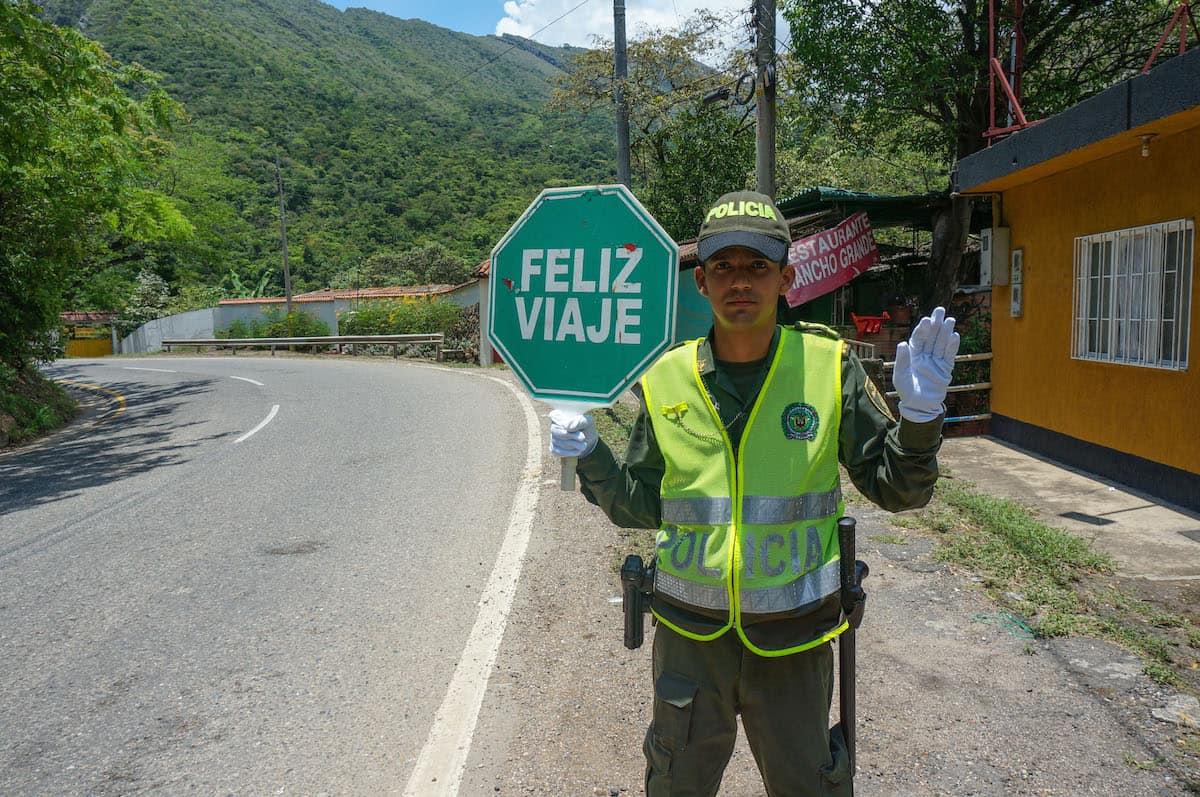 Soldiers and police officers stand by the side of the road holding up signs that say "Feliz Viaje" Have a nice trip.
READ MORE
For more of our top bicycle touring gear recommendations, check out these popular buyer's guides: