Updated on February 22, 2022
When winter sets in and the snow starts falling, that doesn't mean hanging your bike up and sitting in front of the fire – it means finding the best fat bike tires for the conditions and hitting the trails!
As anyone who has ridden on snow before knows, there are lots of different types of snow, from hard-packed snow, loose soft snow, slushy melted snow, and the dreaded icy snow! Our Mountain Biking experts at The Adventure Junkies compiled a list of the top 10 fat bike tires we could find that will get you out and enjoying the trails during the winter months.
Some of these fat bike tires are also suitable for sand riding as well as general trail riding, so check out the best fat bike tires available today and get riding on your preferred terrain in no time!
For more of our top bike gear recommendations, check out the Best Fat Bike Tires for Snow.
Quick Answer

-

The Best Fat Bike Tires
Vee Tire Co. Bulldozer 27.5″ Plus
Comparison Table

-

Best Fat Bike Tires

For the best experience turn your device horizontally
Reviews

-

The Best Fat Bike Tires
Maxxis Minion FBR 26″
Specs
Type

:

Clincher

Best Use

:

Loose Surfaces

Size

:

26"

Tire Width

:

4.8"

Threads per Inch

:

120

Tire Bead

:

Folding
Features
Super Wide For Extra Grip And Comfort
Proprietary EXO Technology Provides Puncture Resistance
Chunky Tread For Traction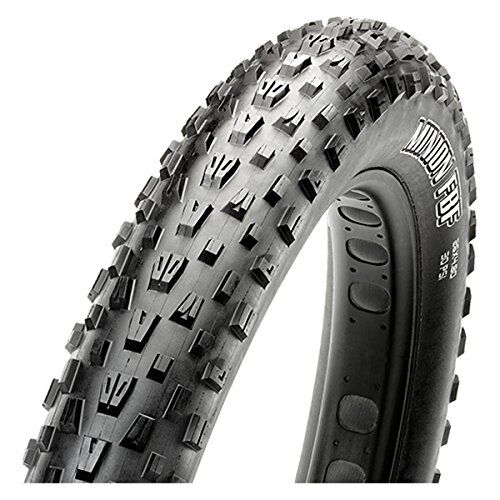 BEST FOR: HANDLING ANYTHING
These could possibly be some of the fattest fat bike tires we've ever seen. At a whopping 4.8" wide these bad boys are going to provide superior grip, traction, and comfort. Not to mention they just look mean and capable, and looks are not deceiving in this case. The huge chunky knobs will keep you gripped to the terrain, while the wide surface will help you plow through sand, snow, and slush with relative ease. These are rear tire specific but can be paired with the Maxxis Minion FBF to make a wicked set of fat bike tires.
45Nrth Vanhelga 26″
Specs
Type

:

Clincher

Best Use

:

Snow And Slush

Size

:

26" / 27.5"

Tire Width

:

4.2" / 4"

Threads per Inch

:

60 (26" tire) / 120 (27.5" tire)

Tire Bead

:

Folding
Features
Traction Technology For Superior Grip On Loose Surfaces
Super Wide Tire For A Comfortable Ride
Tan Colored Option For Style Points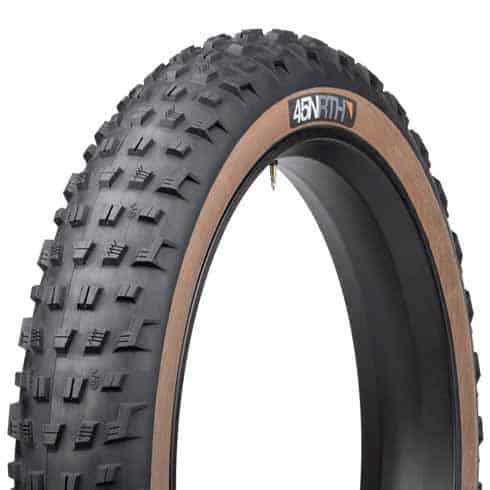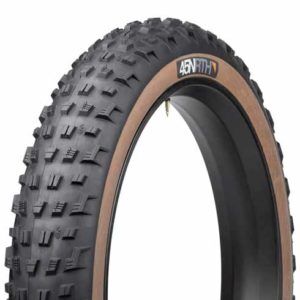 BEST FOR: SOFT LOOSE TERRAIN
Winter doesn't have to bring an end to your mountain biking adventures, especially if you choose the 45NTH Vanhelga 26" Fatbike Tire. At a super-sized 4.2" wide this tire is perfect for riding on soft surfaces like snow and sand.The fat 4 inch width combined with the knobby tread pattern means this tire will easily plow through slushy and loose terrain. Featuring 45NTH's proprietary traction technology of dual rubber compound plus a deep and wide tread pattern, these tires will deliver maximum grip when you need it the most. This tire can also be run at a lower pressure, offering a soft and comfortable ride for all day winter fun.
45Nrth Flowbeist
Specs
Type

:

Clincher

Best Use

:

Snow

Size

:

26"

Tire Width

:

4.6"

Threads per Inch

:

120

Tire Bead

:

Folding
Features
Front Tire Specific Size And Tread Pattern
Durable For Longevity
Made From Soft Rubber That Increases Traction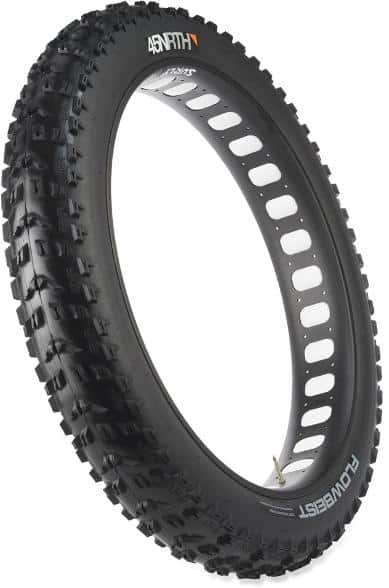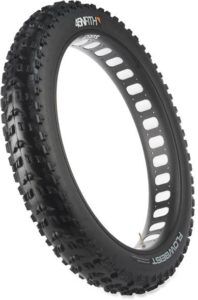 BEST FOR: RAILING SNOWY TRAILS
The 45NTH Flowbeist Fat Bike Tire is designed to be front tire specific. The soft rubber compound of the tall knobby tread pattern increases traction especially when riding on groomed trails and railing snow-covered corners. The wide profile of 4.6" offers plenty of tire-to-ground contact for premium grip and comfort. Fast rolling speeds are not compromised and you will find yourself floating over soft and loose surfaces. If you're really into fat biking and you know what you like, the entire 45NTH range is worth checking out.
Mongoose Fat Bike Tire
Specs
Type

:

Clincher

Best Use

:

Hardpack Surfaces, Sand And Snow

Size

:

20" / 24" / 26"

Tire Width

:

4"

Threads per Inch

:

Undisclosed

Tire Bead

:

Folding
Features
Heavy Duty Rubber For A Long Life Of The Tire
Tread Pattern Provides Excellent Grip On Soft Surfaces
Very Wide 4" Tire Width Suits Sand Riding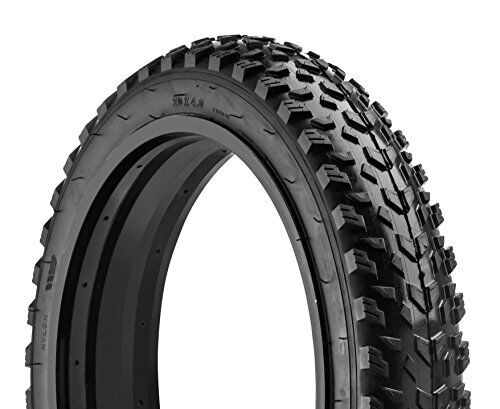 BEST FOR: ROBUST RIDING ON A BUDGET
The heavy duty rubber used on the Mongoose Fat Bike tires means they are super robust and resistant to punctures. While they will be a little heavier than some other tires, the extra weight does make this tire less expensive than its lighter weight counterparts, which makes it ideal for those of you who just want to head out for a bit of fun on some snow, sand, and dirt trails without making a huge investment in the best fat bike tires. These tires feature an aggressive tread pattern and are extra wide at 4", so they will have you churning through those soft surfaces with ease.
Vee Tire Co. Bulldozer 27.5″ Plus
Specs
Type

:

Clincher

Best Use

:

All Terrain

Size

:

27.5"

Tire Width

:

3"

Threads per Inch

:

120

Tire Bead

:

Folding
Features
Knobby Tread Pattern Wraps Around Tire For Added Grip
Super Grippy Rubber For Increased Traction
Durable Rubber For Longevity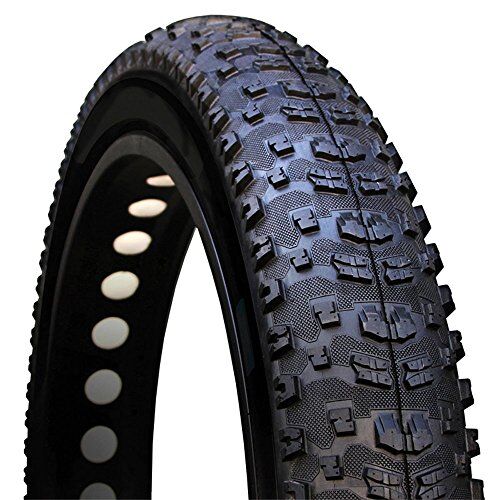 BEST FOR: FAST AGGRESSIVE RIDERS
If you always have your race face on when you're riding on two wheels, then look no further than the Vee Tire Co Bulldozer 27.5" Plus Tire. This tire really is all about the tread pattern — the center knobs are large and super grippy, perfect for fast riding when you want to be confident in your tire's grip on the trail. The knobs on the outer edge of this tire are larger which help with fast cornering and keeping you firmly on the trail. Plowing through dirt, mud, snow and even hitting rough and gnarly trails will be no problem for these tires…strap in 'cause it's gonna be a wild ride!
THINGS TO CONSIDER WHEN BUYING FAT BIKE TIRES
FIT FOR PURPOSE
Fat bike tires are great for riding on super soft and loose terrain, such as snow, sand, mud and slush. However some fat bike tires are designed specifically for hard packed surfaces or even ice covered ground, so make sure you keep in mind the typical terrain and surface you plan on riding to select the best tire for the trail.
WIDTH
There are many advantages to running a fatter (or wider) tire such as:
The ability to run lower tire pressure which offers a supple and more comfortable ride.
More float over soft surfaces such as snow and sand as the tire has more surface area which stops it from digging in and prevents you from getting stuck.
Plenty of traction and grip as there is more surface area for the tire to have contact with the ground.
The fatter the tire, the better it will handle all of these factors and conditions.
The widths of fat bike tires listed here are between 3" and 4.8".
A 3" tire, while not technically considered a fat bike tire, is significantly wider than a standard mountain bike tire (which sits between 2" – 2.4"). Tires with a 3" width are often used on fat bikes when speed is required and the trail conditions are still relatively hard packed.
Fat bike tires go all the way up to 5" wide, which make for some seriously fat tires. Although a 5" wide tire may be slower and heavier, it will easily ride through very loose and soft surfaces like slush and soft sand.
If you want more information, learn more about why to use and how to choose big tires here.
WILL IT FIT?
There are two major considerations when looking at choosing the best fat bike tire for your bike, and these come down to compatibility. The frame size and width to ensure the tire can spin freely and is not too tight or wide for your frame. The second is the width of your rim, a wider tire requires a wider rim.
Frame Size And Width – Every frame is different and for the fat bike tires reviewed above, you will need a fat bike specific frame. Additionally, not every fat bike has the capability to fit the fattest of fat bike tires. So ensure you measure your fat bike before purchasing tires to avoid disappointment.
The link below is a guide on how and where to measure your frame to ensure you know what size tires will fit with your frame.
Rim Width – the rim, which is the circular part of your wheel, comes in different widths which is compatible with certain tire widths – so ensure your rim and tire choice are compatible.
Here's what you need to know about measuring tires and rims.
FEATURES EXPLAINED
TREAD PATTERN
This is the texture on the surface of the tire that aids in fast rolling or grip.
KNOBS
This term refers to the chunks of rubber that are raised from the surface of the tire. Knobs often come in different sizes, shapes, and patterns. These are what give the tire grip and they are designed to perform on specific surfaces.
ROLLING SPEED OR ROLLING RESISTANCE
This refers to how easily the tire rolls. Some tires will have better rolling resistance which means they roll quicker than others. This is determined by everything from weight to shape to tread pattern to the material they are manufactured from. You can learn more about rolling resistance here.
CLINCHER
This is a system of tire mounting (to the wheel). All the tires on the list above are clincher. Clinchers are the most common mounting system. You can find more about clincher tires here.
TIRE BEAD
Tire bead is the term for the edge of a tire that sits on the wheel. The edge of the tire, known as the bead of a tire, is designed to sit within a groove on the wheel. When the tire is properly inflated to the correct air pressure (each tire will specify the correct air pressure), the bead slots firmly into that groove. This holds the tire in place on the wheel.
BEAD TYPE
There are two main types of tire bead:
Wire bead is a traditional bead technology – it is often heavier.
Folding bead is a more modern technology that is lighter weight. It is known as a folding bead as without the wire the tire can be folded for transport.
TIRE SIZE
Tires come in a variety of sizes. The ones reviewed here are either 26", 27.5", or 29", which refers to the diameter of the tire. Each bike is specifically sized and this is not something you can change. Your bike will have one of these sizes and you need to look for a tire that is that specific size. You can either measure the current diameter of your tires, or take your bike into a bike shop and they will be able to tell you what size it has.
THREADS PER INCH (TPI)
The casing of a tire is made from threads of rubber. Tires are measured with how many threads there are per inch. Threads per inch (TPI) is a common indicator of the quality of the casing of a tire. Higher TPI tires are lighter weight and provide a more supple (comfortable) ride. Lower TPI tires are durable and provide greater stability.
READ MORE
For more, check out these popular buyer's guides: