Updated on April 27, 2022
The right shoes are a critical part of your bike touring kit, but what shoes are right for you? That will depend on where you're riding, the conditions you expect to encounter, your personal preference, and your budget! The best touring cycling shoes span a range of needs and styles. Whether you want shoes just for riding or to double up as ride shoes and street shoes, whether you use cleated pedals or platforms or even if you'd prefer cycling sandals, there's something on this list to fill your needs.
For more of our top bicycle touring gear recommendations, check out the Best Bike Shorts for Touring.
Quick Answer

-

The Best Touring Cycling Shoes
Pearl Izumi X-Alp Journey
Comparison Table

-

Best Touring Cycling Shoes

For the best experience turn your device horizontally
Reviews

-

The Best Shoes for Touring Cycling
Shimano CT5
Specs
Closure

:

Laces

Weight

:

1 lb 8.2 oz

Upper

:

Synthetic Leather/Polyurethane

Cleat Design

:

2-Hole
Features
Shock Absorbing Midsoles Maximize Walking Comfort
Hidden Inner Shank For Optimum Power Transfer
Easy Cleat Installation
Casual Sneaker-Style Design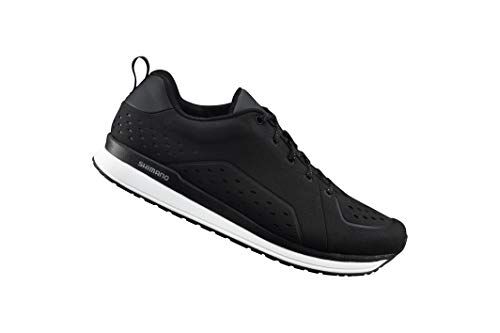 BEST BUDGET PICK
Is that a sneaker or a cycling shoe? It's a bit of both. Shimano introduced the sneaker-styled CT5 to appeal to urban riders who wanted a shoe that would clip into their pedals and offer efficient power transfer but still blend in with the environment in a restaurant or an office. Touring riders want many of the same features and adopted the shoe eagerly. The CT5 balances on-bike and off-bike functions with an invisibly embedded stiffening plate that transfers power to the pedals efficiently without interfering excessively with off-bike comfort.
If you're looking for a single shoe for both on-bike and off-bike wear and you'd like to keep your spending at a moderate level, the CT5 will be one of your top options. Shimano shoes run a bit on the narrow side, so if your feet are wide, you may wish to order a size larger than usual.
Five Ten Sleuth DLX
Specs
Closure

:

Laces

Weight

:

1 lb 5.3 oz

Upper

:

Suede Leather

Cleat Design

:

Platform
Features
Stealth S1 Rubber Outsoles For Superior Pedal Grip
Shock-Absorbing EVA Midsoles Add Comfort
Sleek Low-Profile Silhouette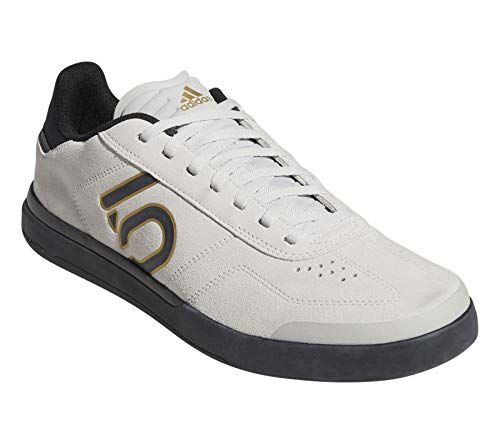 BEST SHOE FOR PLATFORM PEDALS
Most touring riders prefer cleated shoes, which provide more consistent power transfer and a solid connection to the bike. If you're one of the holdouts who prefer platform pedals, you'll be looking for a comfortable, durable shoe with a sole that gives you absolute traction on the pedal. The Five Ten Sleuth delivers what the touring rider needs in a platform shoe. The upper portion may look like a casual suede street shoe, but underneath it, you'll find a sole of Five Ten's stealth rubber, renowned for its ability to stick to almost anything, including your platform pedals. There's a durable one-piece toe cup that reduces separation and a solid insole that will hold up to long days on the bike.
If you're a Five Ten loyalist who still hasn't recovered from the addition of Adidas branding on your favorite shoes, don't worry: the top may have that Adidas look but the business side of the shoe is Five Ten all the way! The shoes will stick to your pedals, they'll hold up to abuse, and you'll lose that hard-floor cleat click that tells the world that there's a cyclist in the room.
Shimano SD5
Specs
Closure

:

Strap

Weight

:

1 lb 12.2 oz

Upper

:

Synthetic Leather/Polyurethane

Cleat Design

:

2-Hole
Features
Dual Strap Design For Secure, Comfortable Fit
Durable Uppers With Moisture-Controlling Mesh Layering
Reinforced Shank Plate And Wide Rubber Outsole For Sole Rigidity And Comfort
BEST BIKE TOURING SANDAL
Touring in warm or hot climates can leave you wishing you could trade those rigid, efficient bike shoes for a pair of well-ventilated sandals without sacrificing the efficiency of cleated shoes. The Shimano SD5 lets you do exactly that, mating an adventure sandal upper to the sole of a cycling shoe. The result is a cycling sandal that's ideally adapted to warm or wet conditions where you look for well-ventilated, fast-drying footwear. You can wear them with or without socks, and some diehard devotees even pair them with waterproof socks and shoe covers and wear them in winter.
The SD5 is comfortable on the bike and adapts easily to walking, but you should stay aware that you're wearing open footwear that sacrifices some protection. The open-toe design is ideal for ventilation but loose rock or rough terrain could put your toes at risk if you're not careful!
SIDI Dominator 7
View Women's Version
Specs
Closure

:

Velcro Strap

Weight

:

1 lb 12.2 oz

Upper

:

Microfiber Synthetic Leather

Cleat Design

:

2-Hole
Features
Reinforced Heel Keeps Foot In Optimum Position
Fast, Secure Velcro Closures Eliminate Loose Laces
Soft Instep Closure System For Comfortable Fit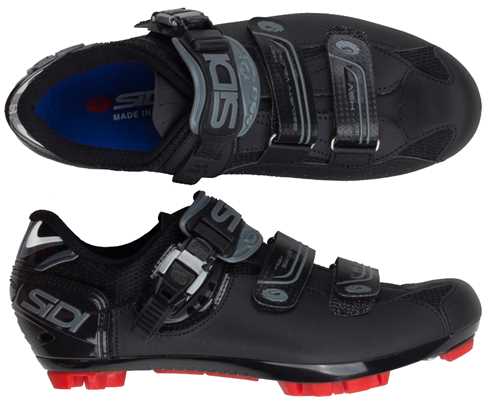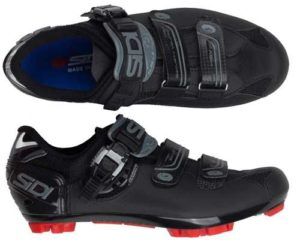 BEST PURE RIDING SHOE
The best shoes for riding are rarely the best shoes for walking. Some riders look for a compromise, some want to use the most efficient riding shoe they can get and carry a pair of light shoes or sandals for use off the bike. If you're in the latter category and you're willing to spend what it takes to get the best possible riding shoe, the SIDI Dominator 7 will be a dominant choice.
This is not a shoe that's made to blend in off the bike: nobody will ever mistake it for anything but a cycling shoe. It is made to deliver maximum on-bike performance. It's light, it's rigid, and the velcro closures are secure and eliminate any chance of laces getting mixed up in your moving parts. The uppers are water-repellent but breathable and the entire shoe is designed to stand up to heavy use in difficult conditions.
The Dominator 7 comes in a range of widths and offers an unusually wide size range, making it a great choice for people with oddly sized feet. It's far from being the cheapest shoe on the market, but if riding is your priority and you want the best cycling shoes you can get, these may be what you're looking for.
Pearl Izumi X-Alp Journey
View Women's Version
Specs
Closure

:

Quick Lace

Weight

:

1 lb 10.4 oz

Upper

:

66% Plastic, 34% Textile

Cleat Design

:

2-Hole
Features
Carbon/Rubber Lugged Outsole For Superior Traction
Quick Lace Closure Is Fast And Secure
Bonded Seamless Upper For Comfort And Durability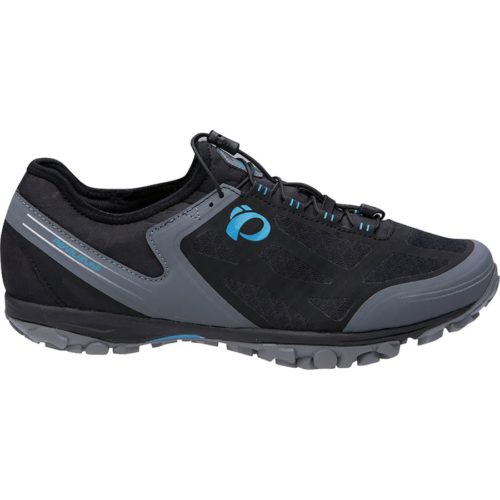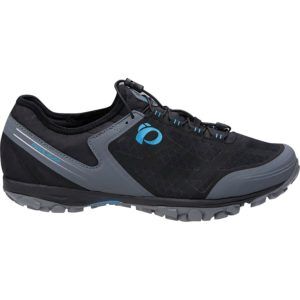 BEST ALL-AROUND SHOE
Pearl Izumi's X-Alp line has earned enduring popularity among touring riders, and the X-Alp Journey continues that tradition. This is an all-purpose shoe made for cycling in almost any conditions. They feature slip-in bootie construction that's comfortable with or without socks and a bonded seamless upper for all-day riding comfort. They're made to dry fast when your trip gets wet and deliver comfort on or off the bike.
If you had to own only one pair of shoes for all your cycling needs, the X-Alp Journey would be one of your top choices: it's light, it's stiff, and it provides solid protection, comfort, and good power transfer. That versatility makes it a top choice for touring, especially when you'll be riding in varied and unpredictable conditions.
THINGS TO CONSIDER WHEN BUYING TOURING CYCLING SHOES
Cycling places very specific demands on shoes and those demands are magnified when you're in the saddle all day, every day. Shoes are the interface between your foot and the pedal, and all of the power that keeps you moving passes through that interface.
Shoes that are soft and flexible don't transfer power effectively. Shoes that are completely rigid are very good at moving the bike but can make walking very uncomfortable. Manufacturers resolve this contradiction with all kinds of design innovations. Wherever your ideal balance point between walking and cycling lies, you'll find a shoe that fits it!
CHECK YOUR PEDALS
Bike shoes and pedals spend a lot of time together and compatibility is important.
Most touring riders use pedals designed to attach to a cleat on the shoe. Sometimes called clipless pedals (because they replaced pedals with toe clips), these pedal/shoe combinations allow the foot to power the pedal through the entire arc of pedal travel, not just on the downstroke. They allow for faster acceleration and more efficient climbing and are generally preferred for long-distance riding.
Different brands of pedals use different cleats, and the cleats you will mount on your shoe have to match your pedals. Almost all major pedal brands now use a standard 2-hole mount, and most bike shoes come equipped to mount these cleats. If your pedals use the old 3-bolt mounting system you will have to look for shoes that still accept these cleats. It may be easier to replace your pedals!
Some riders still prefer the ease and convenience of platform pedals. These can be used with any shoe, but if you plan to ride long distances day after day, you will still want to use shoes designed for cycling, with a sticky rubber compound that won't slip off the pedal and a relatively rigid sole that allows the reliable transfer of power from foot to pedal.
TYPES OF SHOES
Most manufacturers of cycling footwear don't make touring-specific models. Touring cyclists usually choose compatible shoes originally designed for other disciplines.
Road biking shoes, especially those designed for racing, prioritize performance. They tend to be very light and extremely rigid, which maximizes power transfer to the pedal but also makes them very uncomfortable to walk in. Cleats are often very prominent due to the minimalist soles and can be uncomfortable and noisy when walking on hard surfaces.
Mountain Biking shoes tend to be designed with both walking and riding in mind and often have softer soles and more recessed cleats. Shoes designed for downhill or freeride use often provide more protection than a touring cyclist needs and can be heavy and hot for extended rides, but many cross-country and general-purpose mountain bike shoes are ideally suited to bike touring.
Urban and Commuter shoes are designed for riders who pedal in the city, and who need riding shoes that blend in when they're off the bike. They often sport conventional styling with cycling-oriented soles and are also easily adapted to touring, especially if you want to use one pair of shoes for on-bike and off-bike use.
Flat shoes don't have cleats and are designed for use on platform pedals. They are often used by mountain bikers, BMX or dirt riders, and others who would rather not be attached to their bike. Many flat shoes look very much like general sports shoes, but they tend to have stiffened soles for power transfer and sticky rubber compounds that keep feet on pedals.
Bike sandals look much like all-purpose sports sandals but have stiff shanks for cycling use. Some are cleated as well. Cycling sandals dry fat and provide excellent ventilation. They are preferred by many touring cyclists who are riding in warm or hot climates.
ONE PAIR OR TWO?
Some touring cyclists prefer to bring one pair of shoes for on-bike and off-bike use. You'll probably want to bring at least a pair of flip-flops or light sandals to give your feet a rest after a day in your bike shoes, but carrying only one pair of shoes does lighten your load and keep things simple. If you prefer this approach you'll want a pair of dual-purpose shoes that are adaptable to both riding and walking.
Other riders like to use their riding shoes exclusively for riding and carry a second pair for walking or for use in environments where a pair of cleated cycling shoes might not be welcome (like a cafe with a polished wood floor). If you're in this category you'll be choosing your shoes more specifically for cycling performance.
LEARN MORE
REI offers this general guide on how to choose bike shoes, or check out this touring-specific advice on bicycle touring shoes.
SPECS AND FEATURES EXPLAINED
UPPER MATERIALS
Bike shoes get wet and dry out on a regular basis, from sweat, rain, and road moisture. Most manufacturers prefer synthetic materials, which stand up better to repeated wetting and drying. Synthetic leathers are often used for protection and support but may not be comfortable in hot weather. Many manufacturers integrate mesh panels for ventilation, which also helps to dry the interior of the shoe.
CLEATS
Most touring cyclists use standard 2-bolt cleats, which fit pedals made by Shimano, Crank Brothers, Time, and many other major pedal manufacturers.
Cleats may be fully exposed, which makes clipping to the pedal easier but may interfere with walking, or recessed. Recessed cleats are more comfortable to walk in and avoid clicking on hard floors and potentially damaging softer floors.
CLOSURES
There are three common closures used on mountain bike shoes.
Standard laces offer a wide range of adjustment, but stray laces or loose knots can lead to a lace tangling between your pedal and crank or getting mixed up with your chainrings. If you prefer laced shoes you'll need to pay attention to your knots and avoid long lace tails.
Quick-lace closures are fast, convenient, and do not leave enough lace to tangle. They may not adjust enough or offer consistent enough tightness across the instep to please picky riders.
Laceless closures like velcro or strap and ratchet based closure systems tighten without laces. They eliminate any possibility of loose laces but may be too bulky to suit some riders.
SHANKS, MIDSOLES, AND OUTSOLES
Shanks are rigid inserts designed to stiffen a sole to enable the efficient transfer of power from foot to pedal. Shanks may be full or partial length, with partial-shank shoes being marginally less efficient but much easier to walk in.
Midsoles are an intermediate layer between your foot and the outer sole. They are often padded to provide additional comfort.
Outsoles are the part of the shoe that is in contact with the ground when you walk or with the pedal if you right on platforms. Outsoles of shoes made for use with platform pedals need to be soft and sticky to grip the pedal. Many cleated shoes that are designed for walking as well as riding feature outsoles that resemble those of standard shoes.
READ MORE
For more of our top bicycle touring gear recommendations, check out these popular buyer's guides: