Updated on April 29, 2021
Every bike touring wheel needs a split personality. We put a lot of miles on our bikes when we tour, so we want them to be light and smooth. We also put large loads on our bikes and sometimes ride on less than perfect roads, so we also need our wheels to be strong. The best bicycle touring wheels offer the best of both worlds, combining the strength of a mountain bike wheel with the light weight and low rolling resistance of a road wheel.
There was a time when touring riders had to choose between mountain bike wheels that were a bit too heavy and road wheels that weren't always strong enough. The solution was often a custom wheel build, and those often carried large price tags. We no longer face that choice. The rising popularity of cyclocross and gravel bikes has produced a range of wheels that combine the best features of road and mountain wheels and are just as good as many high-end custom builds. This list covers a few of the best!
For more of our top biking gear recommendations, check out the Best Bicycle Touring Tires.
Quick Answer

-

The Best Bicycle Touring Wheels
Industry Nine UL CX 235 TRA
Comparison Table

-

Best Bicycle Touring Wheels

For the best experience turn your device horizontally
Reviews

-

The Best Wheels for Bicycle Touring
Roval Terra CLX
Specs
Weight

:

1350g

Size

:

700c

Brakes

:

Centerlock Disc

Rim Material

:

Carbon Fiber

Axle

:

12mm Through Axle

Spokes

:

21 Front, 24 Rear

Hub

:

Roval AFD
Features
2 Year No-Fault Crash Replacement Warranty
Tested To Mountain Bike Specs To Assure Durability
Shallow Profile Gives Stability In Crosswinds
DT Swiss Aerolite Bladed Spokes For Ultralight Performance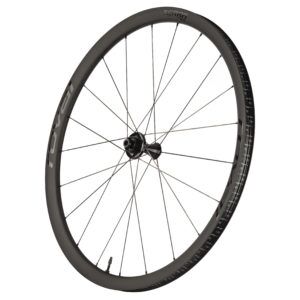 BEST CARBON TOURING WHEEL
Roval Components, a subsidiary of Specialized, pulls out all the stops with the Terra line, a group of high-end carbon-rimmed wheelsets that deliver mountain bike toughness at a weight that would be considered exceptional in a pure road wheelset. That claimed toughness is not an empty boast: Roval puts the Terra wheels through the same testing regime it uses for mountain bike wheels. The result is a phenomenally light wheelset that's prepared to endure some serious abuse.
As with any product that's both very strong and very light, the Terra CLX is an expensive piece of gear, and you could buy a credible bike for the price of the wheelset. Roval stands behind its product, though, offering an exceptional two-year no-fault crash replacement warranty. If you break it, they replace it, no questions asked. If you can afford the price and you're looking for the very best, here it is!
Easton EA70 AX
Specs
Weight

:

1760g

Size

:

700C

Rim Material

:

Aluminum

Brake Rotor Mount

:

Centerlock Disc

Axle

:

Through-Axle Or Quick Release Skewer

Spokes

:

28

Hub

:

X5 CL
Features
Double Butted Spokes Save Weight
Deep 27mm Rim For Enhanced Wheel Stiffness
Multiple Axle And Skewer Options For Versatility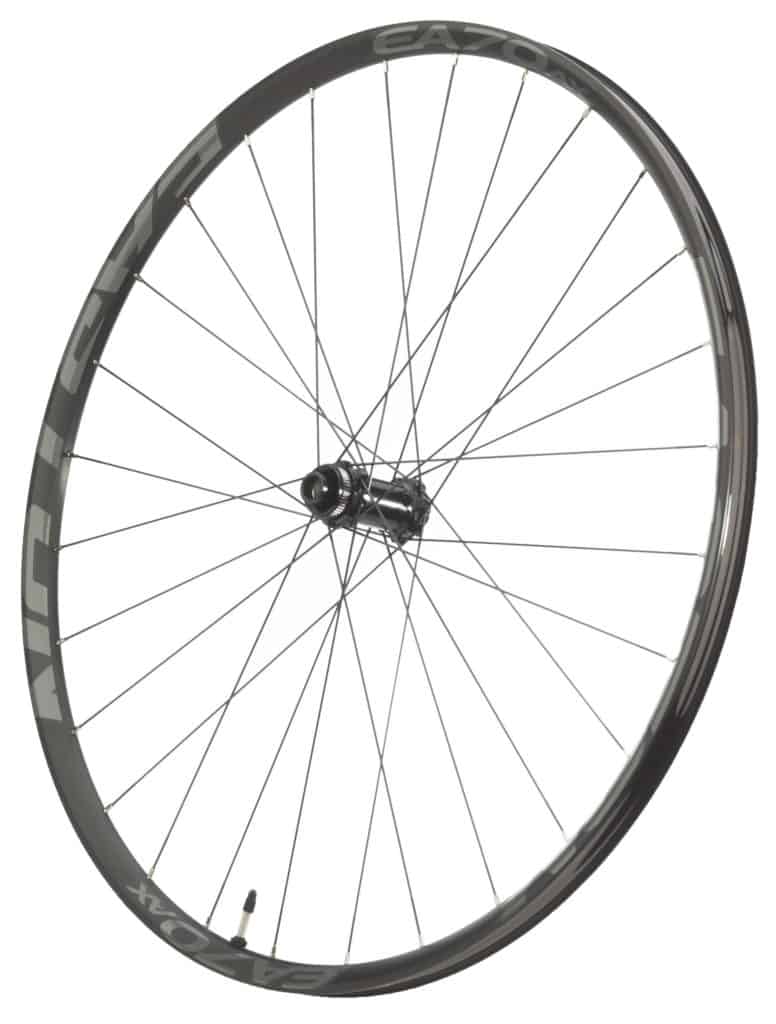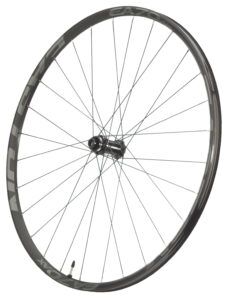 BEST BUDGET 700C WHEEL
The AX in the name of these wheels stands for "adventure road", and that's what these wheels are made for. They're designed for use on drop bar bikes that need wheels strong enough to take real abuse. Easton's hubs and rims are well known for delivering quality performance at a reasonable price and these wheels live up to that reputation.
The Easton EA70 AX is a durable, fast-rolling, and reasonably light wheelset at a very accessible price point. Easton rates these wheels for trail use, so they're beefy enough to stand up to heavy loads and rough roads, but they're also light enough to ride all day. If you're looking for a solid, reliable touring wheel that won't break your bank account, this is a great place to start.
Stan's NoTubes S1 Crest
Specs
Weight

:

1650g

Size

:

26"

Rim Material

:

Aluminum

Brake Rotor Mount

:

6-bolt Disc

Axle

:

Quick Release Skewer

Spokes

:

32

Hub

:

Stan's Neo
Features
Durable, Lightweight Aluminum Construction
Wide Rim For More Stability
Rapid Rim Profile Optimized For 2" To 2.25" Tires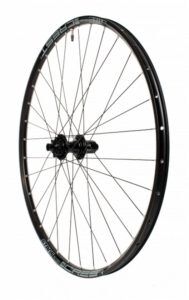 BEST 26" WHEEL
Why would anyone still use a 26" wheel? There are two good reasons. You might have a 26" bike that you really like. If you're comfortable with a bike, changes in wheel size trends aren't a reason to stop using it! You might also be planning a tour in a part of the world where 26" wheels are still standard, and you might want to be sure that you can get a new tire, a new spoke, or even a new rim if something goes wrong and you end up needing one.
26" wheels are getting harder to find, but if you prefer the old standard size, Stan's has a durable, fast-rolling wheel that fits your needs. The Neo hubs engage fast and reliably, and the wider rims give you the option of running tires up to 2.25" if you're likely to be facing rougher roads. And as always, Stan's wheels are ready to go tubeless, an inexpensive upgrade that provides lower weight and greater durability!
Revin Cycling G21
Specs
Weight

:

1570g

Size

:

700c

Rim Material

:

Carbon Fiber

Brake Rotor Mount

:

Centerlock Disc

Axle

:

12mm Through Axle

Spokes

:

28

Hub

:

DT Swiss 350
Features
Tubeless Ready: Upgrade To A Lighter Tubeless Setup Any Time
Designed To Combine Comfort, Performance, And Low Weight
Light Enough For All-Day Riding, Durable Enough For Rough Roads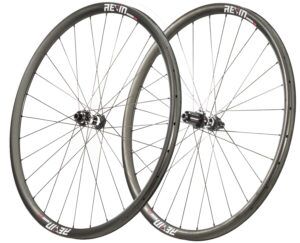 BEST AFFORDABLE CARBON TOURING WHEEL
Carbon fiber-rimmed wheels have long been sought after for their combination of low weight and high strength. They've also earned a reputation for being extraordinarily expensive. Revin Cycling breaks that mold with the G21, a carbon wheel that may not be exactly cheap, but is priced to compete with many aluminum counterparts. The accessible price point was not achieved by cutting corners. The DT Swiss hubs deliver high-end performance and reliability, and reviewers praise the wheel's ability to remain true and solid even in demanding conditions.
The D21 is sold with a 12mm through-axle but can be modified to accept other standards by using a DT Swiss hub conversion kit. Centerlock disc brakes and an 11-speed Shimano freehub round out a performance-oriented wheelset package that's ready to roll in any touring conditions.
Industry Nine UL CX 235 TRA
Specs
Weight

:

1350g

Size

:

650b or 700c

Rim Material

:

Aluminum

Brake Rotor Mount

:

Centerlock Or 6-Bolt Disc

Axle

:

Choice Of QR Skewer Or 12mm Or 15mm Axle

Spokes

:

24

Hub

:

I9 Torch Classic
Features
6 Degree Freehub Engagement For Instant Power
Light, Durable Custom Alloy Construction
Wider Rim Profile Carries Larger Volume Tires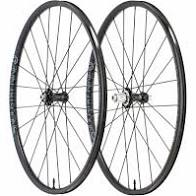 BEST ALUMINUM-RIM TOURING WHEEL
The Industry Nine TRA (for Torch Road Alloy) series combines the strength of a mountain bike wheel with the weight and low rolling resistance of a road tire, and the outcome is an ideal choice for touring with heavy loads on uncertain surfaces.
This premium aluminum-rimmed wheelset offers all kinds of choices: it's available in both 650b and 700c with your choice of quick release skewer, 12mm axle, or 15mm axle, with 6-bolt or Centerlock brake rotor mounts. I9 hubs are famed for rapid engagement that delivers power to the wheels almost instantaneously. These wheels are ready for tubeless action and able to accept a wide range of tires, allowing you to select the rubber that's most appropriate to the riding conditions.
THINGS TO CONSIDER WHEN BUYING BICYCLE TOURING WHEELS
KNOW WHERE YOU'LL GO
Your touring destination has a lot to do with your choice of equipment. If you'll be riding on smooth roads and sleeping in guesthouses you may be able to get by with a wheelset designed purely for road use. If you're riding rutted gravel tracks and hauling a full load of camping gear, you'll need something a lot stronger. If you're headed for Africa or Asia you may wish to consider a bike that takes old school 26" wheels, especially if you're riding off the beaten track in rural areas. 26" wheels are still standard in these parts of the world and you'll be able to get tires, spokes, or even a rim if you need one.
KNOW YOUR BIKE
Most of us don't have the luxury of buying or building a bike specifically for a single tour. We tour with what we've got, and the bike we've got will have some impact on the components we select. If you're comfortable on your mountain bike or road bike, a new wheelset can be a great way to get that bike ready for touring. You'll still need to be sure that the wheel size, hub width, axle standard, and brake fittings are compatible with your those on your bike.
KNOW YOUR BRAKES
Brakes and wheels go together. Brakes apply pressure either to the rim of the wheel or a disc rotor attached to the wheel to stop the wheel from turning. Disc brakes are now almost universal on mountain bikes. Many road bikes still use brakes that clamp the wheel's rim, mainly because these brakes can be extremely light. Wheels are usually specific to one type of brake and cannot be used with the other type.
Disc brakes have advantages for touring. Sustained braking on a heavily loaded bike with rim brakes can cause serious wear on rims, eventually weakening them. In muddy conditions, rim brakes can clog up with mud that sticks to tires, and many rim brakes can only accommodate tires of limited size. Disc brakes are easy to maintain and brake pads can usually be changed with little effort.
If your bike already has disc brakes you can easily substitute any wheel with the same axle standard and the same size rotor, which is the metal disc that attaches to the hub and gives a disc brake its name. If the installed rotors are of a different size you may have to install an adapter on the mount of the brake caliper, the part of the brake that holds the pads and slips over the rotor.
Rotors mount to hubs by either a centerlock system (used mainly by Shimano) or a 6-bolt mounting system (used by everybody else). Other manufacturers now also make centerlock hubs and brake rotors. A centerlock hub can only use centerlock rotors and a 6-bolt hub is only compatible with a 6-bolt rotor, but once the rotor is mounted, it can be used with any disc brake system.
KNOW YOUR WHEELS
Understanding how bicycle wheels work will help you choose the best touring wheels for you. A bicycle wheel has three parts: a hub, spokes, and a rim.
HUB
The hub contains an axle, which attaches the hub to the bike's frame, and a freewheel, which holds the bike's rear gear sprocket. The freewheel engages in only one direction, so you can coast down a hill without your chain moving and your pedals spinning.
When you pedal, the freewheel engages internal gears and drives the hub. Rapid, smooth engagement is a sign of a good hub. The hub spins on a set of bearings, and a quality hub spins smoothly and with minimal resistance. The hub also has two rims with holes that accommodate spokes.
SPOKES
The spokes are threaded through holes in the hub to a set of holes in the rim. The number of holes in the hub and the rim needs to match and determines the number of spokes the wheels use. Spokes are interwoven or laced together in a pattern designed to support the rim.
Spokes are mounted to the rim with a threaded brass or aluminum nipple, which engages threads on the spoke and allows the spoke to be tightened. Consistent spoke tension is a critical element of wheel strength.
RIM
The rim is the part of the wheel that holds the tire. Rims designed for use with rim brakes have flat reinforced walls for the brakes to grab; disc brakes can have a flatter profile. Most rims are double-walled for strength. Wider rims can accommodate larger tires.
Rims are drilled for either Presta (thin) or Schrader (fat) tire inflation valves. Almost all modern inner tubes and tubeless rims use the thinner Presta valves, which need a smaller hole and keep the rim stronger, but if you are touring in the developing world, Schrader compatibility can be an asset. Presta-valved inner tubes may not be available in your destination.
MAINTENANCE MATTERS
Even a high-end wheel can collapse if it is not properly maintained, especially under the weight of a loaded touring bike. The strength of a wheel comes from the careful lacing of spokes and balancing of spoke tension.
To check a wheel, turn your bike over and spin the wheels. They should spin "true", without any wobbles or twitches. If the wheel seems to twitch as it spins, check the tire mounting to make sure it is clean and consistent and check the tire for blisters or uneven sidewalls.
Squeeze the spokes gently or pluck them lightly like guitar strings. They should have a consistent, even tension. Even if a wheel is spinning true, a dead or loose spoke is a sign of problems. If a spoke breaks, get the wheel to a mechanic as quickly as possible. If a second spoke breaks, your wheel is in critical condition and is in imminent danger of full collapse. Stop riding and look for a shop.
If there's a problem with a wheel, take it to a bike shop for treatment from a skilled wheel builder. Tuning wheels takes a lot of skill and amateur intervention is likely to make matters worse. It's a good idea to have your wheels checked before setting off on a major bike tour.
LEARN MORE
REI offers a good general review of how to choose bike wheels, while BikeRadar has this more specific buyer's guide to touring wheels.
FEATURES EXPLAINED
WHEEL SIZES
Several wheel sizes are available for bicycle touring. Most bikes are designed to use one specific wheel size, though some can accommodate more than one size. Check your bike's requirements before buying wheels!
700c or 29" wheels have become the western world touring standard. Their large size means they take more effort to get up to speed, but once moving they hold speed with very little effort and roll easily over obstacles.
650b or 27.5" wheels are a common mountain bike wheel size. They combine the virtues of the larger 700c size and the traditional 26" wheel and are a popular all-around compromise.
26" wheels are now considered obsolete and rarely used in the US and Europe but remain the standard size in much of the developing world.
RIM MATERIALS
Aluminum is the most commonly used rim material. It is strong and light and can be used to make everything from entry-level to high-end rims.
Carbon fiber is very strong, light, and stiff, and is considered a premium rim material. Carbon fiber rims are much sought after and tend to be expensive.
BRAKE MOUNTS
Most touring wheels use disc brakes. Disc brake rotors mount to wheels with one of two systems: centerlock or 6-bolt. A centerlock hub can only use centerlock rotors and a 6-bolt hub can only use 6-bolt rotors.
If the hubs on your new wheel do not match the hubs on your old wheel you can still use your brake but you will need new rotors. Be sure to get the same rotor size, or you will also need an adaptor for your brake caliper (the part of the brake that holds the brake pads and slots over the rotor) mount.
Some wheels are available with both centerlock and 6-bolt options.
SPOKES
Spokes are often overlooked but are a critical part of the wheel. Each wheel requires a specific number of spokes. A larger number of spokes has traditionally translated into a stronger wheel, but modern wheel design allows wheels with fewer spokes to retain excellent strength.
Double-butted spokes are thinner in the middle and thicker at the ends, where most spoke breakage occurs. This allows spokes to be lighter.
Bladed spokes are flat instead of round. They are oriented with the narrow edge facing forward and are considered more aerodynamic, as well as being lighter.
AXLES
The axle holds the rear hub to the frame and the front hub to the front fork. Older wheels were held in place by a quick release skewer, which allowed fast wheel mounting and dismounting but allowed some wheel flex and sometimes released on their own if not properly tightened. Most modern wheels use 12 or 15 mm through axles, which provide greater rigidity and security. Axles must be compatible with your frame and fork! Many wheels are available with multiple mounting options.
Some frames and forks use different hub widths. Check for compatibility before you buy.
TUBELESS-READY
Tubeless wheel setups save weight and are able to seal small puncture flats on their own. A tubeless-ready wheel is able to support a tubeless setup, though you will have to use a tire that is also tubeless-ready.
READ MORE
For more of our top bicycle touring gear recommendations, check out these popular buyer's guides: