Updated on October 30, 2020
Going on my first bike tour changed my life. If you're reading this article and you've never been on a bicycle tour before, then this could be the first step to changing your life for the better, too. In order to embark on a successful first (or fifteenth) bike tour, there's just one thing you need: the best women's touring bike!
There is really nothing quite like seeing the world via bicycle. Despite what you may think, it is very different from viewing the world from a car, bus, or other motorized vehicle. There is something extremely invigorating and incredibly rewarding about hopping on a bike and putting in the physical work to see new places. It's the best way to truly immerse yourself in your travels! And since it's the best, you need to make sure you're also riding the best, right?! We sure think so. And that's why we've compiled a list of the very best bikes for touring for you. In this article, we'll cover everything from entry-level to top-of-the-line bikes, and we'll provide you with all the info you need to choose one and hit the road. Bon Voyage!
For more of our top biking gear recommendations, check out the Best Touring Bikes. 
Quick Answer

-

The Best Women's Touring Bikes
Cannondale Synapse Disc 105

Cinelli Hobootleg Complete

Pure Cycles Gravel Adventure

Salsa Journeyman Flat Bar Claris 700
Comparison Table

-

Best Women's Touring Bike

For the best experience turn your device horizontally
Reviews

-

The Best Touring Bike for Women
Salsa Fargo Apex 1
Specs
Frame Material

:

Chromoly

Weight

:

N/A

Handlebar Shape

:

Drop Bar

Brake Type

:

Disc

Number of Gears

:

11

Pedals Included

:

No
Features
Truly Superior Pack-Carrying Capabilities
High Traction Tires Are Perfect For Mixed Terrain
Precision Handling System Puts You In Full Control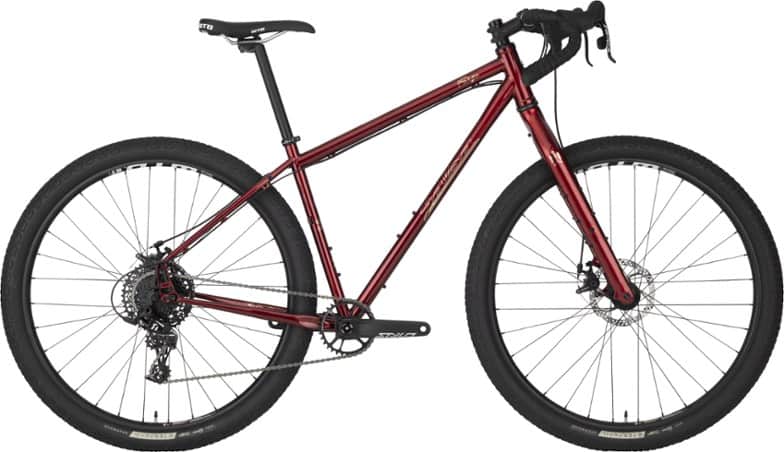 BEST FOR: HIGH VOLUME LOADS
Are you a heavy packer? Are there too many items you just can't live without, even while bike touring? That's okay. We feel you. And that's why we're including this stellar pack-carrying bike on our list of best women's touring bikes!
The Salsa Fargo Apex 1 is equipped with a front fork that is capable of carrying six packs, and that doesn't include the additional back rack carrying spots. The Fargo Apex 1 pack capabilities aren't the only impressive thing about this bike. Made of strong chromoly steel, it's built for a rugged ride and is ideal for off-roading and mountain tours. Just know that a hardier bike does typically mean a higher weight, which some riders don't like.
Cannondale Synapse Disc 105
Specs
Frame Material

:

Carbon

Weight

:

21 Pounds

Handlebar Shape

:

Drop Bar

Brake Type

:

Disc

Number of Gears

:

22

Pedals Included

:

No
Features
Noticeably Comfy Seat
Micro-Suspension Technology Protects You From Bumps
Structurally Sound Construction Process Means This Bike Is Built To Last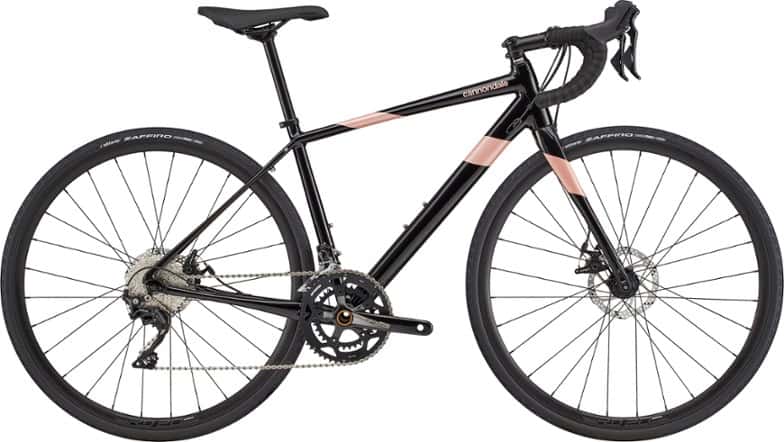 BEST FOR: LOGGING MILES
This Cannondale Synapse is the real deal. It is top of the line as far as tour bikes go, but know it has a price tag to match its high quality. The carbon makeup of this bike means it is ultra-light and will help you log many miles in one go. It is easy to handle and has a uses micro-suspension technology to ease the impact of bumps on your body. If you consider yourself a speed demon with a hunger to log many miles, you may want to give this one a try. But heed one warning:
There are many benefits to carbon bikes. They are extremely agile and lightweight, and therefore easy to maneuver and ride. However, carbon frames can get damaged easily. If you purchase a carbon bike, you have to be careful where you store it and how much gear you put on it. They are built for speed and distance, not necessarily heavy weight or wear and tear. That being said, the Cannondale Synapse has a special fiber in its frame that helps prevent damage to parts of the bike that are more likely to take stress.
Co-op Cycles ADV 1.1
Specs
Frame Material

:

Chromoly Steel

Weight

:

33 Pounds

Handlebar Shape

:

Drop Bar

Brake Type

:

Disc

Number of Gears

:

30

Pedals Included

:

No
Features
"Ultra-Low" Gear Option Makes Steep Climbs Easy
Twenty-Nine Additional Speeds Allow You To Set Your Gear Just Right
Front and Rear Rack Included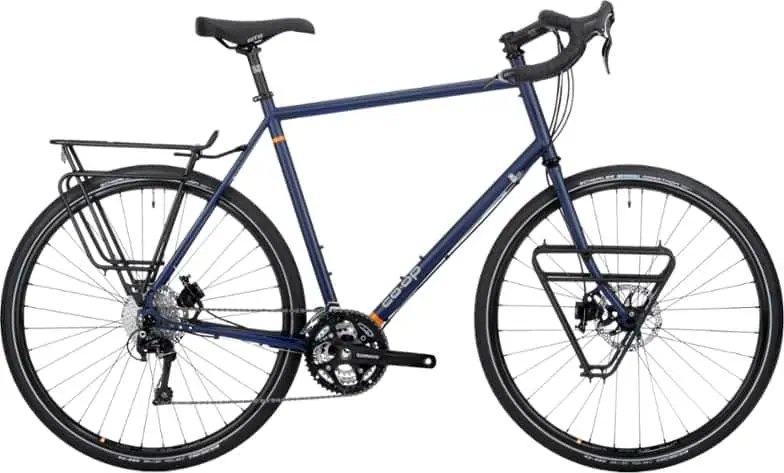 BEST FOR: HILLS
Okay, you want to get a touring bike, but you don't want to break the bank. So you purchase your bike at what you think is a reasonable price, but then you realize you still have to buy all the accessories to go with it. Well ladies and er…ladies, this bike comes in at a higher price point than some on the list, but it may be worth the investment, and here's why: This bike comes with both front and rear racks already installed. Plus, when you become a member of the REI Co-Op and purchase this bike, you get almost $200 back into your wallet that can you can put towards gear! Not to mention the free one-time tune-up offered by REI if you buy a bike directly from them (are we starting to sound like a broken record yet?)
This bike is cool for beginners and experts alike because it has (an impressive) thirty gears. There is literally a gear for every scenario, and that includes an ultra-low gear for super steep climbs. If you are just getting into biking and don't yet have the leg strength for those big ascents, this bike could solve that problem until you work your way to Hulk-status.
Co-op Cycles ADV 4.2
Specs
Frame Material

:

Aluminum

Weight

:

35 Pounds

Handlebar Shape

:

Trekking Bar

Brake Type

:

Disc

Number of Gears

:

32

Pedals Included

:

No
Features
Seat Suspension Gives Your Tush A Comfy Cushion
Unique Handlebar Design Allows For Many Different Hand Positions
Carries Up To 250 Pounds Of Gear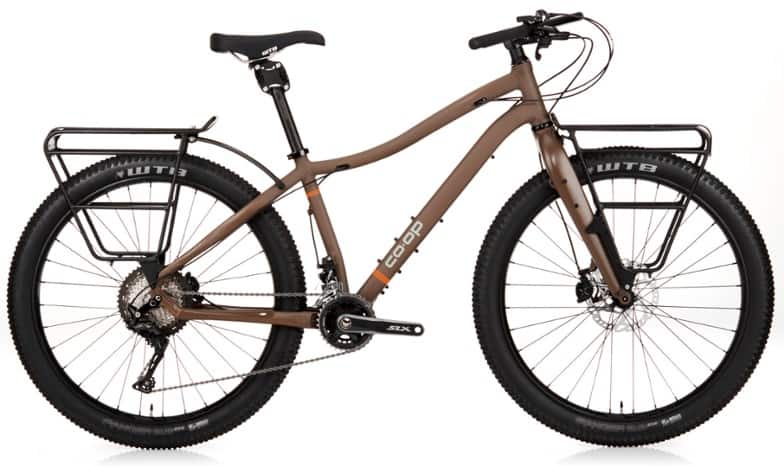 BEST FOR: COMFORT
The Co-Op Cycles ADV 4.2 was built for comfort, and it is unique in a couple of ways. First off, it is one of the only touring bikes on the market that has seat suspension. Suspension is a feature more common on mountain bikes and other off-roaders. Bikes with suspension have one or more parts that "give" or "play," meaning they move up and down a bit when you go over bumps. Seat suspension is a feature that not many road bikes have, and it definitely provides extra comfort for those with a more delicate booty.
Another special feature of this bike is its one of a kind handlebar shape, also known as the trekking bar. The trekking bar is unique because it allows the rider to assume the traditional straight handlebar position, but it also has a U-shaped bar coming off the front of it. This allows for multiple hand positions and the opportunity to lean forward for increased comfort and aerodynamics. 
This bike also comes with a back rack, so you don't have to worry about selecting one to go along with the purchase of your bike. REI will install it for you (as part of their free full-bike assembly). And if you've read any of the reviews that came before this section, then you know what I am going to say next…don't forget about your free tune-up with purchase of any REI bike!
Cinelli Hobootleg Complete
Specs
Frame Material

:

Steel

Weight

:

28 Pounds

Handlebar Shape

:

Drop Bar

Brake Type

:

Cantilever

Number of Gears

:

9

Pedals Included

:

Yes
Features
Anti-Corrosion Treatment Ensures Your Bike Is Protected Against Weather Of All Kinds
Rugged Shifter Stands Up To Damage
Protected Brake And Shifter Cables Diminish The Chance Of A Snag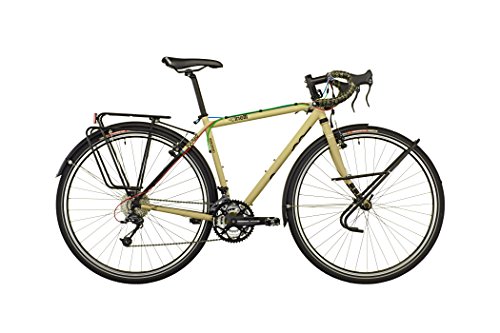 BEST FOR: HEAVY LOADS
This bike boasts superior frame strength and protection. Weighing in at around 28 pounds, this bike is heavy duty. It comes with rear and front racks to carry multiple panniers, as well as rear and front fenders to keep water from splashing up onto the rider. It also has coverage for the brake and shifting cables to prevent damage from weather or brush. Its steel frame is strong and study and you can feel comfortable packing a whole lot onto it without losing your ability to steer and control.
This bike was also built with rider comfort in mind. Its drop handlebar shape allows for multiple hand positions, which is great for longer rides, and as a bonus, it has a super thick handlebar padding to prevent blisters and increase hand cushioning.
Schwinn Discover Hybrid
Specs
Frame Material

:

Aluminum

Weight

:

45 Pounds

Handlebar Shape

:

Flat Bar

Brake Type

:

Cantilever

Number of Gears

:

21

Pedals Included

:

Yes
Features
Front And Rear Tire Fenders Prevent Wetness On Tires From Splashing Onto You Or Your Gear
Shimano Derailleur Makes For A Smooth Shifting Experience
Ultra-Cushioned Seat Makes For A Comfortable Ride
BEST FOR: BEGINNER CYCLISTS
This bike is a great "midway" option in a lot of categories, meaning it is great quality without being too ritzy or advanced. Coming in as the most budget-friendly option on the list, it makes a great option for those who want something that will be reliable without a lot of extra features, like the base model of a car. 
It boasts a super comfy seat, light but durable aluminum frame, and handlebar suspension. The gearing system has twenty-one gears. Plus, fenders, a rear rack, and pedals are included in the already low cost of this bike. This puppy has the comfort of a beach cruiser and the shifting capability of a modern-day road bike. If you're looking for a low-cost option to kick off your touring career, you won't be disappointed with the Discover Hybrid!
Giordano Libero
Specs
Frame Material

:

Steel

Weight

:

35 Pounds

Handlebar Shape

:

Drop Bar

Brake Type

:

Cantilever

Number of Gears

:

14

Pedals Included

:

Yes
Features
Aluminum Cranks Assist In Climbs
Available In Small And Medium Sizes
Great Beginner Bike For The Price!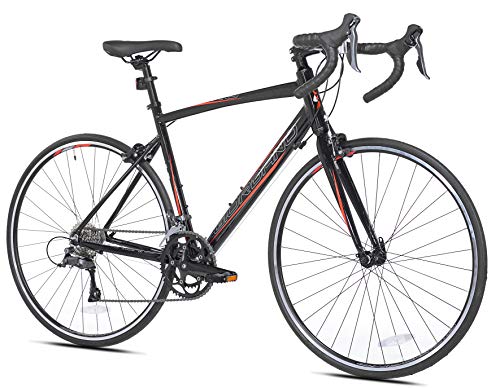 BEST FOR: OVERALL VALUE
This bike is another great pick for those looking to dip their toes into the world of bike touring who aren't quite ready to commit to a complicated and expensive bike. This road bike comes in at an affordable price, and it has many of the features you need to get started. 
Its Shimano drivetrain is made by a trusted brand and promises a smooth and confident shifting experience for its rider. Its drop bar handlebar shape is a step up from the straight bar found on many beginner bikes. Its saddle design has women-specific comfort in mind. And its tough steel frame ensures stability and durability. This is no extravagant tour bike, but as far as value goes, it's a pretty great bang for your buck.
Pure Cycles Gravel Adventure
Specs
Frame Material

:

Chromoly Steel

Weight

:

32 lbs

Handlebar Shape

:

Drop Bar

Brake Type

:

Disc

Number of Gears

:

16

Pedals Included

:

Yes
Features
Designed For Both Road and Off-Road Readiness
Brakes Built To Work Well In Wet Weather
Gel-Padded Handlebar Tape Makes For Super Comfortable Riding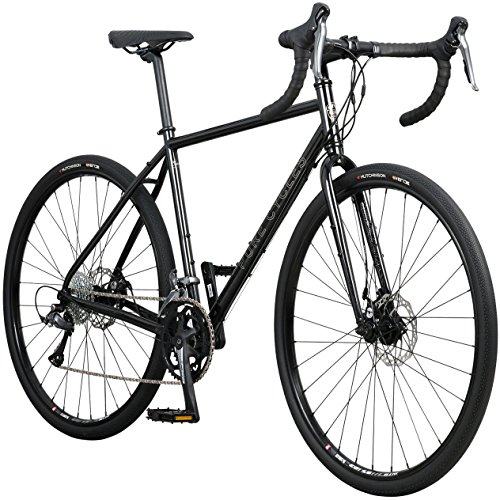 BEST FOR: WET WEATHER
The Pure Cycles Gravel Adventure Bike is built to take you down any road in any weather. This bike is a bit heavier than some of the others on this list, which means it is ready to slosh through as much mud and dirt as you are. Its frame is built for compatibility with larger tires, too, so you don't have to worry about thin tires sliding around on the road or trail due to limited friction. 
This bike has sixteen gears, which is not very many compared to some of the other bikes on this list, but the Shimano Claris derailleur/shifter combination makes for low gear power and easy shifting, even in wet and muddy conditions. If you plan to weather a storm or two with your new bike, this one could be a great choice. 
Cannondale Quick 1
Specs
Frame Material

:

Alloy

Weight

:

23 Pounds

Handlebar Shape

:

Riser Bar

Brake Type

:

Disc

Number of Gears

:

22

Pedals Included

:

Yes
Features
Durable, Yet Lightweight Frame
Connects to Cannondale App To Track Your Stats And Bike Maintenance
Shock-Reducing Suspension, Soft Grips, And A Light As Air Saddle Aid In Comfort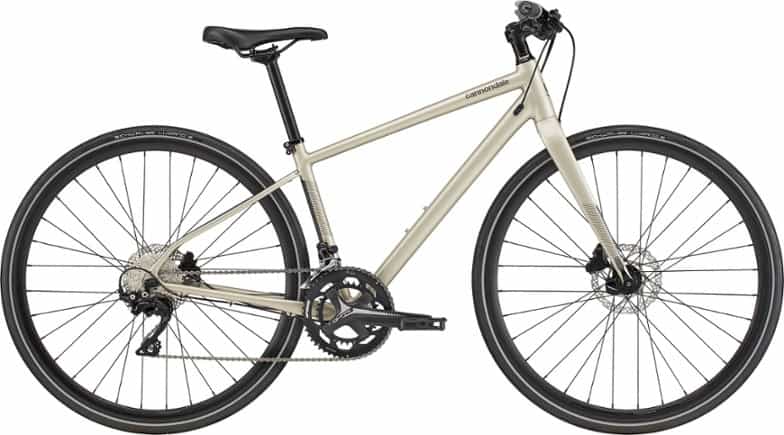 BEST FOR THE TOURING TECHY
This bike is a stellar pick for anyone who is serious about tracking their stats. It features integrated technology that connects directly to the free Cannondale app. Plus you can attach your smartphone to the handlebars using the handy mounting system, turning your phone into a real time stats screen.
The bike sensors will also let you know when it's time for regularly scheduled maintenance. And a bonus: all REI bikes get one free tune-up. In addition to its high-tech capabilities, this bike also features a number of components sure to keep you comfortable on your ride, like cushy grips, a soft seat, and high-performing suspension to reduce the impact of roadway impurities. This bike is not our top pick for peak cycling performance, but if you're a beginner to intermediate rider who enjoys tracking your progress, it would be a great choice.
Salsa Journeyman Flat Bar Claris 700
Specs
Frame Material

:

Aluminum

Weight

:

26 Pounds

Handlebar Shape

:

Flat Bar

Brake Type

:

Disc

Number of Gears

:

16

Pedals Included

:

No
Features
Able To Accommodate A Wide Variety Of Tire Sizes
Full-length Cable Tubing Protects Brake Cables And Shift Cables From Brush
Flat Mount Disc Brakes Made For Quick Stopping Ability
BEST FOR: BUMPY ROADS
Plan to take your new bike off-roading? That's no problem with the Salsa Journeyman Flat Car Claris. This bike is built for peak performance on tough terrain that other road bikes can't handle. It can accommodate a large wheel size for gravelly roads, and it has full cable protection for the brake and shift cables in case you find yourself in some-hmm…shall we say, "lush"-conditions. 
You should note that, unlike some bikes on this list, the Journeyman does not come with gear racks included, so you'll have to supply those on your own if you plan to add baggage for multi-day treks. That being said, the bike does come with mounts already in place to make installation of racks and fenders, which protect from water and mud splashing the rider, a piece of cake. Plus, you can have your cake and eat it, too: this bike is sold by REI, which means that it comes with one free tune-up after a critical point of use.
THINGS TO CONSIDER WHEN BUYING A WOMEN'S TOURING BIKE
TERRAIN
Bike touring is exciting because it can take you anywhere! But that doesn't mean that everyone will want to go everywhere on their tour bike. Consider what kind of trips you may want to take – will you mostly stick to flat bike paths and designated bike routes? Will you venture onto other roadways with peaks and hills? Will you off-road? These are all questions to ask yourself when considering which features will be most important for your bike. Want to plan your first bike trip but not sure where to start? Take a look at this article that explains easy steps to plan a bike tour!
HANDLEBAR SHAPE
This may seem like a super basic option, but the shape of your handlebars is more integral to a comfortable ride than you may initially realize. Beginners may be used to a handlebar that goes straight across, but I would encourage you to consider a drop bar shape. Drop bars take a little bit of getting used to, but they allow for multiple hand and riding positions, and in turn result in increased comfort on longer rides. You should note that drop bar handlebars often come with a slightly higher price tag than the traditional handlebar shape (but we think they're worth it!).
FRAME MAKEUP
Aluminum, Steel, and Carbon are the three most popular frame materials found on touring bikes, and each serves a slightly different purpose.
Carbon is ultra-light and increases bike speed and agility, while sacrificing the ability to stand up to rough conditions and carry large amounts of weight.
Steel is a heavy-duty frame material, often found on super sturdy bikes. Steel can make for a hefty bike that is slightly harder to control and maneuver.
Aluminum is a solid "in-between" material. It is stronger than carbon and less heavy than steel.
NUMBER OF GEARS
The bikes on this list showcase a lot of variability when it comes to number of gears. In general, it is useful to have many gears because you can fine tune the degree of effort you expend while pedaling (and therefore how much distance you gain with each pedal stroke). However, some folks prefer fewer gears because bikes with fewer gears still offer the ability to adjust the difficulty of pedaling, and they have a bit less to think about and fiddle with. Number of gears comes down to personal preference, and you'll find a wide range on this list.
COST
How could we leave out cost! This is a consideration on many a bike-buyer's mind, especially since the price of this product in particular varies so greatly. When choosing a touring bike, be careful. While high cost will usually mean high quality, low cost does not necessarily mean low quality!
You can get a really great touring bike for only a few hundred bucks if you look for it. When considering the cost of your bike, you should first think about the other "things to consider" on this list. Make sure your bike has the features you need for the trips you plan to take, and then seek out a bike in your price range from there.
WHAT'S NOT INCLUDED
Perhaps surprisingly, there can sometimes be a lot that is not included when you make a touring bike purchase. Things like pedals, racks, and even bike assembly or bike tune-ups may or may not be included with your purchase. These are important considerations to factor into the overall cost. Don't forget to budget for the extras. (Did I mention REI offers free assembly and one free bike tune-up with the purchase of any bike?).
P.S. Two of the most important extras you can buy to get started with bike touring are a rack and bike bags. Click on this helpful article for advice on choosing the right rack and bags for you.
FEATURES EXPLAINED
DRIVETRAIN
Drivetrain is a fancy word that refers to several different parts of the bike, all of which help propel the bike forward in different ways. Its main components are the bike's shifters, chain, derailleurs, and crankset (the part that holds the pedals). Many of these individual parts are explained below.
FENDERS
Fenders are a piece of metal or plastic that sits just above the top part of the tires to prevent moisture from kicking up onto the rider or the rider's bags.
BRAKES
Industry-wide, disc brakes are considered to be the highest performing brakes. They can stop the bike quickly, even in wet weather. Cantilever, caliper, and V-brakes are also common. Want to know more? Check out this article that explains how different brake types work.
GEARS
Gears adjust how difficult it is to pedal. Lower gears make it easier to pedal, but each pedal stroke propels you a shorter distance. Higher gears make it more difficult to pedal, but each pedal stroke propels you a greater distance. For bike touring, you'll want to find a bike with at least ten gears.
RACK AND BAGS/PANNIERS
A bike rack attaches to the front or back part of the frame and is designed to carry bike bags to store your gear. Pannier is the technical name for bike bags.
FORK
The part of the bike frame that holds the front wheel and allows it to spin and turn.
SHIFTER/DERAILLEUR
The shifter and derailleur work together to allow the rider to change gears. "Shifter" refers to the buttons or dial on the handlebars that is used to adjust the position of the "derailleur," which is the actual mechanism that moves the chain into different positions along the gears.
READ MORE
For more of our top bicycle touring gear recommendations, check out these popular buyer's guides: