Updated on February 15, 2022
Kayaks and fishing go together. The stealth, portability, and maneuverability of the original kayaks made them ideal fishing platforms for their Inuit designers, and modern kayak fishing aficionados are rediscovering those same qualities. Modern kayaks are very different, of course: molded plastic has replaced hide and wood, and today's fishing kayaks feature a range of accessories and features that the Inuit never imagined. The principle is the same: a small, light boat that can operate in deep or shallow water and give you access to places a land-based angler could never reach. If that prospect appeals to you, there's a world of alternatives available in the fishing kayak market. This guide to the best beginner fishing kayaks should help you choose the one that's right for you.
For more of our top kayak fishing gear recommendations, check out the Best Fishing Kayaks.
Quick Answer

-

The Best Beginner Fishing Kayaks
Perception Pescador Pro 10.0

Brooklyn Kayak Company TK-122

Aquaglide Blackfoot Angler 110 HB
Comparison Table

-

Best Beginner Fishing Kayak

For the best experience turn your device horizontally
Reviews

-

The Best Fishing Kayaks for Beginners
Perception Pescador Pro 10.0
Specs
Capacity

:

325 lbs.

Length

:

10' 6"

Weight

:

57 lbs.

Width

:

32"

Rod Capacity

:

2
Features
Accessory Rails For Fish Finders Or Additional Rod Holders
Adjustable And Breathable Mesh Seat For All Day Comfort While Fishing
Replaceable Bottom Skidplate Enhances Durability
Molded-In Covered Tankwells Keep Gear Dry And Secure

BEST COMPACT FISHING KAYAK
Perception has been making quality kayaks for many years. The Pescador 10 piles all of that experience into a compact, light, and very effective fishing package. High-quality plastic and molding give this kayak a strong, light hull (bottom). The deep hull helps you keep the boat moving in a straight line and the width gives stability for standing. There's plenty of storage space and the center console can mount a fish finder. The seat is strong, comfortable, and adjustable and can be removed for cleaning.
There's not much to criticize about this boat. There are only two rod holders, but the built-in mounting tracks let you add more and adjust their position. Because the boat is relatively short, it won't be as fast as some longer boats, but the size helps keep the weight down and enhances maneuverability. If you fish multiple bodies of water and want a highly portable boat, this is a great choice!
Brooklyn Kayak Company TK-122
Specs
Capacity

:

770 lbs.

Length

:

12' 9"

Weight

:

77 lbs.

Width

:

34.2"

Rod Capacity

:

2 Articulating
Features
Two Aluminum Framed Mesh Seats For Durability And Comfort
Waterproof Storage Hatch For Each Seat So You And Your Companion Can Store Your Personal Belongings Safely And Separately
Rear Cargo Area With Shock Cord For Extra Gear Storage
Wide Flat Bottom For Stability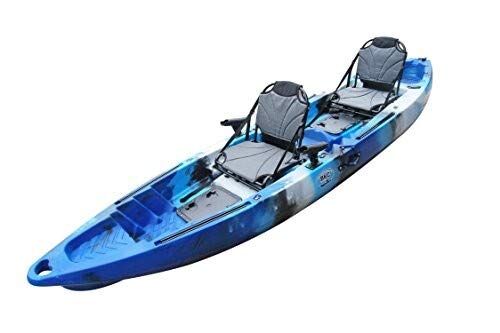 BEST TANDEM FISHING KAYAK
Sometimes you want to bring someone along. If you fish with a friend or partner, this is the boat for you. There are two comfortable seats, each with its own easily accessible rod holder and storage hatch. It's stable, reasonably light for its size, and carries up to 770 pounds, easily enough for two adults and a child. It's got all the features you expect in a fishing kayak, but doubled up for the days when you don't want to fish alone!
Remember that even a tandem kayak is a small place, and anglers have to be aware of each other when casting. Planting a hook in your partner's ear can put a relationship under stress very quickly. Also, if you're standing up, a quick movement from the other person can easily put you in the water. It's a slightly different kind of fishing and both people have to be aware of the constraints, but if you're ready to take on the challenge this is the perfect platform.
Sun Dolphin Boss
Specs
Capacity

:

500 lbs.

Length

:

12.3'

Weight

:

78 lbs.

Width

:

33"

Rod Capacity

:

Four Flush Mount, One Swivel (Holder)
Features
Catamaran Hull Design On Bottom Of Kayak Provides Superior Stability
Large Storage Wells Secured By Shock Cord Allow You To Store All Your Gear Safely
Non-Slip Pads For Secure Standing
Storage Compartments And Deck Shock Cord To Secure Gear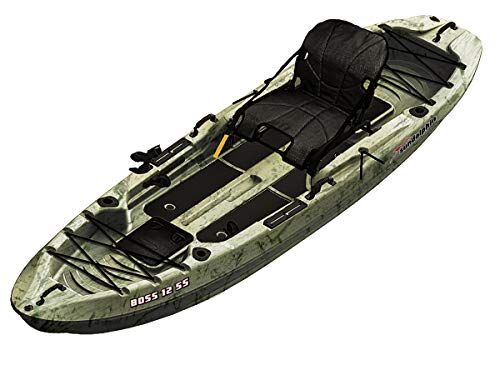 BEST BUDGET FISHING KAYAK
The Sun Dolphin Boss delivers a remarkable range of fishing-specific features in a very affordable package. All the basics are there. The wide catamaran-style hull (bottom) and non-slip deck let you stand with confidence. Rod holders, a paddle bracket, storage hatches, and deck wells with shock cord secure your gear. The feature set on this boat can compete with those of much more expensive fishing kayaks, and it's a great choice if you want a capable fishing kayak on a tight budget.
The price tag comes with some downsides. It's a relatively heavy boat and some paddlers may have trouble getting it onto a car-top mount. Some reviewers complained of inconsistent plastic quality and others said the seat and seat adjustments were of low quality. A large majority of reviews are positive and conclude that while the Boss may not be a perfect boat, it's still a great value!
Aquaglide Blackfoot Angler 110 HB
Specs
Capacity

:

400 lbs.

Length

:

10' 6"

Weight

:

32 lbs.

Width

:

37"

Rod Capacity

:

2
Features
Integrated Cockpit Splash Cover
High-Pressure Hard-Bottom Floor Stays Rigid
Wide Beam For Extra Stability
Seven Accessory Mounting Plates So You Can Add A Lot Of Your Own Fishing Accessories Like Fish Finders And Rod Holders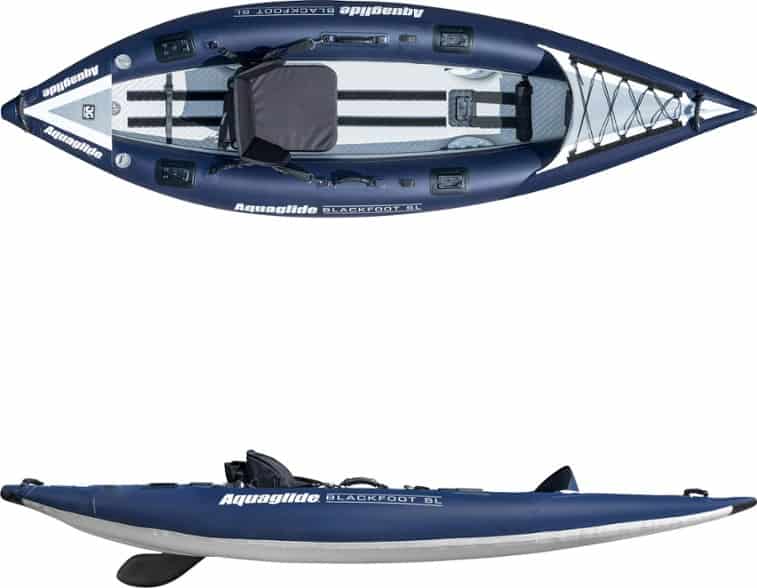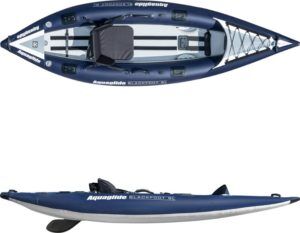 BEST INFLATABLE FISHING KAYAK
Imagine having a fully functional fishing kayak that you can store in a closet. Imagine having a fully functional fishing kayak that can fit in the trunk of a compact car. Imagine having a fully functional kayak that weighs as much as many mountain bikes. The Aquaglide Blackfoot Angler delivers exactly that in a high-quality inflatable kayak with a full suite of fishing-specific features.
This inflatable option doesn't come with as many accessories as some hardshell kayaks, but there are seven mounting plates that accept a wide range of accessories manufactured by Scotty Paddlesports, including rod holders, paddle brackets, fishfinder transducer mounts, and much more. The wide hull (bottom) and inflatable tubes keep the boat very stable. Everything you'd expect to find in a fishing kayak is there.
There are disadvantages common to all inflatable boats. Some assembly is required when you inflate. Inflatables sit on the water rather than in it and tend to skid sideways and have some control issues on windy days. The Blackfoot Angler has a removable fin that will help control this tendency. You'll have to watch the air pressure, especially if the boat is out of the water on a hot, sunny day. You'll also want to be careful with hooks, knives, and other sharp objects: the material is tough but not impenetrable. If your priorities are light weight, high mobility, and easy storage, the advantages of this boat will outweigh these disadvantages!
Old Town Predator PDL
Specs
Capacity

:

500 lbs.

Length

:

13' 2"

Weight

:

117 lbs.

Width

:

36"

Rod Capacity

:

3
Features
Deck Pads For Traction While Standing
Pedal System For Paddle-Free Propulsion
Ultra-Stable Hull Design On Bottom Of Kayak Keeps You Balanced On The Water
Universal Mounting System For Fish Finders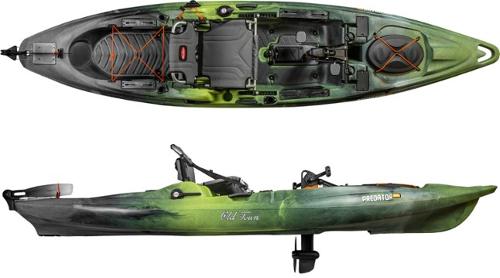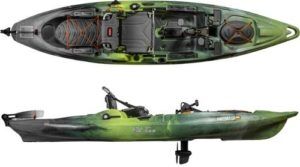 BEST ALL-AROUND FISHING KAYAK
Who says beginners shouldn't have the best? The Predator line is Old Town's premium fishing model, and the Predator PDL steps it up by adding an industry-leading retractable pedal drive and fold-down rudder that give you full hands-free mobility and control. No more worrying about whether to cast or paddle: you can keep fishing and get where you need to be even in a strong current or wind. The PDL also packs just about every fishing-specific feature you can imagine into its 13'2" frame: rod holders, abundant hatch and storage space, accessory racks, a comfortable seat, a wide, stable hull and more.
The only real downside here is the boat's weight, which could be a significant factor if you need to move the boat alone or if you transport it often. Some prospective buyers could also be put off by the price tag, which is substantial. If you can afford it and you're willing to put up with the weight, you can plant your seat on the Old Town boat and paddle out knowing that you have the best fishing kayak you can buy!
THINGS TO CONSIDER WHEN BUYING A BEGINNER FISHING KAYAK
Fishing kayaks are specialized boats, and it's quite difficult to fish from a kayak that is not specifically designed for the purpose. Put your paddle in your lap while you're casting or put a rod on your deck while you're unhooking a fish, and you're likely to have expensive gear in the water! Fishing kayaks come equipped with paddle brackets, rod holders, storage wells, and hatches that let you stow your gear securely and keep your hands free when you need them. They also tend to be wide and often feature non-slip pads for those who prefer to stand up. That doesn't mean you can't fish from any kayak, but if you plan to spend much time fishing from a kayak, you will want a purpose-built fishing kayak. Here are some other things to consider before choosing which kayak is right for you from the list above.
TYPES OF KAYAKS
There's not much debate here. There are many designs and materials used for kayaks, but almost all fishing kayaks are sit-on-top designs made from molded plastic. There are good reasons for that. Sit-on-top kayaks allow easy entry and exit and easy access to deck space. They are easy to recover after a capsize, and allow a higher seat position, which gives a good view of the water. Plastic kayaks are very tough and can withstand a lot of abrasion and impact.
Some fishing kayaks are inflatable. They are also usually sit-on-top designs but use inflatable plastic tubes instead of rigid plastic. Modern inflatables are very tough and quite rigid when ready for use. They are an excellent choice if you have limited storage space, if you need to transport your kayak without a pickup or roof rack, or if you need a very light boat. They also require some effort to set up and deflate. They can be hard to control in wind and may be vulnerable to damage from sharp objects like knives and hooks. Consider the advantages and disadvantages before you decide which fishing kayak is right for you!
PADDLE OR PEDAL?
The paddle is the primary driver for all kayaks. Fishing requires the use of the hands, though, and it's generally not possible to paddle and cast at the same time! Some high-end kayaks now feature pedal-driven propellers, usually in tandem with deployable rudders, which allow you to move and control your boat without putting your rod down. That can be a huge asset when you're fighting a fish with wind or current pushing your kayak someplace you don't want to go!
Most modern pedal drives can be retracted in shallow water and are durable and effective. They may still be damaged by underwater obstacles or fouled by weeds, which can usually be cleared simply by retracting the prop and removing the weeds! They also add significant amounts of weight to a boat. A pedal-driven fishing kayak is a significant investment, so consider the pros and cons carefully. Try one out if possible!
TRY SOME PADDLING
It's hard to choose a kayak for any purpose if you have no paddling experience. If you like the idea of kayak fishing but you haven't paddled a kayak before, it's a great idea to try a few paddling sessions in rented or borrowed kayaks. They don't need to be fishing-specific. You're just getting a sense of how it feels to balance on a kayak and how the kayak responds to paddle strokes and water conditions. Some paddling experience will make it easier to choose a boat that will suit your needs!
WHERE WILL YOU FISH?
The conditions that you'll fish in will affect your choice of kayak. More length equals more speed but less maneuverability. If you'll be launching near your fishing sites and not paddling for long distances, you may prefer a short, agile platform. If you are fishing in the ocean or larger lakes, you will want a boat more suited to paddling longer distances. If you'll be prowling along brushy banks and stalking fish, you'll want to spend time standing up, so width and stability are critical. If you'll be trolling in open water, that's less important!
HOW MUCH GEAR WILL YOU BRING?
Some anglers hit the water with just a rod and a tackle box. Others bring multiple rods and masses of gear. That choice is up to you, but if you're fishing from a kayak, every piece of gear must be secured to the kayak. Make sure the boat you choose has enough storage space and rod holders to accommodate your gear.
HOW WILL YOU TRANSPORT YOUR BOAT?
One of the great advantages of a kayak is that it's easier to transport than any other kind of boat. You still need to consider mobility when you buy. Will you use a trailer, a rack, or a pickup bed? If you plan to use a car-top rack, make sure your boat is within the rack's weight limit and that you are strong enough to rack and unrack the boat unassisted. Be sure you have enough tie-down devices to secure your boat! If you're willing to purchase a trailer, if you have access to boat launching ramps, or if you'll keep your kayak near one body of water, weight is less important.
REMEMBER THE GEAR
Every kayaker needs two basic pieces of gear: a paddle and a life jacket. Good quality gear that fits you and doesn't get in your way will improve your paddling experience. Check out our lists of the best kayak paddles for fishing and the best kayak fishing PFDs.
STAY SAFE
Modern fishing kayaks are very stable, but a capsize is always possible. Always wear your PFD. Secure all gear, or be ready to lose it! If you're fishing in cold weather or on cold water, remember that you could get wet and bring appropriate clothing.
Practice capsizing, righting, and climbing back onto your kayak in controlled conditions before you start fishing. Some larger paddlers may find this difficult and it helps to try it a few times before you have to do it under stress. If you aren't physically capable of recovering your boat after a capsize, you may have to reconsider your choice of fishing platform, especially if you'll be fishing alone. It's always a good idea to have a basic safety kit with signaling devices, and always tell someone where you're going and when you expect to be back!
LEARN MORE
Kayak Angler magazine has a good online guide to choosing a fishing kayak.
FEATURES EXPLAINED
LENGTH & WIDTH
More length equals more speed but less maneuverability. More width gives more stability, but if a boat is too wide, you may have to reach over the edge to paddle, which is inefficient and will tire you out quickly.
STORAGE
Fishing kayaks typically offer three kinds of storage capacity.
Deck mounted fixtures like rod holders, paddle brackets, or cup holders are designed to hold specific items and keep them easily accessible.
Cargo hatches usually have a screw-on top and provide secure, often waterproof storage for items that you don't need to reach quickly.
Deck wells are depressions in the deck where larger items like a cooler or large tackle box can be placed. They are usually secured with elastic shock cord to hold items in place.
ACCESSORY MOUNTS
Many fishing kayaks offer rails or plates where accessories, like a fish finder or additional rod holders, can be mounted. Be sure that your preferred accessories are compatible with the mounting system on the boat your considering!
READ MORE
For more of our top kayak fishing gear recommendations, check out these popular buyer's guides: