Updated on September 17, 2020
Typically, you have two types of fishing: offshore fishing and fishing from a boat. However, kayak fishing fits in between there somewhere where you get access to deeper waters than offshore fishing but don't have to invest in a fancy fishing boat. If quiet fishing from your own personal floating deck sounds like paradise to you, then take a look at our picks of the best fishing kayaks under $500 so you can start fishing from your kayak and reel in your next big catch today!
You can put together everything you need for a successful fishing trip, alone or with a partner, without spending more than a few hundred dollars. These kayaks fit your poles, tackle, and bait and allow you to experience nature from a more intimate vantage point. What more do you need?
For more of our top kayak fishing gear recommendations, check out the Best Fishing Kayaks. 
Quick Answer

-

The Best Fishing Kayaks Under $500
Pelican Premium Sentinel 100X

Advanced Elements AdvancedFrame

Pelican Premium Argo 100XR

Emotion Kayaks Spitfire 8
Comparison Table

-

Best Fishing Kayak Under $500

For the best experience turn your device horizontally
Reviews

-

The Best Kayaks for Fishing Under $500
Specs
Type

:

Solid Sit-Inside

Length

:

10 ft

Weight

:

48 lbs

Weight Capacity

:

325 lbs
Features
Adjustable Seat and Foot Pegs (to find the most comfortable positioning)
Rear Storage Well and Front Covered Storage Hatch (for storing bait, tackle, cooler, and other necessities/accessories)
Front and Back Carry Handles (to haul the boat to the water)
Paddle Holders (to keep your hands free to cast and reel)
4 Accessory Eyelets (for your own fishing attachments)
BEST FOR: TRANSITIONING BETWEEN FISHING AND RECREATIONAL KAYAKING
This kayak was made for fun days on the flatwaters of local lakes and streams. Whether you just want to coast in the serenity of nature or run away and go fishing, this kayak takes you there. You can equip the kayak with rod holders and other fishing must-haves in the ample storage compartments. Otherwise, you can just hop in the boat on a whim and take a short ride with nothing but what you're wearing and a paddle!
Advanced Elements AdvancedFrame
Specs
Type

:

Inflatable Sit-Inside

Length

:

10ft 5in

Weight

:

26 lbs

Weight Capacity

:

250 lbs
Features
No Assembly Required (just add air)
Triple-Layer Material and Reinforced Seams (to resist puncture)
Aluminium Frame (for added structure and rigidity)
Comes with Tracking Fin, Repair Kit, and Duffel Bag
Adjustable High-Back Padded Seat (for all-day comfort)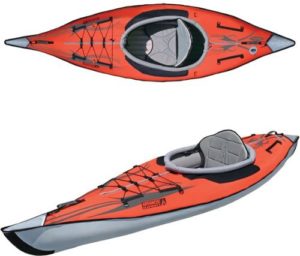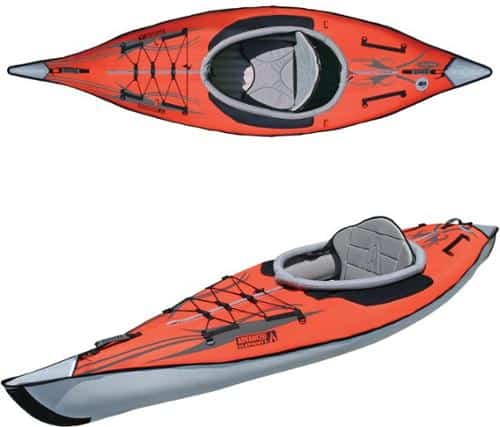 BEST FOR: SPONTANEOUS FISHING JAUNTS
With an add-on or two, this paddling favorite would make a great solitary fishing boat. Built for sport, the kayak maneuvers well out into your favorite fishing hole. Bungee deck lacing and D-ring tie-downs give you multiple arrangement opportunities for your poles and tackle. While you're waiting for the fish to bite, lean back with your hands behind your head and appreciate the view.
Specs
Type

:

Solid Sit-Inside

Length

:

10 ft

Weight

:

41 lbs

Weight Capacity

:

300 lbs
Features
Front Storage Tank And Rear Netted Storage (for your boating necessities)
Padded Seat, Adjustable Footrests, and Knee Pads (for all-over comfort)
Bottle Cage, Bottle Holder, and Smartphone/Depth Finder Holder Within Easy Reach
Front and Back Carry Handles (to carry the boat to the shore)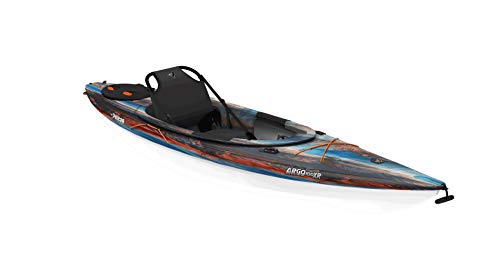 BEST FOR: SLOW RECREATIONAL FISHING
Not that this kayak can't get up and go, but it has a multi-chine hull (see Features Explained) that's perfect for relaxing on calm, open waters, line in the water or not. The front hatch comes with a storage bag you can fill before you leave. Add your own rod holders and stick your tackle box under the mesh netting, and the Argo is fishing-ready.
Lifetime Tamarack Angler
Specs
Type

:

Solid Sit-On-Top

Length

:

10 ft

Weight

:

52 lbs

Weight Capacity

:

275 lbs
Features
Three Fishing Rod Holders
Multiple Footrest Positions (to brace your legs)
Adjustable Padded Seat (for all-day comfort)
Center and Rear Covered Storage Hatches (for bait and personal items)
Bungee Cording (to hold down your cooler and tackle box)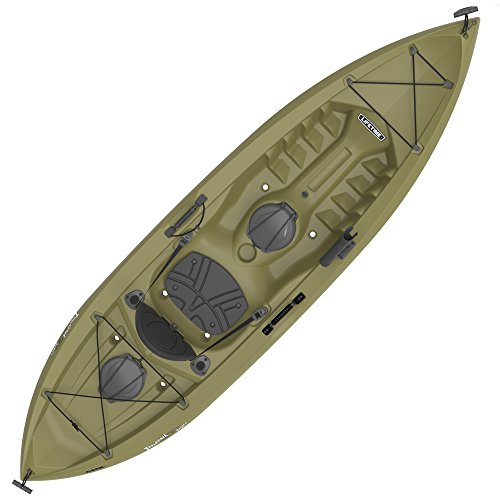 BEST FOR: HOMETOWN ANGLING
If your favorite fishing spots are close to home, you can get there quickly and efficiently with this fisherman's kayak. The sharp nose and underlying skeg allow for decent speed and straight tracking out to the secluded fishing holes motorized boats can't reach. The flat bottom and side rails make it easy to move around in the cockpit (or deck area) on your knees.
Sun Dolphin Journey
Specs
Type

:

Solid Sit-On-Top

Length

:

10 ft

Weight

:

44 lbs

Weight Capacity

:

250 lbs
Features
Retractable Carry Handles (for carrying to/from the water)
Three Fishing Rod Holders
Padded Seat Back and Thigh Pads (for comfort)
Adjustable Foot Braces (for the right positioning)
Bungee and Hatch Storage Compartments (for tackle and personal items)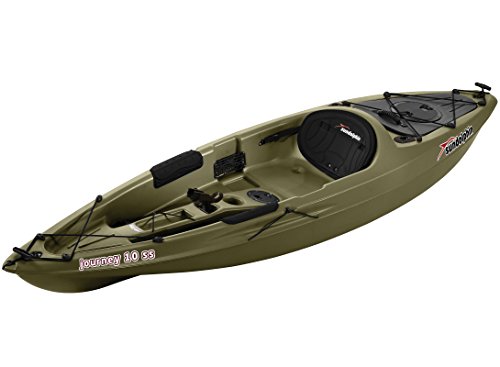 BEST FOR: RELAXED ESCAPES TO YOUR SECRET FISHING HIDEAWAY
For its unbeatable price, this kayak allows you to schedule so many more fishing days than you ever thought possible with very little preparation. In fact, the kayak will pay for itself over and over again in the amount of valuable leisure time it affords you. The small vessel allows you to reach fishing holes no one else can with all your supplies within reach. The large open cockpit and stable bottom make it easy to move around in too.
Intex Excursion Pro
Specs
Type

:

Inflatable Sit-On-Top

Length

:

12.5 ft

Weight

:

39 lbs

Weight Capacity

:

400 lbs
Features
Two Recessed Fishing Rod Holders
Comes with 2 Paddles, Air Pump, Pressure Gauge, and Carry Bag
Two Adjustable Bucket Seats (for single or tandem configurations)
Adjustable Mounting Brackets (so you can accessorize however you like)
Bow and Stern Storage (for tackle box and cooler)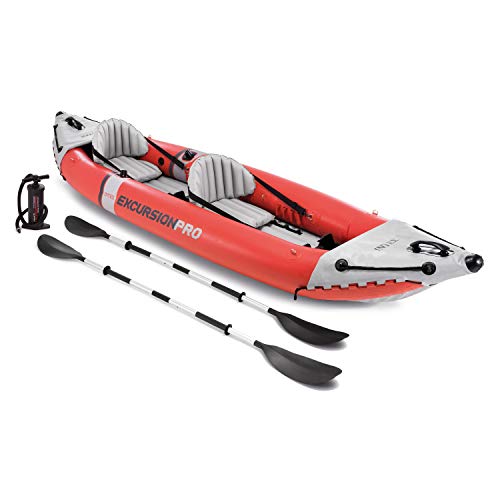 BEST FOR: CALM FRESHWATER FISHING WITH A BUDDY
A fishing kayak is an ideal option for sportspeople who just want to find solace in nature, perhaps with a companion, without the need for a loud, decked-out motorized boat. The inflatable kind is especially perfect for those who don't have a lot of extra garage space for a solid model. With its three-layer, impact-resistant material, rigid floor, and superior maneuverability, you may never go back to a solid kayak anyhow.
The kayak already has built-in rod holders and extra bow and stern space in the front and back of the boat, respectively. But you can also mount your own compatible accessories like fish finders, anchor, tackle box, and swivel rod holders on the adjustable mounting brackets or inside the bow (front of the boat). When the fish are biting, you'll be ready.
Emotion Kayaks Spitfire 8
Specs
Type

:

Solid Sit-On-Top

Length

:

8 ft

Weight

:

39 lbs

Weight Capacity

:

245 lbs
Features
Fully Padded Seat (for extended comfort)
Front and Rear Bungee Tank Storage (for food, tackle, and other items)
Multiple Footrest Positions
Paddle Holders (to keep hands free to cast and reel)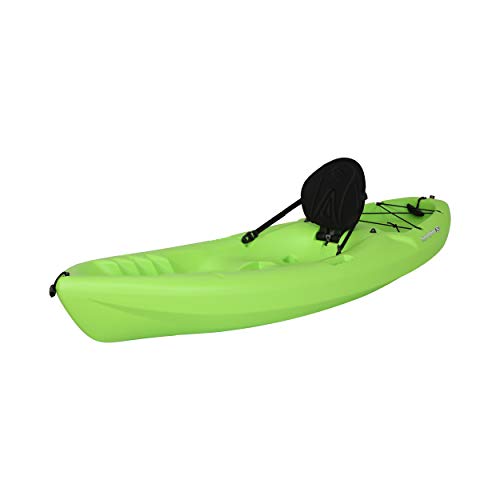 BEST FOR: MINIMALIST FISHING
This kayak is a bit shorter than some of the other fishing kayaks on this list, which is perfect for those who don't like to bring a lot of stuff. It still has ample storage space to fit a tackle box, bait bucket, and the few personal items you must bring along. But if your intention for getting on the water is about nature appreciation and fishing simplicity, then the Spitfire is a top choice.
Lifetime Tahoma 100
BEST FOR: FISHING WITH A SIDE OF TOURING
Half the fun of fishing is paddling out to your favorite spot, and the Tahoma is just as much a joy to paddle as to fish from. The hull shape provides both stability and tracking performance for an enjoyable ride. Whenever the fishing bug hits you, drop a line over the side and sit back and take in the view while you wait for signs that something's biting.
Intex Challenger K1
Specs
Type

:

Inflatable Sit-Inside

Length

:

9 ft

Weight

:

27.2 lbs

Weight Capacity

:

220 lbs
Features
Front Cargo Net (for tackle and food storage)
Sturdy Inflatable Floor Insert
Grab Lines on Both Ends (for carrying)
Inflatable Seat (for cushioned comfort)
Comes with an Oar, Repair Patch, and Hand Pump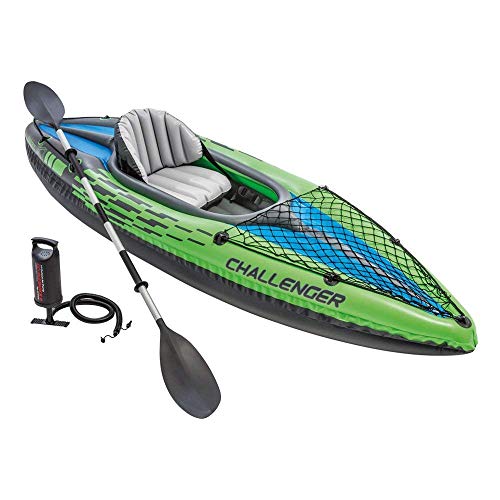 BEST FOR: RESTRICTED BUDGETS
If your budget is slim, you can still make an amazing fishing boat out of this inflatable kayak. At this cost, no one misses out. To prepare for your fishing trip, simply inflate the boat with the included hand pump. Slide your cooler, tackle box, and bait under the cargo net and carry the lightweight boat to the water. Paddle the nimble 'yak down your local slow-moving rivers and streams and cast to your heart's content.
Sevylor Coleman Colorado
Specs
Type

:

Inflatable Sit-On-Top

Length

:

10ft 9in

Weight

:

40.4 lbs

Weight Capacity

:

470 lbs
Features
Multiple Air Chambers (stays afloat if one pops)
Puncture-Resistant, Airtight System (prevents pops in the first place)
Two Adjustable Rod Holders and Paddle Holders (to keep hands free)
Adjustable Seats (for your comfort)
Mesh Storage Pockets and D-Rings Throughout (to hold your essentials)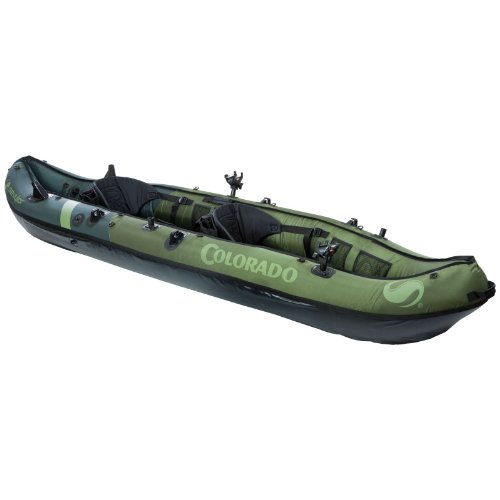 BEST FOR: DOUBLE-TEAMING THE TEEMING WATERS
This boat is set up for fishing straight out of the box with rod and gear holders along the perimeter. It even has fitting for a trolling motor so you can motorize your ride. Since it packs up into a tidy package, it's a great boat to keep on-hand at the cabin or campground for when that fishing bug bites. You can access deeper waters than offshore fishing and more out-of-the-way corners than bigger fishing boats with this inflatable 'yak.
THINGS TO CONSIDER WHEN BUYING A FISHING KAYAK
COST
Every kayak here is under $500, but some are well below that. Remember, you usually get what you pay for. The lower cost kayaks are not only great for those with tight budgets, but also those who only fish occasionally or want to keep an extra fishing boat at their summer getaways.
PASSENGER SIZE
You need to check the weight capacity of these kayaks to ensure they accommodate your weight as well as the weight of any passengers or gear you intend to take along. Most have adjustable foot positions, but they don't always accommodate people on the taller side. Make sure to sit inside before you decide to keep it or exchange it for a model that fits you better.
FISHING WATERS
Most of the kayaks on this list are suited for slow-moving flatwater fishing. These aren't appropriate for deep-sea fishing or choppy waters. They are great for navigating all the nooks and crannies in the creek beds that no one else can reach, if that's where you prefer to fish. If you want to fish in the middle of the lake, you may want to consider purchasing a kayak anchor separately.
TYPE
Every kayak here is either solid or inflatable, sit-inside or sit-on-top. Solid kayaks won't pop but they take up considerable space. Inflatable kayaks are designed to resist punctures and fold down into portable, bag-sized packages. So, determine your preference of inflatable or solid based on longevity and storage space.
Also consider how you like to sit and how much you'll be able to move around once you catch a fish. You pretty much have to stay put in a sit-inside kayak, while some sit-on-top models allow you to move around a little, at least on your knees.
FEATURES
Most kayaks intended for fishing come with rod holders and storage areas for your gear. Fishing isn't the intended primary use for a few of the kayaks on this list, but they can all be converted into fishing boats with a few attachments and adjustments. If cup holders and rod holders are essential for you, then check to make sure they're included.
FEATURES EXPLAINED
FOOTRESTS
Kayaks usually have either movable pegs or molded footrests where you can brace your feet while you paddle. If you're on the short or taller end, you want to make sure the foot pegs accommodate your size for a more comfortable ride. Check out this handy article to find out how to find the right fit for you.
NOSE
In marine terminology, the front of a boat is often referred to as the nose, bow, or prow. The nose shape affects how the boat enters the water.
STERN
The common term for the back of the boat is the stern. The stern design affects maneuverability and stability.
HULL
The hull is the name for the bottom of the kayak. The hull shape affects speed and stability. Flat-bottom hulls offer the most stability but they ride slower whereas deeper V hulls feel a little more tipsy but can move fast. You can find a more detailed explanation of hull design here.
CHINE
A chine is the angle the hull makes where it meets the sides of the boat. A multi-chine hull has step-like graduated chines that provide a nice balance between stability and speed.
SKEG
Also known as a rudder or fin, a skeg is a small fin that gets attached to the bottom of the kayak. The skegs help you keep the kayak riding straight when the wind is pushing against you. Inflatable kayaks, in particular, get pushed around by crosswinds and a skeg works against that push.
Learn more about the anatomy of a kayak here.
READ MORE
For more of our top kayak fishing gear recommendations, check out these popular buyer's guides: