Updated on May 11, 2021
Fishing from a kayak allows the intrepid angler to reach areas otherwise inaccessible by larger watercraft. Aside from that, kayak fishing is also a great way to get a little exercise while potentially bringing home a trophy fish (or even dinner). It's also an activity that's great for people of all ages and can be enjoyed in most regions at least three seasons of the year. Fishing kayaks are designed with the angler in mind, but we know that selecting the best fishing kayak amongst the sea of options available can be overwhelming.
Here at The Adventure Junkies, we pride ourselves in helping you pick the best gear for your next fishing adventure. In this guide, we'll help you select the best fishing kayaks under $1,000 and have you casting in style without breaking the bank.
For more of our top kayak fishing gear recommendations, check out the Best Fishing Kayaks.
Quick Answer

-

The Best Fishing Kayaks Under $1000
Riot Kayaks Escape 12 Angler

Wilderness Systems Tarpon 120
Comparison Table

-

Best Fishing Kayak Under $1000

For the best experience turn your device horizontally
Reviews

-

The Best Kayaks for Fishing Under $1000
Riot Kayaks Escape 12 Angler
Specs
Capacity

:

1

Length

:

12'

Weight

:

72lbs

Weight Capacity

:

300lbs

Width

:

30"
Features
Sit-on-top design
Five rod holders
Pilot rudder system
Integrated console with molded-in cup holder

BEST OVERALL FISHING KAYAK FOR UNDER $1,000
With a great combination of stability and performance, the Escape 12 is perfect for any & all fishing conditions. This kayak features 1 swivel and 4 stationary rod holders, so you can cast off wherever the fish are biting. The Escape 12 boasts a 300 pound weight limit with two convenient storage options so carrying all your fishing gear is no problem. The pilot rudder system works wonders at keeping the kayak on track.
What I like most about this kayak is how stable it feels in the water.
Pelican Basscreek
Specs
Capacity

:

1

Length

:

10'

Weight

:

50lbs

Weight Capacity

:

325lbs

Width

:

30.5lbs
Features
Lightweight & easy to carry
Multi-Chine flat bottom hull
4" Day hatch with storage bag
Padded seat cushion & adjustable backrest cushion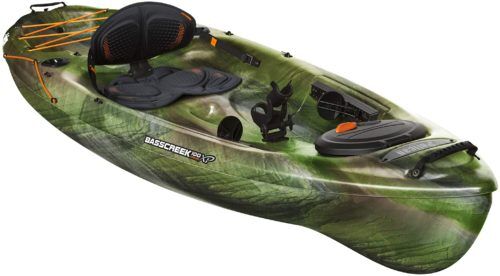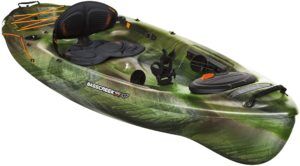 BEST FOR: BUDGET-MINDED CASTERS
If stability and ease of use are your top priorities, the Pelican Basscreek checks all the right boxes. The Basscreek features a multi-chine flat bottom hull that optimizes stability and tracking in the water.
Pelican succeeds at using less material to build more boats that are sufficient at resisting the bumps and impacts you're prone to experiencing out on the water, thanks to a proprietary polyethylene blend. Adjustable seats and footrests allow you to customize the fit of the boat to suit your every need.
What I like most about this kayak is the open cockpit design, which allows for easy entry and exit.
Lifetime Tamarack Angler
Specs
Capacity

:

1

Length

:

10'

Weight

:

52lbs

Weight Capacity

:

275lbs

Width

:

30"
Features
Adjustable Padded Seat
Two Flush Mounted Rod Holders So You Can Fish Hands-Free
Two Paddle Cradles With Elastic Cords To Secure Paddle
Two 6" Storage Compartments
BEST FOR: A FULL DAY FISHING OUT ON THE WATER
This sit-on-top fishing kayak comes complete with a padded seat back and seat pad to ensure your comfort all day long – no sore bottoms here! Two storage hatches in the center and rear of the boat allow for easy access and maximum storage of gear so you can be sure you have everything you need for a successful day of fishing. The Tamarack Angler features a built-in skeg and sharp bow for easy paddling when you need to move.
The boat even includes two flush mounted rod holders and one top-mount rod holder, allowing you to secure your pole to the boat and continue paddling or enjoy your lunch without needing to hold onto your rod. And a paddle cradle allows you to secure your paddle while you're busy reeling in the catch of the day.
What I like most about this kayak is the ample storage offered inside hatches and under bungee cords.
BKC TK122
Specs
Capacity

:

2

Length

:

12'10"

Weight

:

77lbs

Weight Capacity

:

770lbs

Width

:

34"
Features
Tandem Boat So You Can Fish With A Partner
Secure Watertight Storage Hatch Located At Each Seat
Bow And Stern Recessed Storage Areas
Four Flush Mounted Rod Holders So You Can Fish Hands-Free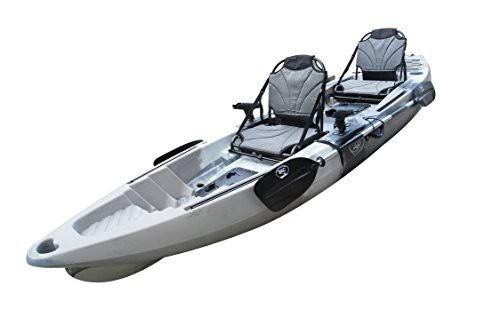 BEST FOR: TANDEM FISHING
Fishing can be an enjoyable solitary endeavor. However, with the BKC TK122 by the Brooklyn Kayak Company, you can make your day of fishing even more fun by inviting a fellow angler to join you for the day! This tandem kayak is a great option if you want to share your fishing adventure with a friend and it still falls below the $1,000 mark. It weighs just slightly more than some of the other single-paddler options and has a total weight capacity of 770 pounds, which is perfect for two anglers and all of the gear you could possibly need.
This boat features a plethora of features for serious (and amateur) anglers. In addition to the upright, aluminum framed seats with backrests, the TK122 includes two paddle keepers (for when you're not paddling), two watertight hatches, four flush mounted rod holders as well as two articulated rod holders, and plenty of cargo area for all of your extra gear.
Wilderness Systems Tarpon 120
Specs
Capacity

:

1

Length

:

12'3"

Weight

:

63lbs

Weight Capacity

:

350lbs

Width

:

30"
Features
Adjustable Seat For Maximum Comfort
Molded-In Stern Storage With Elastic Cords to Secure Gear
Adjustable Foot Braces For Optimal Comfort
Self-Bailing So You Don't Sink Your Boat Even If You Onboard Some Water

BEST FOR: MULTI-DAY EXCURSIONS
Since 1986, Wilderness Systems has been creating a broad spectrum of quality kayaks. While the Tarpon comes in a variety of sizes ranging from ten to fourteen feet, the one in this guide falls right in the middle at twelve feet. The sleek design provides exceptional maneuverability and speed in a variety of conditions.
In addition to its agility on the water, the Tarpon also has a multitude of features that make it ideal for fishing or just ditching the rod and tackle for a day on the water. The adjustable seat is made of mesh stretched over foam for increased comfort and breathability. Adjustable foot braces allow for optimal positioning so your legs won't get tired while you paddle. Two hatches provide dry storage while elastic cords secure additional gear in the molded-in rear storage well. Like other boats in this guide, this kayak also offers a track system for customizing with optional accessories.
THINGS TO CONSIDER BEFORE BUYING A FISHING KAYAK
STYLE
While fishing from a kayak is possible in any boat, there are a multitude of options on the market that are specifically designed and outfitted for angling on the water. Choosing the right model for your needs can involve a variety of criteria including where you intend to use it primarily, your budget, and your style preferences. You'll want to consider where you plan to fish the most and whether or not you prefer to stand while casting when making your decision about which fishing kayak to buy off our list above.
While it is possible to use an inflatable boat for fishing, we limited our kayaks for this guide to rigid models for their durability. We also chose only sit-on-top models as they are more likely to allow the possibility to stand while casting. Rigid sit-on-top kayaks are also easy to get in and out of and their superior stability makes the transition from sitting to standing nearly seamless.
SIZE
The size of the boat typically dictates how easy it is to handle, how stable the kayak will be on the water, and the number of paddlers it will accommodate. Solo boats only have one seat while tandem boats can accommodate two passengers. Longer boats are generally narrower and track easier under a variety of conditions while shorter boats tend to be wider and offer greater stability.
Several of the boats in this guide are designed for standup fishing and thus are wider for added stability while standing. Pay attention to the length and width listed for each kayak and consider where you'll be paddling and how you prefer to fish to make an informed decision about what size and shape of boat will work best for your needs.
WEIGHT
The boats in this guide are rugged and stable, which means they also tend to be on the heavier side of the spectrum. The kayaks listed above range from 50 – 78 pounds. They are all made of a durable type of plastic, which means they can endure years of constant use with little to no maintenance to the bottom of the boat (the hull).
When deciding which fishing kayak to buy, think about how much you can comfortably carry by yourself, and whether or not you'll have a partner or friend to help you load and unload the kayak when you go fishing. Also consider how much you weigh and how much gear you plan to carry, and double check those weights with the maximum weight capacity of whichever boat you're considering purchasing.
Keep in mind that heavier kayaks tend to be more stable on the water and they typically allow you to carry more gear because they also have a higher weight capacity. Lighter kayaks are easier to carry from land to water and back, but they may not be as easy to maneuver on the water. With a lighter-weight boat, you also can't bring as much extra gear because the weight capacity is less and you don't want to risk overloading your kayak and possibly sinking before you even reel in your big catch of the day.
PRIMARY USE
Determining the intended use of your kayak can play a role in selecting the ideal model. All of the boats above are designed specifically for fishing, although some of them can double as recreational watercraft if you want to get out on the water without your pole sometimes too.
Think about whether you'd prefer to fish by yourself or with a friend before deciding which kayak is right for you. If you plan to paddle solo, then there are nine options above that fit that criteria. If you are looking to head out on excursions with a friend or family member, the BKC TK122 is the only boat on our list that will get you both out on the water in a single boat.
COST
While there are more expensive boats on the market, we limited this roundup to those that fell below the $1,000 mark. Therefore, all of the boats above can be purchased for that price point.
If your budget is limited, consider what other gear you will need to procure to set off on your kayak fishing adventure. For propelling the kayak through the water, you will need a paddle, and only the Vibe Yellowfin 120 comes with one included in the package. A PFD (personal floatation device), or life jacket, should also be included in your kit every time you hit the water.
FEATURES EXPLAINED
HULL
The bottom of the kayak. A well defined hull will track better in the water and therefore move more quickly across the surface. A wider hull will provide greater stability.
STERN
The back of the kayak is called the stern.
BOW
The front of the kayak is called the bow.
MOLDED-IN
The boats in this guide are all made of heavy duty plastic. A plastic mold is used to create the shape of the kayak. When the plastic is poured into the mold, cup holders, rod holders, and tank wells are created as part of the boat's construction, so each of these features are considered to be "molded-in."
INTEGRATED TRACK SYSTEM
Multiple boats on the list above come with track systems that will accommodate fishing accessories that are sold separately. These can include additional drink holders, rod holders, and fish finders.
STORAGE HATCH
In addition to the tank wells which are located on the outer surface of the kayak's deck, storage hatches are compartments located within the boat that allow for additional gear storage.
BUNGEE DECK LACING
Gear is easily secured in the molded-in tank wells by means of bungee deck lacing, which simply consists of elastic cords stretched between fixed points.
READ MORE
For more of our top kayak fishing gear recommendations, check out these popular buyer's guides: