Updated on September 30, 2020
If there's one thing we know in this ever unpredictable world, it's that you need to have pedals if you want to ride a bike. Furthermore, if you're actually going to be touring on your bike, you need a set of really good pedals. Scratch that, what you need is…a pair of the best pedals for bike touring!
Enter our list of our bike experts' favorite pedals for bike touring. We've included a few different pedal styles in this list so you can find the right set for your needs. If you're new to the idea of bike touring, or even if you just want a refresher, scroll to the bottom of this page for an explanation of pedal styles that will help you decide which one you need. Then, get to reading the list so you can get on with your tour!
For more of our top bike touring gear recommendations, check out the Best Tents for Bike Touring.
Quick Answer

-

The Best Pedals for Bike Touring
Shimano PD-T421 Click'R SPD

Garmin Vector 3 Power Meter
Comparison Table

-

Best Pedals for Bike Touring

For the best experience turn your device horizontally
Reviews

-

Best Bike Touring Pedals
Shimano PD-T421 Click'R SPD
Specs
Type

:

Clipless/Platform

Material

:

Aluminum

Weight

:

418 g

Cleat Type

:

2-Hole
Features
Orange Reflector Helps You To Be Seen In Low Light
Super Strong Axel Withstands Many Miles Of Use
Low Tension Setting Makes It Easy For Beginners To Unclip

BEST VALUE PEDALS
If you're interested in bike touring but don't have money to blow, that's okay. You don't have to because of products like these. The Shimano PD-T421 Click'R SPD pedals won't bust your budget!
These pedals are strong, yet lightweight. They'll withstand many miles and they pack a great value. Their orange reflectors help to keep you visible in low light settings. They are completely clipless with no option to ride without locking in, so if the platform option is something you want, you may need to pass these up. However, these clipless pedals are completely adjustable with a low tension setting, so if you're new to the clipless game, you can definitely ease into it with these.
Look KeO Classic 3
Specs
Type

:

Clipless

Material

:

Composite/Chromoly

Weight

:

280 g

Cleat Type

:

3-Hole
Features
Low Weight To Strength Ratio Means These Pedals Are Built For Performance
Wider Than Average Pedal Platform For Extra Comfort And Power
Everything You Need To Mount Pedals Is Included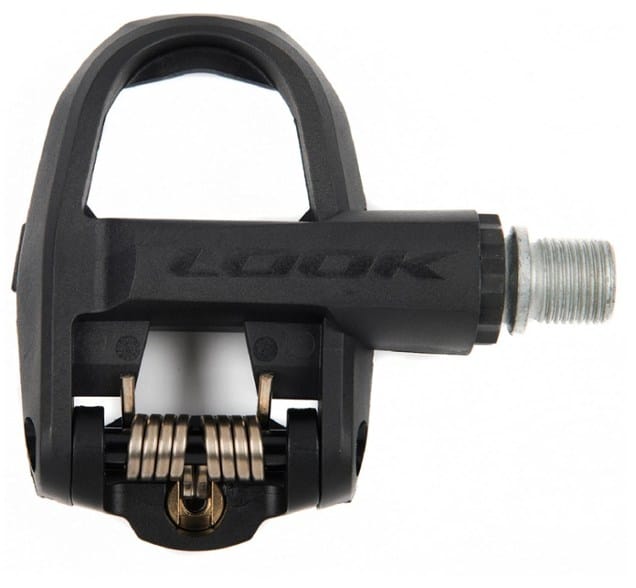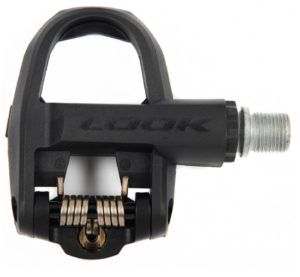 BEST LIGHTWEIGHT PEDALS
If you have the need for speed, you'll definitely want to equip yourself with a pair of lightweight pedals, and the Look KeO Classic 3's are a great option. Though they are lightweight, these pedals are built with super strong chromoly and they will remain durable over long term use.
These pedals also come with a range of other stellar features. It's super easy to adjust the tension on the clips so that you can choose a low-impact in and out setting when you're just beginning and then increase the tension as your skill level progresses. Their wide platform design is fairly unique and aids in pedaling stability and power. To top it all off, everything you need to install these pedals is included with your purchase.
iSSi Flash II
Specs
Type

:

Clipless

Material

:

Aluminum/Steel

Weight

:

340 g

Cleat Type

:

2-Hole
Features
3 Spindle Lengths Available To Dial In Your Fit And Ensure Proper Foot Clearance
Comes In "High Vis" Yellow To Increase Your Visibility On The Road
"Open Air" Design Allows You To Trek Through Mud, Snow, Or Sand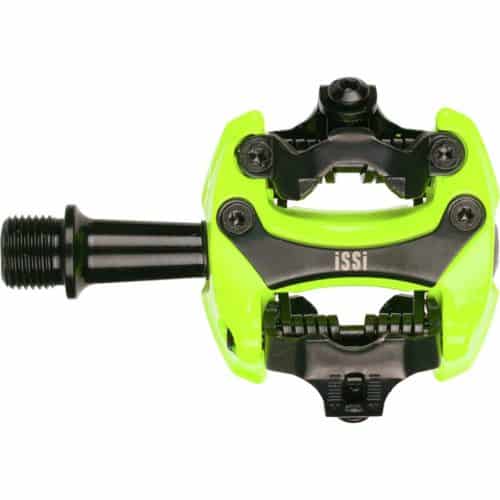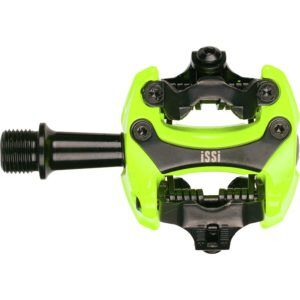 BEST LOW KEY PEDAL
Okay, we know you might be wondering, what on earth do they mean by a "low key" pedal? Let us tell you! What we mean is that these pedals are the minimalist biker's dream. They are small, lightweight, and open-bodied. You'll barely remember they're there as you whirl your way down the wide open road.
In addition to the lightweight benefit of the open air design, this pedal shape also allows the rider to trek through mud, snow, or sand without being slowed down or stopped nearly as much as they would be with traditional pedal designs. You can also customize your order by choosing from three different spindle lengths and a variety of fun colors.
Garmin Vector 3 Power Meter
Specs
Type

:

Clipless

Material

:

Thermoplastic/Stainless Steel

Weight

:

315 g

Cleat Type

:

3-Hole
Features
Embedded Sensors Allow You To Track A Wide Range Of Real-Time Stats
Battery Lasts For 120 Hours
Easy To Move From One Bike To Another
BEST HIGH TECH PEDALS
Introducing…the future of bike pedals! The Vector 3 Power Meter pedals from Garmin are super high tech, and they'll help you up your bike tour game by showing you a variety of real-time stats using Bluetooth capabilities.
Before you dive into this purchase, we do want to tell you: these pedals have a somewhat complicated past. Many users have complained about a connectivity issue with one of the pedals in particular, but you don't need to worry. If you see a review warning of this problem, know that Garmin has since addressed the issue and you can now buy good, fully-functioning Vector 3 Power Meter Pedals with confidence.
Shimano XT PD-T8000 SPD
Specs
Type

:

Clipless/Platform

Material

:

Aluminum

Weight

:

392 g

Cleat Type

:

2-Hole
Features
Optional Clipless Design Allows You To Ride With Or Without Clipless Shoes
Grippy Platform Side Keeps You Stable When Riding Without Clipless Shoes
Adjustable Clip Tension Lets You Customize The Strength Of Your Clip-In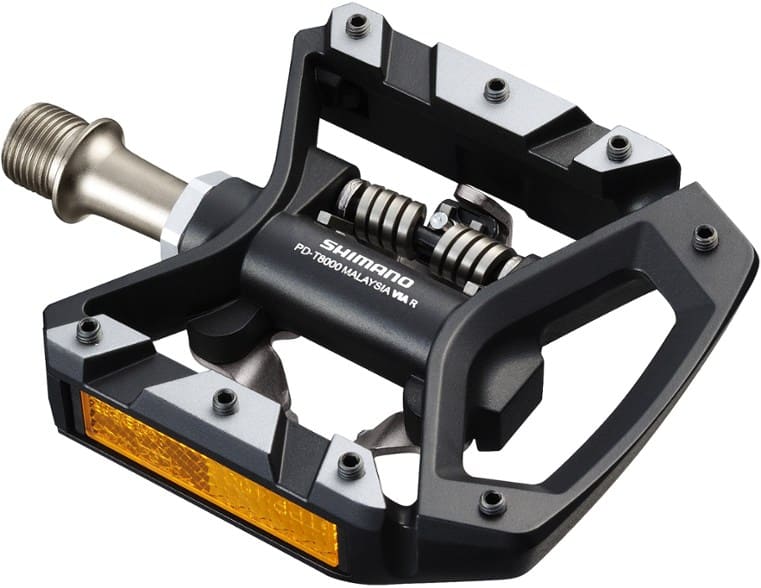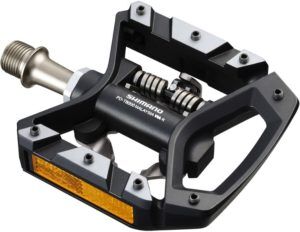 BEST BEGINNER'S CLIPLESS PEDALS
Think that only the savviest of cyclists are allowed to go clipless? Think again! These clipless Shimanos are a great introduction to clipless pedals because they have adjustable clip tension and also a platform side for when you want to take a break from the clip in.
The platform side of these pedals features a grippy design so that you'll still have power and confidence on your shorter, more casual unclipped rides. And for when you are clipped in, the adjustable clip tension allows you to ease into it. On its lowest setting, the pedals are extremely easy to get in and out of, which means you won't have to worry about getting stuck in them during a stop or a fall.
THINGS TO CONSIDER WHEN BUYING PEDALS FOR BIKE TOURING
PEDAL TYPE
There are two main types of pedals discussed in this article. They are clipless and platform. For an in-depth look at each pedal type, see Specs And Features Explained below.
MATERIAL
The most common pedal materials are aluminum, steel, and chromoly.
Steel is the sturdiest (and heaviest) of these materials. If you're a little bit rough with your bike, steel is a good choice for your pedals. The downside of choosing a heavy pedal is that it adds weight to your bike, and therefore has the potential to slow you down slightly.
Aluminum is lighter than steel, but heavier than chromoly. It's a great "happy medium" for cyclists of all levels.
Chromoly is a high quality metal blend that is extremely lightweight and strong. Pedals made from chromoly tend to be more expensive than other pedals.
WEIGHT
With lower weight comes higher efficiency and speed, but also cost. Heavier metals tend to be more cost effective, but they can also slow you down.
FEATURES EXPLAINED
SPINDLES
Spindles are the little arms that protrude from the pedal and connect to the crank arm on the bicycle. Pedal installation can be a little tricky if you've never done it on your own before. For help, check out this article, complete with a video, on pedal installation and removal.
CLEAT TYPE
Cleat type is of the utmost importance when you are shopping for pedals for bike touring because your cleat must be compatible with your pedal! There are two main types of cleats: 2-hole design and 3-hole design.
CLIPLESS STYLE
First of all, forget everything you know about the English language because this name is extremely misleading. In fact, clipless style pedals are pretty much the opposite of what you might think. Clipless style pedals are pedals that you actually do "clip into." They got their name because they came along after another style of pedal that incorporates toe clips, an attachable device that covers your toes and assists in upward pedaling power.
So, clipless pedals are compatible with special cycling shoes that attach to the pedals and lock your foot into place, allowing you to exert forward mobility power on both the down and upstroke of your pedaling rotation. They are great for long distance rides and rides where speed and efficiency is important.
Clipless pedals can take a little bit of getting used to, and can be a little bit dangerous for the inexperienced user since it is not always easy to unclip quickly. Once you master the technique of getting in and out of the pedals, though, they can really improve your pedaling performance.
Ready to take the leap? This great article from BikeRadar explains some great tips and tricks for how to use clipless pedals.
PLATFORM STYLE
Platform style pedals are what probably come to mind when you picture a bicycle. They're the classic style of pedal that you most likely grew up with and have used many times before. These pedals don't "lock you in" in any way and are fairly flat on both sides. They're less efficient, but they're also easier to use.
READ MORE
For more of our top bicycle touring gear recommendations, check out these popular buyer's guides: