Updated on September 28, 2020
Your sleeping pad can make the difference between waking up ready and eager for a day on the bike or dragging out of your tent wishing you could go home. The best sleeping pads for bike touring wrap all the insulation and comfort you need into light, compact packages that will keep you warm and comfortable all night without weighing you down during the day.
Sleep is a key element of a great bike tour. Riding a bicycle all day is tiring and without high-quality recovery time, your body will start feeling the burden very quickly. Whether you're planning to ride for several weeks or a few days, the right sleeping pad will help you get the rest you need to really enjoy those days in the saddle.
For more of our top bike touring gear recommendations, check out the Best Tents for Bike Touring.
Quick Answer

-

The Best Sleeping Pads for Bicycle Touring
Therm-a-Rest ProLite Plus

Sea to Summit Comfort Light

Therm-A-Rest NeoAir X-Therm Ultralight
Comparison Table

-

Best Sleeping Pad for Bicycle Touring

For the best experience turn your device horizontally
Reviews

-

The Best Bike Touring Sleeping Pads
Klymit Static V
Specs
Type

:

Air

Insulation

:

No

Weight

:

18.6 oz.

R Value

:

1.3 (somewhat warm)

Thickness

:

2.5"

Packed Dimensions

:

4x8"
Features
Inflated Side Rails Keep You On The Pad
V-Shape Chambers Limit Air Movement And Heat Loss
Deep Weld Pattern Lets Your Bag Loft Under You And Keeps You Warmer
Easy-To-Use Push Valve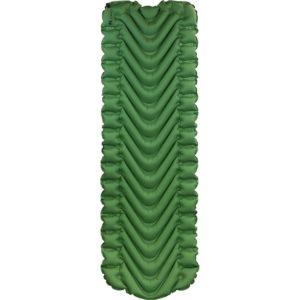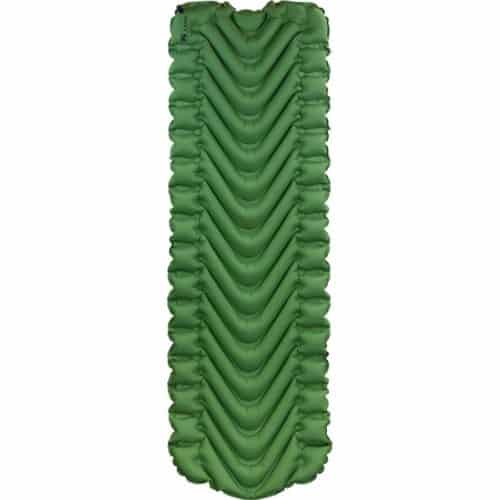 BEST BUDGET SLEEPING PAD
This well-reviewed pad is light, compact, and inexpensive, a rare combination in a market where low weight and high price often seem to go together. It packs to the size of a standard 1-liter water bottle and blows up to a 23" wide pad, a bit larger than the standard 20". That extra width can be a real asset to a larger sleeper. The V-shaped chambers and raised sides are meant to keep you on the pad and 2.5" of cushioned thickness keep the roots and rocks at bay.
The main downside of this pad is that it's not insulated at all, and until your body heat warms the air inside it, you may feel the cold. It also takes a bit of huffing and puffing to inflate. If you're on a tight budget and looking for a light, compact, comfortable sleeping pad for bike touring in relatively warm weather, the Static V has a lot going for it!
Therm-a-Rest ProLite Plus
View Women's Version
Specs
Type

:

Self-Inflating

Insulation

:

Yes

Weight

:

23 oz.

R Value

:

3.4 (warm)

Thickness

:

1.5"

Packed Dimensions

:

11x4.8"
Features
Expanding Core Self-Inflates, Just Top It Off With A Few Breaths
Thick Diagonal-Cut Foam For Extra Warmth
High Insulating Value For Its Weight, Suitable For 4-Season Camping


BEST SELF-INFLATING SLEEPING PAD
Not everybody wants to sit in a tent blowing into a valve. If you prefer the ease of a self-inflating pad, this industry-standard product delivers comfort and warmth in a tidy package at a very reasonable price. The diagonally cut foam expands on its own as soon as the pad is laid flat – add a couple of breaths to top it off, close the valve, and you're ready for a good night's sleep. The 1.5" thickness may seem on the thin side, but the pad is firm and provides adequate protection under a sleeper.
Any self-inflating pad is going to be slightly bulkier than a product you have to inflate. The difference isn't huge, though, and if you prefer the convenience of a self-inflating pad this one will keep you warm and comfortable without taking up too much of your load space or your gear budget!
Big Agnes Q-Core SL
Specs
Type

:

Air

Insulation

:

Yes

Weight

:

17 oz.

R Value

:

4.5 (very warm)

Thickness

:

3.5"

Packed Dimensions

:

3.5x9"
Features
X-Static Synthetic Insulation Provides Warmth, Comfort, And Antimicrobial Protection
Internal Heat Reflective Coating Returns Heat To Your Body
Integrates Vertical And Horizontal Tubes For Stability And Support
Comes With Stuff Sack And Repair Kit
BEST COMPACT SLEEPING PAD
Big Agnes is known for innovative and effective sleeping systems, and the Q-Core SL lives up to that reputation, packing 3.5" of plush air-cushioned thickness and an impressive level of insulation into a truly tiny package. If you're packing for a long trip and space is at a premium, this one delivers the goods and brings enough warmth for full winter conditions to the table at the same time!
Some reviewers complained that the Q-Core SL was narrower than they expected and that the fabric seemed thin. If you're willing to trade those negatives off for exceptionally low weight and bulk, this might still be the pad for you.
Sea to Summit Comfort Light
View Women's Version
Specs
Type

:

Air

Insulation

:

Yes

Weight

:

26.6 oz.

R Value

:

4.2 (very warm)

Thickness

:

2.5"

Packed Dimensions

:

4.5x9"
Features
Two Layers Of High-Resolution Cells In Torso Area For Maximum Warmth And Comfort
Air-Sprung Cells Act Like Springs To Deliver Support And Protection From Bumps
Antimicrobial Treatment Prevents Internal Mold
Includes Repair Kit And Inflation Pump Integrated With Stuff Sack


BEST FOR COMFORT
The Sea to Summit Comfort Light isn't the lightest, the warmest, the thickest, or the most compact bag on this list. One word keeps coming up in all of the reviews of this pad, though, and that word is "comfort". It's plush, it's firm, the air-sprung cells do exactly what they are supposed to do, and the pump integrated with the stuff sack makes inflation fast and easy. 
This isn't a cheap pad. It's a premium product and the price reflects that. If comfort is important to you, or if you've been hesitant to go touring because you're worried about being able to sleep consistently in rough conditions, this could be just what you need.
Therm-A-Rest NeoAir X-Therm Ultralight
Specs
Type

:

Air

Insulation

:

No

Weight

:

15 oz.

R Value

:

5.7 (super warm)

Thickness

:

2.5"

Packed Dimensions

:

4x9"
Features
Maximum Warmth-To-Weight Ratio
Reflective Layer Returns Heat To Your Body
Baffled Internal Structure For Stability And Support
Non-Slip Surface Fabrics Keep Sleeping Bags From Sliding Off

BEST COLD WEATHER SLEEPING PAD
At first glance, it looks like some kind of black magic is at work. There's no extra insulating material, the pad weighs less than a pound and packs to a 9×4" package, and it still has an R-value of 5.7, making it the warmest in this survey. The magic trick is applied technology: a patent-pending reflective layer that returns heat back to your body and creates insulating air pockets blended with internal baffling that provides both warmth and comfort. Therm-A-Rest has piled a lot of sleeping pad tech into this product. We never know exactly how it all works, but it's small, it's light, it's warm, it's comfortable, and your sleeping bag won't slide off it. 
It's hard to point to a real downside in all of that, but of course, there is one. This is not the cheapest pad in the pile. But if you want a light, compact sleeping pad that can take on the coldest temperatures it might well be worth the investment.
THINGS TO CONSIDER WHEN BUYING A SLEEPING PAD FOR BIKE TOURING
KNOW YOUR NEEDS
Bike touring demands light, compact gear. Space in saddlebags and panniers is always limited, and there's never quite enough room to strap on everything we need, especially when we have to balance weight on the bike. The pads here are selected from the most compact in every niche, but there will still be some variation with thickness, insulation level, and (of course) price.
The trade-offs you're willing to make when shopping for a sleeping pad will depend on your priorities and the conditions you'll be riding in. If you're headed for cold places, insulation will be a priority. If you're a light sleeper who doesn't handle rough surfaces well you'll want a thick pad that protects you from the hard, rough ground. How much weight and bulk you have to accept to get the qualities you need depends partly on the price you're willing to pay. You can have warmth and protection in a small, light package, but you'll have to pay for that!
PAD TYPES
Sleeping Pads come in three main types:
Closed-cell Foam Pads do not inflate. They rely on a single layer of foam between you and the ground and are rolled or folded after use. These pads can be quite cheap, but they are the least comfortable type and are typically too heavy and bulky to use for bike touring. Note that we didn't include any closed-cell foam pads on this list.
Self-Inflating Pads have a built-in rigid structure that opens the pad and pulls air into the valve as soon as you unroll or unfold it. All you have to do is top it off with a few breaths and close the valve. Self-inflating pads are usually a bit heavier and bulkier than air pads but are also more durable.
Air Pads have to be inflated, either by mouth or with a small pump. They provide great comfort and good insulation at a very minimal weight, but they may be easier to rip or puncture than other pads, especially if they are built from very light materials.
PAD LENGTH
Most of the pads listed here are available in several lengths. Taller riders don't always use longer pads. Many riders choose to trim weight and bulk by opting for a shorter pad that protects the upper body and letting an empty pack or some extra clothes fill in under their legs. This may not be an ideal strategy in very cold weather or for comfort-conscious sleepers who want full-length protection, but it's an option if you're looking for ways to reduce your load!
PAD SHAPE
Sleeping pads come in several shapes, but most cyclists prefer the mummy cut, which matches the shape of most popular sleeping bags and minimizes bulk. If you move around in your sleep or you just want more padding under you, some fully rectangular pads are available.
LEARN MORE
REI tells us how to choose a sleeping pad, whileTherm-a-Rest has a review of considerations in building a sleeping system for bike touring.
FEATURES EXPLAINED
R-VALUE
R-value is a measure of insulating capacity. There's a bit of science involved, but the short version is that R-values run from 1 to 11, with one being minimally insulated and 11 being very insulated. The higher the R-Value, the greater the insulating capacity.
INSULATION
Many sleeping pads integrate insulation, which can add weight and bulk but improves warmth. The insulation is usually a synthetic fill similar to that used in sleeping bags.
SIDE RAILS
Some sleeping pads use larger inflated tubes along the edge of the pad, designed to keep a sleeper centered on the pad. This can be useful if you're a mobile sleeper that often rolls or slides off a sleeping pad.
CELLS, BAFFLES, AND TUBES
Pad manufacturers use different types of structures to contain air and provide insulation and support. They use different terms to describe these structures but they all refer to devices that contain air and hold it in the locations that need it most.
ANTIMICROBIAL COATINGS
Many pads are treated with antimicrobial coatings to prevent odor from developing after contact with skin. Many also treat the inside of their pads. Pads that are blown up by mouth are filled by warm, moist air that can be conducive to mold growth, and treating the interior of a pad can prevent that.
NON-SLIP SURFACES
Many pads are made with deliberately rough or tacky surfaces to prevent a sleeper from sliding off or a pad from sliding out from under a sleeper.
READ MORE
For more of our top bicycle touring gear recommendations, check out these popular buyer's guides: